Sven McDermott was, shall we say, excited.
"The hotel manager just came to my room to tell me to be quiet," he admitted a couple of minutes after realizing he was ten months away from playing the biggest tournament of his life. He tweeted this a little bit before everything went mental. Prayers up.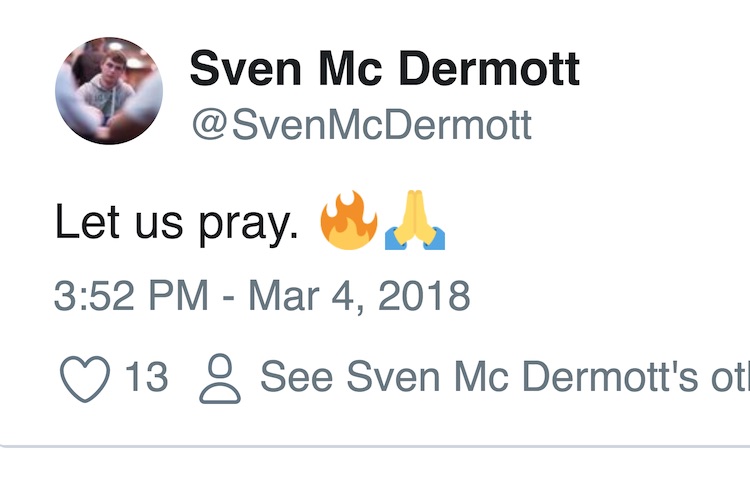 Sometimes it's all you can do…
McDermott is a poker pro and Twitch fan who, by his own admission, "never worked a day in my life, to be honest."
But after some time watching spraggy on Twitch, McDermott got himself in a Twitch freeroll. It ended in a way that gets hotel management called. Spraggy was duly concerned after McDermott went dark for the night.
When weekends like this one happen, I always feel like Oprah Winfrey walked into PokerStars HQ, grabbed a handful of Platinum Passes and went to town.
Over the weekend, things got silly. Nine packages to the PokerStars Players No-Limit Hold'em Championship found their rightful owners, and it was Oprah's 2004 show all over again. If you don't know what I mean…well, just watch.
Those ladies enjoyed their cars and probably continued to do so for many years. The Platinum Pass winners…well, they have a chance to turn their pass into life-changing money in January. Where's Oprah when you need her?
We're still getting in touch with all our of new winners, but here's a quick rundown of what happened over the weekend…
| Tournament | Winner | Name | Country |
| --- | --- | --- | --- |
| 3rd March – Monthly Sunday Cashers AISO |  arkit161 | | |
| 3rd March – PokerStars Live Qualifier AISO | Schullemann | | Germany |
| 3rd March – Monthly AISO (Selected daily tournaments) | trevis369 | | Canada |
| 3rd March – .es/.fr Selected Tournaments AISO |  TRIUMP100 | | Spain |
| 4th March Stars Rewards Players Championship Giveaway | TBC | | |
| 4th March – Turbo Series Main Event ($55) | PIPI tapis! | Pieter-Michael de Goede (Pim de Goede) | |
| 4th March – Turbo Series Main Event ($1,050) | L1VeYRdrEamS | | France |
| 4th March – Truth or Bluff Freeroll Winner | siver79 | Sergii Syvoraksha | Ukraine |
| 4th March – Twitch Promo Winner | SvenCalls | Sven Doyle McDermott | Ireland |
All of those folks are going to be joining the PSPC Class of 2019.
We told you about Sven McDermott earlier (we're not yet sure how the hotel handled his win). But he wasn't the only one getting excited this weekend.
L1VeYRdrEamS was sitting on the 40th floor of his building in Toronto when he realized he was going to the Bahamas. The poker pro and app-designer had already talked with his friends about buying into the PSPC anyway. Now, he's going for free as part of his win in the Turbo Series Main Event.
"It's just amazing," he said.
Meanwhile, Sergii Syvoraksha won the Truth or Bluff Freeroll from his home in Ukraine. He beat out a field of 786 players, a remarkable feat considering he started with only ten percent of the chips of some other players. That particular freeroll gave tickets and chips to players who put in their guesses in our recent Truth or Bluff series. Syvoraksha, a systems administrator, only answered one of the four competition questions correctly, so he started the event with only 2,000 chips. Some people started with 20,000!
"I don't believe that it's true," he said shortly after winning. "I'm celebrating with my wife!"
There is one more winner coming tonight, and if you aren't among these folks, you have several chances left this month.
Will you be the next one to have the hotel manager called on you??
| Date | Event | Live or Online | How to win |
| --- | --- | --- | --- |
| 11-Mar-18 | PSL London Winner | LIVE | Win the Main Event |
| 11-Mar-18 | Manila Super Series 6 Winner | LIVE | Win the Main Event |
| 12-Mar-18 | Spinball AISO | ONLINE | Collect at least one puzzle piece between Mar 5 – 11 and earn an AISO ticket |
| 18-Mar-18 | MegaStack San Remo Winner | LIVE | Win the Main Event |
| 19-Mar-18 | APPT Macau National Event Winner | LIVE | Win the National Event |
| 23-Mar-18 | APPT Macau Asia Open Winner | LIVE | Win the Asia Open Event |
| 23-Mar-18 | EPT Sochi National Event Winner | LIVE | Win the National Event |
| 25-Mar-18 | APPT Macau High Roller Winner | LIVE | Win the HR Event |
| 25-Mar-18 | APPT Macau Main Event Winner | LIVE | Win the Main Event |
| 29-Mar-18 | EPT Sochi Cup Winner | LIVE | Win the Cup Event |
| 29-Mar-18 | EPT Sochi High Roller Winner | LIVE | Win the HR Event |
| 29-Mar-18 | EPT Sochi Main Event Winner | LIVE | Win the Main Event |