Jim Miles eventually found his way into the spectator area of the World Series of Poker (WSOP) Main Event. It wasn't easy. With only two tables now in play, and anyone still with chips guaranteed at least $575,000, the walkways are clogged, the noise is increasing and there's barely a seat to be had.
"That's my son," Miles say, pointing to Tony Miles, who recently moved on to the main feature table. That was enough to earn Jim an escort from an ESPN producer to the front row of the bleachers. He settled down with a good view of his boy, who waved at his father from afar.
"I'm excited," Jim said. "I wasn't excited until it got down to the low number of players, but I'm excited now."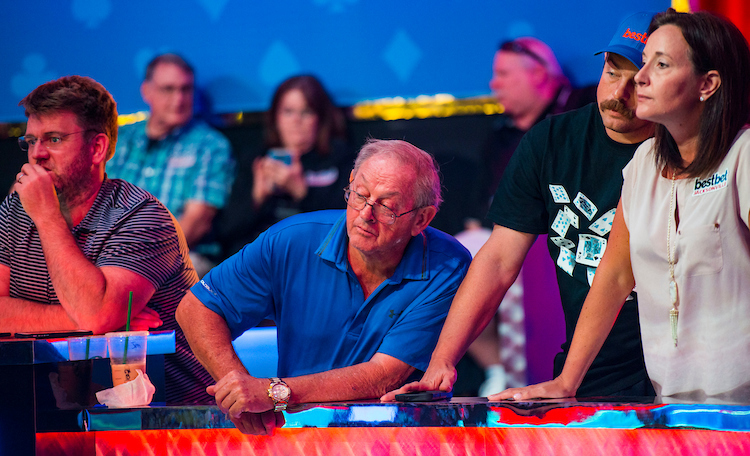 Jim Miles, centre, here to rail son Tony
He explained how he had been speaking with his son over the phone on most of the breaks in play, but only managed to fly in from his home in Orlando, Florida, this morning.
Jim is an Air Force veteran, who served 26 years based across Asia (Thailand, Guam, Korea), as well as Europe and in the United States. Tony was born in Hill Air Force base in Salt Lake City, Utah, but only picked up poker in college in Jacksonville.
Jim doesn't play poker, and says that he's only now picking up the rules as his son goes deep in his second WSOP Main Event. "I don't know how well he did last time, but it wasn't this well," Jim said of his son.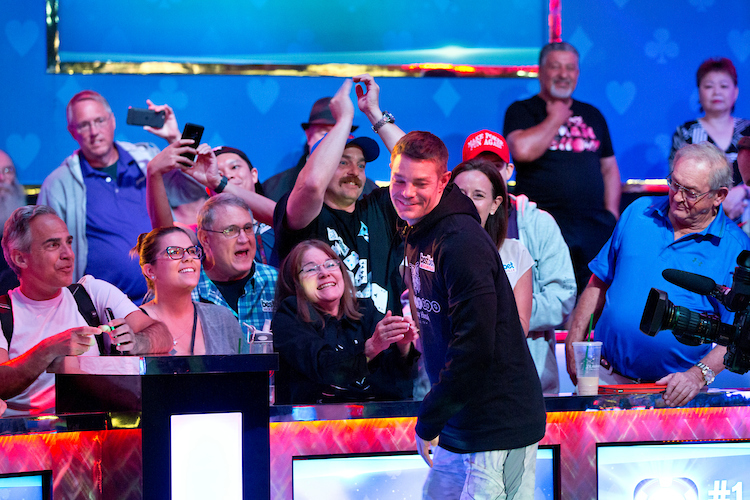 Tony Miles celebrates a double up with his rail
But this run is also helping Jim come to terms with his son's chosen profession. "It's taken his dad a long time to approve of this as an occupation," Jim admitted. "But he's good at it. He's a tremendous kid. Bright."
The WSOP came at the right time for both Jim and Tony. A month ago, Jim's wife Barbara, Tony's step-mother, died and Jim said the World Series has allowed father and son to find something to focus on after their loss. "It comes and goes, the emotions," Jim said. "He's overcome that…His demeanour is totally relaxed. He doesn't know he's supposed to get nervous."
Tony Miles: 'He doesn't know he's supposed to be nervous'
Tony has had a solid support network to help him through the tough times, and they're here to cheer him to even greater success. In addition to Jim, Tony's brother and mother Debbie, with her husband, are also watching from within the ESPN mothership. They're not quite succeeding in staying as calm as Tony.
"I'm more nervous that anybody," Debbie confessed.
But can they now start dreaming of an $8 million payday? "I can't," Jim said, before pausing and adding: "But he can."
---
Selected previous 2018 WSOP coverage:
Is Hellmuth closing in on bracelet #15
As England departs World Cup, a new hero emerges
From the archive: Kassouf is finally silenced
Short stories of long nights at the poker table
The payout process
Then and now: Jake Cody
From the archive: K.L. Cleeton's inspiring run
Inside the ideas factory: Jason Somerville's Run It Up Studios
Stop, start, break, start, bubble for Matt Hopkins
Then and now: Barry Greenstein
A comprehensive guide to the WSOP bubble
Untangling the cake riddle to discover the key to Liv Boeree's heart
Meet Muskan Sethi: India's presidential poker ambassador
Then and Now: Daniel Negreanu
A flippin' fantastic way to enter a poker tournament
Jeff Gross: A momentary pause in the perpetual motion
From the archive: Stages
Moneymaker surveys the world he created
Negreanu continues preparations for PokerStars Players Championship
Then and Now: Andre Akkari
Then and Now: Maria Konnikova
WSOP photos by PokerPhotoArchive.com.