Throughout the World Series of Poker Main Event this year, we'll be asking members of Team PokerStars Pro for their memories of their first WSOP visit, and for details of what they've learnt since then. Next up: Hall of Famer and three-time bracelet winner Barry Greenstein.
---
When did you first come to the WSOP?
Either 1990 or 1991.
Impressions of the WSOP:
Then: You have to remember the World Series wasn't the mammoth thing that it is now. My first event was 200 players at most. It was just a place to play the cash games. It wasn't anything daunting or scary or impressive or whatever. I was a poker player, that's what I did. It was nothing.
Now: The first time I remember being kind of amazed was the first time they had it here at the Rio and it was all in the Amazon Room. You walk in and you just see these rows and rows of poker tables, and for a poker player it was somewhat exciting. I'm sure it is now for anyone who comes for the first time to the World Series, and now of course it's even bigger. You see the open door and you see all these poker tables and it's pretty amazing. It's just a sight you don't see. I'm now a bit jaded because I've seen it grow, I see it every year. It's not like it's a surprise or anything. But the first time I think any poker player sees it, it's an exciting thing to see.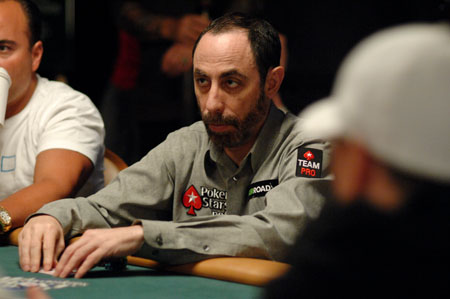 Barry Greenstein: the 2008 edition
Playing schedule:
Then: It was just about cash games for me. I did play the Main Event, but I came to the World Series for cash games and I played maybe one other event. Throughout the 90s that's pretty much what I did. I came here for the cash games. Then when the poker boom hit I played a few more tournaments, like the no limit deuce [deuce-to-seven triple draw], maybe one or two others. But I still mainly played cash games.
When tournaments kept getting bigger, then I started playing both and I'd just play until I was ready to drop. I'd play the tournament until two in the morning, then I'd go to a cash game and play all night sometimes. I'd almost hope to get knocked out of a tournaments, so I could get some rest during the day. But I tried to multi task as much as possible.
Now: Once I turned 55 or 60, I just said OK, it's got to be one or the other. It's mostly been tournaments. Sometimes I'll get into a good flow playing some cash game and stay with that, but the problem now is that if you're playing the tournament and when you get knocked out you go to the cash game, if it's a real good game, you can't get in it. And then when the players you want to play with quit, and you can get in, it's not that good a game, or the game breaks. So it's been a little hard to multi-task, and I'm not strong enough age wise now to go there at two or three in the morning and play through the night. This time I missed the first week because my son Joe got married during the first week. But then I played mostly small tournaments.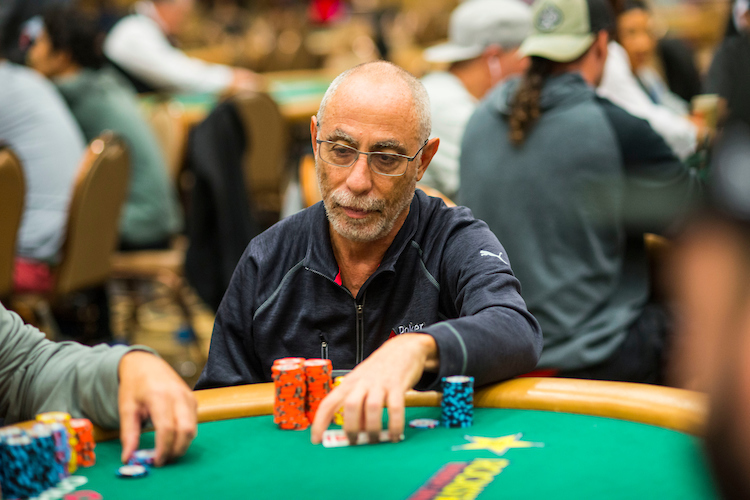 Barry Greenstein: Still a force after 28 years at the WSOP
Profit/loss
Then: I always made money at the World Series in the early days. I lost a bunch one time, playing Chinese poker one of the first couple of years, but outside of that I normally did pretty well because the cash games were really good in the early 90s. For me it was pot-limit hold'em that was the game they played. That was good. Then in the later 90s it was more mixed games, or maybe in the early 2000s. Normally I looked at the World Series as the time to make the most money, so it was usually real profitable.
Now: I screwed up one tournament this year where I was chip leader with 24 to go. If I'd have final-tabled that, I'd have played some bigger events, but because I didn't I'm trying to lose as little as possible. I'm still down. I've had a number of cashes, but I've had only two deep runs.
---
PREVIOUS "THEN AND NOW" ARTICLES
Maria Konnikova | Daniel Negreanu | Andre Akkari
---
Accommodation
Then: The early days, when it was at Binion's, I stayed at the Golden Nugget. I had a credit line there to play blackjack. I had a nice suite there and would walk over to Binion's. It was next door.
Now: Later, I would stay either at the Aria or the Bellagio because that's where the cash games moved to. Now, because I'm mostly playing tournaments, I like to keep a room at the Rio. I've had a condo out here, rented a house, but even then I've had a room just so I could crash, especially if I was playing a lot. A lot of people don't want to stay here and criticize the place, but I see a lot of people getting a place and they're going out of the heat into the cold, over and over every day. I'm guessing 5 to 10 percent of the players who are saying, 'Oh, you shouldn't stay at the Rio' get knocked out from that. It just really does bad things to your body if you're doing that every day. So even when I've had a trailer in the back, one of those Winnebago things, and even when we had a condo here, I try to keep a room at the Rio just in case I need to use it.
What do you know now that you didn't know then?
Well I was a cash game player back then, so I probably know more about tournament strategy. I used to think different things. I probably don't know what I know, because I learnt it gradually. I was confused a lot when I transitioned from cash games to tournaments, about what hands to play, keeping track of how many big blinds you have, because you play hands differently depending on that. And looking around at the short stacks, because there's a lot of short-stack play. You learn the ropes the more you play in them. Now I see people do things and I think how stupid they are, but I probably did the same things.
Is there anything you miss?
I miss being younger. That's the main thing.
Did you develop any habits over the years?
I try to get here on time. A lot of players don't. As I've gotten older I've noticed one thing I do very differently: in the early days I would study my table very closely to learn what everyone was doing in the first hour, so I really felt I knew what everyone was doing. But now I intentionally don't study that carefully and I miss things just for a mental break. Because I think that keeps me stronger. Later, as we get close to the money, I might do it. But early on, I say, "Ah, a lot of these guys are going to go bust anyway so don't put too much attention into it." I've had to reverse the way I use my mental energy.
Advice to a WSOP first timer:
It depends why they're here, if they're a recreational player and just want to have a good time. If they're purely trying to do well, I'd say you'll probably need to be more aggressive than you think. A lot of people play scared when they come here. But you should push the envelope a little bit because they pay the top few spots. Min-cashing may be fun when you first do it, or if you need the money from a min-cash. Sometimes you have to do that. But you're not going to make money if you're going to scrape by and not take any chances. People usually when they first come here are just trying to last, and that's not a money-winning strategy normally.
---
DAY 2AB CHIPS | DAY 2C CHIPS | TEAM PRO'S PROGRESS
Previous 2018 WSOP coverage:
After stinging defeat in Macau, Aditya Agarwal regroups
The field converges for bubble day…perhaps
The rough and tumble of Day 2
From the archive: Blood, sweat and other bodily fluids
Untangling the cake riddle to discover the key to Liv Boeree's heart
Meet Muskan Sethi: India's presidential poker ambassador
A return of the masses for the long, slow dance
Then and Now: Daniel Negreanu
Records broken and Red Spades flying
"Thanks Daniel" — A letter to Negreanu from Phil Galfond
A flippin' fantastic way to enter a poker tournament
Jeff Gross: A momentary pause in the perpetual motion
From the archive: Stages
Moneymaker surveys the world he created
Negreanu continues preparations for PokerStars Players Championship
Then and Now: Andre Akkari
An exceptional Day 1A
From the archive: Rio here, Rio there
Then and Now: Maria Konnikova
All systems go on 'cattywumpus' World Series
WSOP photos by PokerPhotoArchive.com.