Larry Magnus has had a thoroughly enjoyable summer. "I'm sorry it's nearly over," he says. "I'm already looking forward to next year."
On the surface, Magnus is a small cog in the vast machine that is the World Series of Poker (WSOP) but, like a decent sports umpire, Magnus is most successful at his job if no one remembers him.
For the best part of two months this summer, Magnus has sat daily on one of the payouts tables in the Amazon Room at the Rio Hotel & Casino. Players eliminated from the Main Event–and all previous tournaments–have to go through a four-stage process before they can actually pick up their money, and Magnus is one of them.
The payouts staff get to see the players at their most crestfallen. Although the sums of money handed over often represent several annual salaries in most professions, only a privileged handful of players get to go through the payouts process feeling only delight. For others it represents the death of dreams, the chance of a lifetime not quite fulfilled.
Magnus, and others in the same team, have learned that dignified politeness is the best policy. "You kind of learn what questions not to ask," Magnus says. "You say 'Please', you say 'Thank you'. You don't say: 'How are you today?'"
Stage 1: Stand still, then move
Getting to the deep stages of the Main Event will eventually become most players' most treasured poker memory. But in the immediate aftermath of a bust-out, players can be forgiven for wishing the world would just swallow them up. But before they can sink into the warm embrace of a loved one (or a ton of booze), their first instruction is to actually stand stock still at the very site of their demise.
"Payout four-twenty-seven!" the dealer shouts, shortly after Barry Faecher had lost the last of his stack to Jorden Fox.
Faecher pointed around the table and said, "It was a pleasure playing with you all." Then senior floorman JT House came to the table, radio in hand, to confirm the elimination and set the ball rolling on the payouts process. He mumbled something into his radio–the word "payout" was involved–and then told Faecher: "If you stay right at your seat."
"It's not my seat anymore," Faecher said under his breath, the realisation beginning to set in that there was no more room at the Main Event for him.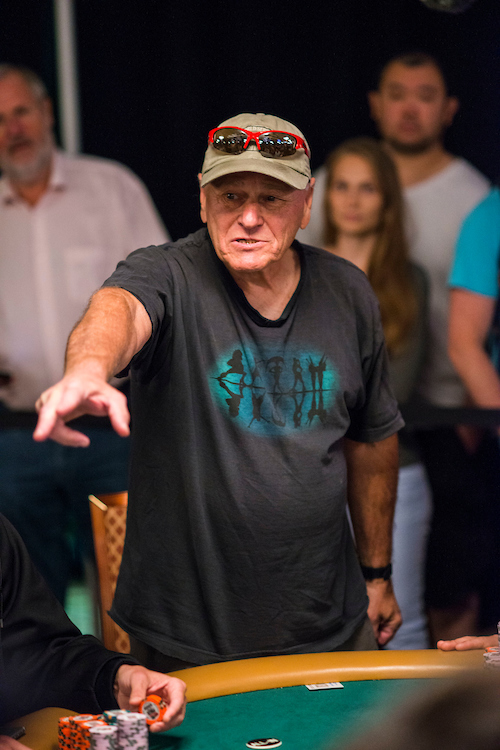 Barry Faecher bids his table-mates farewell
Faecher began to tap out a text message, perhaps hoping to inform friends and family before they read it on the live updates. But the payouts process had now begun and soon a dealer named Samantha arrived and said, "Sir, follow me please." She escorted Faecher to his first stop-off: an elevated table underneath the big screen on which today sits Seth Palansky and Shawn Lytle.
The tournament officials examine Faecher's ID and cross his name off the list of active players. Then his elimination is announced over the microphone. "Finishing in 90th place, Barry Faecher from Colorado." There's muted applause.
"Nice going, bud," Lytle said. Faecher asked how much he had won.
"Ninetieth?" Lytle confirmed. "You made the next money jump. Seventy-seven. Nice run, bud."
Stage 2: The ticket
At this stage the eliminated player is given a brightly coloured ticket, which confirms the tournament they were playing and the place they finished. Then Samantha (or her colleague Kimberley) escorts the unfortunate faller over to Magnus, who sits on a desk the other side of the ESPN feature table stage.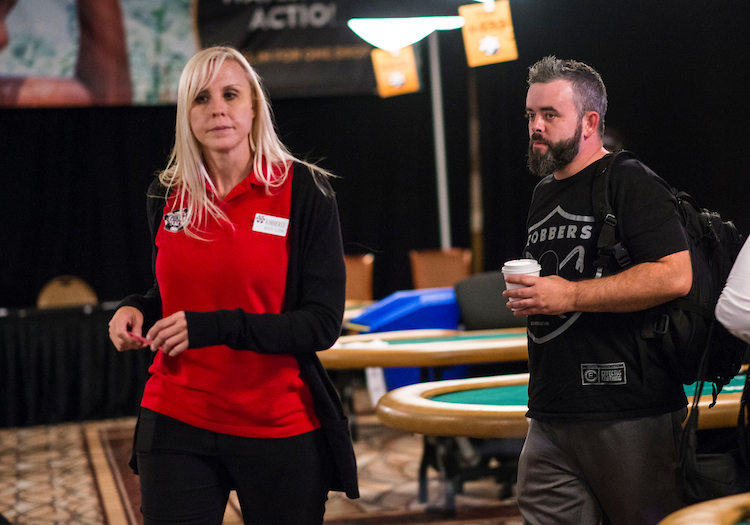 Kimberley leads Jared Palmer to start the payout process
Magnus is therefore stage two. He cross-references the player's ID, taps details into the computer to confirm everything is in order, and then sends the player on to the payouts room.
"Ninety nine percent are really great," Magnus says. "They're upset but they're great to me."
Stage 3: The room over the hall
The "Payouts and Player Service" room is across the hall outside the Amazon Room. During the really busy times, such as immediately after the bubble bursts in the Main Event, this is where the long lines begin forming. They use the crowd-control belts and barriers, like approaching the customs desk at an airport, and waits can sometimes creep up to uncomfortable lengths.
But today, with fewer than 100 left in the Main Event, players can walk straight past the sign that says "PLEASE WAIT HERE FOR NEXT PAYOUT CLERK" and go straight up to any one of at least six assistants, all wearing the distinctive red polo shirts of the WSOP team.
Players then hand over their ID again, as well as their bustout ticket, and the formalities now become a bit more in depth. They start talking numbers. If a player has a social security number, or has proof that they come from a country with a tax treaty with the United States, then nothing is withheld from their payout. Under other circumstances, money will be withheld to conform with gambling legislation–and players can maybe attempt to get it back at a later date.
Players are asked if they want to leave an additional gratuity for staff, or a donation to the One Drop charity. Staff say the problem here is usually that players don't know what represents an appropriate amount to tip. If asked, staff don't want to be specific. It's not their place to tell players how much they should leave (and there's absolutely no obligation).
One member of the staff named Tammy explained that co-workers of hers sometimes suggest leaving the "loose change" from a payout: if they've won, say, $7,190, then leave the $90. But everything is gratefully received.
There's a handy printout of the remaining WSOP tournament schedule taped to the back of the clerks' computer screens, just in case the players decide they want to spin up their money. Many others decide that moving away from the tables for a while might be their smartest move, and Tammy says that it can sometimes be a somber process at this stage.
"You'd think they'd be happy, but they're not," she says.
Many of the WSOP staff–at all levels of the team–work only for the summer. It is a useful stop gap for people whose professions allow them a long break and they need something to fill it. There are at least four teachers on the staff, for example, some from nearby UNLV. Joanne Douglas, who supervises the room, is one of comparatively few full-time employees and travels to all of the WSOP circuit events too, so is able to offer a personal touch when players come seeking their payouts.
"She knows everyone," Tammy says. (I was in the room for only about five minutes and Douglas did indeed greet two players by name before they had ever handed over any ID.)
Stage 4: Show me the money
Players are then offered the chance to take their money in cash, chips or a check, or arrange a wire transfer if it's for more than $10,000. Cash remains the most popular, at least before the numbers start getting really dizzying.
It's then a couple of steps across the room to the payouts cage, and finally–after days at the table, after ups, downs and eventual elimination–a player gets his or her hands on the prize.
And if everything has moved smoothly, through JT House, Samantha or Kimberly, Sean and Seth, Larry, Tammy and Joanne (and many, many more) no one will remember them. Until they hope to see them again next year…
---
DAY 5 | DAY 4 | DAY 2AB | DAY 2C | TEAM PRO'S PROGRESS/RESULTS
Previous 2018 WSOP coverage:
Power outage knocks out schedule as final stages loom
The regulars, the decorated and the knockers
From the archive: The Fukuburger flood of 2015
Then and now: Jake Cody
From the archive: K.L. Cleeton's inspiring run
Is Andreas Kniep this year's Ylon Schwartz?
Inside the ideas factory: Jason Somerville's Run It Up Studios
Stop, start, break, start, bubble for Matt Hopkins
Then and now: Barry Greenstein
A comprehensive guide to the WSOP bubble
The field converges for bubble day…perhaps
The rough and tumble of Day 2
From the archive: Blood, sweat and other bodily fluids
Untangling the cake riddle to discover the key to Liv Boeree's heart
Meet Muskan Sethi: India's presidential poker ambassador
A return of the masses for the long, slow dance
Then and Now: Daniel Negreanu
Records broken and Red Spades flying
"Thanks Daniel" — A letter to Negreanu from Phil Galfond
A flippin' fantastic way to enter a poker tournament
Jeff Gross: A momentary pause in the perpetual motion
From the archive: Stages
Moneymaker surveys the world he created
Negreanu continues preparations for PokerStars Players Championship
Then and Now: Andre Akkari
An exceptional Day 1A
From the archive: Rio here, Rio there
Then and Now: Maria Konnikova
All systems go on 'cattywumpus' World Series
WSOP photos by PokerPhotoArchive.com.