I don't know what a bubble really tastes like (I imagine it's soapy), but in every mouthful of dinner taken by around 1,300 people this evening there would have been a definite hint of that flavour.
It had been clear for a while that the money bubble of the 2018 World Series of Poker (WSOP) Main Event would be ready to burst as Day 3 of the tournament edged to its conclusion. With 14 levels played, it was time for a 60-minute break, but with only 1,182 places paid in this tournament, postprandial relaxation would be hard to come by.
Maria Konnikova, one of five Team PokerStars Pros still with chips, was feeling a little nervy, bemoaning a poor couple of preceding levels during which her stack was cut from 300,000 to a much more endangered 150,000.
"I'll do my best," she said as play resumed. But would it be good enough?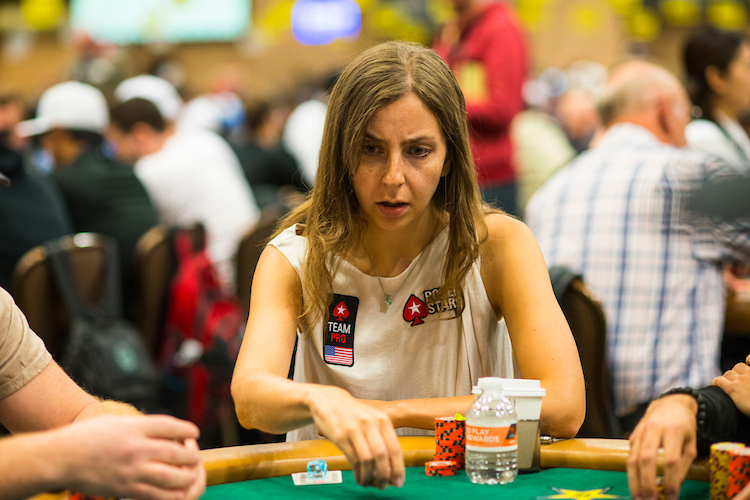 Maria Konnikova: Would her best be good enough (spoiler: yes)
At around the same time, there was also a familiar backpack making its way through the Amazon Room. It had a kind of camouflage pattern and a bottle of Mountain Dew sticking out of a pocket. I knew I had seen that backpack before, and confirmed with a glance at its owner's face that it belonged to a man named John Dwyer.
Earlier today, I'd put together a gallery of bubble boys from the recent past, and there was Dwyer, his backpack, and a dead man's stare. But he was back for 2018 and closing in on the money this time. Or was he closing in on the bubble once more?
"How you feeling?" I asked, like an idiot.
"Nervous as hell," Dwyer said.
"Lightning won't strike twice," I said, again like an idiot. Dwyer took it in good grace, but there was terror in those eyes.
For the other four members of Team Pro, things were a degree less anxious. Though Jake Cody had a stack of only around 200,000, he was feeling blessed having been all-in numerous times already during this tournament and won them all.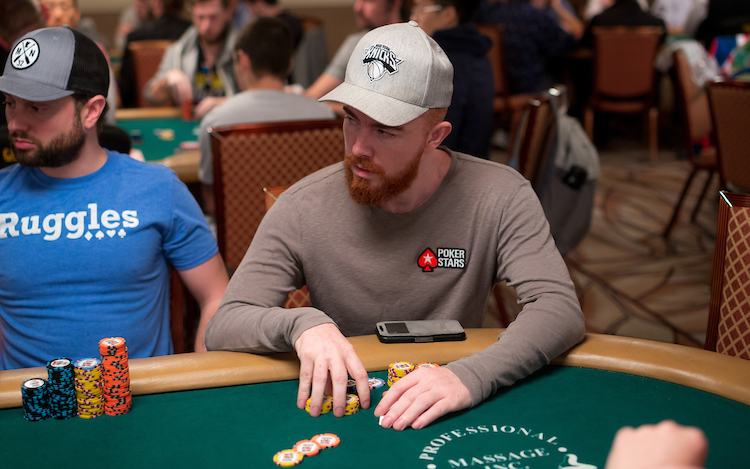 Jake Cody: Blessed on Day 3
Liv Boeree had about 500,000 chips to play with, and so was as comfortable as she always is even when all others are losing their minds.
Barry Greenstein, sitting with 220,000, has seen all of this many, many times before, so even as people started climbing on chairs to see what was happening on neighbouring tables, Greenstein sat tight, talking relaxedly with the man next door.
And then, all of a sudden, the tournament officials took to the microphone and told everyone they were on a 20-minute break. "I'm not kidding," said the voice on the mic, despite 56 minutes remaining on the level. The staff needed to count the precise number of players left and figure out how close we were to the money.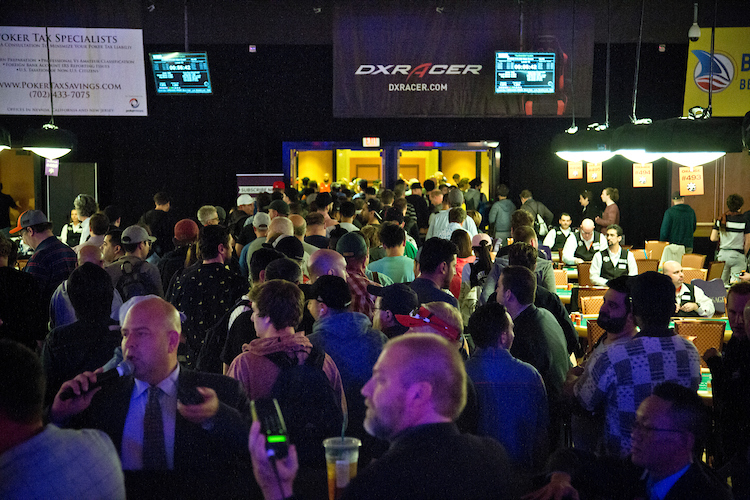 Players head off for an unscheduled break
At this stage, there were two tables only remaining in the Brasilia Room, one of which housed Team Pro's chip leader, Aditya Agarwal. Agarwal and his 17 other exiles were marched along the corridor to the Amazon Room to join the throngs, bringing the field not only into the same building, but into the same room for the first time.
In a marked improvement from last year, the entire field would play out the bubble period within sight of one another, making administration a good degree more simple. But still, with more than 1,200 involved as the unscheduled break ended, this would still be a festival of stalling, clambering, weaving and dodging–and that's just among reporters and photographers.
With 45 minutes on the clock, the wise estimate of how long was still left in the day was put at around two hours. The number of players trickled downward, a rate of about one ever three or four minutes: 1,204…1,203…1,202…1,201 and then finally into the 1,100s.
The volume by this stage had clearly increased, and it was basically just nerves given voice. Chips riffled faster, polite laughter became even more transparently forced, there were fidgets and loud-mouths and phones going off. "No. We're on the bubble. I'll call you back."
The clock ticked down to 1 min 17 sec left on the level and it stopped. Spectators were grumpily banished from the room and another audit took place. It restarted with "Dealers and players, we have reached the hand-for-hand portion of this tournament." Jack Effel had arrived back to take the mic and he told us that 1,183 were now left, two from the money.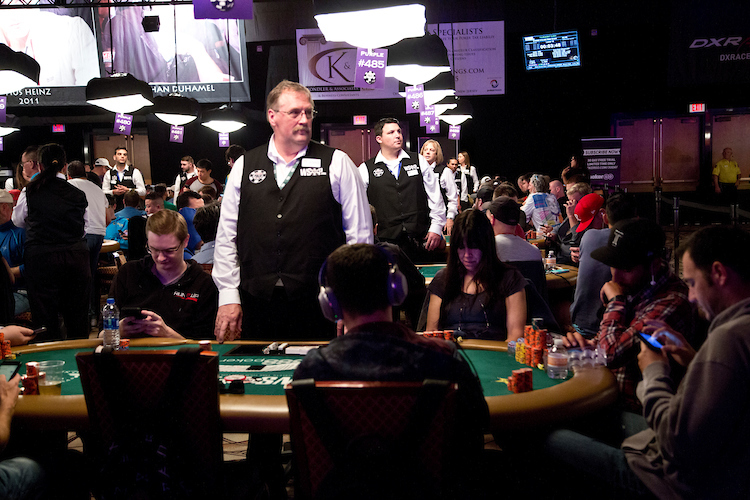 Hand for hand play begins
On the first hand of hand-for-hand play, there were three players all-in. The first, Gerard Cassis, doubled up with K♠K♦ versus Q♦Q♥. Although players across the room bellowed for a queen, Cassis actually flopped a king and was safe.
Over the other side of the room, we had an aces vs. aces coup, but a rainbow flop meant that ended in a chop, and then that took us to the third collision. This one had potential as it was ace-rag vs. ace-rag. Specifically Chi Chan had A♦3♥ to Sam Lloyd's A♥9♥ and they'd got it all-in on the river with the board showing A♣3♦2♦A♠10♦.
Chan's boat sank Lloyd and left us on the stone bubble. The tension was at its peak: one more elimination and they'd all be in the money.
"OK players, we're going to take a 20-minute break," Effel said.
It was not a popular announcement. The room broke out in a chorus of booing, which was not quite alleviated by Effel's explanation that they needed to colour up the 500-denomination chips and that it was easier to do now than at the end of the day.
The booing carried on until it became clear that there was no shifting Effel and everyone decided to head out, not to waste any more time in booing.
Jim Collopy scooted past on a Doyle Brunson-style scooter (Collopy has wrecked his knee). Another player was on the phone and said, "One more guy out and then it's f–king party time." Players around Table 466 celebrated the fact that one of them had a royal flush. Phil Ivey and Phil Ivey's guy shared either end of a phone cable, like Lady and the Tramp.
Antonio Esfandiari posed for some photographs. John Hesp, who is not in the tournament, loitered around, extending his improbable 15 minutes of fame still further.
After a fretting 20 minutes, all the players came back. "I know you're all pissed off at me," Effel said, but this time he got some muted applause for his mea culpa. They then dealt one more hand to decide who was going to take the fall, and two candidates quickly emerged.
Jack Effel and Charlie Ciresi discuss bubble strategy
Ross Mallor was one of them. He had got his short stack in with A♣K♣ against Ben Cade's Q♠Q♥. But a king on the flop and an ace on the turn kept him afloat, and attention quickly shifted to a secondary feature table where there was also an all-in, called.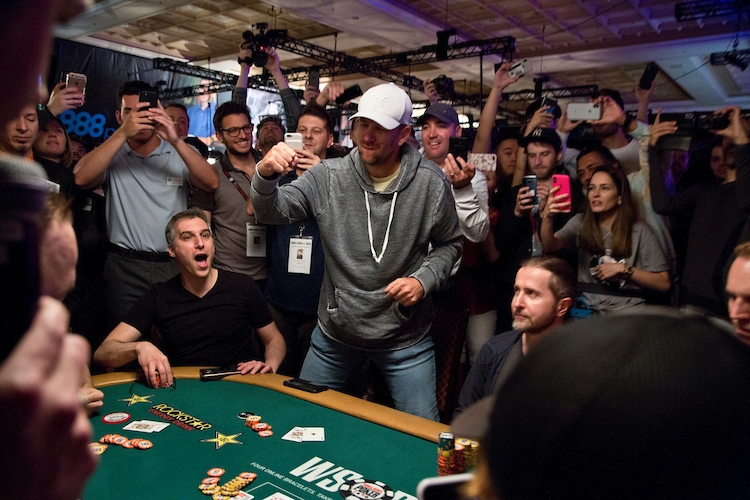 Ross Mallor doubles up
This was looking bleak for Matthew Hopkins. He had jammed with A♣5♥ over Bryce McVay's open. And McVay's A♦Q♠ was ahead. Very quickly they were at the turn and there was no help for the all-in player.
"He's going to need to see a five on the river to survive," Effel said. The river was not a five.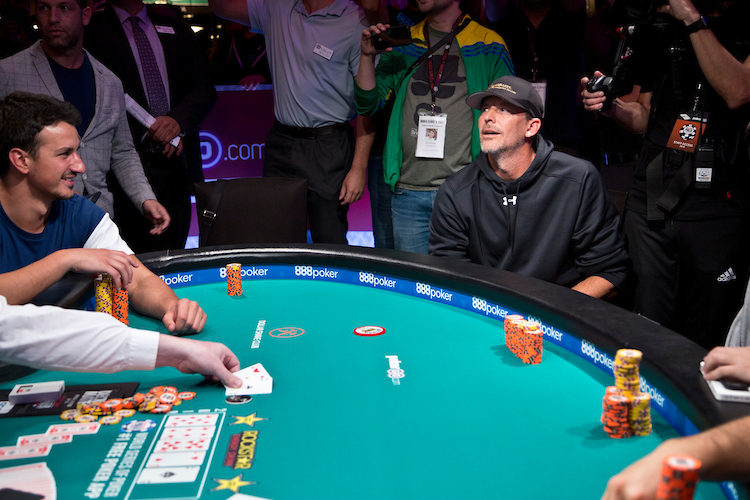 Matthew Hopkins: The river was not a five
Effel shook Hopkins' hand. Hopkins didn't quite seem to have processed it, but managed to raise a fist in celebration after learning that he'd get a seat into next year's tournament as a consolation prize.
Turning to address the rest of the room, Effel said, "He might be the bubble, but you are all in the money!" That included all of Konnikova, Cody Greenstein, Boeree and Agarwal (as well as Dwyer, who did indeed dodge the lightning bolt a second time.)
The world sank for Hopkins, but the knowledge sank in for all the others that they were $15,000 richer. They will come back tomorrow to begin the assault on the payouts cage.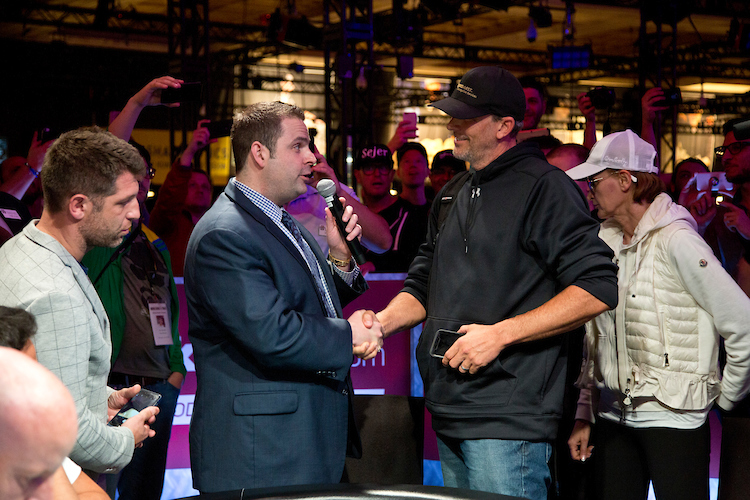 Jack Effel invites Matthew Hopkins back next year
Team Pros through to Day 4 (in the money):
Aditya Agarwal — 653,000
Liv Boeree — 279,000
Barry Greenstein — 262,000
Jake Cody — 245,000
Maria Konnikova — 165,000
---
Previous 2018 WSOP coverage:
Then and now: Barry Greenstein
After stinging defeat in Macau, Aditya Agarwal regroups
The field converges for bubble day…perhaps
The rough and tumble of Day 2
From the archive: Blood, sweat and other bodily fluids
Untangling the cake riddle to discover the key to Liv Boeree's heart
Meet Muskan Sethi: India's presidential poker ambassador
A return of the masses for the long, slow dance
Then and Now: Daniel Negreanu
Records broken and Red Spades flying
"Thanks Daniel" — A letter to Negreanu from Phil Galfond
A flippin' fantastic way to enter a poker tournament
Jeff Gross: A momentary pause in the perpetual motion
From the archive: Stages
Moneymaker surveys the world he created
Negreanu continues preparations for PokerStars Players Championship
Then and Now: Andre Akkari
An exceptional Day 1A
From the archive: Rio here, Rio there
Then and Now: Maria Konnikova
All systems go on 'cattywumpus' World Series
WSOP photos by PokerPhotoArchive.com.