Barny Boatman is a storyteller and has been for all of his 20-plus year poker career. The elder statesman of the Hendon Mob is cast from the old mould, where skills as a raconteur were every bit as important to progress in the gambling world as picking off a bluff.
This year, there's documented proof of Boatman's skills as a yarn-spinner as his tale Drawing Dead opens a new collection of poker-related short stories titled He Played For His Wife and Other Stories. The tagline to the book, which is the latest brainchild of British journalist and poker aficionado Anthony Holden and co-editor Natalie Galustian, reads "Short stories of long nights at the poker table".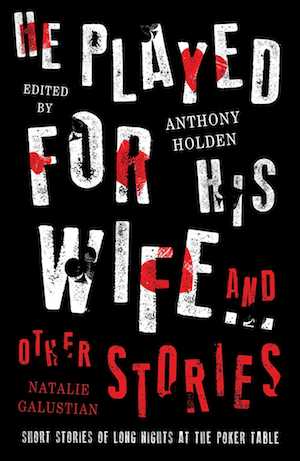 The new book fills a strangely underpopulated gap in the world of gambling literature: stories told mostly by poker players themselves, inspired by the game they love, but where there's no reason even to pretend any of it actually happened. Bending the truth has always been part of a poker-player's modus operandi, but this is fiction in its purest form.
"It's one of those ideas which you can't quite believe nobody has done it before, it's such an obvious thing to do," Boatman says. "There are so many characters in poker, and there are so many people who are writers, or comedians or actors who have a connection to poker. There are so many stories to be told."
The contributors come from far and wide. Boatman is joined by Holden himself, whose 1992 non-fiction book Big Deal is a landmark modern poker text, alongside the likes of actress Jennifer Tilly, Booker-prize winner D.B.C. Pierre, playwright Patrick Marber and journalist James McManus, whose Positively Fifth Street provided many mainstream readers' introduction to the World Series of Poker (WSOP). There's even a lyrical offering from British Poet Laureate Carol Ann Duffy. All are either poker players who write or writers who love poker too.
"Some of it, like my story, is written with a lot of direct experience about a particular aspect of the poker world," Boatman says. "Then there's other stories that bring poker in quite obliquely. There's a lot of imagination, there's a lot of humour there. There are a lot of different takes on it."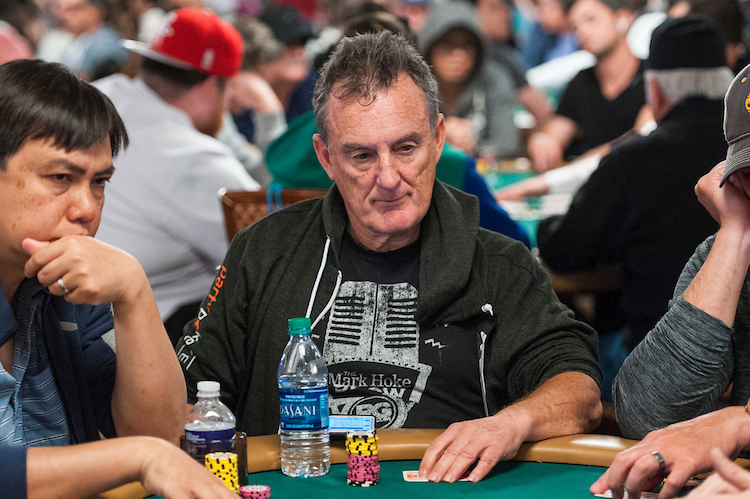 Barny Boatman: Poker player turned author
The only rule for contributors was that poker was in some way part of the story, and the limit was set at 3,000 words. "It's a great format because they're 15-20 pages long," Boatman says. "You can read them on a break in a tournament. You can go through one in 20 minutes. They're all real page-turners."
Boatman's story is rooted firmly in a recognisable poker landscape, familiar to anyone who has frequented London casinos and home games. Within a page we meet an old-school staker, clinging on to his ledger of what's owed and who owes it even as he plummets to his death from a window.
It details a good old-fashioned grudge match between veteran duellers, with an unexpected supernatural element. But it is also a morality tale for the poker generation, dispensing age-old spieler wisdom. "In my world reputation is everything," the narrator says. "More important than being good is being thought good."
Boatman says: "As a poker player you're asked a lot of ethical questions of yourself and others. I hope that most of us come up to scratch. But I guess there are certain things, were they laid out in front of us, we'd find hard to resist. We're only human."
Like others in the collection, Tilly's story, titled Once More Into The Abyss!, delves into what appears to be autobiography–it's narrated by a regular at the big Hollywood games–but quickly introduces a fictional cast of both the honourable and the morally ambiguous. There are dutiful boyfriends cooking eggs after a "rough night" as well as robbers, hustlers, pimps and the broke.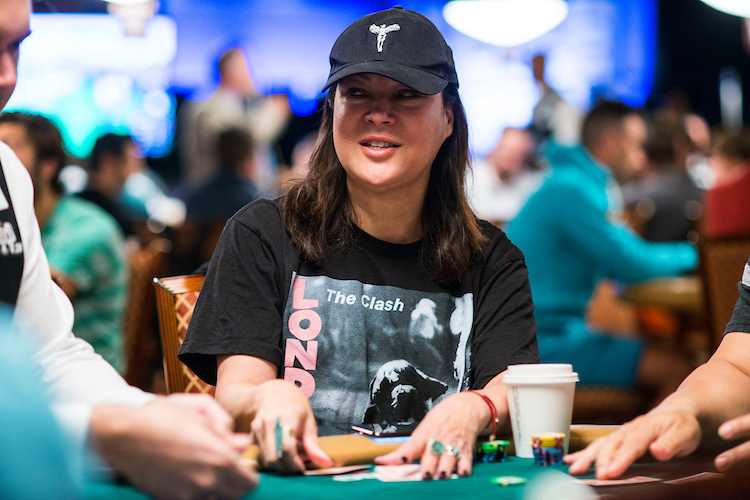 Jennifer Tilly: A tale of hustlers and robbers and the big underground games
In Primero Face, Holden hosts a home game for all the characters he has written books about as one of the UK's most celebrated biographers. That means William Shakespeare taking on Prince Charles and Wolfgang Amadeus Mozart, among others. "Tony has written a story that only he could have written, having lived a life that he has lived," Boatman says.
What really comes out of a collection of poker-based stories is how varied, yet how similar, poker players are–at least those around whom a story might be based. Though they come from all walks of life, in all eras of history, they're obsessed with winning so much that they'll tolerate even the strong suspicion they're losers. But at the same time, there is usually an admirable reluctance to condemn others, be they snivelling or snide or underhand. As any one who plays the game knows well, poker players spend so long attempting to beat each other up that they often end up filled with nothing but mutual respect.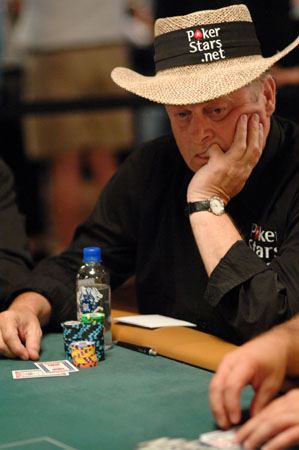 Editor and author Anthony Holden, in action at the 2008 WSOP
"What was really gratifying for me was that people who don't know poker at all were carried away in the drama of it," Boatman says. "They could follow in dramatic terms what was going on without necessarily understanding. People actually like it. These terms and this language, they think it gives them a flavour. If it doesn't cross over to the non-poker world then we've failed."
Perhaps it's only really the online generation who may feel a little short-changed. Although McManus's recreation of the WSOP is faithful even to the point of name-checking Jason Mercier, Fedor Holz and a "kid in a Run It Once hoodie", the story's drama relies on its narrator's battles with a failing middle aged body, and suspicious mind. It seems the travails of poker players brought up mouse in hand do not yet lend themselves to dramatic fictionalisation–but there's still time.
But with 17 pieces of work to chose from, protagonists who are both men and women, young and old, of all levels of experience and from all sides of the poker table, there's plenty enough to be getting on with. And no one said there couldn't be a sequel.
---
DAY 5 | DAY 4 | DAY 2AB | DAY 2C | TEAM PRO'S PROGRESS/RESULTS
Previous 2018 WSOP coverage:
The payout process
The regulars, the decorated and the knockers
From the archive: The Fukuburger flood of 2015
Then and now: Jake Cody
From the archive: K.L. Cleeton's inspiring run
Is Andreas Kniep this year's Ylon Schwartz?
Inside the ideas factory: Jason Somerville's Run It Up Studios
Stop, start, break, start, bubble for Matt Hopkins
Then and now: Barry Greenstein
A comprehensive guide to the WSOP bubble
The field converges for bubble day…perhaps
The rough and tumble of Day 2
From the archive: Blood, sweat and other bodily fluids
Untangling the cake riddle to discover the key to Liv Boeree's heart
Meet Muskan Sethi: India's presidential poker ambassador
A return of the masses for the long, slow dance
Then and Now: Daniel Negreanu
Records broken and Red Spades flying
"Thanks Daniel" — A letter to Negreanu from Phil Galfond
A flippin' fantastic way to enter a poker tournament
Jeff Gross: A momentary pause in the perpetual motion
From the archive: Stages
Moneymaker surveys the world he created
Negreanu continues preparations for PokerStars Players Championship
Then and Now: Andre Akkari
An exceptional Day 1A
From the archive: Rio here, Rio there
Then and Now: Maria Konnikova
All systems go on 'cattywumpus' World Series
WSOP photos by PokerPhotoArchive.com.