You might think that Antoine Labat will be seeing pocket kings in nightmares for the rest of his life. Not even a level ago, the man from Paris had a stack of more than 51 million chips and was sailing into the final table of the World Series of Poker (WSOP) Main Event.
He did indeed make it to the final, but it was more of a scrape than a sail. And now he's out, the first man to depart from the last nine, and is rueing another miserable skirmish with pocket kings.
Labat just lost the last of his chips–slightly more than 7.5 million of them–to Artem Metalidi. It all went in pre-flop, with Labat's K♥K♦ a long way ahead of Metalidi's Q♥Q♣. But then the dealer put the Q♦ on the flop and there was no coming back.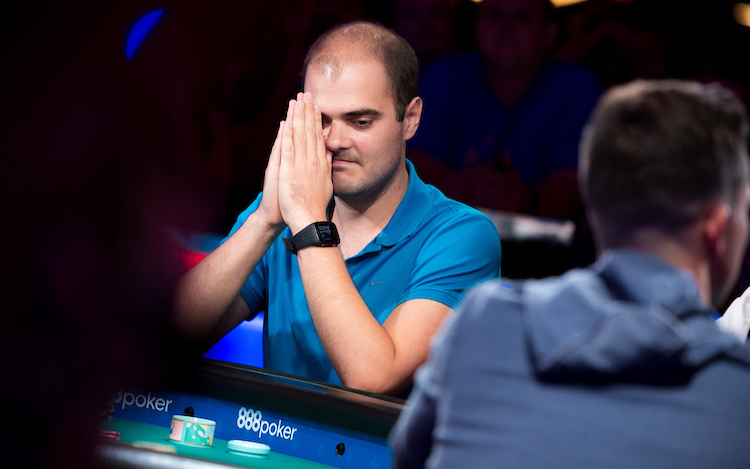 Antoine Labat: One last prayer for pocket kings to hold
Of course, the other hand with pocket kings was the one that really did the damage. He lost to the aces of Nicolas Manion to suffer a massive hit last night. But what recent followers of this tournament might not know is that kings also saved Labat when he was looking at the exit on Day 6, and he was smart enough to focus on that moment as he made the walk to collect his $1 million ninth-placed prize.
"They killed me, but they saved me," Labat told PokerStars Blog. "I cannot complain. I had them kings against aces against nines, all my chips were there, and the king came in the window card."
He added: "It had to end like that. All my tournaments have been around kings. I've had them many times, and sometimes they were good, sometimes they were not good. I don't blame them."
Labat was also wise enough to look back at a job well done over two intense weeks of competition, saying that this deep run has rekindled his love for poker after finding his passion on the wane.
"I had an amazing experience," he said. "I haven't played tournaments for a long time. I had got a little bit bored with poker, so I decided to come to Vegas and change a little bit my routine, just do new stuff. The Main Event brought me a real new experience. Now I have a lot of energy. I have a lot of energy to do more tournaments."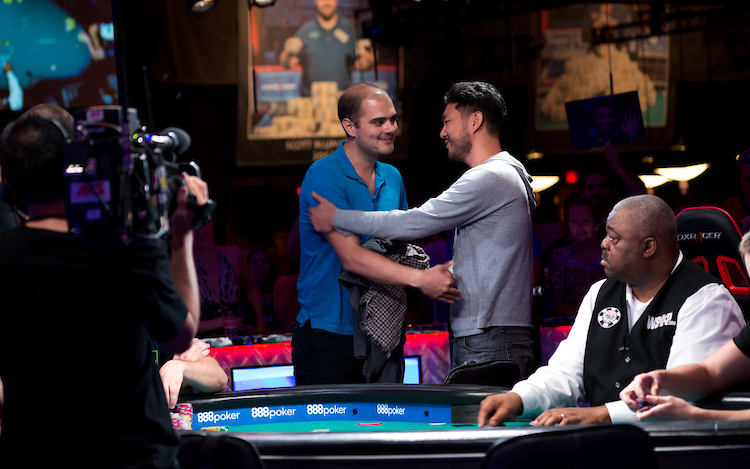 John Cynn bids Labat farewell
The 29-year-old will return to Paris on Monday, flying back with his sister and girlfriend, Clemence and Karin, who came here to watch him. He was regretful that they didn't get to see him for more than an hour–and, in fact, his sister didn't even make it in time; she touched down at McCarran.
"I can catch her at the airport," he said. "It's amazing."
Labat will take his $1 million and leaves us with eight still in contention. Michael Dyer now leads, from Manion. Metalidi's stack has received a nice boost, but he remains in seventh place.
Latest counts/payouts

| Name | Country | Chips/Payout |
| --- | --- | --- |
| Michael Dyer | USA | 116,450,000 |
| Nicolas Manion | USA | 96,575,000 |
| John Cynn | USA | 53,675,000 |
| Tony Miles | USA | 35,800,000 |
| Joe Cada | USA | 35,550,000 |
| Alex Lynskey | Australia | 22,825,000 |
| Artem Metalidi | Ukraine | 18,225,000 |
| Aram Zobian | USA | 14,675,000 |
| Antoine Labat | France | 9th – $1 million |
---
Selected previous 2018 WSOP coverage:
Final table player profiles
Two Miles: Jim and Tony
Is Hellmuth closing in on bracelet #15
As England departs World Cup, a new hero emerges
From the archive: Kassouf is finally silenced
Short stories of long nights at the poker table
The payout process
Then and now: Jake Cody
From the archive: K.L. Cleeton's inspiring run
Inside the ideas factory: Jason Somerville's Run It Up Studios
Stop, start, break, start, bubble for Matt Hopkins
Then and now: Barry Greenstein
A comprehensive guide to the WSOP bubble
Untangling the cake riddle to discover the key to Liv Boeree's heart
Meet Muskan Sethi: India's presidential poker ambassador
Then and Now: Daniel Negreanu
A flippin' fantastic way to enter a poker tournament
Jeff Gross: A momentary pause in the perpetual motion
From the archive: Stages
Moneymaker surveys the world he created
Negreanu continues preparations for PokerStars Players Championship
Then and Now: Andre Akkari
Then and Now: Maria Konnikova
WSOP photos by PokerPhotoArchive.com.