This year, PokerStars Blog is attending its 15th consecutive World Series of Poker (WSOP) Main Event. We've been here since Raymer, through Hachem, Eastgate, Cada, Duhamel et al. Periodically through the 2018 renewal, we'll dig out some coverage from yesteryear and take a look at how things went down back then.
Today's instalment comes from Day 4 last year and features K.L. Cleeton, who won a contest hosted by Daniel Negreanu and provided one of the feel-good stories of the summer. Martin Harris met him.
---
July 14, 2017
As the 1,084 players returning to start today's Day 4 of the 2017 World Series of Poker Main Event arrived to find their seats in the Amazon and Brasilia rooms this morning, lots of good vibes were being passed back and forth between players as they entered. Congratulations for getting this far, and expressions of encouragement to go further.
It's pretty obvious — everyone has been energized a little more after last night's bubble bursting, ensuring all have made the money as they each pursue a dream to get even further, perhaps all of the way to next weekend's final table.
Among those arriving was Kenneth "K.L." Cleeton, the recipient of a number of such well wishes as he headed toward the Amazon to take his seat for Day 4 accompanied by his father, also named Kenneth.
You might have heard something about the 27-year-old poker player from Illinois. Born with spinal muscular atrophy, a rare neuromuscular disorder leaving him paralyzed from the neck down (though with feeling in his limbs) plus associated respiratory problems, Cleeton's parents were given the grim report early on that his prospects for living beyond childhood weren't favorable.
K.L. exceeded those expectations and then some, getting a college degree and starting his own advertising business. Along the way poker became a passion, too, with K.L. especially taking to the online game where he honed his skills.
Enter Daniel Negreanu. Recently the Team PokerStars Pro decided to conduct a contest among his fans and followers on social media. He invited participants to submit videos describing why they wished to play in the WSOP Main Event, his plan being to pick one and buy the player into poker's most prestigious tournament.
Among the many entries Negreanu picked the three best with an idea to have a draw to see which one would win. But in the end Negreanu decided to put all three in the tournament.
Cleeton had sent in an entry, encouraged to do so by his online poker buddies. And along with Tanya Rausis and Rich Dixon, Negreanu selected K.L.
Both Rausis and Dixon managed to make Day 2 of the tournament, which most of us can imagine would be thrilling enough. Cleeton, meanwhile, has made it all of the way to the cash.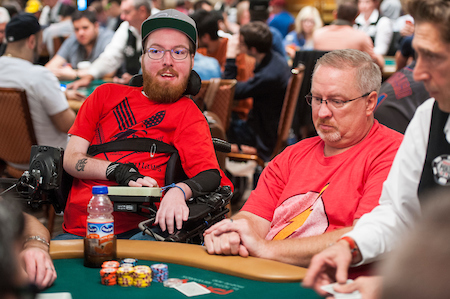 Dad by his side, K.L. on Day 3
From the outside it might have seemed improbable. But it's clear K.L. has plenty of experience defying expectations. And knowing how to get the most out of anything he does, including playing poker.
"I'm kind of like… I feel like I'm freerolling," he said, referring to coming back today with the knowledge he'd made the money.
"Goal number one was have fun," K.L. continued. "I've had a blast. I bluffed a pro. I made quads. All of the tables have been very fun and everyone is enjoying the game — the way it's supposed to be, you know?"
"And I've got a decent stack," K.L. continued, referring to the 126,000 with which he starts the day. "I've got 21 bigs… I know how to play that. It's not hard."
His dad Kenneth nodded right along. At the table he assists by showing K.L. his hole cards and handling the action as directed by his son.
"And the support has been overwhelming," said Dad with an ear-to-ear grin.
"I spent about 10 minutes reading through all my mentions," K.L. chimed in. "Just the love… it is overwhelming."
After cashing late last night — or early this morning, we should say — K.L. sent the good news to his followers, and Negreanu was quick to respond.
"Daniel Negreanu… rocks," said the proud father. "That's the only way to put it. He's the man."
During our brief visit in the Rio hallway, multiple players confirmed Negreanu's point by wishing K.L. luck as they passed by.
"I hope we get some decent cards and we can stick around and play and have more fun," continued Dad.
"That's the goal, right?" K.L. smiled.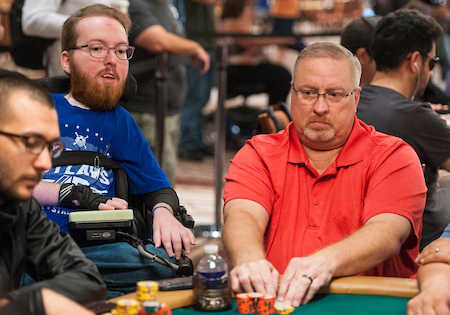 K.L. Cleeton still involved on Day 4
The fun continues as Day 4 begins
K.L.'s story is obviously uplifting. But his focus on fun makes it all the more easy to root for him.
"I keep saying it over and over again, but I can't think of anything better to say. I'm literally living the dream," he said.
K.L. speaks for all 1,084 players starting Day 4 and pursuing their own dreams of continuing their Main Event runs. And Negreanu speaks for us, too, when asked for his thoughts on what K.L. has done.
"Hearing K.L. say that he is living the dream is simply inspiring," says Negreanu. "He has the whole poker world rooting for him and his run has touched a lot of people."
Visit Negreanu's YouTube channel and his ongoing vlog series from the WSOP for more on all three contest winners' stories.
---
What happened next?
• K.L. Cleeton busted from the Main Event in 917th place, winning $16,024
• His Tweet thanking Daniel Negreanu was liked more than 1,100 times.
• Poker remains a huge part of Kleeton's life, as his Twitter @highhands89 feed will attest.
---
DAY 4 CHIPS | DAY 2AB CHIPS | DAY 2C CHIPS | TEAM PRO'S PROGRESS
Previous 2018 WSOP coverage:
Could Andreas Kniep be this year's Ylon Schwartz
Inside the ideas factory: Jason Somerville's Run It Up Studios
Stop, start, break, start, bubble for Matt Hopkins
Then and now: Barry Greenstein
A comprehensive guide to the WSOP bubble
The field converges for bubble day…perhaps
The rough and tumble of Day 2
From the archive: Blood, sweat and other bodily fluids
Untangling the cake riddle to discover the key to Liv Boeree's heart
Meet Muskan Sethi: India's presidential poker ambassador
A return of the masses for the long, slow dance
Then and Now: Daniel Negreanu
Records broken and Red Spades flying
"Thanks Daniel" — A letter to Negreanu from Phil Galfond
A flippin' fantastic way to enter a poker tournament
Jeff Gross: A momentary pause in the perpetual motion
From the archive: Stages
Moneymaker surveys the world he created
Negreanu continues preparations for PokerStars Players Championship
Then and Now: Andre Akkari
An exceptional Day 1A
From the archive: Rio here, Rio there
Then and Now: Maria Konnikova
All systems go on 'cattywumpus' World Series
WSOP photos by PokerPhotoArchive.com.