We are down to seven here at the World Series of Poker (WSOP) Main Event, and the fact that Aram Zobian is not now on the rail is proof of the oldest cliche in the poker book: it's never over until the last card is dealt.
In two major hands in the past 30 minutes, Zobian found himself all-in and then all but all-in, first against Michael Dyer and then against Artem Metalidi. Both times, the first four cards put on the board by the dealer did not help him. And then both times the river made him a winner.
While the first of those confrontations–Zobian's A♠6♠ beating Michael Dyer's 6♦6♥ when the 8♥ rivered–barely dented Dyer's chip lead, the second was terminal for Metalidi. Though Metalidi flopped a set with his 5♣5♦ leaving Zobian's K♦Q♦, there were also two diamonds on the flop.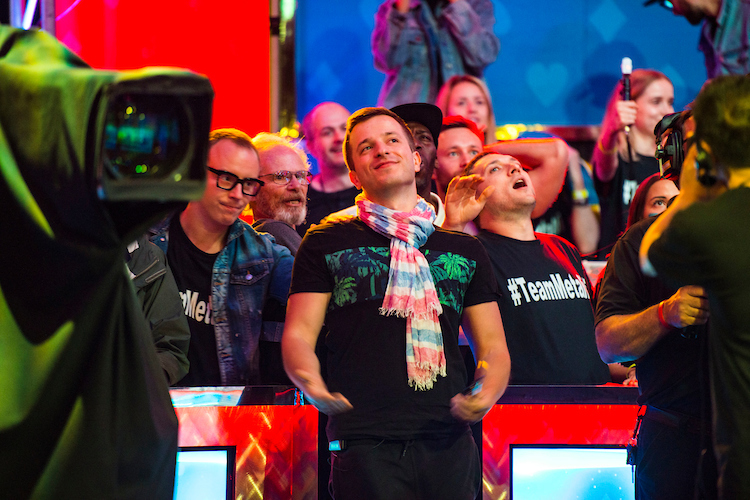 Artem Metalidi watches the run out that ends his Main Event
The third diamond came on the river to make Zobian a flush and to end Metalidi's interests. The man from Kiev takes $1.25 million for his eighth place.
"I'm happy with my score regardless of how today went," Metalidi said. "I kind of had this mindset going into today and I don't think anyone in my spot should be not happy."
He described his tournament as "surreal" and essentially a freeroll after he was all-in with set-under-set early in the tournament, but somehow survived. "Then I made the money with a really short stack and I wasn't even considering that I could make it here. But here I am, and I'm really, really happy."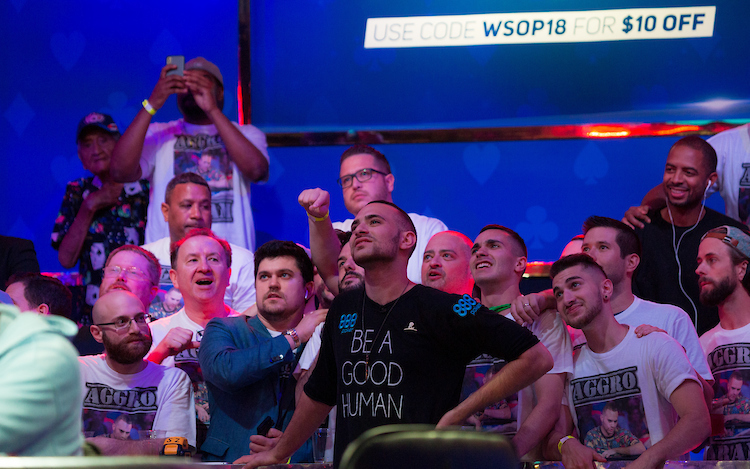 Aram Zobian watches the dealer deliver his fate
Metalidi, 29, who is a seasoned grinder on the European circuit, said he hasn't fully been able to grasp the extent of his achievements yet. "It's probably going to hit me later," he said.
He then pointed to Joe Cada and Michael Dyer as the two players he imagines going heads-up. "They're the strongest players left in my opinion," Metalidi said. "I think Joe has a really good chance to win this."
Metalidi now heads off with his rail of Russian and Ukrainian friends who had amassed in the Rio to support him. "It's been incredible. I couldn't even dream of it," he said.
The two major wins for Zobian has moved him up the chip-counts and leaves Alex Lynskey as the short-stack–albeit the short-stack with the loudest rail. Lynskey did not win a single pot for the first two hours of play today, leaving him with less than 17 million in chips.
Meanwhile Dyer now has an enormous lead. He has more than 130 million and close to double that of his nearest challenger, Nicolas Manion.
Michael Dyer: Massive chip leader
Latest counts/payouts

| Name | Country | Chips/Payout |
| --- | --- | --- |
| Michael Dyer | USA | 134,850,000 |
| Nicolas Manion | USA | 73,025,000 |
| John Cynn | USA | 51,825,000 |
| Joe Cada | USA | 44,900,000 |
| Tony Miles | USA | 40,175,000 |
| Aram Zobian | USA | 32,075,000 |
| Alex Lynskey | Australia | 16,925,000 |
| Artem Metalidi | Ukraine | 8th – $1.25 million |
| Antoine Labat | France | 9th – $1 million |
---
Selected previous 2018 WSOP coverage:
Antoine Labat killed by the kings that once saved him
Final table player profiles
Two Miles: Jim and Tony
Is Hellmuth closing in on bracelet #15
As England departs World Cup, a new hero emerges
From the archive: Kassouf is finally silenced
Short stories of long nights at the poker table
The payout process
Then and now: Jake Cody
From the archive: K.L. Cleeton's inspiring run
Inside the ideas factory: Jason Somerville's Run It Up Studios
Stop, start, break, start, bubble for Matt Hopkins
Then and now: Barry Greenstein
A comprehensive guide to the WSOP bubble
Untangling the cake riddle to discover the key to Liv Boeree's heart
Meet Muskan Sethi: India's presidential poker ambassador
Then and Now: Daniel Negreanu
A flippin' fantastic way to enter a poker tournament
Jeff Gross: A momentary pause in the perpetual motion
From the archive: Stages
Moneymaker surveys the world he created
Negreanu continues preparations for PokerStars Players Championship
Then and Now: Andre Akkari
Then and Now: Maria Konnikova
WSOP photos by PokerPhotoArchive.com.