Through 15 years coming to Las Vegas, PokerStars Blog has written what must be several hundred thousand words at the World Series of Poker (WSOP) Main Event. It would be enough to fill a couple of books–ably illustrated through the lens of our long-time colleague Joe Giron.
More than perhaps any other period of play–the eventual crowning of a champion included–the bubble has fascinated our writers down the years. There's a separate bubble post for every single WSOP renewal we've attended, the most recent eight of which are easily accessible on our current blog platform.
The wonders of internet archiving therefore gives us the chance to review bubbles past and offer a comprehensive guide to how it's gone down year-on-year. Today, at the 2018 WSOP, it is almost certain to be bubble day once more. But in the hours leading up to it, why not take a look back at how it used to be.
There are some familiar motifs: the dealers stood in long sentry-lines; the slow countdown; Jack Effel corralling his troops; and the eventual bursting followed by presentations and applause.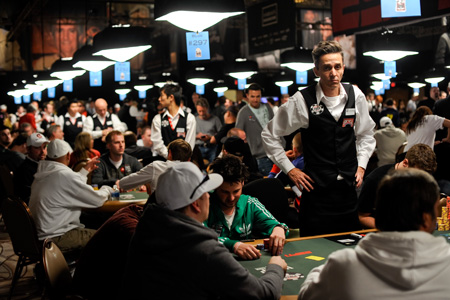 Dealers stand on the 2010 bubble
But there's also characters large and small who suffered the ultimate indignity, united only by the fact that nobody seems to celebrate them. Here's our tribute to those who fell at the very last. Click the headlines to read the full stories…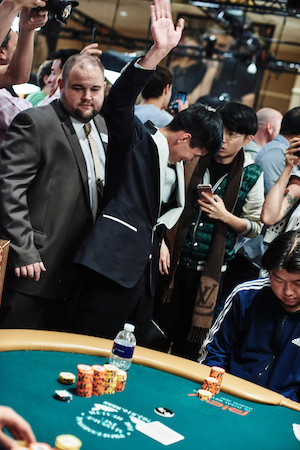 Quan Zhou bluffs it all away
If you're going to go out of the Main Event, you might as well do it in style, and bubbling was never done with such elan as when China's Quan Zhou bluffed his way home last year. Dressed to impress in a smart dinner suit, Zhou wasn't even a short stack when he entered bubble play. He wasn't anywhere close to being in trouble. But then he got involved in a pot against Davidi Kitai that quickly got out of hand, and Zhou became the most spectacular bubble boy of the modern era. (Note: Roger Campbell also bubbled on the same hand.) Read the full story.
---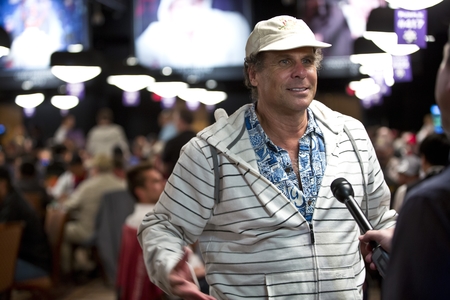 Adam Furgatch: Bubble boy of the century
The bubble of 2016 was remarkable for one very particular reason: there was no hand-for-hand play. As tournament officials prepared to set the last 1,015-ish through the gruelling process, it became clear that there had been some miscounting going on. That meant that as Adam Furgatch, from Marina del Rey, Calif, watched his last chips shipped elsewhere, he was among those who didn't know that was the end of that. "I'm the bubble boy of the century!" Furgatch declared. Read the full story.
---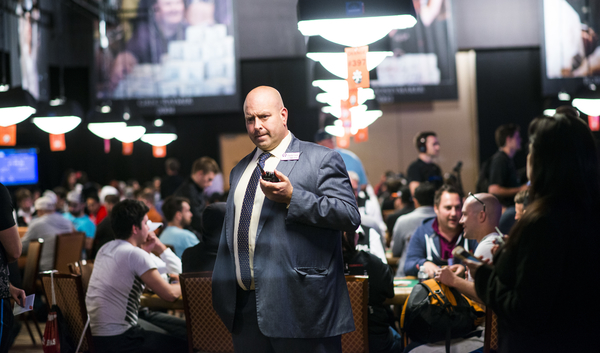 Charlie Ciresi: The 'other' bubble boy
In an intriguing break from convention, Roy Doud became the official WSOP bubble boy but we turned our attention to a man named Charlie Ciresi, whose role was arguably even more significant. Armed only with a CB radio and the sharp suit of the tournament organisers, Ciresi's job was to verify that everything was in order at this most chaotic time. Read the full story.
---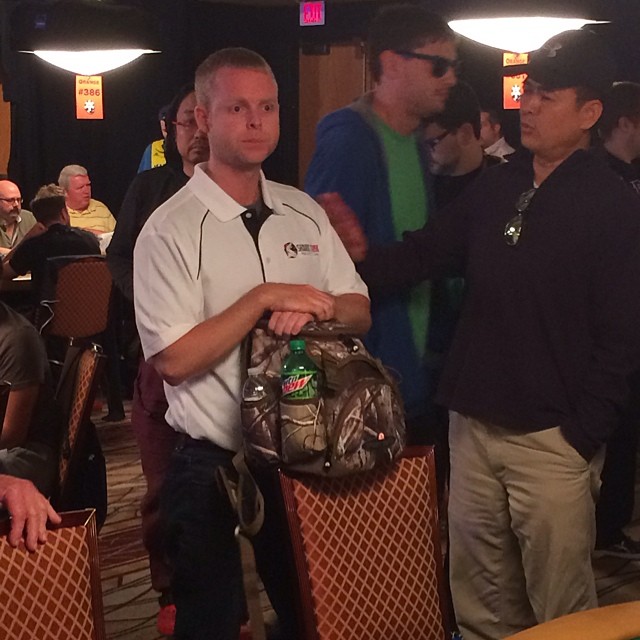 John Dwyer: The eyes tell the sorry tale
"Life is hell. Nobody loves us. Time is a flat circle. We're all going to die. Don't bother calling your mom, because she doesn't care." So wrote poker's Brad Willis, a man occasionally prone to melodrama, but also a keen observer of the human condition. Moreover, he can find the words to describe it. Looking at John Dwyer's face as he became 2014's bubble boy, there was no other one other conclusion that could be drawn. Well, maybe one. "Last time I saw an empty glazed hopeless stare like that, Jesse Pinkman was chained up in a pole barn," wrote Julius Goat on Twitter. Read the full story.
---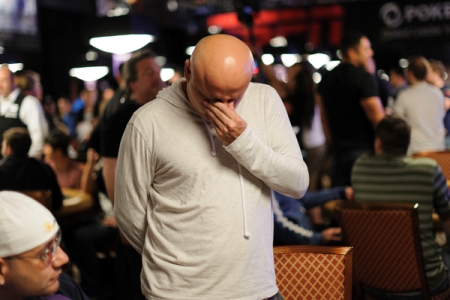 Farzad Bonyadi: Get these cameras off me
Farzad Bonyadi has won three World Series of Poker bracelets, but a glittering reputation did not protect him from the menace of the 2013 bubble–and the unwanted attention it can bring. "Get the cameras off me," Bonyadi was heard to whisper after hitting the rail. If only the empty chair, which was also a contender, had never been filled… Read the full story.
---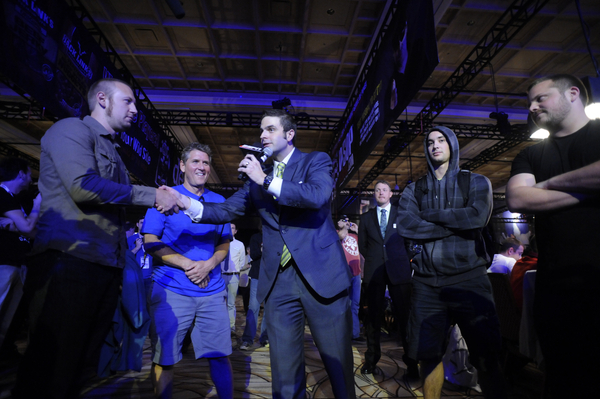 Four for the price of one in 2012
The saying says there's safety in numbers. But for the four players who were knocked out simultaneously on 2012's bubble, it was hollow consolation. Indeed, as Stephen Bartley wrote at the time, Dylan Schwartz, Desmond Portano, Dane Lomas and Steve Rosen "looked more like hostages being paraded in front of state television" than anyone enjoying the thrills and spills of poker's most celebrated tournament. All poker's most celebrated tournament means is poker's most celebrated bubble. And that sucks. Read the full story.
---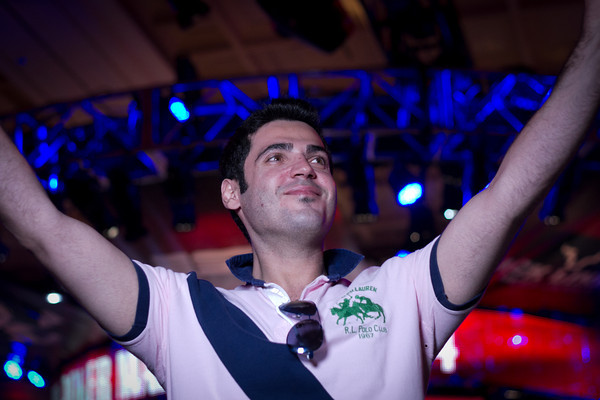 Reza Kashani: Bubble boy (eventually)
Phil Hellmuth got knocked out three from the money, and the room started buzzing at the certain approach of the bubble. But more than an hour later, reporters in the press box "started to discuss how a cocktail of Zofran and Vicodin would treat the human body," according to Brad Willis, who was among them. This bubble featured the first open threat to players of a one-round penalty should they leave their seat and rush the table where the all-in players could be found. It didn't work then and it doesn't work now. Everyone was desperate to see Reza Kashani hit the rail one from the money. Read the full story.
---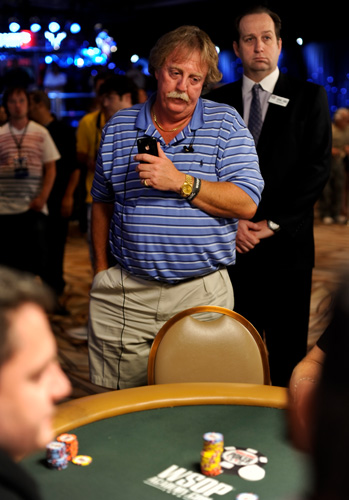 Tim McDonald: Queens cracked for heartbreak
It might have been Kevin Boudreau. It might have been Angel Guillen. (The Mexico Team Pro actually bubbled the bubble, which is far worse than being on the stone.) And then, as it turned out, Tim McDonald, from Lexington, Kentucky, got dealt pocket queens, got his money in good, but was soon heading out the door. "McDonald stood there like the loneliest man at a bachelor auction," Willis observed. Very soon after, the queue at the payouts cage was like Disney World. "Your wait from here is two hours." Read the full story.
---
DAY 2AB CHIPS | DAY 2C CHIPS | TEAM PRO'S PROGRESS
Previous 2018 WSOP coverage:
After stinging defeat in Macau, Aditya Agarwal regroups
The field converges for bubble day…perhaps
The rough and tumble of Day 2
From the archive: Blood, sweat and other bodily fluids
Untangling the cake riddle to discover the key to Liv Boeree's heart
Meet Muskan Sethi: India's presidential poker ambassador
A return of the masses for the long, slow dance
Then and Now: Daniel Negreanu
Records broken and Red Spades flying
"Thanks Daniel" — A letter to Negreanu from Phil Galfond
A flippin' fantastic way to enter a poker tournament
Jeff Gross: A momentary pause in the perpetual motion
From the archive: Stages
Moneymaker surveys the world he created
Negreanu continues preparations for PokerStars Players Championship
Then and Now: Andre Akkari
An exceptional Day 1A
From the archive: Rio here, Rio there
Then and Now: Maria Konnikova
All systems go on 'cattywumpus' World Series
WSOP photos by PokerPhotoArchive.com.