PokerStars online tournament series are beloved for all sorts of reasons, not least of which is their ability to give players of modest means a chance to boost their bankrolls in a serious way. Even with half the lineup consisting of veteran players, the final table of the $215 Winter Series Main Event showed off that power in spades. Three of the players who ended up sharing in the five-way deal had never earned more than a few thousand dollars in a single tournament. All of them earned at least $121K tonight.
Nobody came out better than the champion, The Haamer, who topped a previous best cash of just over $4,000 by a factor of 55 with the win. On top of that, The Haamer won a $30K PokerStars Players Championship Platinum Pass, because nothing says "congratulations on your breakthrough" like a chance at an even bigger breakthrough!
Day 1 of this tournament crushed the $1.5 million guarantee by drawing more than 8,200 entrants. They combined for another 2,400+ re-entries to bring the total prize pool up to $2.1 million, setting up a scheduled first-place prize of more than $284,000. After 27 levels of play they paused for the night with 396 players remaining, led by Hungary's csaba333 with a 173-big-blind stack.
Day 2 turned things upside down. None of the players who ended up progressing to the final table were even in the top 45 chip stacks at the 1 p.m. ET restart. The churn lasted for nearly eight hours before short-stacked tratorpoker from Brazil moved in from the small blind on a steal with 10♥ 8♦ and slightly-shorter-stacked Lukin Dan of Russia called in the big blind with A♣ 2♣. A ten on the flop knocked Lukin Dan out in 10th place and set the lineup for the final table.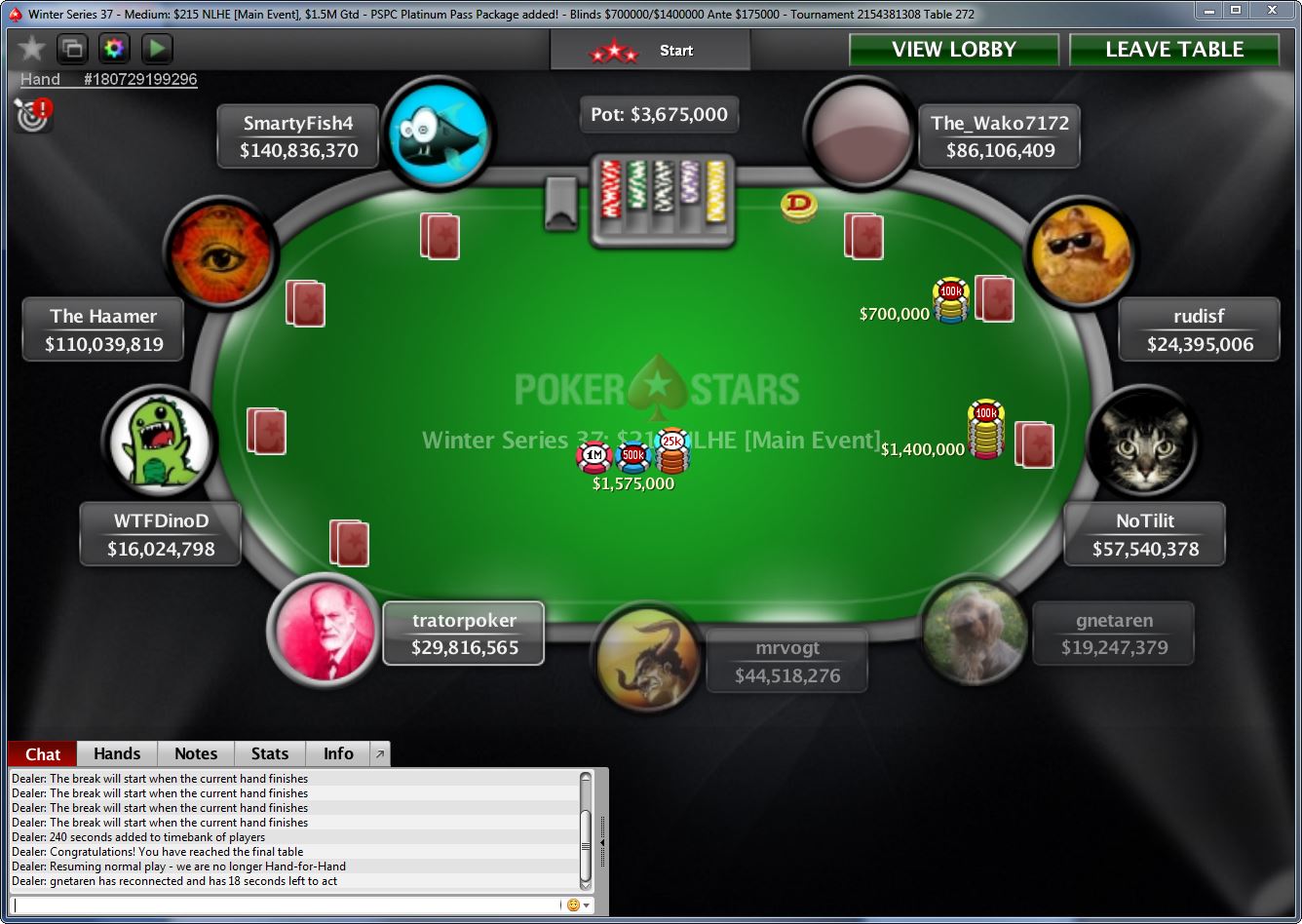 Playing for the big Winter Series money
Seat 1: The_Wako7172 (86,281,409 in chips)
Seat 2: rudisf (25,270,006 in chips) two-time Super Tuesday finalist
Seat 3: NoTilit (59,115,378 in chips) past WCOOP finalist
Seat 4: gnetaren (19,422,379 in chips) $5.5 million in PokerStars cashes for the six-time Super Tuesday finalist
Seat 5: Rasmus "mrvogt" Vogt (44,693,276 in chips) $3.4 million in PokerStars MTT cashes for the two-time Sunday Million finalist
Seat 6: tratorpoker (29,991,565 in chips)
Seat 7: WTFDinoD (16,199,798 in chips)
Seat 8: The Haamer (110,214,819 in chips)
Seat 9: SmartyFish4 (141,011,370 in chips)
The players had barely exchanged their "gl" greetings in the chat box before tratorpoker opened in middle position with J♦ J♣. SmartyFish4 re-raised with A♥ K♥ in the hijack seat and then called when tratorpoker jammed for 29.6 million chips. The flop was ace-free but the A♣ fell on the turn, and no jack on the river meant ninth place for tratorpoker. WTFDinoD followed in eighth 20 minutes later after missing the board with A♠ 9♠ against Rasmus "mrvogt" Vogt's A♥ 10♥, and mrvogt took the field down to six minutes after that when his 8♣ 8♥ held up against button-stealing gnetaren's K♥ 4♥ to bust gnetaren in seventh.
SmartyFish4 and The Haamer, two players who had come in with the biggest stacks, were still well ahead of the pack with blinds and antes at 800,000/1,600,000/200,000. They remained there for the next 35 minutes while rudisf clung to about a dozen big blinds and mrvogt and NoTilit looked for chance to chip up. The Haamer finally struck a knockout blow a few minutes after 10 p.m. ET when the Dutch player called with A♥ K♦ in the small blind after rudisf open-shoved for 34 million with K♠ 10♠. A king on the flop with no tens on the turn or river sent rudisf packing in sixth.
It wasn't long before the remaining five players decided to talk over numbers for a potential deal. It was the first time under the spotlight for SmartyFish4, The_Wako7172, and The Haamer, whose previous combined career cashes total just over $40,000. (The Haamer was the last to agree to the discussion because he didn't know where to find the "make a deal" button in the software.) It took 20 minutes they eventually struck a deal acceptable to everyone, leaving two percent of the prize pool and the PSPC Platinum Pass on the table for the eventual winner.
They got back to work then and almost immediately SmartyFish4 picked up K♦ K♥ on the button. The_Wako7172 jammed from the small blind with A♣ K♠ and fell in fifth when the case king hit the flop and the turn and river weren't running aces. Even walking with the smallest share from the deal topped The_Wako7172's previous best PokerStars cash by more than $120K.
The most experienced player left at the table, mrvogt, soon spiked a trey to double with A♣ 3♦ against SmartyFish4's A♥ Q♣. That put NoTilit on the chopping block with less than 25 big blinds' worth of chips. Then the two clashed in the blinds. NoTilit limped from the small blind with K♠ 4♠ but then re-raised all-in for 60.9 million chips after mrvogt made it 9.7 million to go in the big blind. mrvogt called with A♦ 8♦ and won with a turned pair of eights to end NoTilit's run in fourth.
mrvogt looked poised to make a run at that point, holding 145 million chips to SmartyFish4's 182 million and The Haamer's 205 million. But two hands later he invested half his stack in defending the big blind against The Haamer's button raise and then check-calling bets on every street as the board came down 7♦ J♥ 10♠ 5♦ 3♦. The Haamer showed 10♥ 7♥ for the flopped two pair, tens and sevens, and took down the 143-million-chip pot.
Two hands after that, mrvogt raised on the button with 10♥ 3♥ and made top pair after SmartyFish4 called in the big blind to see the 8♥ 10♦ 4♦ flop. Unfortunately for him, SmartyFish4's 10♠ 8♣ had connected for tens and eights. The absence of running treys for a full house ended mrvogt's run in third.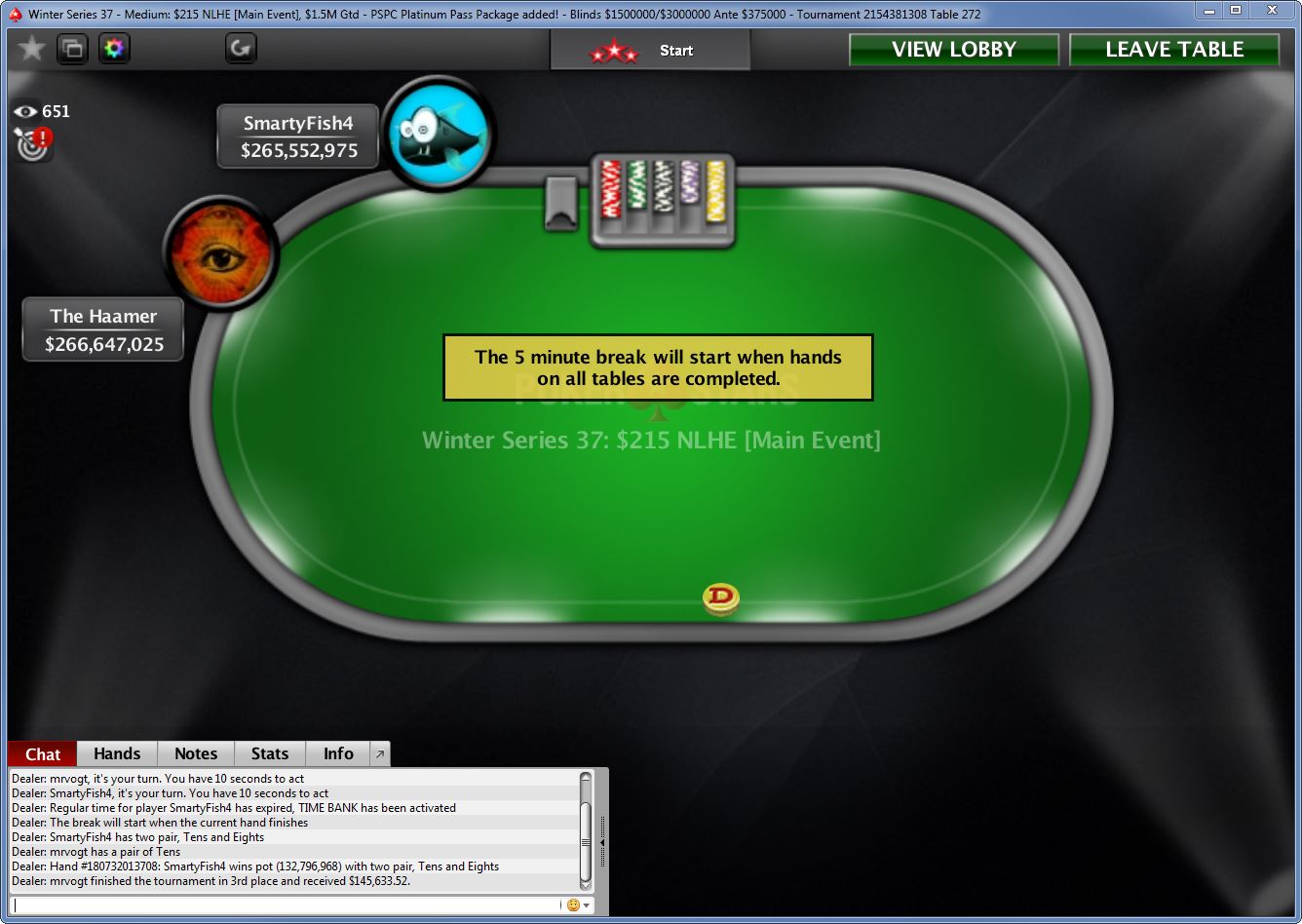 A quick break before a big pot…
After folding on the first hand of heads-up play, which saw The Haamer's and SmartyFish4's stacks separated by less than one big blind, SmartyFish4 again flopped two pair against an opponent who made top pair. This time SmartyFish4 was the button raiser whose 10♠ 5♣ made tens and fives on the 3♥ 5♠ 10♦ flop. The Haamer called with Q♣ 10♣ in the big blind, check-raised the flop, and then, after SmartyFish5 flat-called, made a bigger two pair on the Q♠ turn. SmartyFish4 called there and then raised all-in after the 4♠ river, bowing out in second place when The Haamer showed down the better hand to win the pot.
Everyone who shared in the deal at this final table set new personal career-best marks with their cashes here, none bigger than The Haamer's. The player from the Netherlands won a $30,000 PokerStars Players Championship Platinum Pass along with life-changing cash, earning a chance to relive this glory all over again next year in the Bahamas. Congratulations to them all!
Winter Series Event #37-Medium ($215 NL Hold'em Main Event) results
Entrants: 10,644 (8,218 entries, 2,426 re-entries)
Total prize pool: $2,128,800
Places paid: 1,448
1. The Haamer (Netherlands) $221,965.04*
2. SmartyFish4 (Canada) $160,889.23*
3. Rasmus "mrvogt" Vogt (Denmark) $145,633.52*
4. NoTilit (Lithuania) $141,763.82*
5. The_Wako7172 (Sweden) $121,111.18*
6. rudisf (Poland) $48,408.48
7. gnetaren (Sweden) $33,971.39
8. WTFDinoD (Austria) $23,840.00
9. tratorpoker (Brazil) $16,730.02
* – denotes results of a five-way deal
---
Don't miss out on the big-money action. Click here to open your PokerStars account today.
---
Jason Kirk is a Freelance Contributor to PokerStars Blog.