A heavyweight battle was in the making for the better part of two days in this week's Winter Series Super Tuesday Special Edition. In one corner was 2014 WSOP Main Event winner Martin "M.nosbocaJ" Jacobson, the chip leader at the end of Day 1 and almost all of Day 2. In the other was Mantas "bagoch" Bagočius, the two-time past Sunday Million champion, lurking in the middle of the pack throughout the tournament before surging to enter the final table second in chips in pursuit of his own second career Super Tuesday title.
By the time they met heads-up at the end of the tournament, Jacobson had nearly seven times as many chips as his opponent and looked set to run away with the title. Instead bagoch fought his way back into the game and kept the result in doubt for 45 minutes. In the end, though, Jacobson showed down winners when he needed to and kept up the pressure the rest of the time, taking down 21 of the final 28 pots to kick off the new year with a six-figure win.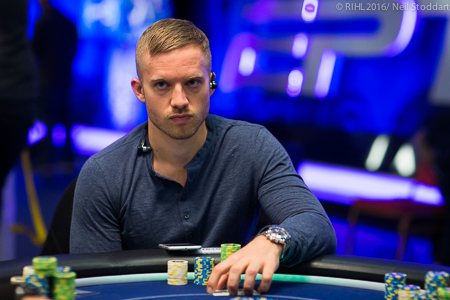 Martin Jacobson wins again.
It's no exaggeration to say that Martin Jacobson dominated Day 1 of this tournament. He first took over the chip lead with more than half the field remaining and held it the rest of the way, ending with the biggest stack of the 45 players who returned for Day 2. Jacobson temporarily slipped back early on Day 2 before retaking the lead an hour and a half later, and while his advantage did grow slim at a few points, he held onto it the rest of the way to the final table.
The final boost came on the 30,000/60,000/7,500 level when Jacobson raised on the button with Q♦ 2♦ and past Sunday Million bubble finisher pokerzysta90 called with 3♣ 3♠ in the big blind. pokerzysta90 flopped a set of treys and check-called bets on the flop, turn, and river, only to discover that the final card had given Jacobson a diamond flush. That busted pokerzysta in 10th and left these other eight players trailing Jacobson as the final table began: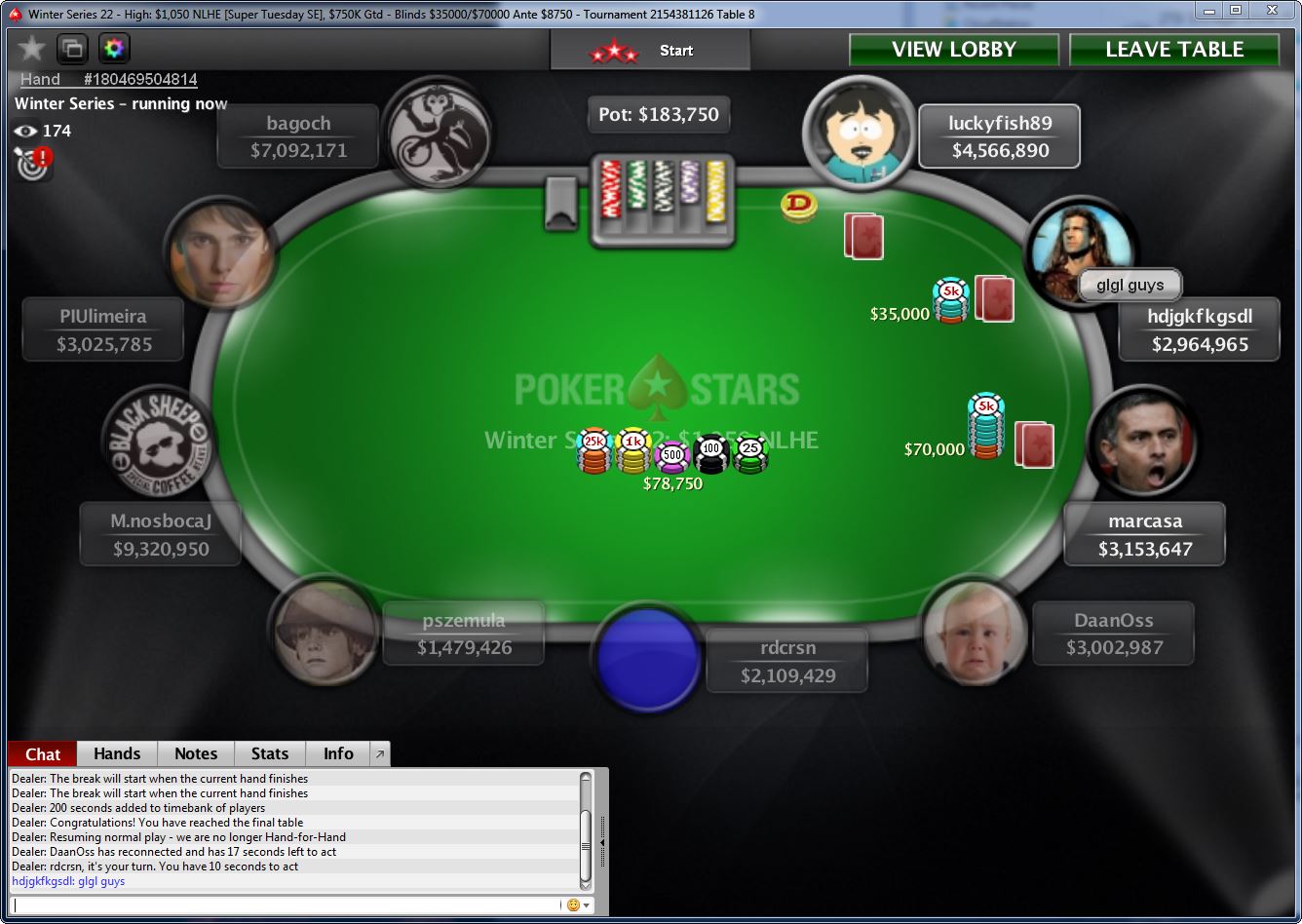 Martin Jacobson led the way as the final table began.
Seat 1: Jon "luckyfish89" Clark (4,575,640 in chips) past Sunday Million runner-up and Super Tuesday finalist
Seat 2: hdjgkfkgsdl (3,008,715 in chips) Sunday Million 8th Anniversary runner-up
Seat 3: marcasa (3,232,397 in chips) past WCOOP winner
Seat 4: DaanOss (3,011,737 in chips) WCOOP 2017 6-Max Shootout finalist
Seat 5: Russell "rdcrsn" Carson (2,118,179 in chips) past third-, fourth-, & fifth-place Super Tuesday finishes
Seat 6: pszemula (1,488,176 in chips)
Seat 7: Martin "M.nosbocaJ" Jacobson (9,329,700 in chips) 2014 WSOP Main Event champ & past SCOOP winner
Seat 8: Gustavo "PIUlimeira" Ferreira (3,034,535 in chips) past Sunday Million & WCOOP finalist
Seat 9: Mantas "bagoch" Bagočius (7,100,921 in chips) past TCOOP & Super Tuesday champ with two Sunday Million wins
The first stages of the final saw plenty of deep-stacked action and a few big pots with players at risk, but all of those went the shorter-stacked players' way. Gustavo "PIUlimeira" Ferreira survived with J♦ J♠ against bagoch's A♦ K♣, pszemula's A♥ Q♥ held against Russell "rdcrsn" Carson's small-blind-raising A♠ 3♥, DaanOss's A♣ A♠ survived against Martin Jacobson's 8♣ 8♥, and marcasa's 9♦ 9♥ remained ahead of hdjgkfkgsdl's A♦ K♦ through the river to keep the table nine-handed for an hour and 16 minutes.
The shorties' winning streak finally came to a halt after pszemula opened under the gun for 200,000 chips and rdcrsn called in the big blind, bringing an A♥ 3♥ 8♠ flop. rdcrsn check-raised all-in for 464,53 with A♦ J♥ for top pair and pszemula snap-called with 8♦ 8♣ for a set of eights. The board ran out 4♦–J♠ and rdcrsn was out in ninth.
DaanOss survived all-in on the very next hand with Q♣ Q♠ against Jon "luckyfish89" Clark's 9♣ 9♦, winning a 6-million-chip pot and leaving luckyfish89 with less than a big blind's worth of chips. luckyfish89 called all-in on the next hand from early position with A♦ 2♠ but ran into PIUlimeira's A♣ A♥ and left in eighth. hdjgkfkgsdl followed five hands later after failing to crack PIUlimeira's J♣ J♠, and suddenly the table was six-handed.
Martin Jacobson had entered both Day 2 and the final table with the chip lead, but at this point he was only in third place out of six. A 3.4-million-chip heads-up win with a queen-high straight against the bluffing bagoch helped him recover the lead. Then Jacobson went on a hot streak, winning 14 out of the next 18 pots to lay claim to nearly half the chips in play. The biggest of those pots came after re-raising before the flop with Q♣ Q♠. Original raiser DaanOss called and then shoved with K♥ J♥ for a flush draw on the 5♣ 7♥ 2♥ flop, only to miss the draw and wind up finishing in sixth.
Jacobson's pace cooled off a bit after that but he scored the next knockout about 20 minutes later, making a flush with A♣ K♣ before PIUlimeira's K♠ Q♠ had a chance to make a straight on the J♣ J♥ 10♣ 7♣ 7♠ board to bust him in fifth. The next hand opened with a Jacobson raise to 294,000 chips under the gun and ended with bagoch calling pszemula's all-in raise to 1.7 million. pszemula had the advantage with 10♠ 10♥ but bagoch's A♣ Q♦ made two pair by the turn to eliminate pszemula in fourth.
bagoch (13.7 million chips) and Jacobson (18.9 million) looked destined for a heads-up showdown at this point. They eventually got there, but it took half an hour.
marcasa was able to double up early after calling a bagoch small-blind raise before the flop with J♠ 3♠ in the big blind and then flopping two pair; bagoch's K♠ J♣ also paired the jack but never caught up the rest of the way. Jacobson took full advantage of his stack and the pending $26K pay jump, keeping up the aggression and piling up more chips until he finally open-shoved with 2♥ 2♠ and marcasa called with A♠ K♦. The board ran out eight-high, sending marcasa to the rail in third and setting up the heads-up match that had been so long in the making.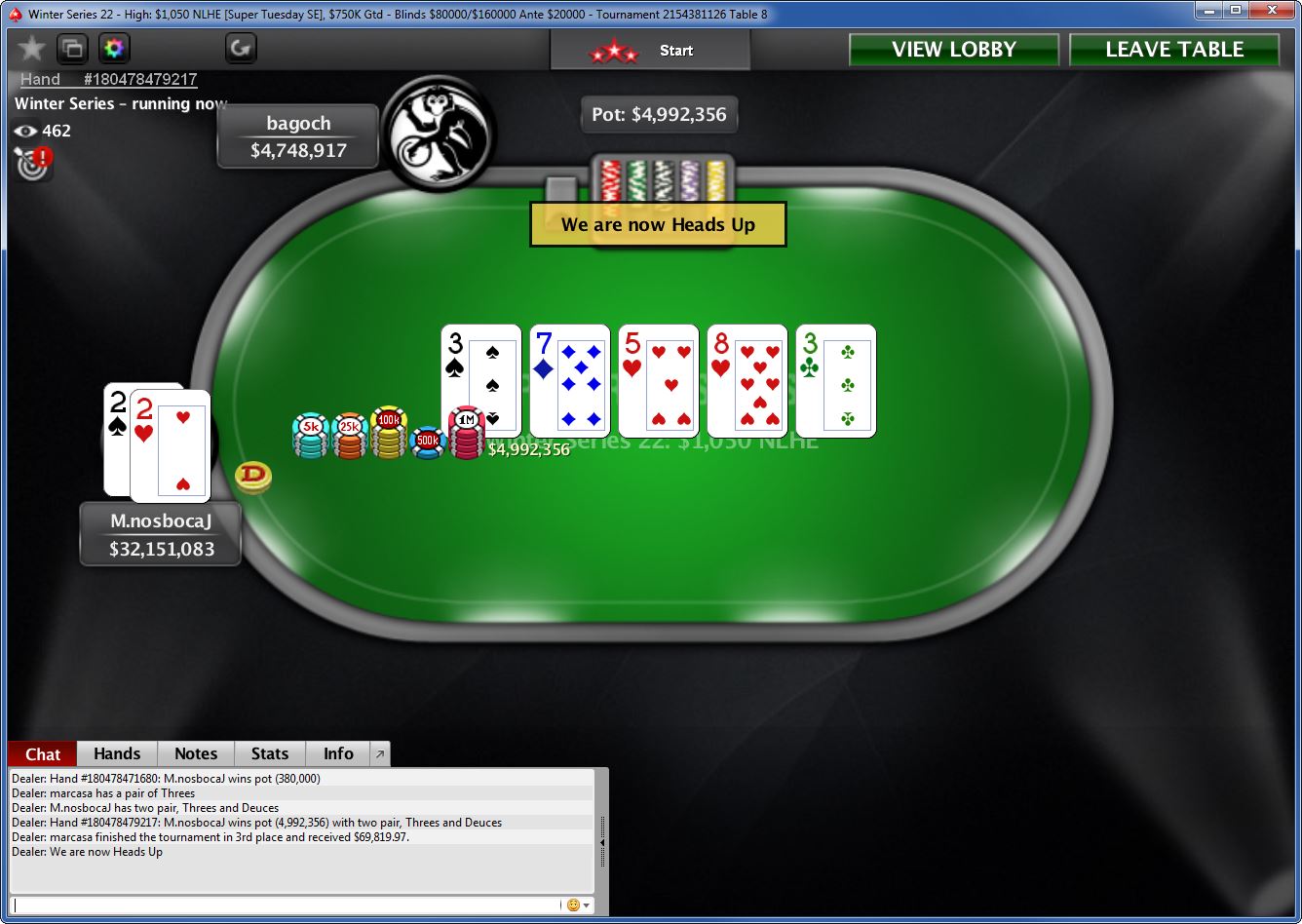 The long-awaited heads-up match begins.
bagoch needed some help early on to stay competitive and got it, doubling up with A♠ J♠ after dodging Jacobson's flopped combo draw with A♥ 5♥. The 11.9 million chips he earned there were a good start, and an 8.9-million-chip pot a few hands later – won with a flopped pair of kings after raising on the button with K♣ 5♣ – put him within one solid win of taking the lead. Ten minutes later bagoch did that for the first time in the heads-up match, turning a 2-to-1 chip deficit into a five-big-blind lead after flopping tens and sevens with J♥ 10♥.
Unfortunately for bagoch, his rally ended there and Jacobson's final push for the win began. Jacobson won his biggest pot of heads-up five hands after bagoch took the lead, winning 10.9 million chips without showdown after being checked to after the river of a 3♠ A♣ 7♣ 8♥ 9♣ board and moving all-in for 9.4 million. bagoch pushed back for the next few hands, but then Jacobson began a hot streak that wouldn't cool down until the tournament was over. He won nine of the next 10 pots without showdown, half of them before the flop and the rest on it, before turning the final corner by rivering a pair of aces with A♠ 4♥ to beat bagoch's flopped pair of tens with K♣ 10♣.
On the final hand, bagoch raised small on the button with A♥ 7♠ and then called all-in for 5.1 million chips when Jacobson jammed in the big blind. Both players hit the 5♠ 8♠ A♠ hard, Jacobson's 5♦ 5♥ making a set of fives and bagoch making top pair with a flush draw. bagoch didn't improve on the 3♥ turn or J♣ river, though, and the tournament reached its conclusion.
Mantas "bagoch" Bagočius proved to be a worthy competitor after beginning heads-up play with very little chance of a comeback, and Martin "M.nosbocaJ" Jacobson made the most of the chip lead for nearly two days straight to walk away with yet another major title. Congratulations to them both!
Winter Series Event #22-High ($1,050 NL Hold'em Super Tuesday SE) results
Entrants: 738 (535 entries, 203 re-entries)
Total prize pool: $750,000
Places paid: 80
1. Martin "M.nosbocaJ" Jacobson (United Kingdom) $129,949.88
2. Mantas "bagoch" Bagočius (Lithuania) $95,252.70
3. marcasa (Netherlands) $69,819.97
4. pszemula (Poland) $51,177.82
5. Gustavo "PIUlimeira" Ferreira (Brazil) $37,51320
6. DaanOss (Netherlands) $27,497.10
7. hdjgkfkgsdl (United Kingdom) $20,155.27
8. Jon "luckyfish89" Clark (United Kingdom) $14,773.80
9. Russell "rdcrsn" Carson (Canada) $10,829.10
---
Win big in the Winter Series. Click here to open your PokerStars account today.
---
Jason Kirk is a Freelance Contributor to PokerStars Blog.