If there is one adage we have come to appreciate, it is this:
It's always coming seven.
Pierre Lewandowski is now a believer in that axiom. He is also the newest owner of a Platinum Pass to the PokerStars Players No-Limit Hold'em Championship.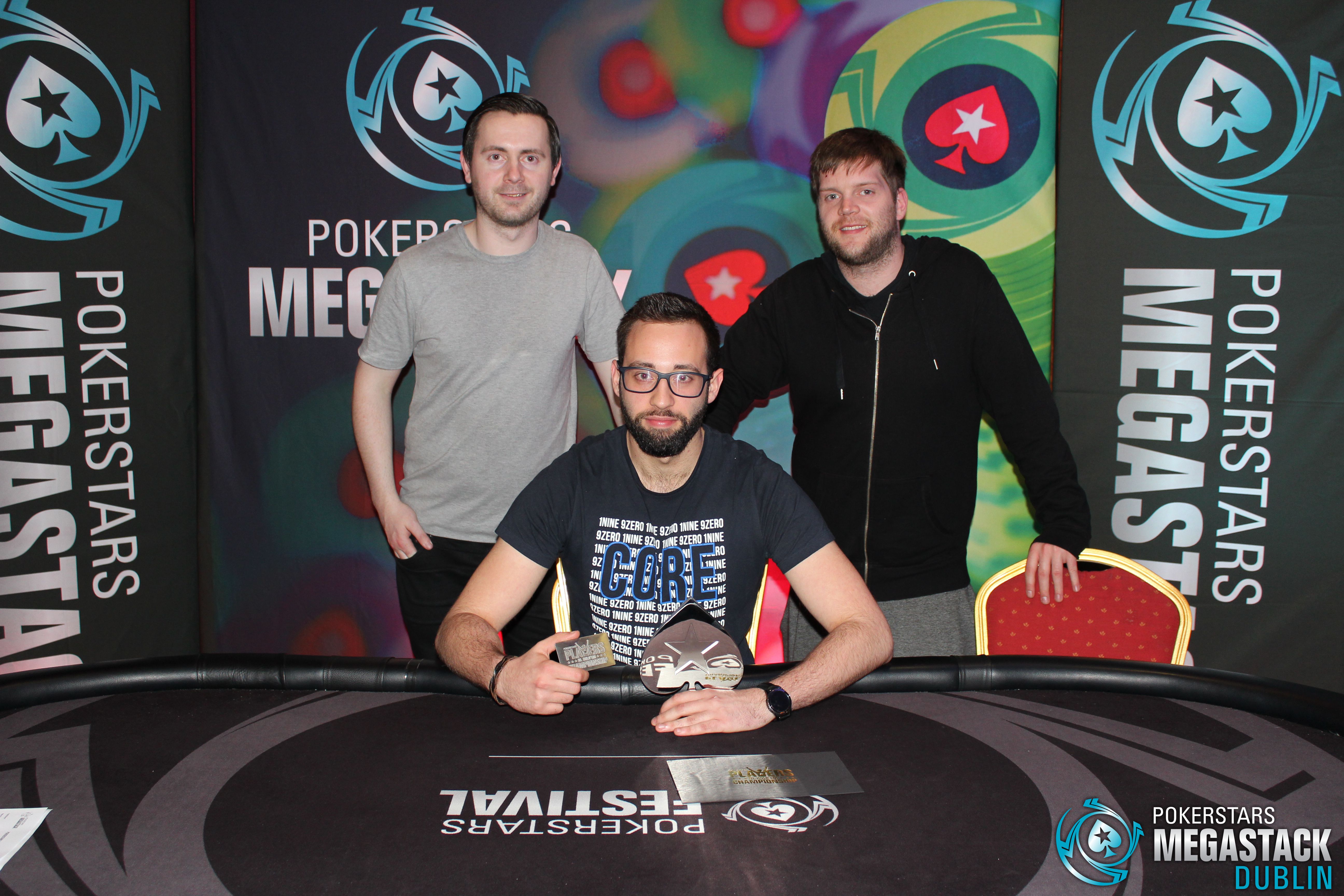 Lewandowski is a 24-year-old French Irishman. Originally from Marseille he's lived in Cork, Ireland for 3 years.
Pierre works in IT and only plays Sunday sessions and some live MTTs, but Sunday he bested a field of 634 players to become the PokerStars MEGASTACK Dublin champion. Lewandowski will be off to the Bahamas in January with the Platinum Pass that he won alongside the spade trophy and the title.
He got there the dirty way.
Twice.
Lewandowski played and went bust on Day 1C, so he tried more attempt in the Day 1D turbo flight. He finished there by bagging up a below average 135,000 stack.
Within the first 40 minute level on Day 2, he'd spun that up to more than 800,000 and continued to steadily build his stack until the final table where he came in as joint chip leader with six million.
Avoiding the early final table skirmishes, Pierre's stack survived until they were five-handed. Among players who mostly knew each other and got along well, Lewandowski & his four opponents agreed to split the money five ways and play winner-takes-all for the Platinum Pass. Mark Murphy the chip leader at the time locked up €9,995, and the others received €9,245 each.
After a few setbacks, Lewandowski got heads up with Samuel Baneham.
Only a few hands into heads up, the key hand of the tournament played out. It was a pot for worth more than 30 million of the 31 million in play. You can watch how this all played out here…or continue reading below.
With blinds at 100k/200k/20, Baneham raised to 500k, Lewandowski three-bet to one million, and Baneham then abruptly moved all in for 16 million. Taken aback, Pierre thought for a minute or so before making a resigned call with pocket tens. He quickly saw the bad news to come as Baneham quickly flipped over his dominating pocket queens.
As the dealer spread the flop, Baneham's joy turned to anguish as the ten slid out. Baneham couldn't find a queen, and Lewandowski humbly stacked the 30 million chip pot he'd just won with the two-outer.
Baneham won his first all-in to double to two million, but at the second attempt, he couldn't fade a three-outer with 10♠9♥ vs. Lewandowski's 10♥7♥/
The flop and turn were safe, but the river came up…yeah, you guessed it.
As EPT 100 winner Andre Lettau once chanted, "It's always coming seven."
Lewandowski said, "Although a deep run in the Bahamas would bring life changing money, I'm really just looking forward to the experience."
---
Pierre Lewandowski is one of more than 300 Platinum Pass winners who will be going to the PokerStars Players No-Limit Hold'em Championship. Want to see more? Meet them all on in our PSPC Platinum Pass Winners index.