Good news for your brain: there's a new episode of the Poker In The Ears podcast available today. And with the new Poker In The Ears Freeroll League, which begins next Monday, there could be some good news for your bankroll as well.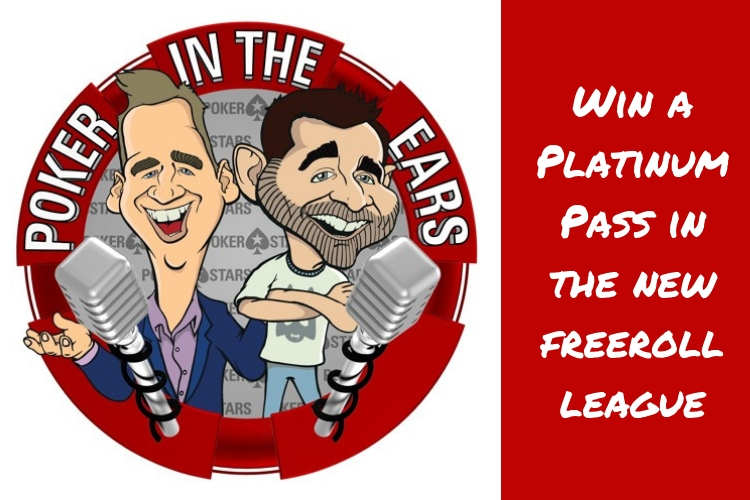 James Hartigan and Joe Stapleton want to give you a Platinum Pass
First things first: check out the Poker In The Ears podcast page and download Episode 129. It features Lex Veldhuis, news about the Moneymaker Tour, and a new edition of Superfan featuring Scott Samarel vs. Stapes.
The part you're really going to want to pay close attention to is the news of the eight-week Poker In The Ears Freeroll League. With a Platinum Pass awaiting whoever comes out on top over two months of weekly tournaments, bounties and cash up for grabs every week, and a second Platinum Pass going to the league's top KO performer, this is the kind of value you don't come across every day.
Here are the full details:
The league will consist of eight freerolls, each with a Progressive KO format and a $500 prize pool.
The freerolls will take place every Monday at 3:05 p.m. ET (9:05 p.m. CET) from October 1st to November 19th.
The registration period for each freeroll will open 20 minutes before the tournament starts, with no late registration.
In order to register for each freeroll, players will need a ticket (issued via a Star Code, revealed on the podcast) and a password (revealed on Twitch, when registration opens).
There will be additional ($50) bounties on 2-3 selected players (hosts and pros).
A league table, visible in the client, will track the number of KOs. Whoever achieves the highest number of KOs during the eight-week series tops the league table, and wins the Platinum Pass.
40 runners-up will receive PCA satellite tickets.
Tickets for a "Second Chance" All In Shootout (scheduled for Sunday, November 25th) will be issued to every player who's KO'd at least 5 opponents during the eight-week series; whoever wins this tournament also wins a Platinum Pass.
The first freeroll in the league is scheduled for this coming Monday, October 1st, so mark your calendars and go download that podcast right now!