A brief round-up of the results on PokerStars this past weekend…
Weekend highlights on PokerStars
• Nobody wins the Sunday Million (it hasn't finished yet)
• Check out the big winners from the weekend
• Platinum Passes won in Macau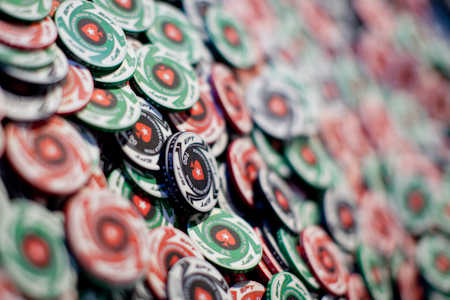 How things stand in the 12th Anniversary Sunday Million
Value. That seemed the right word with which to start this update. The field didn't quite top the $10,000,000 guarantee, but that doesn't matter to the 535 players still in contention for one of the biggest online prizes of the year.
It's the 12th Anniversary edition of the Sunday Million, which means a longer schedule, which is only fitting for a first prize of $1,024,524.
Leading that charge is Austria player LV_Arturs, who has a narrow lead over ViDss of Brazil. Play continues at 7pm UK time (2pm ET) and plays down to a winner, at which point we'll have a report of the final table on the blog.
LV_Arturs (Latvia) 7,861,717
ViDss [3] (Brazil) 7,798,090
haochunyang (China) 6,927,578
MinReraise (Russia) 6,824,916
TheShark1988 (Germany) 6,513,257
BHeff5 (Canada) 6,354,173
Ofbravetight (Chile) 6,010,542
rrrui (Brazil)
alt<69s [2] (Norway)
vatser [2] (Belgium)
Weekend winners
Here's a look at the top ten results from the weekend on PokerStars.
| TOURNAMENT | WINNER | COUNTRY | PRIZE MONEY |
| --- | --- | --- | --- |
| $2,100 Sunday High Roller | srxakgirona | Mexico | $66,441.32 |
| $215 Sunday Warm-Up – PSPC Sunday Tournament | MendaLerenda | United Kingdom | $55,647.68 |
| Sunday 500, $150K Gtd | wdquasar | Argentina | $43,086.73 |
| $215 Sunday Supersonic [6-Max, Hyper-Turbo], $150K Gtd | kofi89 | Uruguay | $41,438.63 |
| $22 Mini Sunday Million – PSPC Sunday Tournament | arthurhrs | Brazil | $31,528.71 |
| $109 Sunday Cooldown [Turbo], $100K Gtd | Maty25 | Argentina | $25,438.65 |
| $55 Sunday Marathon | JoaquinMRuiz | Argentina | $20,100.00 |
| $109 Sunday Kickoff | pczxmg | Belgium | $18,730.71 |
| FRESH-26: €10 NL Hold'em [The Classic, Fresh Edition] | ForUonlyBluf | France | €15,743.20 |
| $33+R Sunday Rebuy | skyboy69 | Malta | $15,146.37 |
Click here to pick out some of the other big winners from the weekend of February 3 to 4, 2018 on PokerStars.
The latest from Macau
While we've been tracking progress of the big events online, over in Macau the big events have been very much IRL.
There was no hanging around, with the first winner crowned over the weekend. That was Sìyou Cao, who was ecstatic to win the title, and a first prize of HK$1,200,000, but similarly so when he learned he'd also won a Platinum Pass. and had it explained exactly what a Platinum Pass was.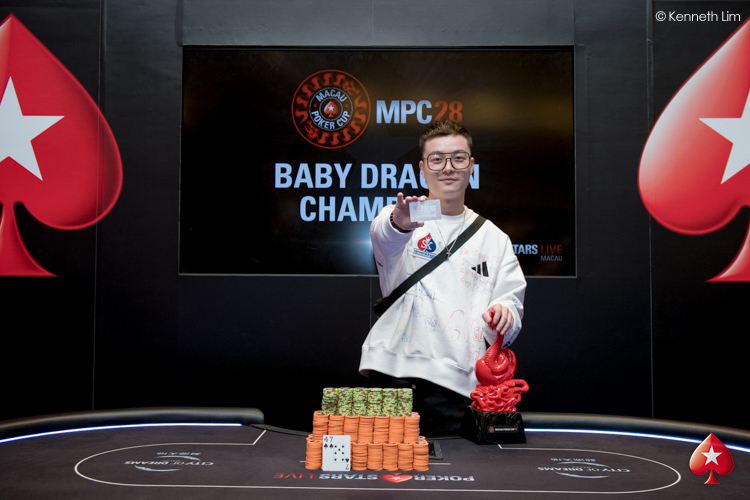 Siyou Cao: MPC28 Baby Dragon champion and Platinum Pass winner
"When I found out the Platinum Pass was worth US$30,000 and not HK$30,000, I was very excited!" said Cao.
How's that for a good day?
There's a lot more to come from Macau this week. Right now, the MPC28 Red Dragon is in full swing, and you can follow our live updates here. You'll also find other stories and videos from Macau on the front page of the blog throughout the week.
What about everything else?
• What exactly does "Kevin Hart gets into the groove" actually mean? Find out in the latest episode of the PokerStars Championship Cash Game Challenge.
• Who does Daniel Negreanu rate as the world#s best poker player right now (it's not who you think)?
• Just who has won a Platinum Pass so far? Check out our Hall of Fame.
That's it for this weekend. Send us your stories at @PokerStarsBlog.