A round-up of the results on PokerStars this weekend…
• BrunoBoucas takes down Sunday Million for $117K after four-way deal
• Lex Veldhuis and Jaime Staples both bink big wins
• WSOP Main Event coverage
• A few bits of PokerStars Live news
• All the big winners from the weekend
---
BrunoBoucas takes down Sunday Million for $117K after four-way deal
Trust the process and good things will happen. Just ask BrunoBoucas.
The Brazilian has been piling up four-figure cashes with regularity over the last few years, grinding out wins in small-stakes tournaments against fields of thousands of players and even winning five figures for the first time earlier this year. On Sunday, BrunoBoucas turned all that upward-trending experience into a life-altering victory in the Sunday Million.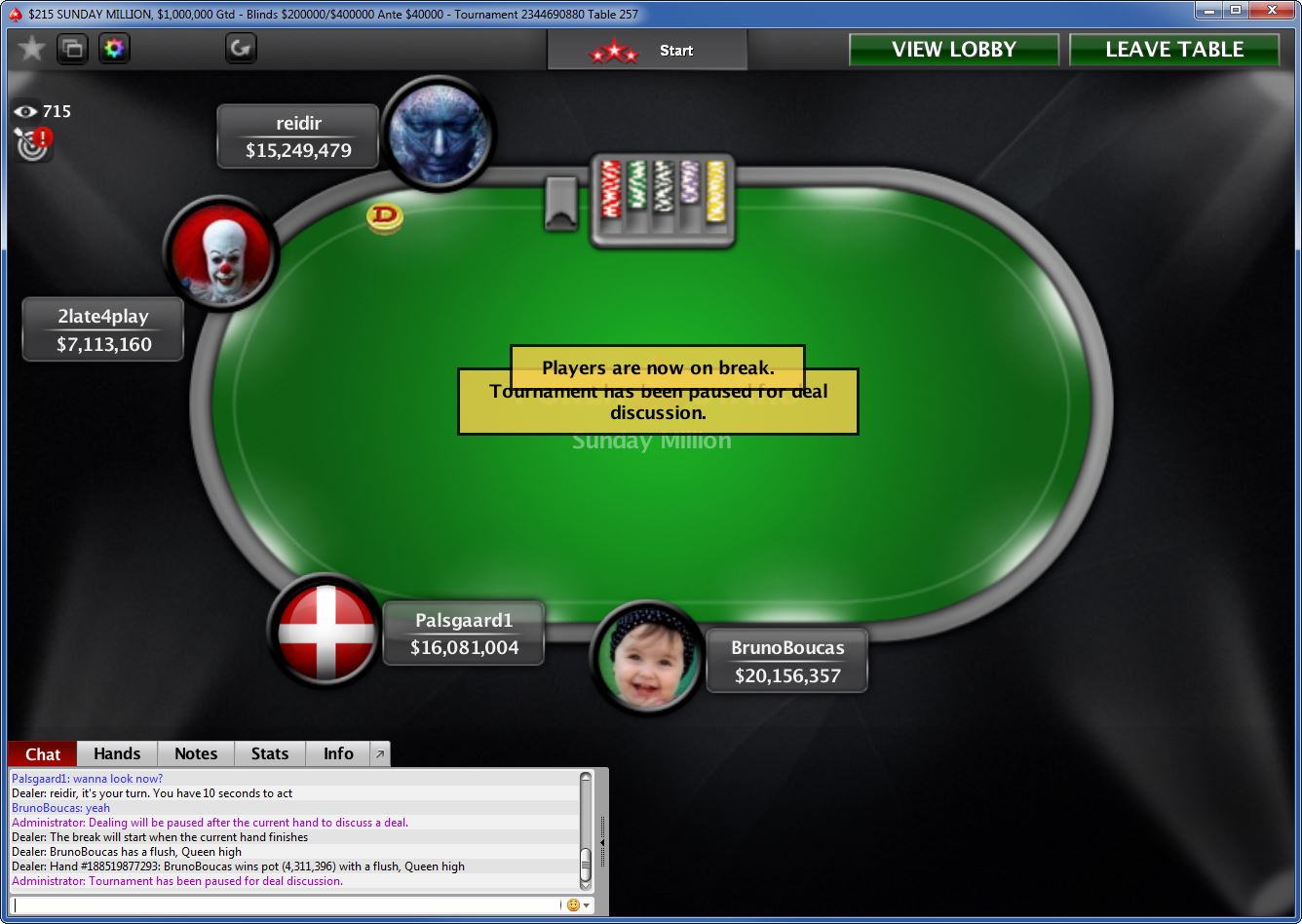 After a four-way chop, BrunoBoucas banked the lion's share and took it down for $117,883.44.
Read all about his victory here.
---
Lex Veldhuis and Jaime Staples both bink big wins
What a weekend for PokerStars Team Online!
Saturday was all about Jaime Staples, as the #UltimateSweat boss is now also the boss of the Bounty Builder $162. He took it down on July 7th for $1,981.05 in prize money plus $6,619.81 in bounties (quick maths: that's a total of $8,600.86).
Check out Jaime's winning moment in the video below:
We also caught up with the man himself after the win had sunk in. "I haven't taken down a Saturday bounty before so to win the 162, with those 75% bounties, it was just so fun!" he said. "The tournament was one of the craziest I can remember. I went from 13 of 13 to 1st of 12, to 8th of 8 and back up and down again. I was getting dealt tons of big hands but managed to lose a bunch of them. Very intense."
Onto Sunday, and now it was Lex Veldhuis's time to shine. He took down the $215 Triple Threat on July 8th for $3,889.51 in prize money plus $4,139.05 in bounties (more quick maths: that adds up to $8,028.56).
Won the $215 Triple Threat for $8k tonight. Feels so damn good to lift a trophy again. Ten hour stream, 7700 viewers at peak. What a buzz. <3 You guys are the best <3 https://t.co/GidJcAUdkR

— LexVeldhuis (@RaSZi) July 9, 2018
It wasn't easy for Veldhuis though. One of the heads-up speed bumps came in the hand below:
Lex told us after his win: "The Triple Threat is one of the most fun tournaments. It's three-handed zoom WITH bounties. You get to play so many hands and that's why it's awesome to have on stream. Because it combines a lot of different tournament types that I love, lifting the trophy in this one feels extra special. The tournament is pretty deep in the last stages so you have a lot of ups and downs. The heads-up lasted two hours this time! Shoutout to my opponent F.mca777 who put up a hell of a fight."
---
WSOP Main Event coverage
The 2018 World Series of Poker Main Event continues to get deeper and deeper, with the bubble bursting, Team Pros getting knocked out left and right, and all kinds of other news flooding out of the Rio.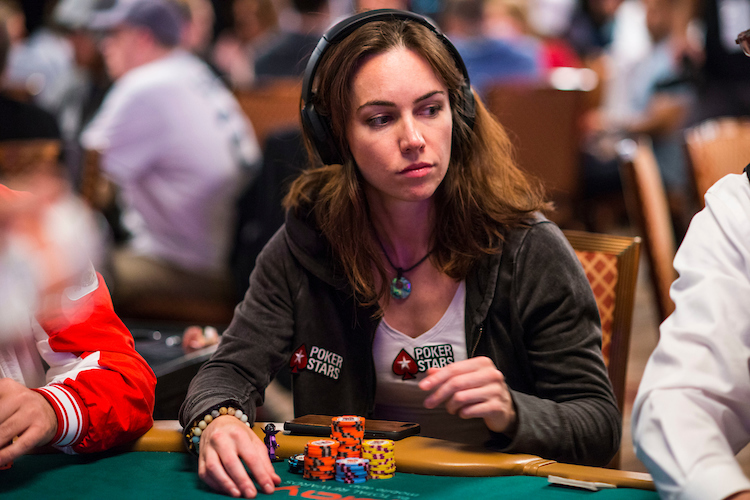 Liv Boeree
Our man Howard Swains is there in Las Vegas to capture it all, but not only that, we've been going through the PokerStars Blog archives too to bring you some of our best pieces from years past.
Check out all the weekend's WSOP coverage here.
---
A few bits of PokerStars Live news
There have been a couple of bits of news this weekend regarding PokerStars Live events.
For one, EPT Prague has been moved by one day. Head here for all the latest:
Small changes to EPT Prague schedule
And secondly, anyone near Florida might want to check out the Platinum Pass new we dropped on Saturday:
Hey, America! More Platinum Passes down in Florida!
---
All the big winners from the weekend
Here's the list of all the weekend's major winners:
| TOURNAMENT | PLAYER | COUNTRY | PRIZE |
| --- | --- | --- | --- |
| $215 SUNDAY MILLION, $1,000,000 Gtd  | BrunoBoucas | Brazil  | $117,546.26 |
| $2,100 Sunday High Roller | etxnl01 | Netherlands  | $37,286.92 |
| $215 Sunday Warm-Up, $125K Gtd  | akron911112 | Estonia  | $27,353.56 |
| $215 Sunday Supersonic [6-Max, Hyper-Turbo] | faraz jaka_7 | United Kingdom  | $21,535.25 |
| Sunday 500, $75K Gtd  | Martinhmo 14 | Brazil  | $21,519.86 |
| $22 Mini Sunday Million, $125K Gtd  | AceJelle | Netherlands  | $17,758.76 |
| $55 Sunday Marathon, $75K Gtd | MPeneda | Brazil  | $15,812.89 |
| $109 Sunday Cooldown [Turbo], | kleath | Malta  | $14,149.64 |
| $11 Sunday Storm | giannisLg | United Kingdom  | $12,516.67 |
| $109 Sunday Kickoff, $60K Gtd  | ilicin | Romania  | $12,267.22 |
| Sunday Warm Up €50, €50,000 Gtd  | up2nogooT | Germany  | $10,477.45 |
| Sunday High Roller €250 [8-Max] | elnotas87 | Spain  | $10,461.78 |
Click for all the weekend results on PokerStars: July 7 to July 8, 2018.

---
You can play poker for free on PokerStars. Simply click here to open an account.
---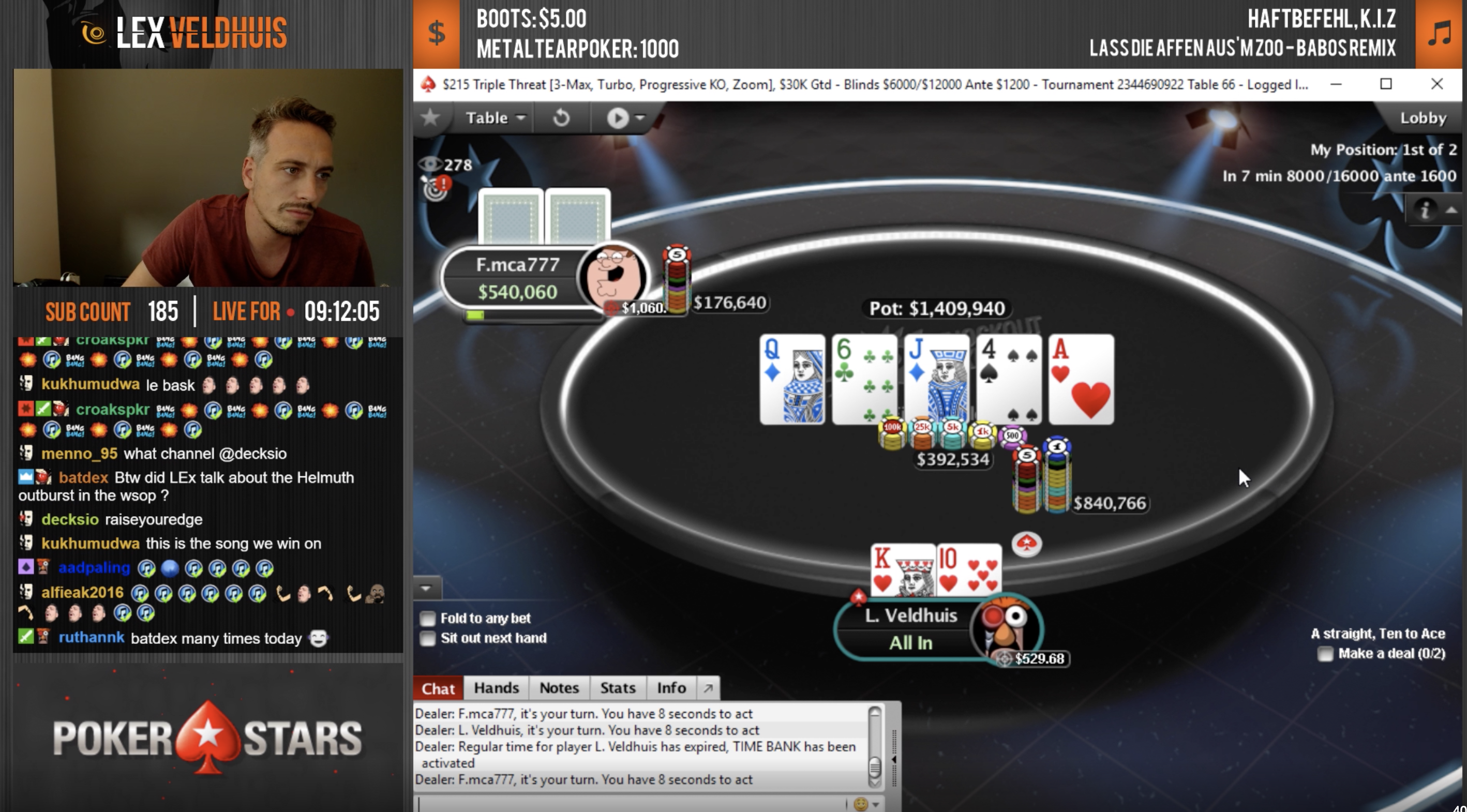 Lex's winning hand