All the highlights from the week on PokerStars…
• How to win a Platinum Pass this March
• How to win a #PlatinumPass for £250
• New live events for 2018
• PokerStars celebrates International Women's Day
• The latest from Poker In The Ears
• Will you be playing the EPT season opener?
• The sound of wedding bells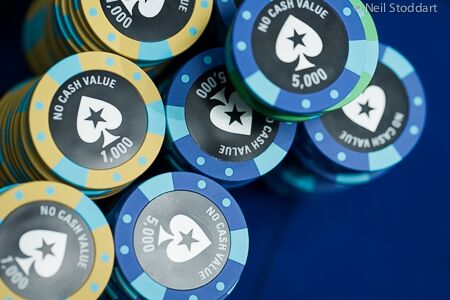 How to win a #PlatinumPass this March
PokerStars has now awarded nearly fifty Platinum Passes to players this year so far. And there are hundreds more to be won before the PokerStars Players Championship
If you want to win a ticket to what will be the biggest event of its kind in the Bahamas next January, with your seat, accommodation and expenses paid, then March alone will keep you busy.
| Date | Event | Live/Online |
| --- | --- | --- |
| Sun 11 March | PokerStars London Series | LIVE |
| Sun 11 March | Manila Super Series 6 winner | LIVE |
| Mon 12 March | Spinball AISO | ONLINE |
| Sun 18 March | MegaStack Sanremo winner | LIVE |
| Mon 19 March | APPT Macau National Event winner | LIVE |
| Fri 23 March | APPT Macau Asia Open Winner | LIVE |
| Fri 23 March | EPT Sochi National Event winner | LIVE |
| Sun 25 March | APPT Macau High Roller winner | LIVE |
| Sun 25 March | APPT Macau Main Event winner | LIVE |
| Thur 29 March | EPT Sochi Cup winner | LIVE |
| Thur 29 March | EPT Sochi High Roller winner | LIVE |
| Thur 29 March | EPT Sochi Main Event winner | LIVE |
How to win a $30,000 #PlatinumPass for £250
The next of those Platinum Passes will be won at the PokerStars London Series this Sunday.
Sounds straight forward enough.
But that's a Platinum Pass worth $30,000 for winning a Main Event with a buy-in of just £250 + £25.
Not only is it the best value of the weekend, it's the easiest to play if you're in the London area and can get to the Hippodrome in Leicester Square.
There are four Day 1 flights, two today and two tomorrow, including a Turbo flight on Saturday afternoon.
Day 1A: Today, 2pm. 12 x 30 minute levels
Day 1B: Today, 8pm. 12 x 30 minute levels
Day 1C: Saturday, 2pm. 12 x 30 minute levels
Day 1D: Saturday, 8pm. 12 x 15 minute levels (Turbo)
The surviving players then play down to a winner on Sunday.
Great value at £250 + £25. A bankroll boosting prize pool. And that Platinum Pass worth $30,000 on top for the winner.
Find out more details by clicking here.
Attention Poker Players: New events for 2018
This week PokerStars announced new events for the Live Poker calendar in 2018.
The highlight is the PokerStars Festival Marbella coming up in June. There are also MegaStack events, which provide a great spring board to higher stakes tournaments.
You can get all the details of the new events coming up by Clicking here.
Here are the dates to remember:
PokerStars MEGASTACK Dublin: April 19 to 22, 2018
PokerStars MEGASTACK London: April 27 to 29, 2018
PokerStars Festival Marbella: June 4 to 10, 2018
PokerStars MEGASTACK Gujan-Mestras: June 27 to July 1, 2018
PokerStars Festival Lille: July 16 to 22, 2018
Satellites for PokerStars Festival Marbella have already begun. You can find them in the PokerStars client, under the Live Events tab. So you can get started now.
Dot com players can click here to open the tournament lobby.
PokerStars celebrates International Women's Day
International Women's Day was marked around the world yesterday. Poker might not be at the front line of that campaign, but it was still a good opportunity to celebrate some of the many achievements by women in the game.
You can read two stories from yesterday.
In the first we celebrate some of those achievements, including the careers of Liv Boeree and Fatima Moreira de Melo, as well as the achievements of former Team Pros Victoria Coren and Vanessa Selbst.
In the second of our two stories, Fatima Moreira de Melo is interviewed by Right To Play. She talks about the issues surrounding International Women's Day, and her career in hockey, poker, and as a RTP Ambassador.
Check out the latest Podcast episode
"The boys run through the latest poker headlines, including last weekend's plethora of #PlatinumPass winners, and the engagement of Celina Lin and Randy Lew.
"They were hoping to catch up with LAPC High Roller champ Alex Foxen, but calendar conflicts/confusion resulted in the cancellation of the interview (James is blaming Joe). Instead, enjoy re-living Joe's pain and suffering, as he recaps his adventures at The Hippodrome playing in the London MEGASTACK.
"Plus, there are details of the next #PokerInTheEars freeroll, and Rob Vernon answers questions about 'Pulp Fiction', as he competes for a satellite ticket and a chip set in 'Superfan vs Stapes'.
Click here to listen to the latest episode
Will you be playing the EPT season opener?
In just two weeks the European Poker Tour (EPT) will be back, starting the season with the first event in Sochi, Russia.
There's still time to win a seat to the Sochi event, and be a part of the EPT's return.
Satellites are running now on PokerStars for as little as $11.
Get more details of the events taking place in Sochi by clicking here.
The sound of wedding bells
We don't often report on weddings. This week though we're delighted to make an exception.
Team Pros Randy Lew and Celina Lin have announced their engagement, Lew wooing his girlfriend with a ring made of cellophane, of all things. But then at least it was gold cellophane. Still, be careful trying this at home.
You can read the story of their engagement here. We're all delighted for them both. We also enjoy wedding cake.