Cast your mind all the way back to Tuesday and the notion of a two-time champion in the 2018 World Championship of Online Poker (WCOOP) was just a pipe dream. But now, we've had three in three days. Senkel92's second victory headlines our comprehensive look at Day 5 of the WCOOP.
---
TODAY'S HEADLINES
• Three days, three double champions
• Norway's "Senkel92" wins second of 2018 series
• Jorryt "TheCleaner11" Van Hoof wins PLO High Roller for $466K
• Defeats swarms of Finns to earn biggest prize of series so far
---
THIRD TIME TWO TIME
First it was "nilsef". Then it was "aDrENalin710". And now Norway's only champion of WCOOP 2018 (so far) has become Norway's only second champion, and the third two-time winner of this series. "Senkel92" won last night's $1,050 5-Card Draw, having previously won the $215 8-Max Win The Button, which finished on Tuesday.
"Senkel92" prevailed from a final table including Phil "MrSweets28" Galfond, Jussi "calvin7v" Nevanlinna and Shaun "shaundeeb" Deeb. What's more, "Senkel92" also sits seventh of 72 coming back for Day 2 of the HORSE-M overnight.
---
LATEST RESULTS
| Name | Buy-in | Entries | Prize pool | Places | Winner | Country | Prize |
| --- | --- | --- | --- | --- | --- | --- | --- |
| 15-L: NLHE [Deep Stacks] | $5.50 | 15,356 | $75,244 | 2,501 | NetoGamboa | Brazil | $8,634.93 |
| 15-M: NLHE [Deep Stacks] | $55 | 6,333 | $316,650 | 917 | ROMcavalier | Belgium | $39,432.46* |
| 15-H: NLHE [Deep Stacks] | $530 | 1,153 | $576,500 | 143 | Nurlux | Canada | $88,319.74* |
| 16-L: PLO [6-Max High Roller] | $215 | 1,648 | $329,600 | 263 | mikka84 | Finland | $44,563.45* |
| 16-M: PLO [6-Max High Roller] | $2,100 | 415 | $830,000 | 59 | Erä_Koira | Finland | $150,420.25 |
| 16-H: PLO [6-Max High Roller] | $25,000 | 54 | $1,324,350 | 7 | TheCleaner11 | Netherlands | $465,559.91 |
| 17-L: NLHE [Heads Up] | $22 | 3,897 | $77,940 | 512 | andredos | Brazil | $8,212.49 |
| 17-M: NLHE [Heads Up] | $215 | 781 | $156,200 | 128 | KingRakker | Belgium | $23,622.36 |
| 17-H: NLHE [Heads Up] | $2,100 | 128 | $256,000 | 16 | omaha4rollz | Hungary | $76,800.00 |
| 20-H: NL 5-Card Draw | $1,050 | 57 | $57,000 | 9 | Senkel92 | Norway | $17,100.00 |
| TOTALS | | 29,822 | $3,999,484 | | | | $922,665.59 |
*after deal
---
BEHIND THE HEADLINES
New biggest prize winner: Jorryt "TheCleaner11" Van Hoof set a new mark for biggest single prizewinner of WCOOP 2018 so far. The Former November Niner won $465,559.91 for victory in $25,000 PLO High Roller, eclipsing the $367K score of "SkaiWalkurr". Van Hoof finished third in 2014 WSOP Main Event for $3.8m, but this is his biggest online result.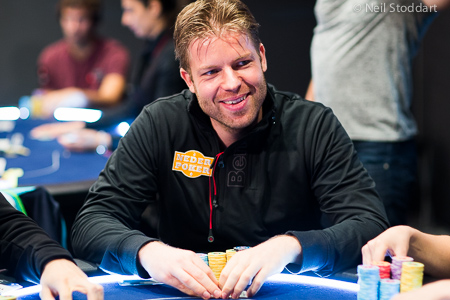 Jorryt "TheCleaner11" Van Hoof: PLO High Roller champ
Have we seen you before? "Erä_Koira", the champion in last night's $2,100 PLO High Roller, previously won WCOOP PLO Turbo in 2014 and also has an Omaha Hi/Lo TCOOP title, from 2013. "Erä_Koira" denied Henri "I_Mr_U_Bean" Koivisto a second title of the series. "I_Mr_U_Bean" has a first and a second this WCOOP.
Meanwhile Laszlo "omaha4rollz" Bujtas also picked up his second WCOOP victory. He previously won WCOOP-20 $2,100 NLHE PKO in 2015.
---
BIG SPIN-UP
Here's another great story to add to the long list of poker's magnificent satellite champions. "veva361" from Slovakia won a satellite costing all of 55 cents to play, earning a ticket to WCOOP-14-L No Limit Hold'em PKO.
By the time the tournament was over, "veva361" finished in second place, winning $4,011.95 with another $1,003.85 in bounties. The total $5,015.80 payday was a 9,120 percent return on investment.
You've got to be in it to win it. And it doesn't cost very much to be in it.
---
STAT TRACKER
Events completed: 49
Entries so far: 219,507
Prize pool so far: $19,500,168
Players in the money: 34,380
Note: completed tourneys only
---
COUNTRY OF THE DAY
We noted yesterday how babies in Finland appear to be born with four cards in their hands, and the conclusion of the PLO High Roller events proved once again how dominant Finns are in this variant. Though "TheCleaner11" won the high buy-in tournament, just look at how those crazy Nordics fared elsewhere:
Low buy-in ($215): Finns 1st, 8th, 10th, 12th
Medium buy-in ($2,100): 1st, 2nd, 7th
High buy-in ($25,000): 3rd, 4th, 5th (only seven places paid)
It means that of the 24 seats available at final tables in those PLO events, eight were occupied by Finns. Not bad for the 115th most populated country in the world.
---
TWITCHERS IN FULL FLOW
There's been some superlative Twitch action already from this WCOOP, which is sure to get even more exciting as things progress. Jason "jcarver" Somerville is in two Day 2s in the 4-Max, while both Fintan and Spraggy are promising not to miss a day from here on.
And then there's Lex Veldhuis. Ah, Lex. There's always one more bluff and one more outdraw, isn't there. "That's one for the books, guys. Holy shit."
---
STAY IN SCHOOL KIDS
"The final table for me was the best poker I've ever played." – jroze99
News emerged yesterday that Janis "jroze99" Rozentāls, who won the first WCOOP tournament of this series, is a PokerStars School student. He credits the Twitch streams of Lex Veldhuis, and his lessons at the PokerStars School for his victory.
Both PokerStars School and PokerStars Blog caught up with the 30-year-old Latvian engineer, who plays poker in his spare time as he works in the medical industry in the UK.
PokerStars School profile
PokerStars Blog interview
---
DEAR DIARY
Our old friends and sparring partners Fintan "EasyWithAces" Hand and Ben "spraggy" Spragg are now well and truly on the WCOOP grind. What's more, they're promising video diaries to keep you all updated on their progress.
Allow "spraggy" to explain:
---
ONGOING TOURNAMENTS
Four events are ongoing overnight, and some of the game's top players are still heavily involved. You could do a whole lot worse than getting out the popcorn and sitting down to watch some of these tournaments resume today, where you'll be able to learn HORSE, No Limit Hold'em (full ring and 4-Max) and 5-Card Draw from the very best.
Specifically:
WCOOP-18-HORSE (Buy-ins: $22, $215 and $2,100)
The last 16 in the high buy-in tournament is absolutely stacked:
Vladimir "vovtroy" Troyanov leads. "aDrENalin710" is second. Former WCOOP Main Event runner-up "0409479" is third. Shaun "shaundeeb" Deeb is fourth.
This tournament also still features Viktor "Isildur1" Blom, Andrey "Kroko-dill" Zaichenko, Mike "goleafsgoeh" Leah and Dzmitry "Colisea" Urbanovich".
WCOOP-19-NLHE PKO (Buy-ins: $109, $1,050, $10,300)
There's a pretty high standard of player left in the last 20 of the high buy-here too: Connor "blanconegro" Drinan is second, Linus "LLinusLLove" Loeliger third, Thomas "WushuTM" Mühlöcker sixth and Daniel "Oxota" Dvoress is 10th.
WCOOP-21 4-Max NLHE (Buy-ins: $22, $215, $2,100)
Plenty of interest in last 43 of high buy-in, including Jason "jcarver" Somerville (5th) (and also still alive in the medium buy-in), Patrick "pads1161" Leonard (6th), bencb789 (7th), Connor "blanconegro" Drinan (13th), Jussi "calvin7v" Nevanlinna (15th) and nilsef (21st).
WCOOP-20 5-Card Draw (Buy-in: $11, $109)
Although the high buy-in of this is already over, two more titles on the line in the low and medium buy-in tournaments.
---
TOP TWEETS
No question. No doubt at all. Absolutely not a problem. Whatever anyone says, "spraggy" definitely knows how to play HORSE. He says so himself:
Jason "jcarver" Somerville will be sleeping well overnight, ready to come back for a double Day 2 in the 4-Max:
And whoever you are, don't come visiting @colin93f during the online grind:
---
GROSS GIVEAWAY
He's already made one final table, now you can win a piece of Jeff Gross's WCOOP action. All you have to do is follow him and retweet this tweet and you could pick up $100 instantly, plus 2 percent of his Main Event action. That could turn into something huge.
---
LEADER BOARD UPDATES
This is getting pretty interesting, with the top five featuring the three two-time champions, plus Jussi Nevanlinna and Phil Galfond.
1 – aDrENalin710, Russia, 430 points
2 – Jussi "calvin7v" Nevanlinna, Finland, 425
3 – Senkel92, Norway, 405
4 – nilsef, Germany, 325
5 – Phil "MrSweets28" Galfond, Canada, 270
Galfond leads the "High" leader board, "aDrENalin710" leads "Medium" and Nevanlinna leads "Low".
Click for full Player of the Series leader boards
---
COMING UP
Is heads-up too few, but 4-Max too many? Have we got the tournament for you.
All these events are starting today:
WCOOP-22: PLO Hi/Lo (Buy-ins $11, $109, $1,050)
WCOOP-23: NLHE (Buy-ins $22, $215, $2,100)
WCOOP-24: NLHE 3-Max PKO (Buy-ins $5.50, $55, $530)
---
PREVIOUS WCOOP ROUND-UPS