We told you it was coming, and now it is here. The 2018 World Championship of Online Poker (WCOOP) kicked off yesterday, beginning more than two full weeks of non-stop elite online poker action.
Here's the first of a daily round-up of all that's happening in the world of WCOOP:
TODAY'S HEADLINES
• WCOOP 2018 is officially under way!
• 15 tournaments start opening day
• Buy-ins from $5.50 to $2,100
• Three champions already
• Winners from Brazil, Lithuania, Mexico
TODAY'S RESULTS
WCOOP-06-H — NLHE 8-Max Turbo
Buy-in: $530
Entries: 876
Prize pool: $438,000
Winner: TheDegenFund (Mexico) — $61,597.15
WCOOP-06-M — NLHE 8-Max Turbo
Buy-in: $55
Entries: 5,370
Prize pool: $268,500
Winner: Gintaras2192 (Lithuania) — $38,189.04
WCOOP-06-L — NLHE 8-Max Turbo
Buy-in: $5.50
Entries: 12,106
Prize pool: $59,319.40
Winner: GStronda (Brazil) — $7,643.02
STAR TRACKER
• Shawn "buck21" Buchanan made the final table of WCOOP-06-H, finishing in seventh place for $11,463.73
• Shaun "seandeeb" Deeb was one of the first players knocked out of a tournament in this year's WCOOP, losing his stack with moments of sitting down in WCOOP-02-L
• SCOOP champion, and last year's WCOOP High Roller third-placed finisher bartek21, leads WCOOP-04-H – $2,100 NLHE into its second day
• Phil "MrSweets28" Galfond lies fourth of 49 left in $1,050 buy-in PLO six-max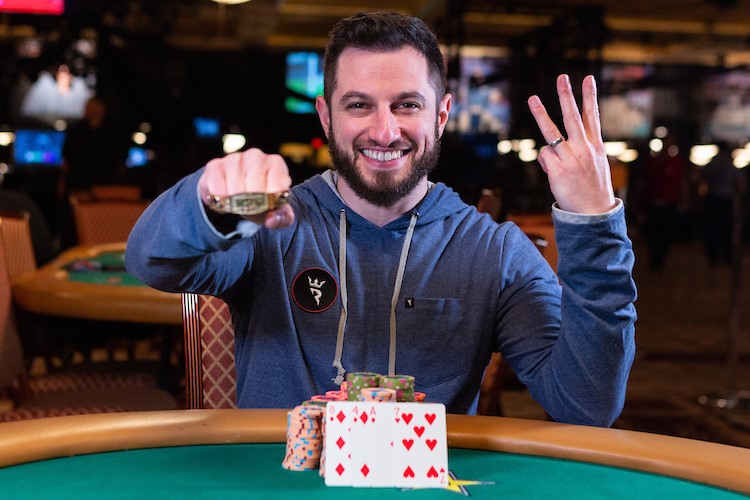 Phil "MrSweets28" Galfond aims to add WCOOP Omaha glory to his WSOP success
TODAY'S BIG SPIN-UP
Take a bow "landofhoney". After qualifying for Event 6-M via a $5.50 satellite, the Romanian player finished fourth for $13,197.09. ROI calculation: 239,847.09 percent!
TOURNAMENTS ONGOING
WCOOP-02 — No Limit Hold'em: No need to be fancy with the early kick-off. The first event of this year's series was a no limit hold'em affair, with buy-ins at $11, $109 and $1,050. There's $89,515 up top for the winner of the high buy-in and $53,941 in the medium isn't bad too. Alex Lynskey has followed up his WSOP Main Event seventh-placed finish with an appearance in the last eight here.
WCOOP-03 — No Limit Hold'em 8-Max Progressive: A special WCOOP renewal of the Sunday Warm-up, with the addition of a $2,200 and a $22 buy-in version too.
WCOOP-04 — No Limit Hold'em: It's Sunday, it must be the Sunday Million, and this holds still during WCOOP season. WCOOP-04 subbed in for the regular Million this week, and included a mini version (with a $22 buy-in) and a $2,200 version too.
WCOOP-05 — PLO Six Max For four-card aficionados, Event #5 offers the chance to show off your Omaha skills. There are few better at PLO than Phil Galfond, and the man they call MrSweets28 duly found a place in the top five overnight in the high buy-in game.
All the above 12 tournaments finish today.
WCOOP STAT TRACKER
Entries so far: 98,376
Prize pool so far: $7,559,054
TWEETS OF THE DAY
Team Online's Lex Veldhuis had his stocking out over the foot of his bed, and had left a mince pie and a carrot out for Santa Claus, who was dashing across the world dropping WCOOP down the chimney of every good boy and girl. And then it all went wrong…
He did get online in the end, however. And flipped well, as it happens:
GET INVOLVED
Nine tournaments remain ongoing over night, but another 12 start today, in four different variants. Fancy some Omaha 8? Or some 2-7 Triple Draw. You're well covered. And today's hold'em events are going to be Win the Button and Progressive KO style.
Day 2 schedule:
WCOOP-07 NLO8 Buys ins of $11, $109, $1,050
WCOOP-08 NLHE Progressive KO Buys ins of $5.50, $55, $530
WCOOP-09 NL 2-7 Triple Draw Buy ins of $11, $109, $1,050
WCOOP-10 NLHE Win the Button Buy ins of $22, $215, $2,100
MORE FROM THE POKERSTARS UNIVERSE
A record breaking EPT Barcelona concluded last night, with victories for Piotr Nurzynski in the Main Event, and Max Silver in the High Roller.
They will be heading back to the online tables to get their WCOOP fix today.