This week Team Pros tried to break the internet (in a minor) way by demonstrating the main virtue of the Twitch platform in a special Turbo Series invitational sit and go.
We're not talking about the poker. We mean the trolling.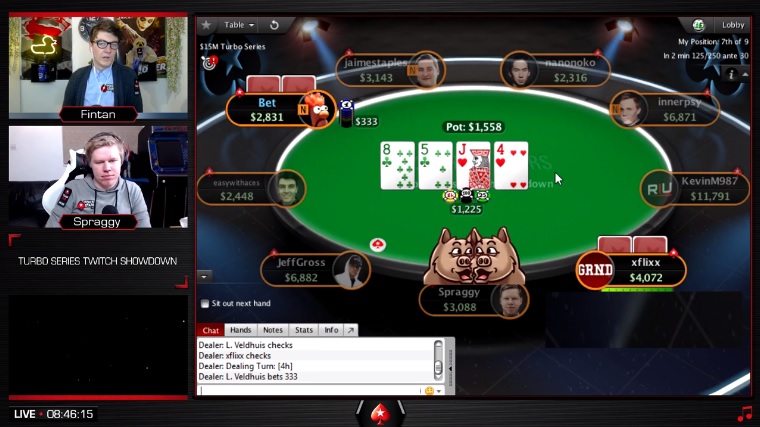 More than 7,000 spectators watched the Turbo Series Team Pro invitational, eventually won by Jeff Gross
The poker was at the standard you'd expect from the best players in the game, but it was the voice function that allowed the merciless mockery between "friends".
The tournament was watched by more than 7,000 people online, and was won by Jeff Gross who earned a Turbo Series Main Event ticket. He also earned bragging rights, although he jury is still out on whether those actually exist. To cap off the evening, he also won the award for Best Bluff on the night.
But that means fans of Jeff also won. His poker community gets a $500 free roll in his home game, and any winnings Jeff earns from the Turbo Series Main Event this Sunday will be split in half, with a share of that going back to his community.
This was an event broadcast live, start to finish, on Twitch. That means highlights.
We've put a few below, but you can spend a good part of the rest of your day catching up on clips from the event, so we've listed them here.
Nanonoko tries the "He's disconnected" bluff:
Lex has queens against Jaime's pocket nines. The Stars nuts… but what about the river?
Quiet please. Nanonoko needs to concentrate:
Lex vs Jaime Part 2. It's payback time (again on the river):
Lex vs Felix: Did that feel good?
Spraggy survives with A8 vs Felix' QT
Jaime survives vs Spraggy on the river
Felix vs. Spraggy Blind vs. Blind
Felix slowrolls Fintan… get's justice
Jeff knocks out Fintan and Felix in a three way all in for the win: