It took Kelvin Kerber two years to do it, but tonight he is the latest owner of a shiny PokerStars Platinum Pass. Kerber was a different man when he started all of this. He was two years younger, he looked radically different, and he had no idea that his 2016 efforts would result in his entry into a tournament that hadn't even been conceived yet. Consider this the world's weirdest Steps satellite ascent, and consider Kerber one of the new favorites in the PokerStars Players No-Limit Hold'em Championship.
Time is a funny thing. Kerber set out this year to play all the BSOP events for a very specific reason. He didn't see gold in the hills; he saw Platinum in the Brazil Series of Poker. Tonight, his year-long mission became one he finished in less than a month. The 26-year-old Brazilian Pro just tore up the Brazil Series of Poker in São Paulo and won Player of the Series. That honor came with 2018's sweetest prize: a $30,000 Platinum Pass package to the PSPC in January 2019.
"I'm so happy to be the first Brazilian player to win a Platinum Pass. When I got the news that PokerStars was awarding 17 passes for this season of the Brazilian Series Of Poker, I decided to play all stops to try and guarantee mine," Kerber said tonight.
He ended up having to play just one stop, which isn't even close to the weirdest thing that happened on his journey to the PSPC.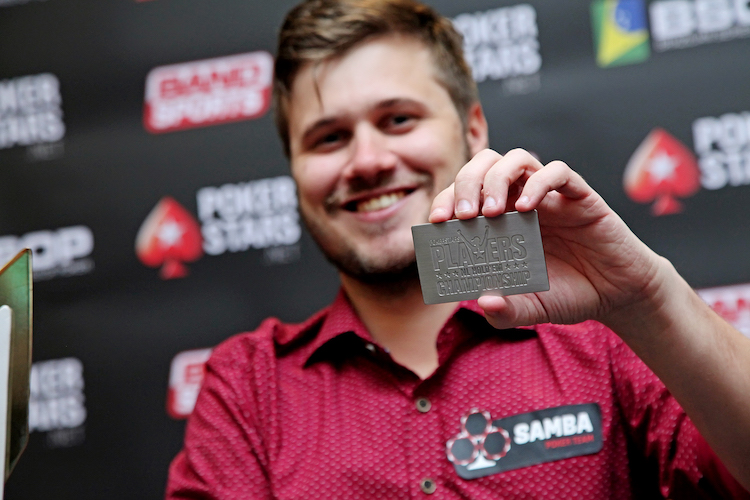 The Platinum Pass and its new companion, Kelvin Kerber
Consider the path this young man took to his Platinum Pass.
In 2015, Kerber, playing on PokerStars under the screen name Kelvin_FP:AR, binked $7.50 rebuy SCOOP tourney against more than 8,600 other players. It earned him just about the same amount as a PSPC entry: $25,000.
That was all well and good, but Kerber had big ideas back at home. He wanted to win the BSOP. He did just that in 2016, winning the BSOP Main Event and a side event. Look at him back then.
That effort was enough to give him a head start on winning BSOP Player of the Year. In the end, he didn't have enough steam, and that title went to someone else. Kerber dealt with a certain flavor of disappointment, the kind that would have an ironic aftertaste two years later.
See, last year, the BSOP invited 99 of its winners to the BSOP 100 Foz do Iguaçu Tournament of Champions. Kerber's 2016 BSOP win got him a seat in that freeroll. Kerber didn't miss his shot this time. Not only did he win the title, but he also won packages for every event of the BSOP 2018 season.
So, if you're keeping score at home, Kerber won a tournament in 2016, missed Player of the Year by just a couple of spots, and then got a freeroll into a Tournament of Champions that earned him yet another freeroll into the BSOP this week.
You see where this is going…
Kerber showed up to the São Paulo event this week and won not one but two side events. That was enough to win Player of the Series and the shiny Platinum Pass that came with the honor. He'd planned to work all year to get one. He had it all planned out, a year long campaign of tournaments aimed at freerolling himself into the PSPC. He now has eleven months to re-plan.
"I'm really happy that I made it at my first try. I was already planning to play the Players Championship. I have a lot of experience in big tournaments, so I'll try to do my best at the Bahamas next year," Kerber said.
This might have been his first try this year, but if you look at it in the right light, this is a spin-up for the ages. He won a tournament in 2016 that earned him a freeroll in 2017 that earned him a freeroll in 2018 that has earned him a freeroll into a tournament worth a ridiculous number of millions.
The starting line was 2016…and now the finish line is January 2019. Good luck finding anyone who thinks Kerber can't go the distance. When you've been riding the same wave for two years, what's another eleven months?
Kelvin Kerber only needed one shot…and two years