Turbo Series starts on PokerStars this Sunday with the first of 114 events over two weeks…
There are plenty of things out there that claim to be "turbo".
There are the turbo hairdryers, turbo energy drinks, turbo curlers, turbo yeast, and turbo pushchairs. We even found a turbo toilet footstool (your guess is as good as ours).
But how many really add a turbo to the original? And is a Turbo pushchair really a good idea?
The exception is Turbo Series, which starts this Sunday, and awards big prize money in half the time.
On first look it seems standard, with lots going on, and plenty of prize money.
But these are Turbo events. That means each is finished in half the time.
That's proper Turbo.
WIN BIG IN HALF THE TIME
Take this Sunday's opener for example:
Turbo Series 01: $215 NLHE (Progressive KO)
Levels are six minutes long, rather than 12, and there's $1 million guaranteed.
That means a Sunday Million sized first prize, in half the time.
You might even get a good night's sleep before work on Monday morning.
That is if you can sleep after a result like that… and if you bother to go to work.
TOURNAMENTS TO SUIT ALL BANKROLLS
The Turbo Series schedule caters to different types of players.
FOR LOW STAKES PLAYERS
Ten Turbo Series events have buy-ins of $11. They add up to $660,000 in guaranteed prize money.
Events to look out for:
* Monday 4 February: Event 08 – $11 + R buy-in NLHE ($100,000 Gtd)
* Friday 8 February: Event 38 – $11 buy-in NLHE ($115,000 Gtd)
* Friday 15 February: Event 90 – $11 buy-in 6-Max Progressive KO ($50,000 Gtd)
FOR MEDIUM STAKES PLAYERS
If you're bankroll is to the north of that you have multiple options. There are 38 events on the Turbo schedule with buy-ins of less than $100, in hold'em, pot-limit Omaha, and 8-Game.
Events to look out for:
* Tuesday 5 February: Event 16 – $55 buy-in NLHE 6-Max ($250,000 Gtd)
* Tuesday 12 February: Event 70 – $55 buy-in NLHE 8-Max ($250,000 Gtd)
* Sunday 17 February: Event 110 – $55 buy-in Main Event Low ($1 million Gtd)
FOR HIGH STAKES PLAYERS (AND ASPIRING ONES)
There are 19 events with buy-ins of more than $500, all with the kinds of sizeable guarantees you'd expect.
Events to look out for:
* Sunday 10 February: Event 54 $5,200 NLHE 8-Max High Roller ($750,000 Gtd)
* Sunday 17 February: Event 108 $5,200 NLHE 8-Max Progressive KO, High Roller ($750,000 Gtd)
* Sunday 17 February: Event 109 $1,050 NLHE Main Event High ($2 million Gtd)
That's before anyone has taken a seat. Or won a seat.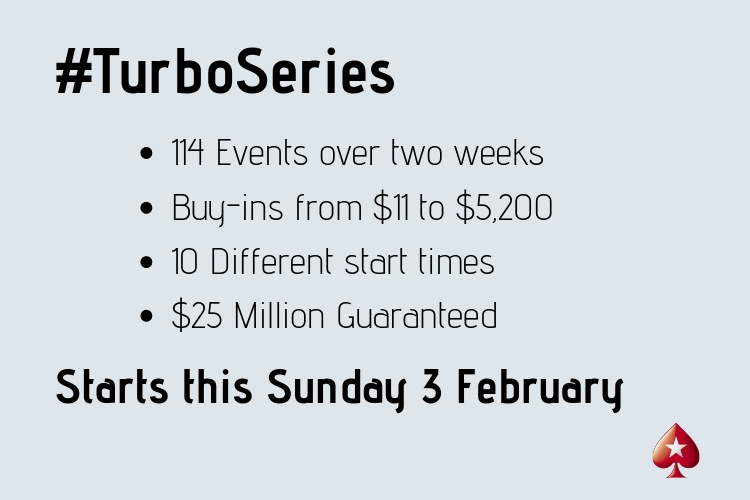 QUALIFY FOR AS LITTLE AS $0.55
You can do that in satellites throughout Turbo Series.
They start at $0.55 all the way through to $109. And if you prefer your drama to to conclude quickly, special $2.50 Turbo Series Spin & Go's will get you there in Turbo speed.
TURBO SERIES STARTS THIS SUNDAY
Five events start this Sunday, promising $2 million in prize money before Monday morning.
Two of those are hyper-turbos. They make regular Turbos seem like, well, standard toilet footstools.
Have a speedy, and successful Turbo Series.