A look back at the week on PokerStars…
• Turbo Series stars on Twitch
• More from Poker In The Ears
• Looking ahead to the Turbo Series weekend
• Win your way to the EPT season opener in Sochi
• Are you taking part in The Big Race?
• Watch the penultimate video of the #GameOn series
• There are EIGHT Platinum Passes to be won this weekend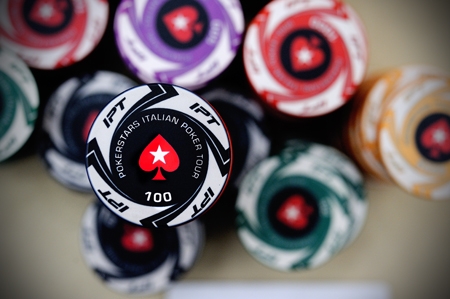 Turbo Series on Twitch
When you put one Team Pro on Twitch and watch them stream the results are usually quite lively.
So, you can imagine what happens when you put nine of them around a table for a special Turbo Series Invitational. All of them were streaming, and each could hear each other, and that includes the abuse (all meant in the best possible way).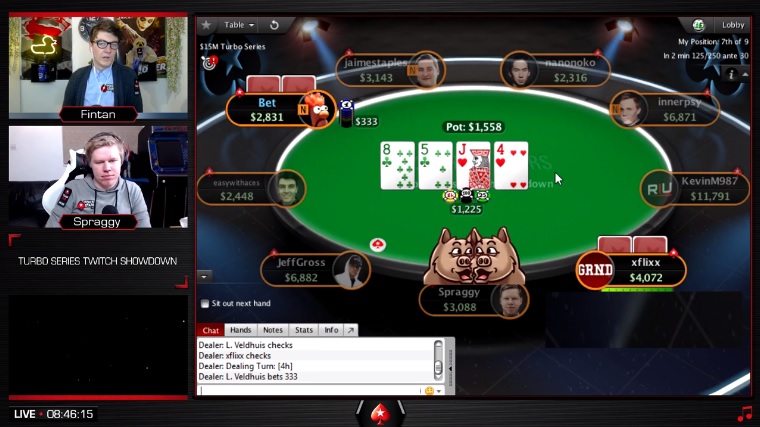 Turbo Series Team Pro invitational, as seen by Ben Sragg and Fintan Hand
We also added a few incentives to make sure they show their cards. All of that played out this week on the PokerStars Twitch channel, with predictable results.
If you didn't see the event live, you can at least catch up on some of the most entertaining highlights in our post here.
But before you do that, check out this clip, which is one of our favorites.
More from Poker In The Ears
This week's podcast is an American Poker Awards special, featuring a guest appearance from Broadcaster of the Year Nick Schulman. We'll let the team introduce the show.
"Joe regales James with stories from last week's American Poker Awards, including his strategy for selecting a date, and how he believes the entire poker community conspired to shut him out of the ceremony. Literally. The boys run through some of the winners from the major categories, and speak to poker pro and commentator Nick Schulman, who was crowned Broadcaster of the Year.
"There are details of the next #PokerInTheEars freeroll, and Joe has a rant at Michael Nadasdy from the UK for selecting 'The Cannonball Run' as his 'Superfan vs Stapes' specialist subject. Please don't forget to rate, review and subscribe to the podcast."
Click here to listen to the latest episode
Looking ahead to the #TurboSeries Main Event this weekend
The Turbo Series concludes this weekend after two weeks and 74 events. Two Main Events wrap up the series, each with a very different buy-in. You can win your way into each in the satellites running between now and the start of play on Sunday.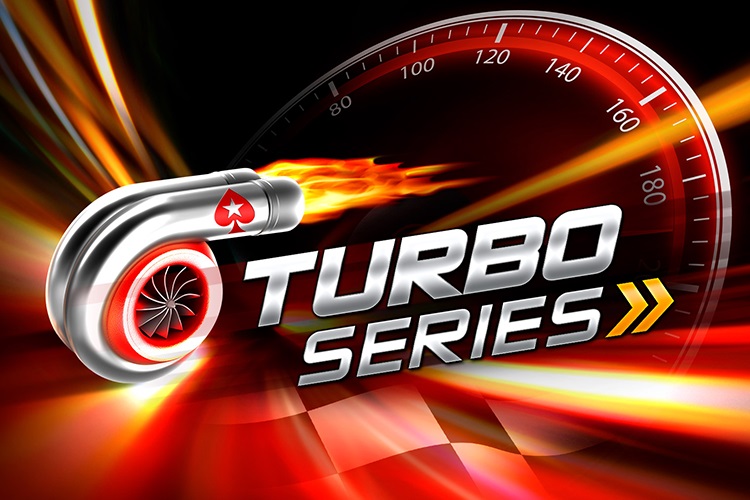 Meanwhile, check out the latest results, and the schedule for the weekend by clicking here.
Still time to win your way to the European Poker Tour season opener in Sochi
Did you know you can get to EPT Sochi for as little as $11?
That's the going rate for a standard multi-table super-satellite currently running on PokerStars.
Any of them could results in you booking a ticket to Russia, away from the busy grind of home, to the busy grind of the European Poker Tour.
But that's not all.
Waiting for you in Sochi will be some luxury accommodation, Olympic scenery, and a bustling week of events. There are already hundreds of players registered.
Let's not ignore another perk – you get what must be one of the poker world's most exclusive passport stamps.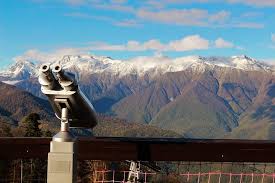 One of the views about Sochi, overlooking the Caucuses mountains. A cable car ride to a view like this costs roughly the same as a satellite ticket to the EPT Sochi Main Event
And if regular multi-table satellites are not your thing, there's a Spin & Go's to win also.
Find out more by clicking HERE.
A $2 tournament, a big race, and the chance to win a PokerStars Festival Marbella package
How does this sound?
Play a poker tournament that could not only boost your poker bankroll, but your BetStars bankroll too.
In addition to that, you could win a package to the PokerStars Festival Marbella in the Spring worth $3,000.
Oh, and it all hangs on the outcome of the biggest horse race of the year?
How does it sound if we tell you all this costs just $2?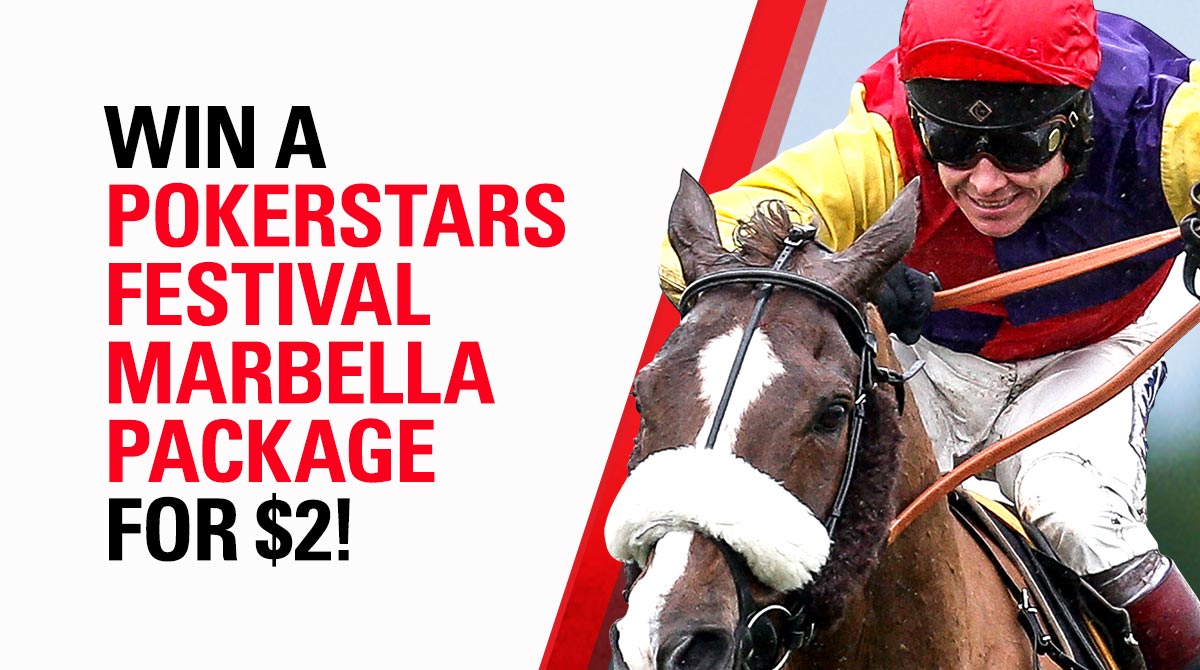 The buy-in for The Big Race is just $2 and could end up with you on your way to the Pokertars Festival in Marbella with a package worth $3,000
That's what we call The Big Race. It starts this Sunday at 5pm UK time, with cash prizes, free bets, and that package to be won.
Players have already begun signing up, including Team Online's Ben Spragg who'll be having a punt.
If you like free bets / free trips to Marbella/ poker / sun / horses / any of the above…you should be getting involved here! I am on Sunday! https://t.co/CsL7viixq0

— Benj Spragg (@spraggy) March 2, 2018
#GameOn goes on
In what is the penultimate video of the series, Usain Bolt and Kevin Hart continue to put their skills to the test as they go head-to-head at the poker table.
This week, the star contestants are each given a challenge to throw in to the pot and up the stakes, resulting in Hart sending a message from Bolt's phone and Bolt having to wear one of Hart's shirts.
Watch the latest video below.
Win one of EIGHT Platinum Passes available this weekend
Platinum Passes are the hottest tickets in town right now, and will likely stay that way in the lead up to the PokerStars Players No-Limit Hold'em Championship in the Bahamas next year. They're sought after not just for their $30,000 value, but for what they represent – a seat in what will be one of the biggest poker tournaments in the world.
This weekend there are even more on offer, as various events include these as part of their winner's package.
Four Platinum Passes will be won on Saturday. Another four will be won on Sunday, the highest profile being in the two Turbo Series Main Events.
There is also the conclusion of the Truth or Bluff promotion. The winner of which will receive a Platinum Pass in part as reward for their reading skills over the past few weeks.
Read about all the Platinum Pass winners on the Blog next week.