Have you ever gone on a great run at the poker table? The adrenaline rush is powerful. You feel indestructible, like you can bulldoze any and every opponent standing in your way as you amass more and more chips. Having myself experienced some pretty darn great runs at the tables over the years, I'd argue that you can get the same powerful adrenaline rush from a good run away from the felt as well. Of course, I'm referring to actual, physical running. The release of endorphins, the visceral joy of building up a sweat after pounding the pavement, that sweet feeling of muscle soreness; it's hard to top the joy of a good run. Or so I thought, until 2015.
That's the year I started my Running Well charity campaign, pledging $1 per kilometer I ran. I wasn't much of a runner back then, but I still ended up donating about $140 to charity that year. In 2016, I decided to "raise the stakes," as it were, making a concerted effort to exercise more. It worked, and I ended up donating over $400 to charity. Last year, I felt the time was ripe to "go all-in" with a "1,000km Charity Poker Challenge." As before, I'd continue to pledge $1 per km towards a great charitable organization (Kids Kicking Cancer), but for the first time I had set a couple of official goals:
1) Run a total of 1,000km during 2017.
2) Actively try to get the poker community to support the campaign with per km pledges of their own.
And it worked! I made it to the finish line on December 25, 2017 and followed through with my donation the following day.
A number of outstanding individuals pledged their support and rooted me on during the year, resulting in a total of $4,100 being raised. One of those individuals was PokerStars Team Online Pro Jaime Staples.
For 2018, I'm hoping to raise the bar even higher, repeating the 1,000km challenge but increasing the overall charity goal to $10,000. In other words, I'm putting forth the same effort on the treadmill while boosting the effort to get others from the poker community to make pledges of their own. Jaime – awesome guy that he is – decided to make a matching $1 per km pledge once again.
I've "switched gears" this year and am fundraising for a different, equally as deserving, charity called Save a Child's Heart, whose mission it is to improve the quality of pediatric cardiac care for children in developing countries. I invite you to please take a couple minutes to watch the incredible work they do.
In the hopes of "upping the ante" beyond individual supporters, I decided to approach some poker companies to see if they'd be willing to jump on the bandwagon with a matching $1 per km pledge. One of the first such organizations to pop into my mind was PokerStars.
A Charitable History
Over the years, PokerStars has demonstrated time and time again their commitment to supporting charitable initiatives. Whether that's through reactive fundraising appeals in the wake of natural disasters (in which the company matches donations from online poker players) for CARE International, or via partnerships with charities like Right to Play and Autism Speaks , PokerStars has always done its part to make positive changes in the world.
To that end, they even have an official corporate giving arm called Helping Hands, headed up by the wonderful Sue Hammett. It was Sue who I approached about getting involved in my Running Well campaign and she happily agreed for PokerStars to pledge matching support.
Every Chip Counts. Always.
The poker community has always proven itself to be exceptionally giving. Charity poker tournaments abound worldwide, and numerous well-known poker pros spearhead a variety of charitable initiatives and donate their time, efforts, talents, and monies to a litany of worthy causes. Numerous PokerStars Pros, including Daniel Negreanu, Chris Moneymaker, Barry Greenstein, Liv Boeree, and Igor Kurganov, are industry leaders when it comes to charitable giving. Others, like Bernard Lee, even get their children to pitch in and thus make their charitable efforts a family affair.
Moreover, a relatively recent trend has seen some successful poker high rollers, like Dan Smith and Fedor Holz, galvanize the greater poker community's support for charities via their offers to match up to a predetermined amount of money.
Embed Tweets from Dan Smith and Fedor Holz
Big donations make headlines. Grandiose initiatives generate buzz. The upcoming 4th Annual American Poker Awards will even spotlight "2017's Charitable Poker Initiative of the Year." Indeed, massive fundraising efforts can be considered award-worthy.
Yet, most of us poker players aren't fortunate (or skilled) enough to have made millions from the game we love. We don't all have the resources or platforms available to us to help raise huge six- or seven-figure sums for charity.
But we can still do our part.
Just because my $1,000 pledge might not get the publicity that a donation many times larger might get, doesn't make it any less important. Even if you can only afford to pledge $.05 per km, that doesn't make your donation any less critical to the very special children who will quite literally be given new life due to the efforts of Save a Child's Heart.
The Road to $10,000… and Beyond?
Poker's headlines will always be dominated by prestigious tournament winners and million-dollar scores. Our eyes will always be riveted to big buy-in events and cash games rather than hometown heroes notching the occasional success in a local daily tournament. Such is the way of the world and the natural order of things, but it doesn't make low-stakes home games or the $.01/$.02 online grind any less important in the grand scheme of things. After all, the overwhelming majority us obviously fall into those latter categories.
Cynics might scoff and say that the world's largest poker site is easily capable of pledging more than $1,000 to the cause. Those people, however, would be missing the point entirely, as I only asked for them to consider a matching $1 per km pledge.
That PokerStars was even willing to hear my pitch in the first place and show support for my humble Running Well charitable initiative to me mirrors their commitment to recreational poker players. Much like we can't all win an EPT title or get our pictures taken behind enormous stacks of cash, not every charitable pledge needs to be made via oversized check.
As of this writing, I'm grateful to report that I've already gotten more total monies pledged than in all of last year. Perhaps I'll even run well enough to even break that $10,000 target I set for myself.
What a rush!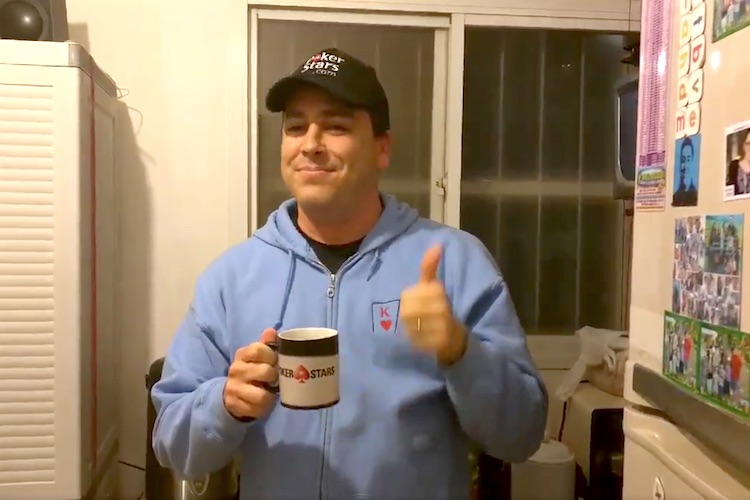 Robbie Strazynski
---
Robbie Strazynski is the founder of Cardplayerlifestyle.com. You can follow his running progress on Twitter via #charitypoker1000km.
To make a per km pledge of support for Robbie's Running Well charity initiative, please email Robbie@cardplayerlifestyle.com. All monies are to be donated directly towards Save a Child's Heart.