The so-called "Moneymaker Effect" was the spark that ignited the poker boom.
But what if Moneymaker's heads-up opponent, Sam Farha, had called the Tennessee amateur's "bluff of the century" with king-high on the penultimate hand?
If Sammy had gone on to become world champion, would there still have been a poker boom?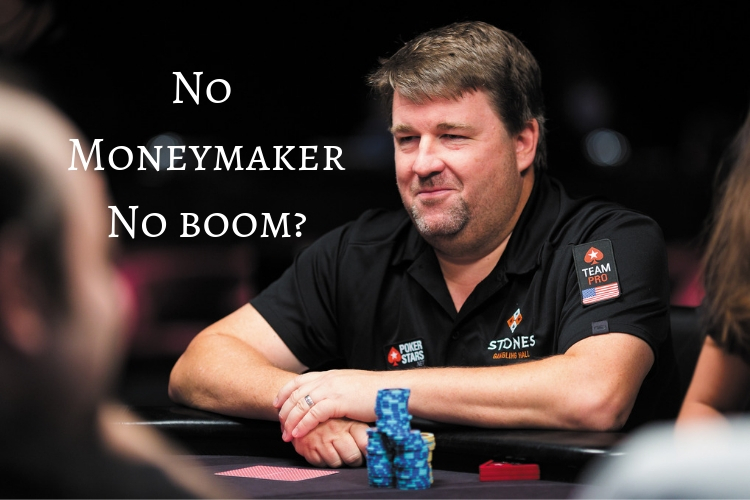 Would there have been a poker boom had Chris Moneymaker lost heads up to Sam Farha?
Without the Moneymaker story, ESPN might not have continued with its tournament coverage in quite the same way.
And for the TV audience, it was easier to see themselves in the figure of Moneymaker, than in the high stakes cash game specialist he was sitting opposite.
If anything, a "Farha Effect" would have reinforced the notion that amateurs can't beat the pros. That's not the kind of story that fills a poker room.
But it seems unlikely that the poker boom would have been postponed for long.
Because it wasn't just what Moneymaker had achieved. It was how he'd done it – turning a few dollars into $2.5 million.
But it seems unlikely that the poker boom would have been postponed for long
And even so, a year later the WSOP was won by another online qualifier Greg Raymer. He was doing what Moneymaker proved you could do, and hundreds (soon thousands) more were doing the same.
It's hard to underestimate the significance of this. It meant regular poker players, who had perhaps never ventured to a game further away than their kitchen table, were able to win entry into major tournaments. And all from the comfort of home.
None of that would have been stopped had Moneymaker finished in second place. Or, arguably, had he not finished in the money at all.
After all, knowing you can win $1.2 million for second place is just as enticing. Especially when you're only investing a few dollars to play.
Go to the Moneymaker Effect homepage to read more about Moneymaker himself, and the stories that came out of that game-changing day back in 2003.