For the last few weeks, I've been reporting from the Moneymaker PSPC Tour, where we're celebrating the 15th anniversary of Chris winning the World Series of Poker back in 2003. It's been my privilege to accompany Chris on this tour, hearing first-hand the stories from poker players who were influenced by (hell, became poker players because of) his win.
But the keepers of the blog have asked me to pause and think back to 15 years ago when this amazing flight took off. It was May of 2003 when Chris Moneymaker's flopped two pair (and rivered full house) saw off Sammy Farha's top pair and changed poker forever.
I was working in Silicon Valley as a software engineer and raising a couple of near-adult sons. I saw something in the New York Times about an accountant from Nashville winning the WSOP, but that had no effect on me.
---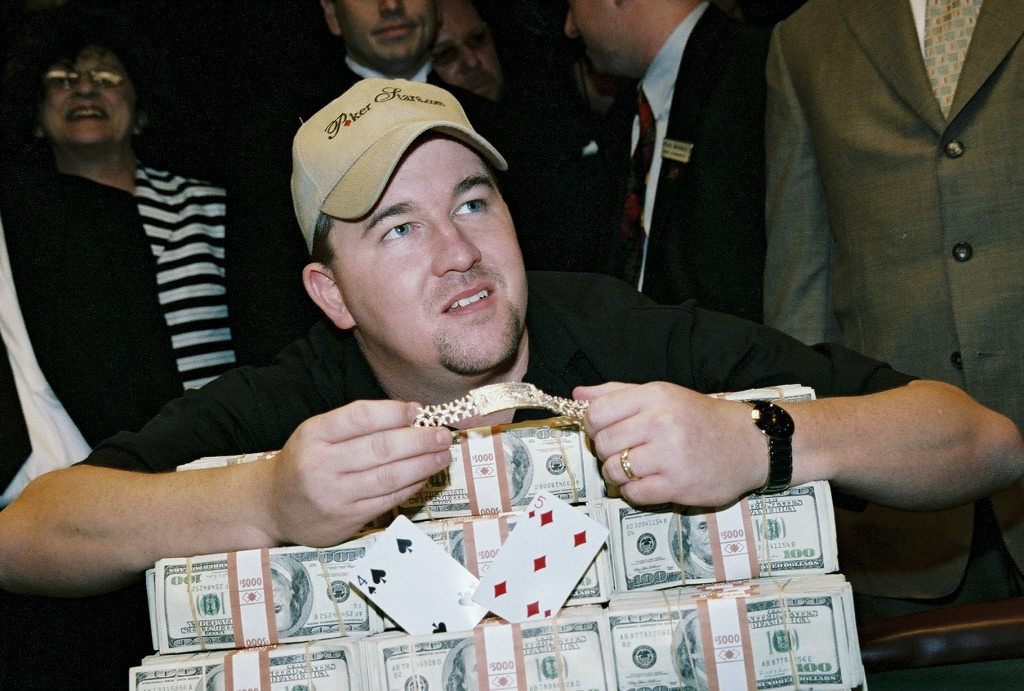 The story that caught Lee Jones's attention back in 2003. Chris Moneymaker, an amateur player from Tennessee, winning the World Series of Poker Main Event
---
My connection to the poker world was just grinding $20-40 limit hold'em at Bay 101 once a week and selling dozens – dozens, I tell you – of copies of my book Winning Low Limit Hold'em every quarter. The biggest change coming up in my life was our younger son getting his driver's license.
They say that if you want to give God a laugh, tell him your plans.
Less than a month later, I was taking a phone call from the PokerStars founder. The message was clear – the site was experiencing unimaginable growth, in no small part thanks to an amateur poker player taking $86 on this site called pokerstars.com and turning it into $2.5 million and lasting fame. They were dealing with hundreds of thousands of people clicking the "Create Account" button.
After a series of negotiations and sample projects, PokerStars offered me the job of poker room manager starting, like, as quickly as possible.
Let's pause there for a moment. I got that phone call not two weeks after I'd "celebrated" 25 years in the computer industry as a software engineer.
Maybe debugging C code wasn't my great passion, but I worked with smart dedicated people, it paid the bills well, and it was all I'd known since I'd graduated from college.
I thought I should do some due diligence about this whole online poker business; I called a poker buddy from the Internet who had joined PokerStars a few months before. What, I asked, was it like?
"Lee, we get paid to think and talk about poker."
Beginning with the earliest hires at the company (shout-out to Terrence, Thomas, Jacob, and the others who know who they are), PokerStars hired people for whom poker wasn't a job – it was a passion, an obsession, a way of life.
When Chris won the WSOP, it was a Woodstock moment as poker fanatics the world over (myself included) laid down the tools of regular jobs, packed up IRL as they knew it, and converged on a company where they were paid to think and talk about poker.
---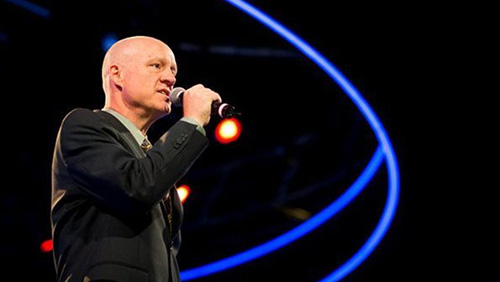 Lee Jones (pictured addressing players on the European Poker Tour in Monte Carlo) joined PokerStars shortly after Chris Moneymaker won the World Series of Poker in 2003.
---
That poker DNA paid off immediately as we faced daily challenges and weekly growth pains. Email threads and chat conversations were among people who had lived and breathed poker for years. We simply asked ourselves, "What is the right thing from a poker standpoint?" "What would we want if we were on the other end of this situation?"
And with that, we boomerang back to you, the poker player. See, for every person who comes up to Chris out on the tour and says, "Dude – I was in college when you won, and you made me start playing poker", there's a kid sitting next to him that says, "Oh ya, I was in third grade." What does Chris Moneymaker mean to that kid?
Well, Chris Moneymaker did the single best thing for PokerStars and the poker community that we could have asked for: he brought in a tsunami of poker players in one fell swoop.
As any online poker player can tell you, it's all about the number of players on a site ("liquidity", as the operators so drily call it). And it's a positive feedback loop – high liquidity attracts more players, which leads to higher liquidity. More players means more different cash games running (you want $5/10 NLHE or a full Stud-8 game – we got 'em).
It means bigger tournament fields and bigger prizes; while the first Sunday Million was a little more than two years away, the guarantees on tournaments were going up almost by the week.
And importantly, that kind of success breeds big dreams and big plans.
Even as we were scrambling to deal with the huge influx of new players playing online, we were planning the first PokerStars Caribbean Adventure, which would cruise into the sunrise just a scant seven months later in January of 2004.
Just 15 months after Chris's win, the inaugural European Poker Tour event would kick off in September of 2004. And of course, before that seismic EPT in Barcelona, we had the 2004 WSOP to deal with. That time, we would send 316 qualifiers, one of whom was a part-time grinder and full-time patent attorney named Greg Raymer. But that's a story for a different blog.
Me? I took that call from PokerStars in June of 2003 and never looked back. I wished my Silicon Valley colleagues and friends well and jumped down the online poker rabbit hole. It's been an astonishing ride and I wouldn't trade it for anything.
I've told Chris multiple times that I owe my job, indeed my career, to him. And every time I watch Chris Moneymaker bluff Sammy Farha out of his Gucci loafers, I freeze and say sotto voce, "Don't call, Sammy – please don't call."
Sammy folded, and poker was cleared for takeoff.
Go to the Moneymaker Effect homepage to read more about Moneymaker himself, and the stories that came out of that game-changing day back in 2003.
---
Lee Jones is a consultant in poker communications for PokerStars. He first joined the company in 2003 and has been part of the professional poker world for over 30 years. You can read his occasional Twitter-bites at @leehjones.