As the news outlet around these parts, we see a lot of videos. And because PokerStars has given out more than 100 of the 320 Platinum Passes it's dropping on its players to send them to the $25,000 PokerStars Players No-Limit Hold'em Championship, we've seen a lot of videos of people winning.
We haven't seen anything like this. It has drama. Intrigue. Suspense. Screams. Chills. Tears. Near nudity. It is, if I'm being honest, exactly how I would respond if I won a Platinum Pass. I might have a greater degree of nudity. I'm not modest.
But, let's do the video first. I want you to pay special attention to a few things.
1) Rogério Pereira. He's the man in the gray shirt with the #8 on it.
2) How absolutely disinterested Pereira seems as the flop comes out, as if he were all-in against pocket eights with 8-3 offsuit
3) How the flop does little to change his mood, and how he's more interested in the conversation with his friends than…wait a minute…
4) How, when the turn hits, Pereira's buddy throws an elbow hard enough to sting a little bit
5) How his friends begin to chant "ouros" on the turn. That's Portuguese for "diamonds." It seems our buddy picked up a flush draw…
6) And how…well, the rest speaks for itself.
Pereira is a pro at celebrating (that comes with your birth certificate in Brazil), but he's a poker amateur. He plays a good bit, but he's the farthest thing from a pro. He planned to go to the Bahamas in January, but there was no way he was going to try to jump into what is expected to be the biggest $25,000 poker tournament in history.
"I have no words," Rogério said afterward. "I would never pay the buy-in. I do not have a bankroll for that, and I do not have a game for that. I'm so happy that I won the Pass."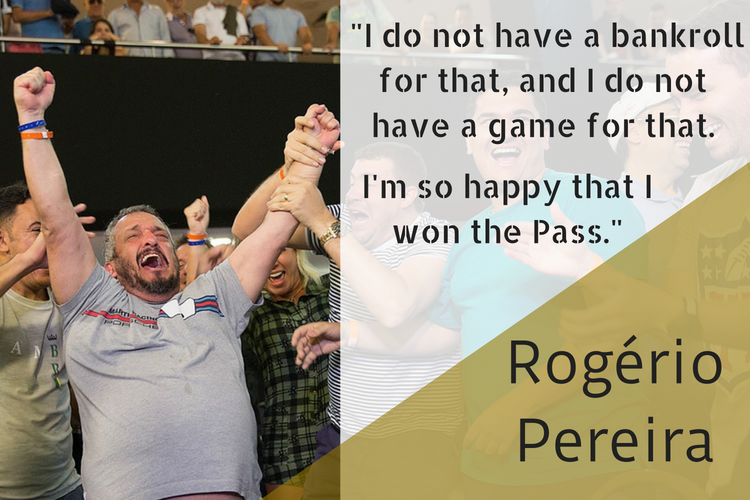 On an average day at a poker tournament, you could expect to hear his voice over the crowd as he recounts his hands from the previous levels. It's so much a part of his reputation, he's got a business plan for the Bahamas.
"Hands Teller!" he said. "I'm going to make a T-shirt like that and I'm going to play with it!"
As Brazilian blogger Sergio Prado put it afterward, "Now he can tell everybody about the biggest hand in his poker career so far."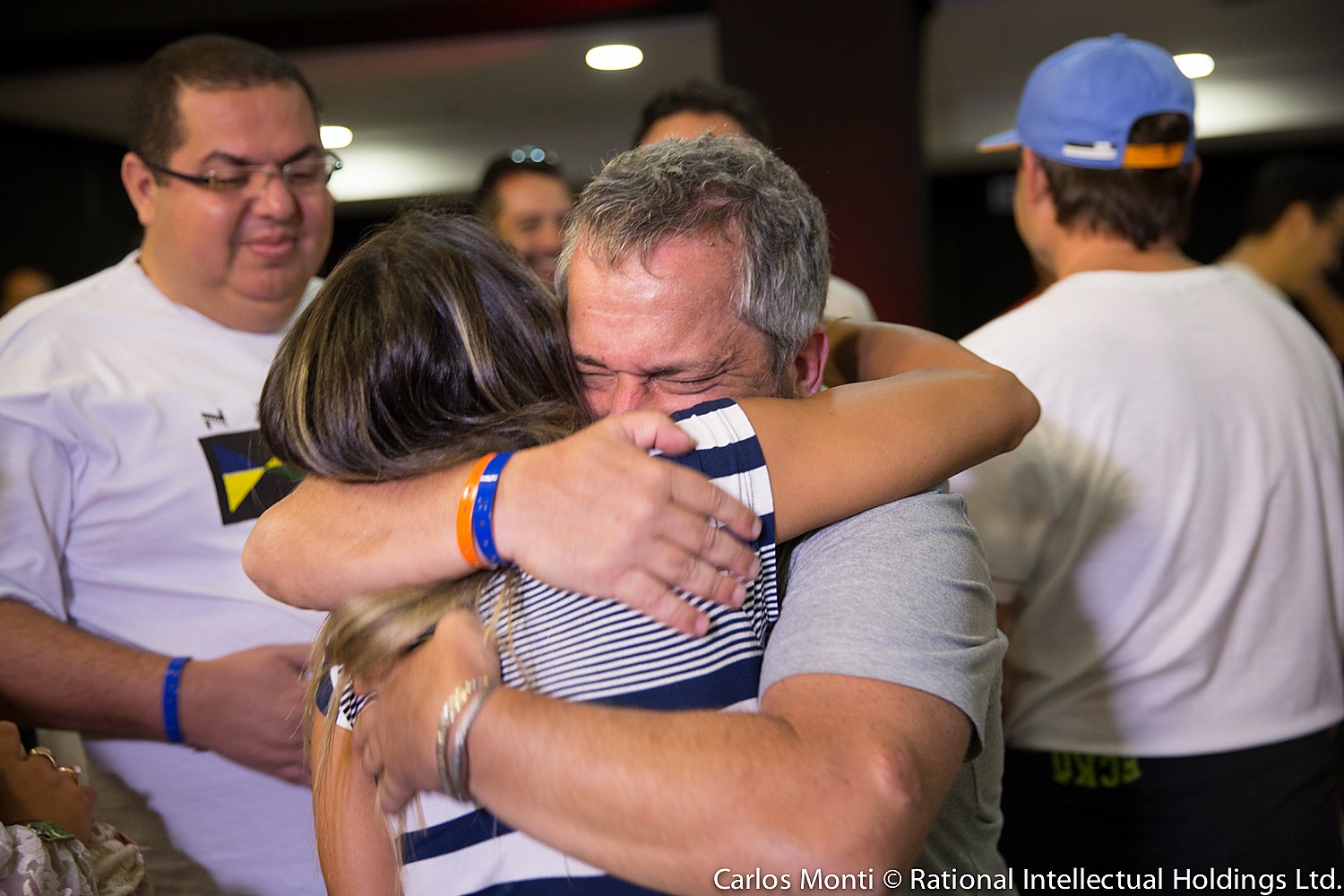 That hand happened today when the 45-year-old played an All-In or Fold tourney at a Brasil Series of Poker event. He was looking for an ace to overtake Allison Piekazewicz, but then he picked up that flush draw on the turn…and only then did he spike the ace for the Platinum Pass win.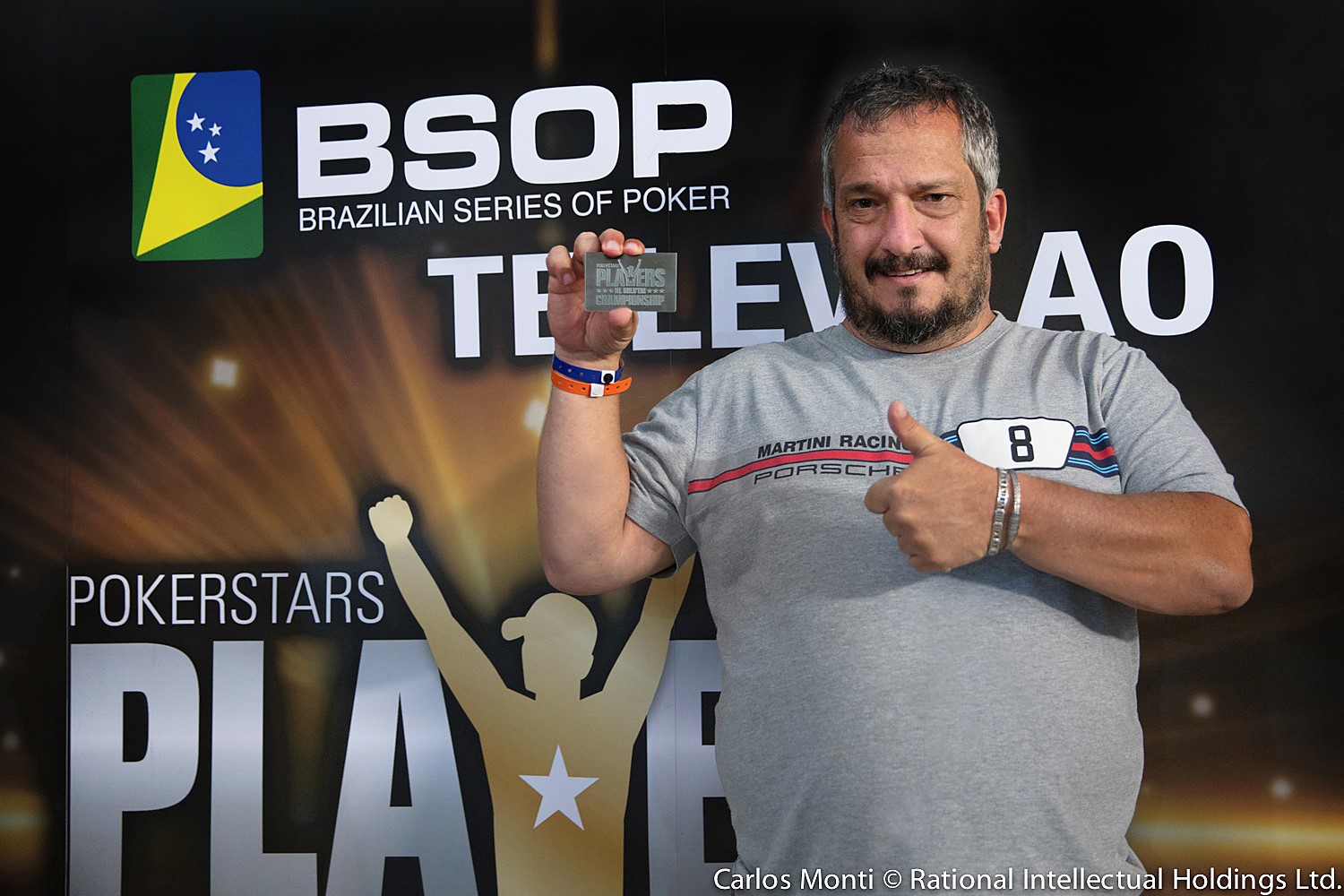 Now, Pereira has to figure out what to do about the fact he's going to play a tournament he never considered playing. He has a plan for that, too.
"I'm lucky to be friends with a few big Brazilian players, like Andre Akkari and Thiago 'Decano' Nishijima. I'm going to ask for some advice from them," Pereira said. "I think when I'm at the table with the sharks, the game changes. I'm not afraid of them."
Sergio Prado's reporting contributed to this report
---
Rogério Pereira is one of more than 300 Platinum Pass winners who will be going to the PokerStars Players No-Limit Hold'em Championship. Want to see more? Meet them all on in our PSPC Platinum Pass Winners index.