With dozens of victories and $1.5 million in cashes on his PokerStars resume, Pedro "skyboy69" Oliveira knows plenty about tournament poker success. Multiple times over the past few years, though, he's found himself within reach of a major title only to come up just short. He won more than a million dollars from three near-misses over past several years, taking third place during two separate SCOOP events in 2013 and 2015 and then finishing 11th at the 2017 World Series of Poker Main Event. Tonight he found himself in a similar situation at the Super Tuesday final table and stayed patient until he found an opening late in the game, took advantage of some strong starting hands, and put the tournament away to lay claim to his first Super Tuesday title.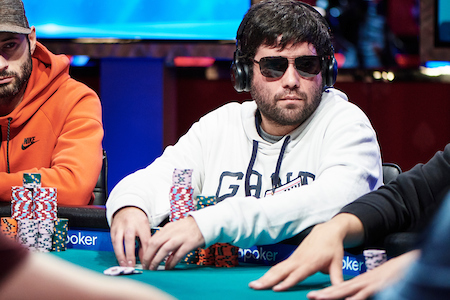 Pedro "skyboy69" Oliveira at the 2017 WSOP
This was the first week back on the regular structure and buy-in after a couple weeks' worth of Super Tuesday Special Editions for the Winter Series. After eight hours of play the final table bubble loomed and the eventual winner was cruising along with an average-sized stack, just as he had through most of the tournament up to that point. Past Sunday Million champion ad144 of the United Kingdom had been in similar position most of the day before taking over the chip lead with 14 players left. All those chips disappeared quickly, though, and ad144 was in trouble after losing a flip with A♣ K♠ against OLDWOLF133's pocket queens. Eventually ad144 flopped queens and sixes after defending the big blind with Q♣ 9♣ against a .COM??LOL raise. ad144 check-called bets the entire way and left in 10th when .COM??LOL showed down K♣ K♦ after the river.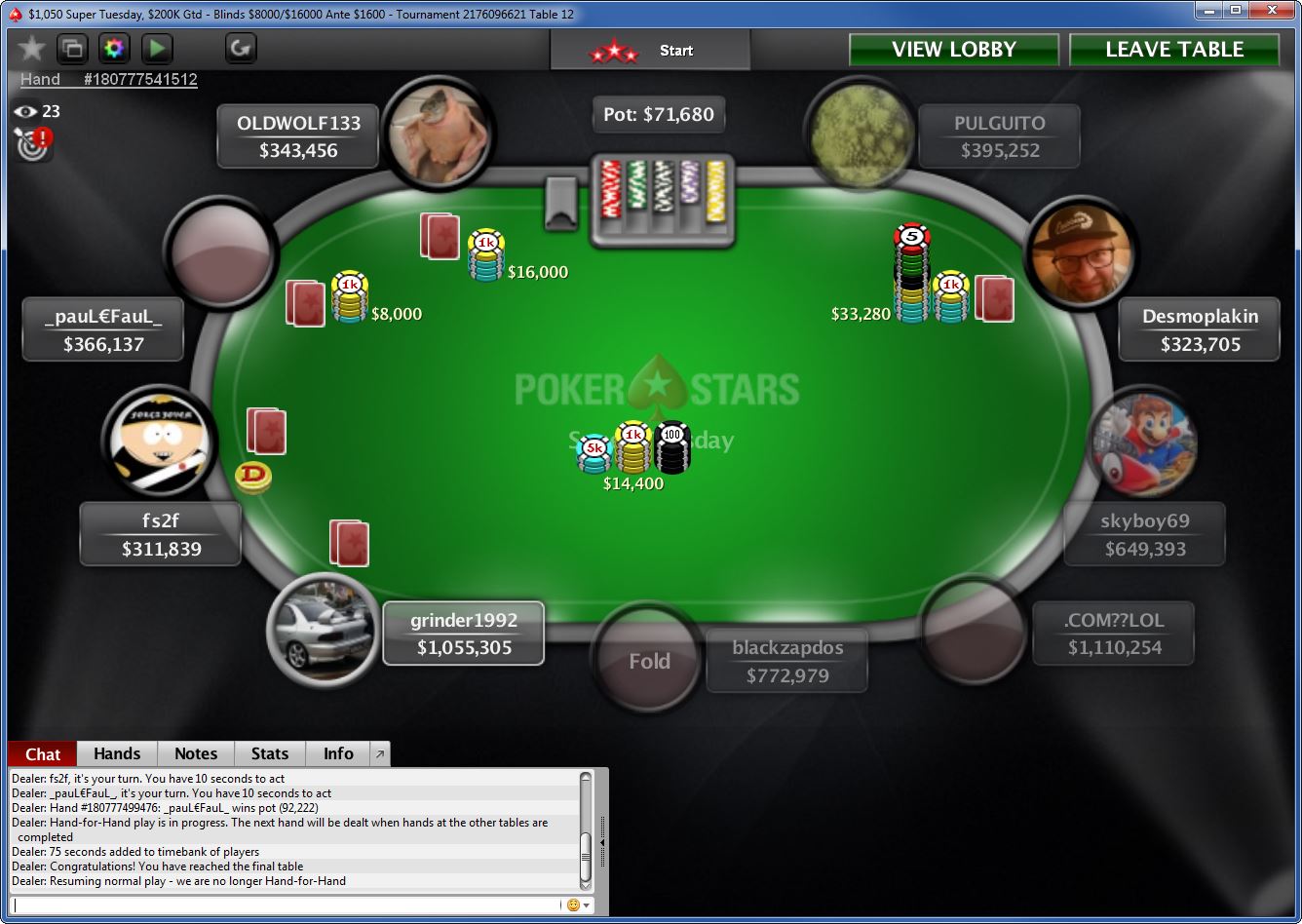 Seat 1: PULGUITO (396,852 in chips) TCOOP 2016 winner
Seat 2: Desmoplakin (358,585 in chips) past SCOOP/TCOOP/WCOOP finalist
Seat 3: Pedro "skyboy69" Oliveira (650,993 in chips) two-time SCOOP finalist
Seat 4: .COM??LOL (1,111,854 in chips)
Seat 5: blackzapdos (774,579 in chips)
Seat 6: grinder1992 (1,056,905 in chips) past SCOOP/WCOOP finalist, took third in 6/23/15 Super Tuesday
Seat 7: fs2f (313,439 in chips)
Seat 8: Paul "_pauL€FauL_" Höfer (375,737 in chips) past Super Tuesday runner-up
Seat 9: OLDWOLF133 (361,056 in chips) WCOOP 2016 Sunday Million SE runner-up, took third in 8/2/16 Super Tuesday
Nobody at this table had ever come closer to winning the Super Tuesday than Paul "_pauL€FauL_" Höfer, who finished second in the 4/12/16 Super Tuesday. He needed some help after coming in relatively short and looked like he'd found it when he got all-in before the flop on the eighth hand with K♣ K♠ against original raiser .COM??LOL's Q♦ Q♣. Instead a queen hit the flop to give .COM??LOL the 729,074-chip pot and end Höfer's Super Tuesday return in ninth. .COM??LOL used that pot and another one a few minutes later where he made trip tens with Q♠ 10♠ as a springboard to the chip lead. With 1.8 million chips he had nearly twice as many as second-place blackzapdos and more than 10 times as many as the shortest stacks.
One of the short stacks, the Czech Republic's Desmoplakin, managed to survive all-in for less than 10 big blinds twice. Things didn't go as well for PULGUITO, who moved in for just under 10 big blinds with Q♥ 10♥. grinder1992 came along from the big blind with 9♣ 9♠ and flopped a set, eliminating PULGUITO in eighth. Then Desmoplakin's streak came to an end three minutes later after jamming with A♦ 6♦ on the button and being called by Pedro "skyboy69" Oliveira, who had 9♦ 9♥. The nines held up again and Desmoplakin was out in seventh. The hour closed out with Brazil's fs2f open-shoving with 3♣ 3♠ and losing to skyboy69's 8♣ 8♠, sending him to the rail in sixth.
Pocket nines were in play again when the next player was knocked out 10 minutes after returning from the break. This time OLDWOLF133 four-bet all-in with them from the big blind, only to find out that the previous bet by .COM??LOL was backed up by pocket aces. The board offered no help and OLDWOLF133 was gone in fifth.
It didn't take long to reduce the field to four
After just 50 minutes of poker the final table was down to four players with plenty of chips. .COM??LOL led the way with 80 big blinds, followed by skyboy69 (55 BB), grinder1992 (49 BB), and blackzapdos (32 BB). It was no surprise, then, that they played the next 45 minutes of poker without a knockout and made it to the next break still four-handed.
The key pot during that stretch saw skyboy69 avoid elimination and double to 1.3 million chips with Q♣ Q♦ against .COM??LOL's A♠ K♥, cutting the player from Morocco out of the chip lead for the first time at the final table. By the time the break arrived 15 minutes later, skyboy69 had strung together a few smaller wins and was leading the way with 2 million chips, good for 57 big blinds, with blackzapdos about 10 big blinds back and grinder1992 and .COM??LOL both holding less than half that.
It only took one minute after coming back from the break for grinder1992 to commit before the flop with A♥ K♦ in the big blind. skyboy69, who had opened the betting under the gun with 10♥ 10♠, called and saw the pair hold up for the 1.95-million-chip pot to knock grinder1992 out in fourth. Six hands later .COM??LOL opened all-in on the button with 3♦ 3♥ and skyboy69 called with 6♥ 6♠, winning unimproved to take the field down to two players.
Facing a 3-to-1 chip deficit, blackzapdos needed a big win early on to get a foothold in the match. Instead skyboy69 kept the pressure on and ground blackzapdos's stack down by half a million chips, leaving the Brazilian player with just 20 big blinds. That was the setting when skyboy69 opened small on the button with A♣ K♠ and blackzapdos jammed in the big blind with Q♣ 10♦. skyboy69 called, made a pair of aces on the flop, and dodged a straight draw the rest of the way to win on the 9♣ A♠ 8♠ 5♣ 5♠ board, bringing the tournament to an end in just under two hours.
Congratulations to Pedro Oliveira on adding another victory to his long and successful poker resume!
1/9/18 Super Tuesday ($1,050 NL Hold'em) results
Entrants: 216
Total prize pool: $216,000
Places paid: 31
1. Pedro "skyboy69" Oliveira (Malta) $42,065.87
2. blackzapdos (Brazil) $31,427.41
3. .COM??LOL (Morocco) $23,479.52
4. grinder1992 (Bulgaria) $17,541.61
5. OLDWOLF133 (United Kingdom) $13,105.41
6. fs2f (Brazil) $9,791.08
7. Desmoplakin (Czech Republic) $7,314.94
8. PULGUITO (United Kingdom) $5,465.03
9. Paul "_pauL€FauL_" Höfer (Germany) $4,082.94
---
Win big in the Super Tuesday. Click here to open your PokerStars account today.
---
Jason Kirk is a Freelance Contributor to PokerStars Blog.