KayhanMok began the final table of this week's Super Tuesday with the chip lead. Eventually he emerged its champion. It would be natural to assume that the journey was an easy one. Natural, but not correct.
The Norwegian spent most of the first hour on defense before ceding the lead to Switzerland's TonyYayo5, who used pairs of pocket aces to seize nearly half the chips in play. But being well-positioned eventually paid off for KayhanMok, who hit a 15-minute hot streak three-handed and capped it all by cracking a pair of kings on the final hand, earning a career-best cash on PokerStars.
The Norwegian first earned the lead about two hours into what was the first Super Tuesday after the PCA. With 160 players remaining he held it for about 20 minutes, and then reclaimed it an hour and a half later with the bubble approaching. The rest of the field could only look on.
TonyYayo5 would take over the lead, but spent the bulk of the tournament with an average stack. The Swiss player's big upswing started on the bubble with 10♥ 10♠ against charlie850's 7♦ 7♠. A board with no sevens meant charlie580 was out in tenth and the final table line-up was set.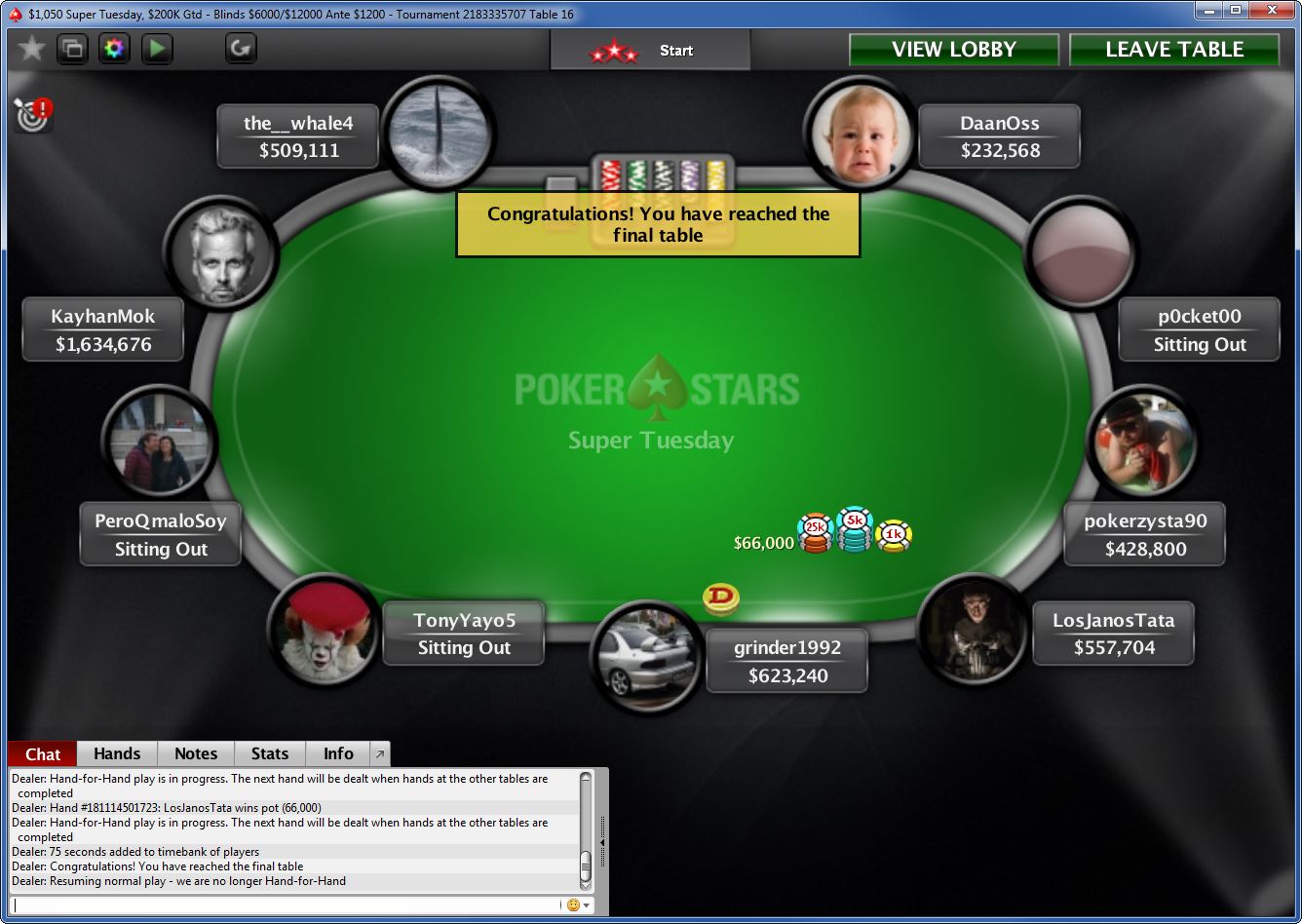 Nine players, nine countries, $49K to the winner
Seat 1: DaanOss (232,568 in chips) took sixth in a Winter Series Super Tuesday SE
Seat 2: Sebastian "p0cket00" Sikorski (349,974 in chips) $6.8 million in PokerStars cashes for the three-time Super Tuesday champion
Seat 3: pokerzysta90 (428,800 in chips) past Sunday Million & Super Tuesday bubble finisher
Seat 4: LosJanosTata (557,704 in chips) past Sunday Supersonic winner
Seat 5: grinder1992 (623,240 in chips) $2.2 million in PokerStars cashes, finished fourth in last week's Super Tuesday
Seat 6: TonyYayo5 (882,975 in chips) past WCOOP bubble finisher
Seat 7: PeroQmaloSoy (1,205,952 in chips) three-time COOP finalist with $1.1 million in PokerStars cashes
Seat 8: KayhanMok (1,634,676 in chips) past $109 Sunday Starter winner
Seat 9: the__whale4 (509,111 in chips)
It was a multi-national final table, with every seat filled by a player from a different country. All had a chance to make something happen, with plenty of chips in play and the blinds and antes still just at 6,000/12,000/1,200.
It took half an hour before LosJanosTata three-bet all-in on a steal with A♥ Q♥ and saw that bet followed by grinder1992 shoving over the top with A♣ K♣. The original raiser folded, neither player's hand improved, and the Hungarian was the table's first casualty.
The only former Super Tuesday champion at the table, Sebastian "p0cket00" Sikorski, had been fighting uphill for 40 minutes in search of title number four when he opened all-in for 13 big blinds with K♣ Q♣. TonyYayo5 was waiting with A♦ A♠ in the big blind and the board, despite holding out hope from the flop, left him unimproved, running out A♣ J♣ 8♠ 2♦ 9♠. TonyYayo5 took the 459,530-chip pot and the Canadian departed in eighth.
An hour of deep-stacked poker saw both grinder1992 and TonyYayo5 edge ahead of KayhanMok on the leaderboard, the latter after defending the big blind with A♠ Q♣ against cutoff-raising short stack pokerzysta90. The board provided no aid for A♥ 5♣, busting the Pole in seventh.
It looked like another long, tense stretch might be on the way after PeroQmaloSoy doubled through grinder1992 with pocket kings against A♦ K♣, putting all six remaining players within 20 big blinds of each other. Then grinder1992 took down two big pots – and trimmed the field by as many players – within the span of three hands.
grinder1992 opened with A♣ Q♥ in the cutoff on the first hand, then called when PeroQmaloSoy jammed with K♠ 10♠. A queen on the flop was all it took to knock out the Maltese player in sixth. Two hands later grinder1992 called in the big blind with 10♦ 10♥ after the__whale4 opened all-in with 5♦ 5♥. The board fell 7♠ 2♥ J♣ A♠ 4♦ and the Swede left in fifth.
The table stayed four-handed, and grinder1992 remained in the lead until TonyYayo5 picked up pocket aces for the second time.
The Swiss player opened small under-the-gun. KayhanMok three-bet to 225,000 chips on the button, and DaanOss jammed for 943,564 in the small blind with A♥ Q♠. TonyYayo5 flopped aces full of treys, running queens failed to emerge on the later streets, and the Dutchman departed in fourth.
TonyYayo5 missed a chance to get heads-up with a big lead after getting caught with Q♠ Q♥ against grinder1992's K♦ K♥. The Swiss player turned a king-high straight only to see a second jack fall on the river and make kings full for grinder1992.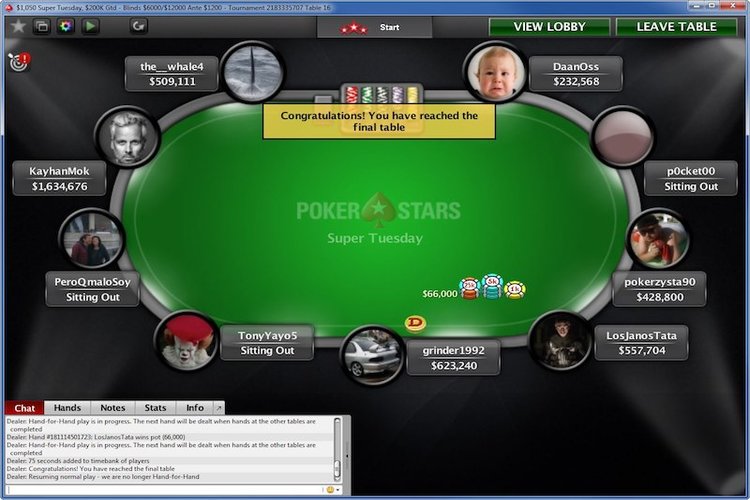 That reprieve, which started by giving grinder1992 a lead of 12 big blinds, lasted about half an hour. By then TonyYayo5 was in the lead with half the chips in play. grinder1992 was nine big blinds ahead of KayhanMok when they both flopped a spade flush in a blind-versus-blind situation. KayhanMok's A♠ 7♠ held up against grinder1992's straight flush draw with 4♠ 3♠ as the board ran out 5♠ 2♠ Q♠ 2♦ J♥. Two hands later grinder1992 opened all-in on the button with A♦ 6♥, KayhanMok called with K♣ 5♦ and flopped a five, and the board ran out blanks to end the Bulgarian's tournament in third place.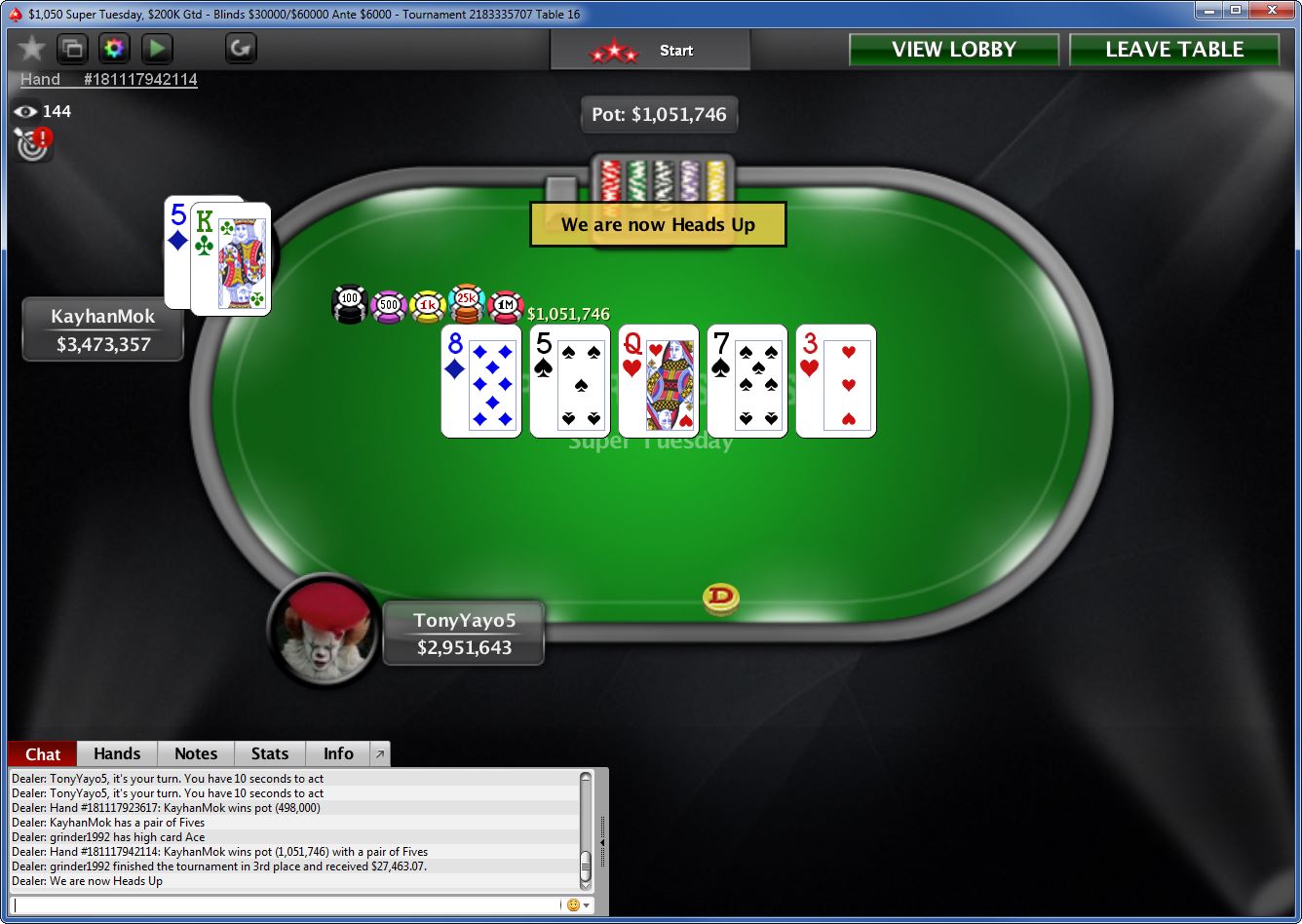 Heads-up for the Super Tuesday title
That left just two players from two countries, Norway's KayhanMok with a nine-big-blind edge over Switzerland's TonyYayo5. The former offered to look at a deal but TonyYayo5 said play, so they wished each other luck and KayhanMok's 35-hand march to the title began.
TonyYayo5 only won ten pots during that time, with four of those preceding the final hand when the Swiss player picked up K♣ K♠ on the button. TonyYayo5 raised and then called KayhanMok's three-bet to 420,000 chips, then called bets on the 9♥ A♥ 4♥ flop and 2♣ turn to end up all-in for 1.7 million against KayhanMok's pair of aces with A♣ Q♦. The 4♦ fell on the river, ending TonyYayo5's impressive run, and with it the tournament.
KayhanMok's strong play throughout the tournament proved to be a solid enough foundation to build a win, while TonyYayo5's impressive performance earned the runner-up a hefty payday.
Congratulations to them both.
1/16/18 Super Tuesday ($1,050 NL Hold'em) results
Entrants: 257
Total prize pool: $257,000
Places paid: 35
1. KayhanMok (Norway) $49,433.12
2. TonyYayo5 (Switzerland) $36,845.34
3. grinder1992 (Bulgaria) $27,463.07
4. DaanOss (Netherlands) $20,469.89
5. the__whale4 (Sweden) $15,257.44
6. PeroQmaloSoy (Malta) $11,372.30
7. pokerzysta90 (Poland) $8,476.47
8. Sebastian "p0cket00" Sikorski (Canada) $6,318.03
9. LosJanosTata (Hungary) $4,709.21
---
Win big in next week's Super Tuesday. Click here to open your PokerStars account today.
---