Winning a million dollars in a poker game is the sort of life-changing fantasy every player dreams about.
The opportunities to do this are rare. The chances fleeting. But the stars aligned for Dutch player Daenarys T. He saw off a monster field to win a that life-changing $1,000,043.77 first prize in the Sunday Million Anniversary Take 2.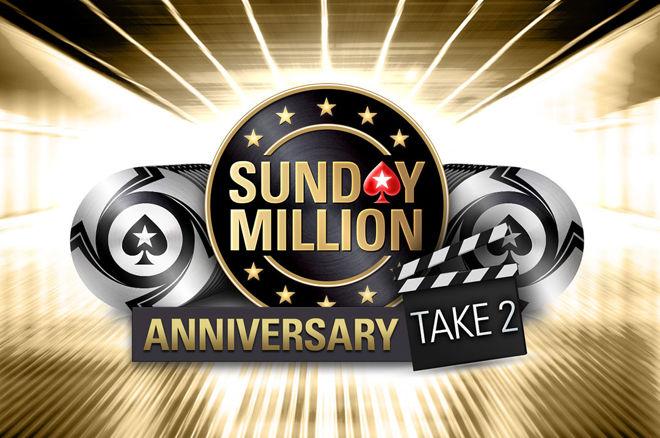 From the moment PokerStars announced the second $10 million guaranteed Sunday Million, players from around the globe began scribbling the key dates into their diaries. The 22nd for sure. The 23rd too if things went well.
Back in February Hulk9950 smashed his way to the title. That was worth $960,000 in what proved a record overlay.
This time, word had spread. 56,310 entries were registered, and the $10 million guarantee was eclipsed. The bumper prize pool reached $11,262,000.
The mammoth field made this a two-day tournament. By the time the final nine were lined up, Mongolian Noobanx had battled his way to a narrow chip lead over British player ThEcLaiMEer. These two would continue to vie for supremacy deep into the final table.
The first player to fall out of contention was Rippedut. The Canadian watched his pocket aces succumb to Daenarys T's pocket queens. A queen on the flop ending his night in ninth for $63,229.31.
ThEcLaiMEer kept up a steady stream of aggression throughout the final. He earned his first scalp by sending Kaizerdrea on his way in eighth for $89,418.96. His big slick got the better of the Norwegian's ace-jack.
Sholkey989 from Mongolia was the first player to secure a six figure payout. He made his move with king-queen suited, only to fall foul of Noobanx' ace-six to collect $126,456.57 for seventh place.
ThEcLaiMEer was a thorn in the side of his tablemates. He busted a second player by eliminating short-stacked Mike180373. His K-J spiked the river to overcome the Russian's big slick shove. Mike180373's sixth place earned him a hard-won $178,834.84.
The other British player at the final was Hidey7. He made some shrewd plays to keep his hopes afloat. His run ended in fifth, Daenarys T picking off his check-raise shove with top pair, top kicker. Hidey7's flush and straight draw may have bricked, but he had $252,910.06 to show for his performance.
Peter788502 ducked and dived his way through to fourth place before Noobanx derailed his bid with suited connectors. That left him cashing for $357,667.64.
Three-handed, ThEcLaiMEer turned on the turbo boosters. He applied maximum pressure to pick up chips at such a healthy clip that it looked like he might run away with it.
Both Noobanx and Daenarys T fought back hard though and with the stacks approaching parity. Noobanx ran a big airball bluff – check-calling, check-raising and shoving over three streets. ThEcLaiMEer took his time before making the correct call on a flushing board with his straight. That sent Noobanx crashing out in third place for $505,818.08.
This left Daenarys T and the Englishman heads up for the mouth-watering seven figure score. The players had a quick look at the deal numbers but decided to play it out for the victory. ThEcLaiMEer held a 2-1 chip advantage but Daenarys T was far from done, and took a scorching series of pots to snatch the chip lead.
Then came the million-dollar hand.
Daenarys T raised the button and ThEcLaiMEer called with 10♥ J♣. The board fell A♠ 10♦ 8♣.
ThEcLaiMEer check-called 14,875,000.
The turn was the 3♥. Again, ThEcLaiMEer check-called the meatier barrel of 54,187,000.
A brick hit the river: the 2♠.
A final check from ThEcLaiMEer. Daenarys T shoved for his 245 million stack. All the marbles. This was perhaps the toughest decision the UK player would face all tournament. He braved the call with second pair, only for Daenarys T to flip A♥ 6♥. Top pair was good and just like that we had our millionaire champion.
ThEcLaiMEer could take solace for his run to second with $715,335.28 added to his account. But Daenarys T was the million-dollar winner, his place etched into the history books.
A magical moment for the Dutchman. Dreams realised.
This chapter may be closed, but a whole slew of new champions will be made in the upcoming SCOOP, running May 6th to 21st. Check out the schedule and plan your journey to join Daenarys T on the champion's roster.