It's Spin & Goal time again, in our real-life take on the online game that could earn you $1 million.
This week things get serious (with apologies to Nanonoko for saying that) as Ben Spragg (complete with England shirt) and Fintan Hand go head to head.
These guys love their football. But the question is, can they kick one after spinning around several times?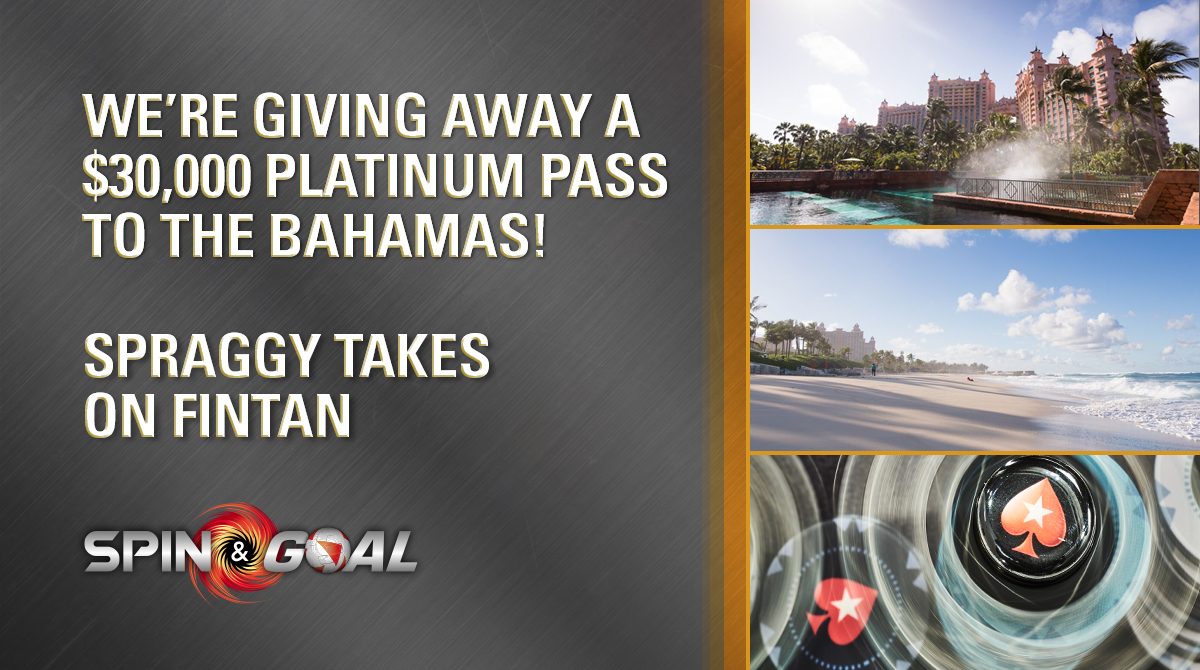 You can win an actual Platinum Pass worth $30,000 by simply guessing how many goals Spraggy will score past Fintan Hand after… I can't believe we're writing this… spinning around until dizzy.
Because the football in Russia has already shown how funny it can be watching people spinning around, usually on the floor, while trying to score goals.
Turns out it's something behold, whether it's one of the world's best footballers, or two blokes, on a beach, putting aside friendship to beat each other.
What does any of this have to do with anything?
Well, if you've been playing along so far you'll know that guessing the number of goals and getting It right, earns you entry into a special Platinum Pass freeroll later this month.
The format remains the same.
All you have to do is watch the clip below and then guess how many goals Spraggy will score past Fintan (between 0 and 5), after the pre-requisite spinning.
Tweet your guess using the hashtag #SpinAndGoal with your Username. Do that before 23:59 ET on Thursday to be in with a chance to win a Platinum Pass.
Things are about to get very competitive… This is a MUST-win for @spraggy! Predict how many he'll blast past @EasyWithAces for entry to a #PlatinumPass Freeroll. Plus 50 entries get a $5 #SpinAndGoal ticket. Info: https://t.co/d8Bp9sllXq T&Cs: https://t.co/cAFvjzzqPT ⚽ pic.twitter.com/k3HFYT6Rcg

— PokerStars (@PokerStars) July 3, 2018
When you've done that feel free to enjoy Randy Lew's performance from last week. It may not be recognised by FIFA, but it might qualify for a comedy award, albeit while bringing shame on the Lew family.
I could watch this all day…
You think this man can score some goals?
Enter our #PlatinumPass comp and tell us: https://t.co/gJ4loDFc2c pic.twitter.com/3za9YAu0yK

— PokerStars (@PokerStars) June 27, 2018
And then the result…
For those who thought @nanonoko's graceless spin was an ingenious bluff… Erm no. It reaaally wasn't. He kicked the ball though! Watch for yourself ⬇ then hit https://t.co/qQwPssOVx6 to see if you bagged a #SpinAndGoal ticket and a free shot at $1m! https://t.co/r2KCwtu9yI pic.twitter.com/D8EwReGocS

— PokerStars (@PokerStars) June 29, 2018
Um…how did I do? As well as you expected? ⚽️ =/= #SpinAndGoal https://t.co/G4FNERhn4d

— Randy Lew (@nanonoko) June 29, 2018
If you scrolled down, rather than watching Nanonoko's All Star performance, he scored a grand total of zero goals.
A total of 147 of you got the answer right, and will receive entry into the Platinum Pass Freeroll on July 22. Judging from the first video you have great reading skills. Nice job.
Spin & Goal ticket and PokerStars merch winners (including the winner of the Xbox on Facebook) can be found here: https://psta.rs/Winners
Good luck making your guess this week. The answers will be revealed on Friday.