So, you've heard about Chris Moneymaker, and you've read how he turned a few dollars into millions.
Now you might be thinking how you could do the same.
We should say from the start, that what Chris did is not ordinary. Not everyone can win the WSOP Main Event, and that feat is arguably even harder now.
---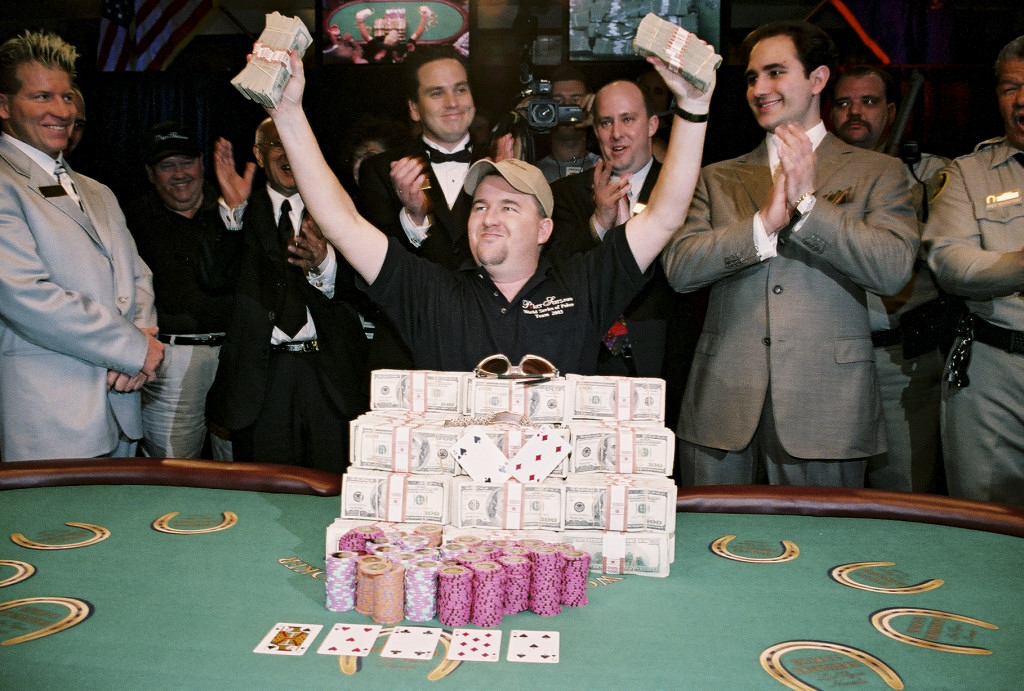 Chris Moneymaker celebrates his win at the World Series of Poker in 2003. The game would never be the same again.
---
But you can follow the same steps he did. And you can turn a few dollars into something (much) more.
It all starts with a PokerStars account. It's free, and takes only a few minutes to set up. You can find instructions how to do that HERE.
Once you have an account you can play for free on PokerStars, or you can play real money poker games.
And while that is a big leap for a lot of players, you can play for anything between a few cents and a few dollars.
And you can still do what Moneymaker did, regardless of what stakes you play.
Here's how to follow in Moneymaker's footsteps
Chris famously played a $40 satellite and finished in the top few positions – winning a seat to the WSOP Main Event.
But this "satellite" format is not just for the big events – although it is how hundreds of players qualify for PokerStars events, including the flagship live events on the European Poker Tour.
You can win your way into all sorts of smaller events, both live and online, in the same way.
To see what we mean check out the satellites tab in the PokerStars Lobby.
You'll find satellites to the big weekend tournaments, such as the Sunday Million. And, at various buy-ins. Some are even free to play.
Now remember, it's not easy — even if Chris Moneymaker made it look like it was. But like with everything, with practice you'll improve.
And how do you practice?
PokerStars Schools is a perfect place to start.
It's not just because you can read countless articles and watch instructional videos. It's also because the content is made by players who have been there before – they know what they're talking about.
Just as they know some of the advanced aspects of the game, the know what it's like to be a beginner.
And that means answering questions you might worry are too simple to ask.
You'll find help for every aspect of the game, including how to play (and win) satellite tournaments.
And the more you learn, the more you'll enjoy the game.
You can start on the PokerStars Schools homepage. You could spend hours there, but remember to play as well. You'll soon be calling yourself a poker player.
Then, tell us how you get on. We're always on the lookout for the next Moneymaker story.
Go to the Moneymaker Effect homepage to read more about Moneymaker himself, and the stories that came out of that game-changing day back in 2003.