When we were going through the nominees for our 'greatest players in WCOOP history' pieces this week, Shaun Deeb was a no brainer.
A first ballot online poker hall of famer, the Deeb of the late 2000s was a young grinder able to out-volume everyone, and outplay them at the same time.
More than a decade since Deeb played in his first WCOOP (back in 2007), he's still a force to be reckoned with. Only these days, he considers live poker to be his bread and butter.
You only have to check the 2018 WSOP Player of the Year rankings for that to be proven. This year Deeb notched up 17 cashes in Vegas, including two bracelets (taking him to four in total). His win in the $25,000 Pot Limit Omaha 8-Handed High Roller banked him $1.4 million, and he followed that up with another victory in the $10,000 No-limit Hold'em Six Handed Championship for $814,179.
Heck, only last week Deeb won another $534,989 when he finished second in the $25,500 Seminole Hard Rock Poker Open High Roller. There's no stopping him right now.
Which makes it the perfect time for the 2018 World Championship of Online Poker to roll around.
---
Almost WCOOP time
Matching his success at the WSOP, Deeb also has four bracelets from the WCOOP over the years, making him one of only three players to do so (Dan Kelly has five, while Denis 'aDrENalin710' Strebkov also has four).
| Year | Event | Tournament | Prize (US$) |
| --- | --- | --- | --- |
| 2008 | Event 25 | $320+R PL Omaha | $144,113 |
| 2010 | Event 28 | $1,050 No Limit Hold'em | $243,610 |
| 2015 | Event 44 | $215 No Limit Hold'em | $68,000 |
| 2016 | Event 12 | $1,050 NL 5-Card Draw Championship | $22,185.60 |
"I grew up online. I love online," he tells us. "It's the one time of year I feel like it's worth it for me to play online because, y'know, in No Limit there are a lot of people better than me online. But I still have a pretty good edge in the mixed game events, so it's worth it because there are high stakes mixed games going on. Cash isn't as good as it used to be during WCOOP and SCOOP, but there's still the whole tournament series and I love playing different games for a lot of money."
This year, from September 2nd to the 17th, you'll find Deeb back on his old stomping ground: behind a computer screen.
"I usually go to Montreal for WCOOP. It's an easy drive for me, so that's where I set up. I use the same building a lot of the time and get a couple of buddies to come stay with me and we have a good time. I think I'm staying with Chance Kornuth, maybe Kevin MacPhee, I don't know yet. We usually get five or six guys to go up. People I've known for a long time who are all really good players, we all get along well, we relax after the fact and go out drinking or whatever. We have a good time in Montreal. It's perfect."
"I grew up online."
One of the greatest attributes of a professional poker player is the ability to adapt to changing situations. In Deeb's case, that seems to have been a change in focus from online to live. But that doesn't mean you won't see him online everyday putting in work during WCOOP.
"I just recognise that my edge has shifted," he explains. "I'm still going to play everything, just because I can outrun everyone like I've been doing the past couple of months, but I just like battling, y'know?
"I'm kind of old school now. It's weird being an old school online player but I'm a different generation to most of the winners these days. They're a lot younger than me, they use solvers and all this other software that I don't use. I still don't use a HUD! So I know I'm behind the curve and I'm hurting my equity by doing that. But since I only play twice a year, and I have kids so don't really have the time to learn to use those things properly, I just trust my raw instincts and knowledge, and maybe I confuse them a little bit because I don't play like everyone else."
If Deeb can win a WCOOP title this year, he'd join Dan Kelly as the only players with five. It didn't take him long to decide which one, if any, he'd like to bink.
"I honestly don't even look at the schedule, but just off the top of my head I would assume I want to win the $5,200 Main Event. That's the most money, it's the toughest one to win, so I always want to win the ones with more money than just a title these days."
---
Best WCOOP memories
In Deeb's own words, he's been a part of plenty of 'goofy' poker stories. Naturally, we asked for a couple, and he didn't disappoint.
"Obviously there's the time I won a WCOOP in 2016 the day my second son was born. I wasn't in the hospital because my wife gave birth in New York, but I was in Montreal and won the 5-card draw HIGH event. It wasn't even for a lot of money, but it was pretty cool to win a title on the day my child was born."
We'll have to give a shout-out to Deeb's wife, as we can't imagine there are too many partners who would be so understanding!
"There was discussion during that WCOOP about what I should do, because my little sister was getting married and my wife was set to give birth," he says. "There was a debate: do I go or do I stay?
"Two years ago I think my WCOOP profitability was a lot higher, and so it was my most profitable time of the year outside of the World Series. It's silly for me to miss it. I don't get to play too often so I thought I should go, and my wife agreed. My sister was OK with it because my wife was OK with it, and my wife was OK with it because my sister was OK with it. So if those two ever got together and realised the other wasn't OK with it, I wouldn't have gone!"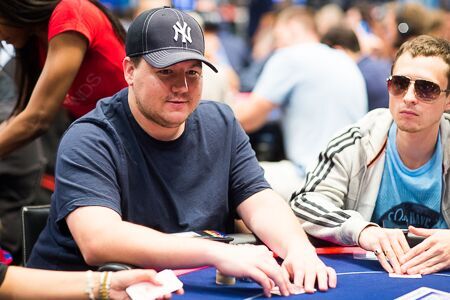 Deeb at the live felt
How do they feel about it now? Deeb did win an event, after all.
"They both still give me shit to this day for not being there, but sometimes your job has to come first. It's unfortunate, but it was still a profitable trip so it was worth it. It helps me provide for my kid as he gets older, and it's not like he's going to remember that I wasn't there. Although there might be a few Google searches that will let him know," he laughs.
"One day my son will say: 'C'mon dad, it wasn't even one of your half a million dollar scores! It was just for $20,000! What's that?' I'm sure he'll give me some shit, but if he ever gives me a hard time I'll just needle him and say that I didn't care enough to be there when you were born. That could be a burn that will always be good for me!"
In terms of his greatest WCOOP from a pure poker-playing perspective, Deeb has a good candidate.
"I think the first WCOOP that I won, the PLO. That was one of my first big $100K+ scores. I was in Malta with this guy and my old roommate Adam Junglen, and we had a flight to EPT London the next day. This was when WCOOP didn't do Day 2s, so I was up for like 30 hours.
"When we reached the final table, I went out to the jacuzzi, smoked a hookah, and watched the sun rise in Malta while winning a WCOOP. That was my first big online title, so that will always be a fond memory and I'll never forget that day."
---
The WCOOP GOAT?
Deeb has battled online against the game's best for years, so we thought who better to ask about the greatest players in the history of WCOOP than one of them.
"I'm sure Cal is on your list," Deeb said right off the bat, referring to Calvin Anderson (he is – see part two here). "I know DJK [Dan Kelly] doesn't play anymore but he used to be in everything. I love battling with Shaun Buchanan. We used to talk a lot of shit, we're very similar in a lot of ways.
"There are just a lot of people who show up to every event. It's insanely high level competition while still good value for those top guys, so it's a lot of fun, y'know?"
As he's currently leading the way in the WSOP Player of the Year race, is there any temptation to do the same for WCOOP?
"It's fun to do some side bets," he says. "I go for leaderboards like I did at the WSOP, I do a lot of those bets for SCOOP and WCOOP. It gives me extra motivation to play some of the lower buy-ins and really try to figure out exactly how the formula works and the optimal way to win the leaderboard."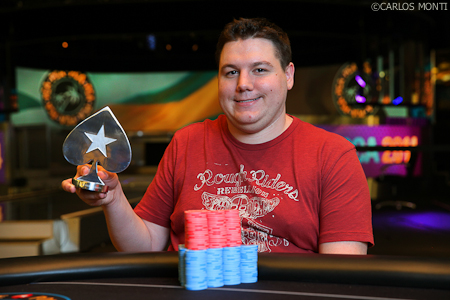 Deeb took down the $2K OFC at the 2014 PCA
Even if he did bink a record-tying fifth WCOOP title this year, Deeb doesn't think that makes him a GOAT [greatest of all time].
"There are plenty of people who could have won that many events, I don't think the most titles means you're the best player. I'm far in a way not the best player in most of the fields I play, but I'm one of the few who plays everything."
And there's no question over who the most committed player is.
"Exactly," Deeb says. "I've never missed a WCOOP even though I had a son born during one of them!"
---
The 2018 WCOOP begins on September 2nd. You'll find the entire schedule right here.
---
---
Want to play the 2018 WCOOP? Opening a PokerStars account is easy. Click here to get an account in minutes.
---