Arlie Shaban completed his third challenge from the Poker Gods last night. He also discovered what awaits him at the end of his 12 Labors, explained by the "Canadian GOAT" himself, all live on Twitch.
If he can complete the 12 challenges, Shaban will receive a Platinum Pass worth $30,000. That means a trip to the Bahamas next January to play the $25,000 PokerStars Players Championship.
It was the Canadian GOAT Daniel Negreanu himself who spilled the beans.
He was on stream with Arlie, Benjamin Spragg, and Jason Somerville, reviewing a recent hand history of Shaban's as part of his third challenge: to capture the Canadian GOAT.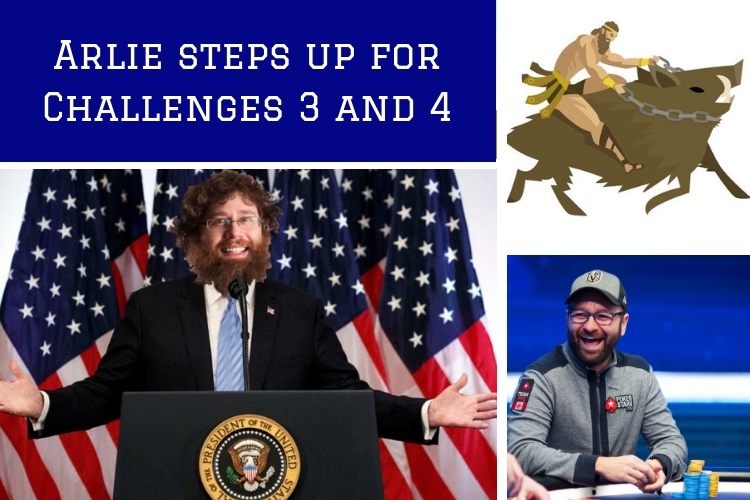 During Challenge 3 Arlie got tips from Daniel Negreanu, who was also on hand to help with Challenge 4 and announce what Arlie stands to win should he complete all 12 challenges
---
WHAT WENT DOWN
Shaban not only captured Negreanu's time and attention, he was also able to capture some valuable insights from a true legend of the game.
Take this hand, for example, in which Negreanu breaks down what Shaban could do with pocket tens on a jack-high flop:
Shaban, Spraggy, Somerville, and Negreanu broke down hands for a while. It's a shame Twitch clips are capped at one minute, as Negreanu's analysis was unsurprisingly in-depth. If you'd like to check out a hand analysis in its entirety, head to the links below.
Part 1 / Part 2 / Part 3 / Part 4 / Part 5
---
THE NEXT CHALLENGE
When the review session came to an end, Spraggy received an in-client message informing him that the Poker Gods had sent Shaban his next challenge.
You can read all about that here: Hey Arlie… Now try Challenge number 4
Essentially, the next challenge is for Shaban to share the word of his 12 Labors. As the Poker Gods themselves wrote: "Go tell the world about your deeds. Find a way to make as much noise as you can, and then make it."
And you know who has a massive following, and is therefore able to make plenty of noise? Daniel Negreanu, of course.
Shaban asked Negreanu for help, and Negreanu got straight onto Twitter to get the message out.
But that's not all. Negreanu had an announcement to make.
---
"A PLATINUM PASS BABY!"
As you can see, Arlie was thrilled with the news. But he knows he's only a quarter of the way through his challenges. There's still a long way to go.
But if he can complete his 12 challenges before the end of the year, we'll be seeing Shaban in the $25K buy-in PSPC.
Getting right down to practice, Shaban, Somerville, and Negreanu then played some heads-up play money matches against members of the Twitch community. They were quick to share their experiences on Twitter.
And finally, Shaban resumed a normal stream. Now with the knowledge of what awaits him at the end of his Herculean journey.
Stay tuned for more info on Challenge no.4.
---
Opening a PokerStars account is easy. Click here to get an account in minutes.
---