Sergio García has long been considered one of the world's best golfers. But like a great poker player without a WSOP bracelet, he'd missed out on the sport's top titles year after year.
He came close many times: Second place in the Open Championship in 2007 and 2014. Second again at the PGA Championship in 1999 and 2008. Then last year he finally got that win, in one of the biggest tournaments of them all, winning the Masters at Augusta.
"It's one of the things I've been working for and training for all my life," García said. "It's like when a good poker player, after getting close for so many years, finally wins the PCA or the World Series, or any one of those huge tournaments."
The poker equivalent of García would be Chris Moorman. He has more than $15 million in online tournament earnings, but no WSOP bracelet to go with it. But then, just like García, Moorman got his major title in 2017.
García says one of the key things to remember in those moments is to actually forget. Forget your past failures and focus on the win.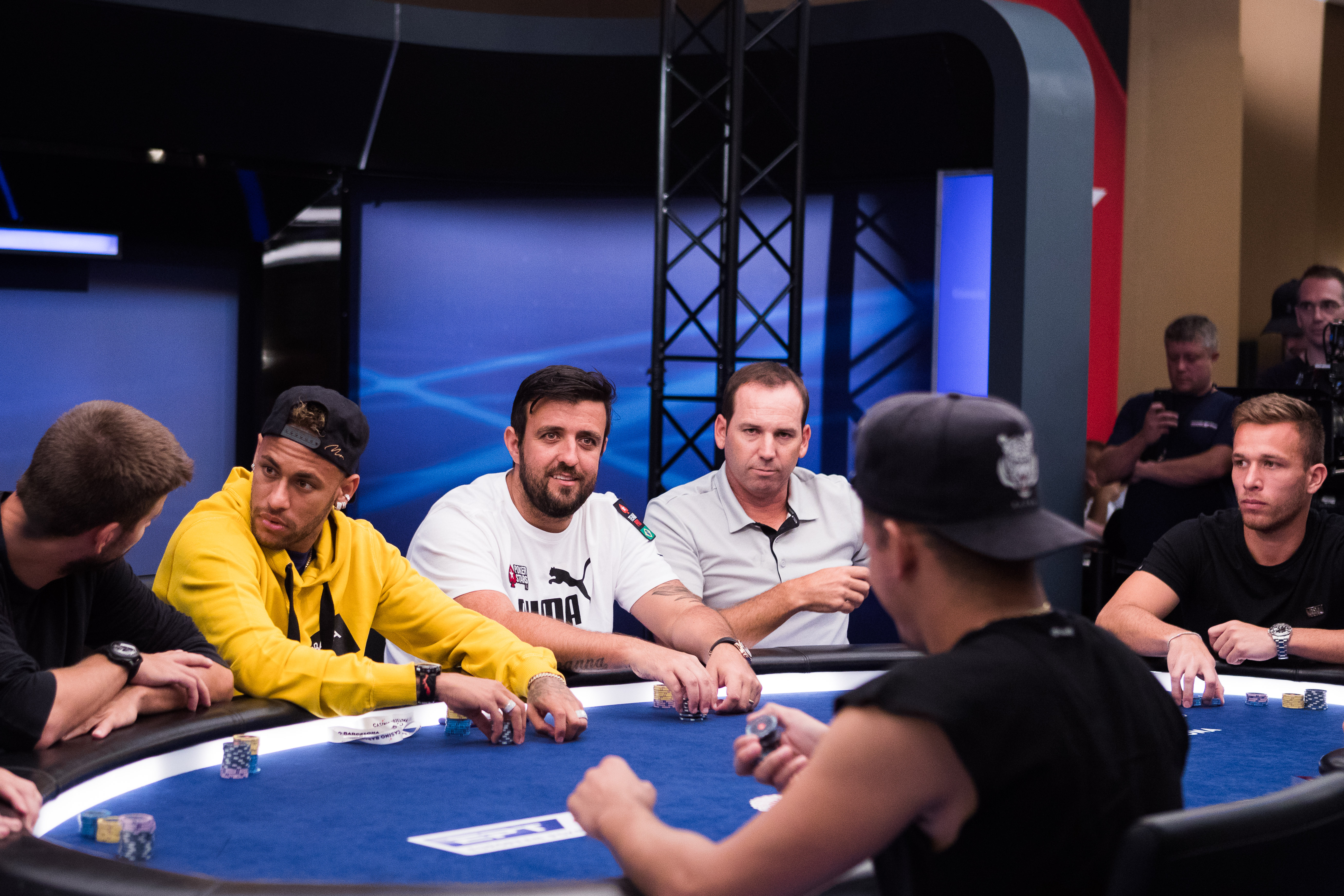 A good old-fashioned home game with Gerard Pique, Neymar Jr., Andre Akkari, and Sergio Garcia.
"In that moment I was really focused on the moment and on that tournament," he said. "I didn't let any doubts or memories of when I was really close – and didn't get it – enter my mind.
"I kept fighting until the end and luckily I made it."
García hopes on adding more golf titles to his resume, but doesn't think he'll be adding any poker title soon.
"I don't play a lot of poker but I think it's fun," said García. "I've always liked competing and that's what I like about poker. That's what's always attracted me to the game."
In other words, poker has always been a hobby for him and he plans on keeping it that way. And mixing it with his other hobby: charity.
The Sergio García foundation opened in Spain in 2002 and since then it's helped fund cancer research and make golf more accessible to people with disabilities.
"I think it's important for guys like me, that are so lucky and successful, to be thankful and help kids and people that aren't as lucky as we are," he said.
The foundation recently donated all the money it raised at the Andalucía Valderrama Masters tournament to a hospital in Madrid with the goal of remodeling the X-ray unit to make it more welcoming and relaxing for children.
Now García is hoping to raise even more money in today's €25,000 charity tournament. He'll be up against other millionaire superstar athletes like Gerard Pique and Neymar, but García likes his odds.