Two days of poker. Below average chips to start the final table. Three hours of heads-up play (!), including being down more than 11-to-1 in chips at one point and having to survive multiple all-ins. That's what Ukraine's Remi Lebo_10 fought through to win SCOOP Event #45-H and a total prize of $236,783.74.
There were 730 players participating in this "Thursday Thrill Special Edition" event, a $2,100 no-limit hold'em "progressive knockout" tournament. That meant a total prize pool of $1.46 million (way over the $1M guarantee), with half of that going to the top 87 finishers and the other half going for bounties.
Most of the field was whittled away on Day 1, then it didn't take long on Day 2 for those remaining to play down to 18 players and the final two tables.
Biocid (18th), deivid29 (17th), XingsMaster (16th), and Creatiff111 (15th) were the next to go out, each cashing for $5,736.99 plus bounties. Then Thiago "KKremate" Crema (14th) and Sam "Lrslzk" Kelopuro (13th) followed, earning $7,175.09 apiece plus bounties with Kelopuro taking away $11K-plus for his.
Black88 (12th), Malario (11th), and after a lengthy final table bubble Serban "Dannyz0r" Borlan (10th) then went out, taking away $8,973.67 each from the regular prize pool plus extra chunks for knockouts, with Black88 adding $12,750 to the cash.
With the Brazilian João "IneedMassari" Simão the chip leader having built up a stack of more than 16.6 million, the final table was underway.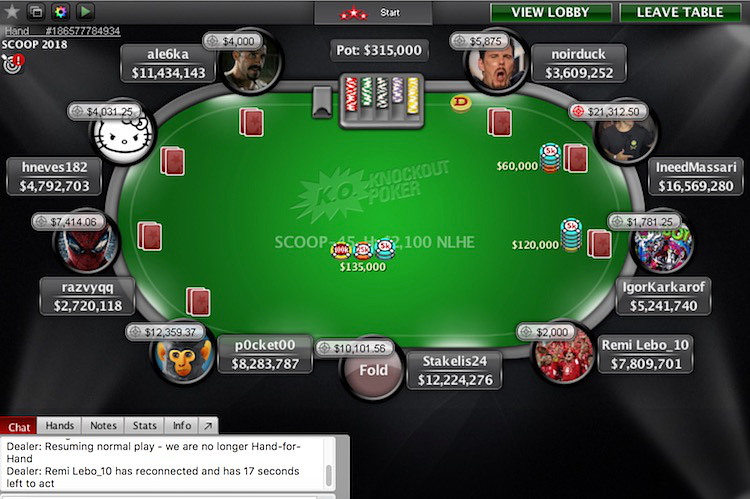 Seat 1: Maszat "noirduck" Marci (Hungary) — 3,624,252
Seat 2: João "IneedMassari" Simão (Brazil) — 16,644,280
Seat 3: IgorKarkarof (Denmark) — 5,376,740
Seat 4: Remi Lebo_10 (Ukraine) — 7,824,701
Seat 5: Stakelis24 (Lithuania) — 12,239,276
Seat 6: Sebastian "p0cket00" Sikorski (Canada) — 8,298,787
Seat 7: Razvan "razvyqq" Belea (Romania) — 2,735,118
Seat 8: Helio "hneves182" Neves (Brazil) — 4,807,703
Seat 9: Aliaksei "ale6ka" Boika (Belarus) — 11,449,143
It took about five minutes for the first final table knockout to come thanks to chip leader Simão. And it was a wild one. As a short preview, here are the post-hand chatbox reactions in advance:
razvyqq: wow
IgorKarkarof: ye
IgorKarkarof: i def need a massari
After Simão min-raised to 280,000 from middle position, IgorKarkarof called from one seat over, then Stakelis24 reraised to 1.15 million from the button. It folded back to Simão who four-bet to just over 2.82 million, IgorKarkarof folded, and Stakelis24 called.
The flop came 3♦4♣J♣. Simão led for 1,333,333 and Stakelis24 called. Both then checked the 8♥ turn.
The river brought the 2♥, and Simão led for about 1.95 million. Stakelis24 responded with an all-in shove for almost 7.7 million and Simão called. Stakelis24 had A♣A♥, but Simão had rivered two pair with 4♦2♦ to earn the knockout and push his leading stack up over 27 million — well over half what his nearest challenger had.
With one TCOOP title and one WCOOP title already, Simão appeared primed for a run at the coveted "Triple COOP" if he could hold on in this one.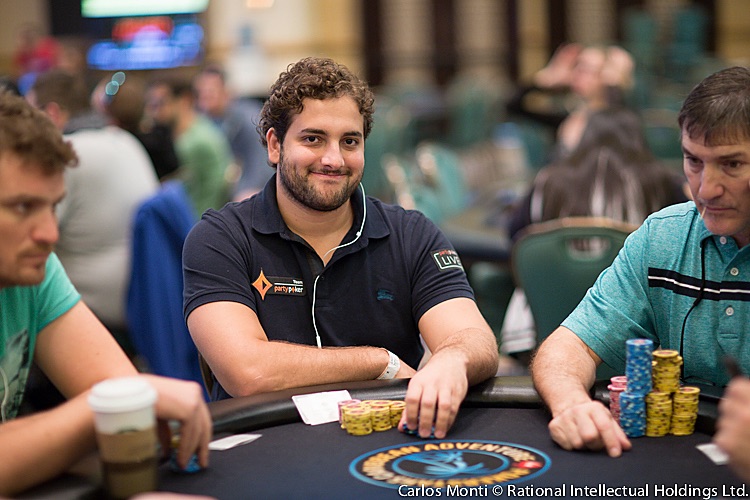 João "IneedMassari" Simão
About a half-hour later there was a three-way all-in resulting in no knockouts, but a big triple-up for Simão's short-stacked countryman Helio "hneves182" Neves whose pocket queens survived against Sebastian "p0cket00" Sikorski's tens and Aliaksei "ale6ka" Boika's ace-king.
A few minutes later Sikorski had gotten short and was all in before the flop for less than a big blind versus four opponents. There was some mild action on the 3♠5♣9♠ flop then four checks each after the J♣ turn and 4♣ river, and when Maszat "noirduck" Marci showed A♥2♣ for a wheel everyone mucked including Sikorski who was out in eighth.
That finish will help Sikorski move up further on the SCOOP Player of the Series leaderboard where he began today just outside the top 30.
They played on and were nearing the day's four-hour mark when IgorKarkarof made a big 13x-ish open to almost 2.6 million from middle position, razvyqq reraised from the button, and IgorKarkarof called all in with the 926K behind.
IgorKarkarof had A♣Q♦ and razvyqq Q♣Q♥, and the K♣4♠4♥5♠4♣ board didn't help IgorKarkarof who was out in seventh. Like Simão, IgorKarkarof has a TCOOP title and a SCOOP title, too, but will have to keep trying for that elusive Triple COOP.
About 45 minutes after that Remi Lebo_10 had passed João "IneedMassari" Simão to take the lead when Simão raised 4x-plus to just over 1 million from the cutoff. It folded to EPT13 Malta Main Event champion Aliaksei "ale6ka" Boika in the big blind who reraised all in for almost 4.55 million, and Simão called.
Boika had A♠10♠ and Simão J♥J♣. The board came 6♥9♣3♥8♥Q♦, and with his ace-ten unimproved Boika was bounced in sixth. A nice finish for Boika who also won his second SCOOP title this series in Event #16-L ($55 NLHE 6-Max, Turbo, High Roller).
Aliaksei "ale6ka" Boika
A while later would come another decisive hand — indeed, the biggest pot of the tournament to that point — and another chatbox reaction ("wow").
It started with Helio "hneves182" Neves opening for a little over 2x with a raise to 522,500 from the hijack seat. From the small blind over João "IneedMassari" Simão three-bet to 2,222,222, then Remi Lebo_10 four-bet to 4,422,667 from the big blind. Neves then jammed for 12,222,500, Simão reraised all in over that for 18,035,116 total, and having both covered Remi Lebo_10 called.
IneedMassari: K♥K♦
Remi Lebo_10: A♠A♦
hneves182: A♣A♥
Kings vs. aces vs. aces! And if that weren't enough drama, the flop came 4♠3♠8♠ and the turn the 9♠, making a flush for Remi Lebo_10, the river no matter, and sending the two Brazilians out of the tournament in one hand, Neves in fifth and Simão in fourth.
That deserves a "wow," wouldn't you say?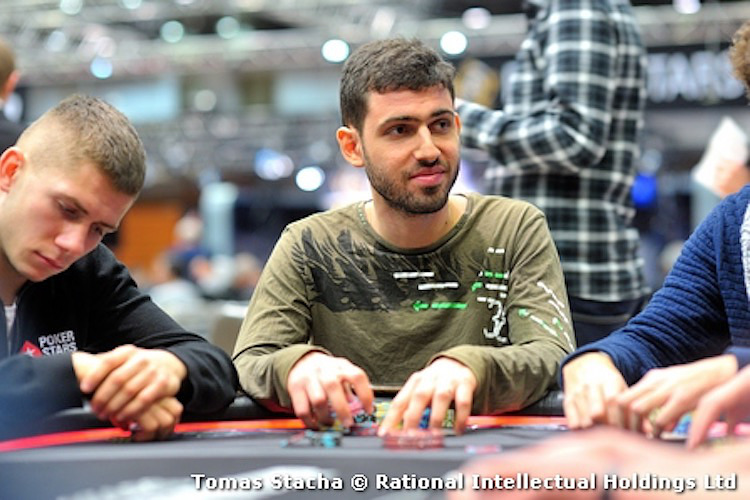 Helio "hneves182" Neves
razvyqq was the one with the comment, by the way. Alas razvyqq would a short while after that be the third-place finisher after leader Remi Lebo_10 open-jammed from the small blind with A♠9♣, razvyqq called all in for just over 3.5 million (14 big blinds) with K♦Q♣, and the board came J♣9♠J♥J♠4♥.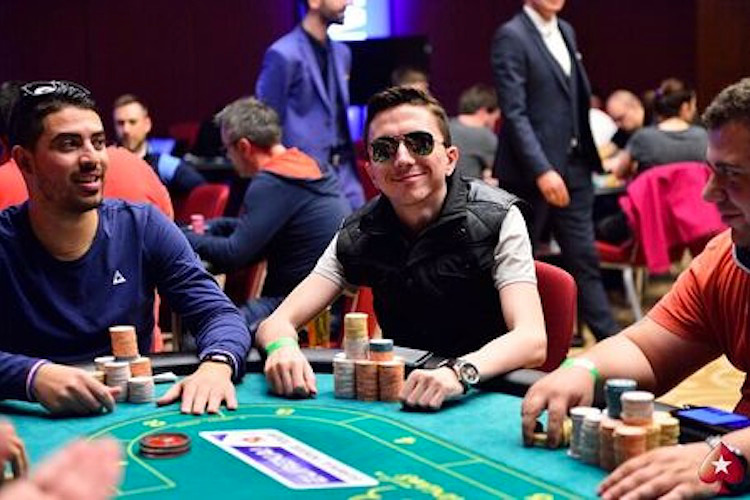 Razvan "razvyqq" Belea
All those knockouts gave Remi Lebo_10 several bounties and a lot of chips — over 64.2 million of them, in fact, which was more than seven times the 8.7 million Maszat "noirduck" Marci had to start heads-up play.
Easy breezy finishing this off, right?
Hardly.
Marci steadily chipped back, and after a half-hour of heads-up had snagged the lead away from Remi Lebo_10. For the next hour they remained relatively close to one another in chips as they battled, then as they approached two hours of heads-up Marci built up further to push Remi Lebo_10 down under 6 million while Marci had over 67 million.
Remi Lebo_10 won two straight all-ins, though — one with ace-three vs. ace-nine (Remi Lebo_10 made a straight), another with ace-ten vs. queen-jack (flopping two pair and fading a flush draw) — and quickly moved up out of the danger zone.
Then Remi Lebo_10 won two more all-ins — one preflop with ace-three versus jacks (flopping trips), another after turning a full house with pocket kings and getting it all in after Marci rivered a straight — and soon enjoyed a big chip advantage.
They continued onward, reaching almost exactly three hours of heads-up play. Then with Remi Lebo_10 about 2-to-1 ahead in chips a hand arose that saw Marci open from the button, Remi Lebo_10 three-bet, Marci jam for 24.7 million total (about 41 BBs), and Remi Lebo_10 call.
Remi Lebo_10: 8♣8♠
noirduck: 5♥5♠
Pocket pairs for both, but Remi Lebo_10's was better, and five cards later — 4♠Q♥7♦10♦J♠ — the eights remained best and Remi Lebo_10 had finally won.
Congratulations to Remi Lebo_10 for surviving a long, tough tournament and especially challenging heads-up duel to win SCOOP #45-H and earning a $124,275.94 first prize plus a whopping $112,507.80 in bounties.
SCOOP-45-H ($2,100 NLHE, Progressive KO, Thursday Thrill SE) results
Entries: 730
Total prize pool: $1,460,000
Places paid: 87
1. Remi Lebo_10 (Ukraine) $124,275.94 (plus $112,507.80 in bounties)
2. Maszat "noirduck" Marci (Hungary) $91,008.29 (plus $ in bounties)
3. Razvan "razvyqq" Belea (Romania) $66,646.51 (plus $15,609.38 in bounties)
4. João "IneedMassari" Simão (Brazil) $48,806.04 (plus $55,726.56 in bounties)
5. Helio "hneves182" Neves (Brazil) $35,741.23 (plus $7,062.50 in bounties)
6. Aliaksei "ale6ka" Boika (Belarus) $26,173.78 (plus $7,000.00 in bounties)
7. IgorKarkarof (Denmark) $19,167.39 (plus $2,562.50 in bounties)
8. Sebastian "p0cket00" Sikorski (Canada) $14,036.51 (plus $23,718.75 in bounties)
9. Stakelis24 (Lithuania) $11,223.23 (plus $19,203.13 in bounties)
---
Ready to sign up for PokerStars and go for your own SCOOP title?
Click here to get a PokerStars account.