With more than $650,000 in cashes and wins in both the Sunday Million and Super Tuesday earlier this year, it's safe to say that 2018 has already been a banner year for OLD TIME GIN. Things got even better tonight with another six-figure haul in the latest SCOOP 2018 Super Tuesday Special Edition.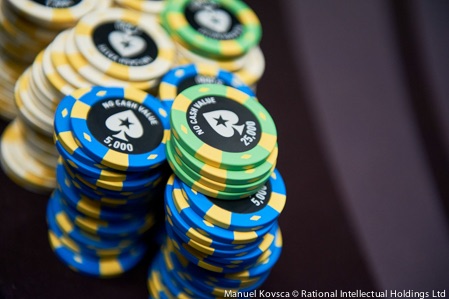 OLD TIME GIN's $205K win came on suddenly at the end of a tournament whose late stages were thoroughly dominated by Michael "imluckbox" Addamo. David "EzPaTuLa" Cabrera led after Day 1 but Addamo, a past SCOOP champ, laid claim to the chip lead with two tables left and kept his game in an aggressive gear from that point forward. Aside from a few bluffs gone bad that dropped him temporarily from the lead, he stayed ahead of the pack from the point where there were 18 players until there were just three — and even then it took a pair of coolers to keep him from victory.
The tournament went from 12 players left to a final table of nine in less than two minutes' time, starting when the short-stacked anti-durrr opened all-in with A♥10♠. Connor "blanconegro" Drinan, looking to climb into a second-place tie with calvin7v on the overall SCOOP 2018 leaderboard with a win in this tournament, called with 9♣9♦. The pair held to eliminate anti-durrr in 12th.
Two hands later wwwBTHEREcom defended the big blind with Q♥8♣ and check-raised all-in on an eight-high flop, only to be eliminated in 11th by EzPaTuLa, who had opened with J♦J♥. Then MB TREMENDO opened with Q♥J♦ in the small blind and jammed after blanconegro re-raised from the big blind with A♥K♥. The J♣ on the turn sank blanconegro in 10th — with another 30 points on the overall leaderboard — and set up the final table: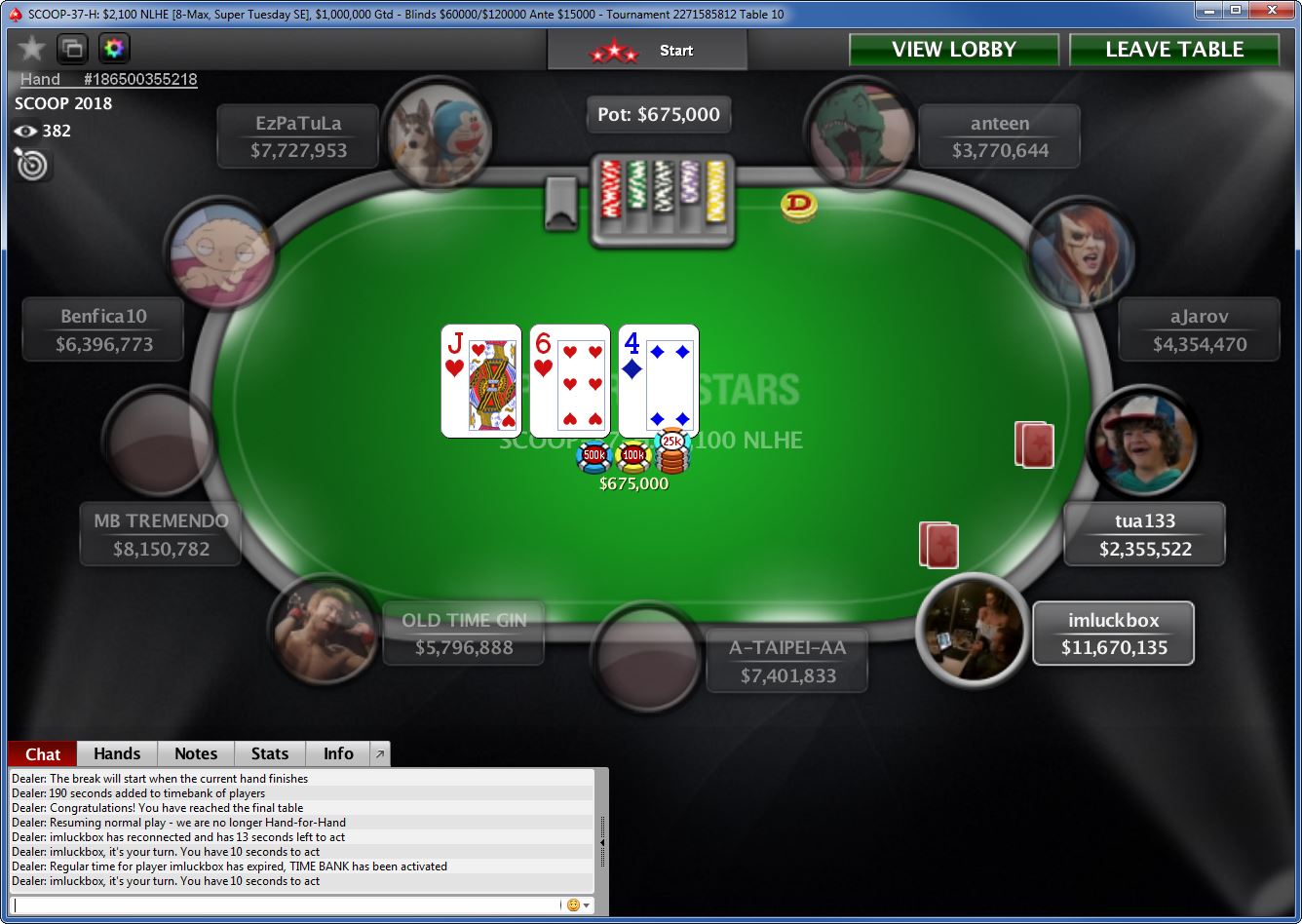 Seat 1: anteen (3,785,644 in chips) past SCOOP & Sunday Million finalist
Seat 2: Anton "aJarov" Yakuba (4,429,470 in chips) past Sunday Warm-Up runner-up
Seat 3: tua133 (2,610,522 in chips) past SCOOP & WCOOP winner
Seat 4: Michael "imluckbox" Addamo (11,925,135 in chips) SCOOP winner in 2016
Seat 5: A-TAIPEI-AA (7,416,833 in chips)
Seat 6: OLD TIME GIN (5,811,888 in chips) Sunday Million & two-time Super Tuesday champ
Seat 7: MB TREMENDO (8,165,782 in chips) two-time past SCOOP finalist
Seat 8: Benfica10 (6,411,773 in chips) $109 Sunday Cooldown runner-up last month
Seat 9: David "EzPaTuLa" Cabrera (7,742,953 in chips) won SCOOP & Super Tuesday titles in 2016
A half-hour of poker didn't knock anyone out before the hourly break. The first hand back saw MB TREMENDO back Canada's Benfica10 into a corner with Q♣Q♦ vs. A♥Q♥, but the A♦ came on the flop to keep the Canadian in the game. Three minutes later tua133, seeking a third career COOP title, defended the big blind with 4♣3♣ and semi-bluffed all-in with a straight draw on the flop. Original raiser A-TAIPEI-AA called with 10♣10♥, the pair held up, and tua133 left in ninth.
The table remained eight-handed for the next hour as the chip lead traded back and forth between EzPaTuLa, OLD TIME GIN, A-TAIPEI-AA, and imluckbox. EzPaTuLa had begun to fall behind that pack but caught up seven minutes after the hour by callign with A♥J♦ in the small blind after MB TREMENDO opened all-in with K♠J♥ in the cutoff. The board came eight-high and MB TREMENDO bowed out in eighth.
A cooler ten minutes later sent anteen to the rail after shoving with 10♥10♠ in the cutoff. A-TAIPEI-AA woke up with Q♠Q♦ and turned a set to see anteen off in seventh.
From there it was a battle between the same quartet of players atop the leaderboard with Benfica10 and aJarov holding enough chips to pick their own spots to take a stand. For Benfica10 that ended up being on the last hand of the hour after OLD TIME GIN open-shoved with 9♠8♠ in the small blind. Benfica10 called for 21 big blinds with 8♣8♥ and watched the 9♦ pair OLD TIME GIN on the flop. A gutshot draw materialized on the turn but failed to turn up on the river and Benfica10 bowed out in sixth.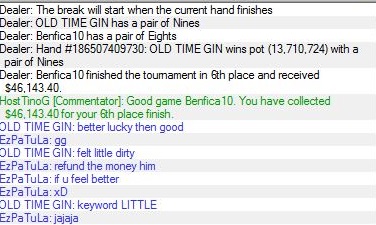 The win moved OLD TIME GIN into sole possession of second place behind imluckbox, who had taken down two seven-figure pots in the space of five hands to establish a commanding lead about 20 minutes before the break.
After EzPaTuLa turned a nine-high straight with 9♦8♣ to win 9.8 million from OLD TIME GIN and pull even with the Canadian, that left just aJarov (13 big blinds) and A-TAIPEI-AA (15 big blinds) in immediate danger.
A-TAIPEI-AA survived one all-in moment after calling all-in and flopping two pair with A♥8♦ only to split the pot with small-blind raiser imluckbox when the 2♠ river put five spades on the board. Five hands later imluckbox jammed from the small blind with A♣2♥ and A-TAiPEI-AA put it all o nthe line with Q♣10♣ in the big. The board ran dry and A-TAIPEI-AA's tournament was over in fifth.
aJarov had been slowly climbing the payout ladder and was already guaranteed a career-best cash regardless of how things went. Aside from one early win with A♥Q♣ for trip aces against imluckbox's K♠Q♠, aJarov mostly sat back and watched the other players take big swings at each other. Another climb up the ladder for $30,000 could have easily happened, but the short stacks won every confrontation — every one until aJarov jammed for 13 big blinds with 3♥3♠, anyway. imluckbox called with K♥10♥ and made a king-high straight to end aJarov's run in fourth.
That left imluckbox with 28.5 million chips (81 big blinds), EzPaTuLa with 19.6 million (56 BB), and OLD TIME GIN with 10.2 million (29 BB). It looked certain that it would take a big hand to change the trajectory of the tournament away from an imluckbox win — and then 20 minutes later exactly such a hand came to pass. OLD TIME GIN min-raised to 800,000 on the button, EzPaTuLa jammed for 6.2 million in the small blind, and imluckbox flat-called in the big. OLD TIME GIN moved all-in for 19.3 million total and imluckbox called, setting up a three-way showdown:
OLD TIME GIN: A♥A♠
imluckbox: K♠K♥
EzPaTuLa: K♣Q♥
The 6♦Q♦7♠J♠3♥ board was safe as houses for OLD TIME GIN, who dragged the 45-million-chip pot as EzPaTuLa left in third place. Five hands later another cooler brought the tournament to a close when OLD TIME GIN picked up 8♣8♥ and imluckbox 7♦7♥. An eight on the flop sealed the deal on another big win for OLD TIME GIN.
imluckbox missed out on the victory after those two late coolers but still walked with a career-best cash of more than $152K, as did David "EzPaTuLa" Cabrera in third for $113K. Congratulations to them both, and to OLD TIME GIN for keeping the good times rolling in 2018 with a SCOOP victory!
SCOOP-37-H ($2,100 NLHE, 8-Max, Super Tuesday SE) results
Entries: 583
Total prize pool: $1,166,000
Places paid: 71
1. OLD TIME GIN (Canada) $205,828.09
2. Michael "imluckbox" Addamo (Thailand) $152,624.61
3. David "EzPaTuLa" Cabrera (Mexico) $113,173.70
4. aJarov (Ukraine) $83,920.28
5. A-TAIPEI-AA (Canada) $62,228.37
6. Benfica10 (Canada) $46,143.40
7. anteen (Sweden) $34,216.15
8. MB TREMENDO (Uruguay) $25,371.81
9. tua133 (United Kingdom) $19,865.95
---
Get in on the action and earn a SCOOP title of your own. Click here to open your PokerStars account today.
---