How about winning a pot worth 1 Billion in chips to win a tournament? How about winning a tournament with quads? How about doing both in the SCOOP Main Event? Cashcid Linc won the "Low" version of the $109 buy-in 2018 SCOOP Main Event. On the final hand, Cashcid Linc flopped a set of sevens and turned quads to seal a victory in Event #58-L. The German and three-time Super Tuesday winner faded a massive field of 26,361 runners to win a sick payday worth more than $267K.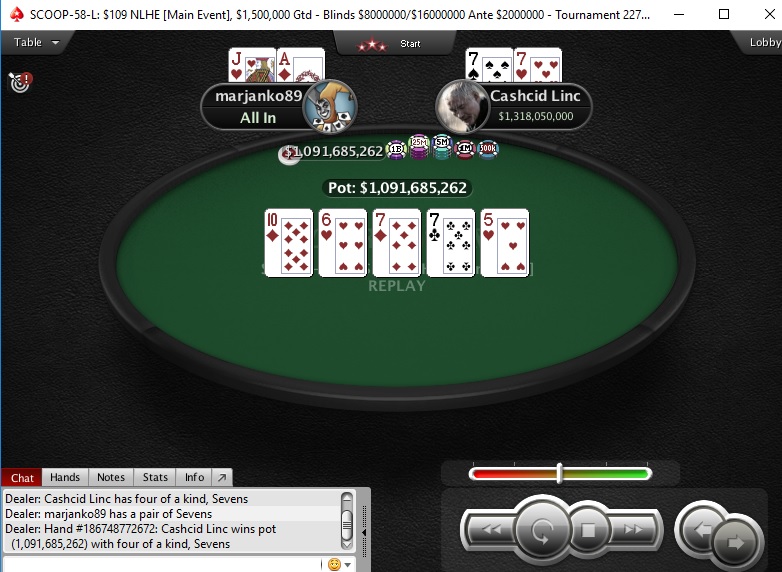 EVENT #58-L – QUICK STATS:
$2,636,100 prize pool
$267,583.62 to first place
26,361 entries
2018 SCOOP Event #58-L $109 NL Main Event Championship attracted 18,511 original runners and 7,850 re-entries for a grand total of 26,361 entries. The $2.6 million prize pool smashed the $1.5 million guarantee. The top 4,211 places paid out with the final three players locking up six-figure cashes. First place in the "Low" Main Event paid out $267,583. Quite an impressive ROI for three days of work.
Day 1 ended with 16 players remaining. Russia's AcckiySotona (winner of SCOOP event #52-L Stud) bagged up the lead with a stack worth 170M. Brazil had four players still left in the hunt, more than any other country.
It was a bad day to be one of the four Brazilians still alive at the start Day 2. The first three bustouts were under the green and gold banner. With 15 remaining, allin0709 was in the middle of the pack and hoping to fade the curse, hex, or whatever voodoo magic was going down.
With a baker's dozen to go, AcckiySotona passed 300M in chips at a moment when no one from the chase pack was close to 200M and more than half of the remaining field had fewer than 100M. With 10 to go, the pack caught up to AcckiySotona, who ducked under 300M. Russia's SashDLA bubbled off the final table in tenth place.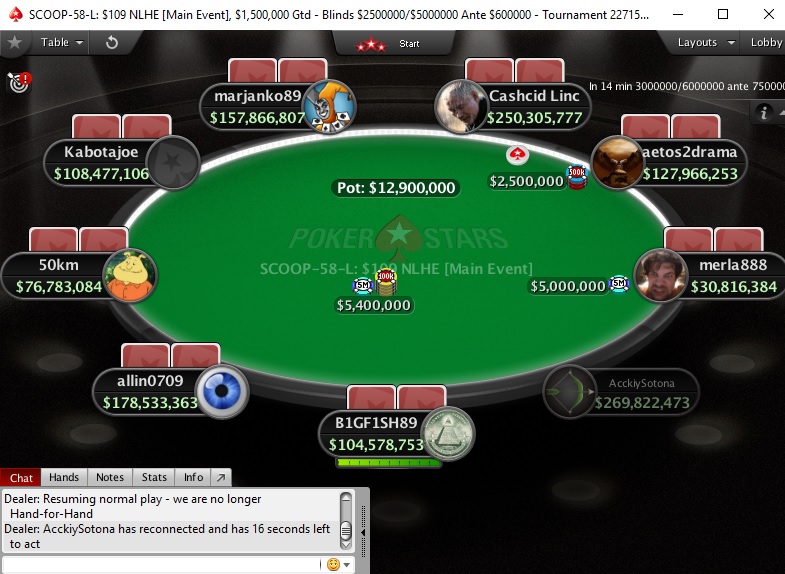 SCOOP Event #58-L MAIN EVENT – Final Table Chip Counts:
Seat 1: Cashcid Linc (250,905,777)
Seat 2: aetos2drama (131,066,253)
Seat 3: merla888 (36,416,384)
Seat 4: AcckiySotona (270,422,473)
Seat 5: B1GF1SH89 (105,178,753)
Seat 6: allin0709 (179,133,363)
Seat 7: 50km (77,383,084)
Seat 8: Kabotajoe (109,077,106)
Seat 9: marjanko89 (158,466,807)
The final table commenced during Level 56 with blinds at 2.5M/5M and a 600K ante. AcckiySotona led with 270M, but Cashcid Linc was close behind with 250M. merla888 was super short.
The notable achievements among the final nine included: Cashcid Linc won the Super Tuesday thrice… AcckiySotona won a SCOOP the other day with a win in Event #52-L Stud… Kabotajoe won the Sunday Million last summer… allin0709 final tabled a 2016 SCOOP Sunday Million SE, but the Brazilian was seeking a first major win.
BIG FISH EAT THE LITTLE ONES
No optimism for the have-nots. The two short stacks were liquidated in the first orbit. The shortest short-stack merla888 became the first casualty on the second hand of the final table. merla888 lost a race with A♦Q♣ against Cashcid Linc's 7♦7♣. The fodder thrust Cashcid Linc into first overall.
Five hands later, 50km open-shoved with A♦9♣ but unfortunately, Kabotajoe was waiting around the corner with A♣A♥. Pocket rockets held up and the Canadian bounced in eighth place.
THE COOLER FROM KIEV
Stop! Cooler time! Pocket Aces, check. Pocket Kings, check. All-in preflop, check. marjanko89 four-bet shoved with A♣A♦ and B1GF1SH89 called all-in with K♦K♥. The board ran out 10♦8♣4♥9♦8♥ and pocket Aces held up. Germany's B1GF1SH89 ran Kings into Aces to meet their early demise. B1GF1SH89 earned $36,969.19 for a seventh-place finish. With six to go, marjanko89 took a turn in the top spot.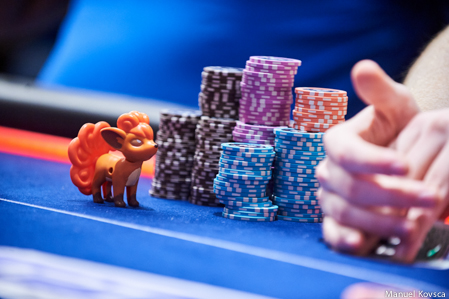 BIG SLICK FLIPS FOURS
Big slick versus small pair. AcckiySotona bombed it all-in with 4♣4♥ and Cashcid Linc accepted the challenge, opting to race with A♥K♣. The fours lost the flip when the K♥ appeared on the flop. Russia's AcckiySotona was knocked out in sixth place, which paid out $51,416.33. Cashcid Linc dragged the pot and regained the lead.
At the outset of five-handed action, the two Germans — Kabotjoe and Cashcid Linc — flirted with 300M, while the remaining three hovered around 200M. By the end of the next level, Cashcid Linc left everyone in the dust and the German closed in on 500M, while a couple of stacks shrunk under 200M.
GREECE 1, BRAZIL 0
Two short stacks rumbled when aetos2drama open-shoved with A♣7♣ and allin0709 called all-in with A♠K♥. "The Tourist" murked Big Slick when a 7♥ appeared on the flop. aetos2drama won the pot with pocket sevens and allin0709's Big Slick went unimproved. The Brazilian earned $71,510.01 for fifth place.
EXIT STAGE LEFT FOR AETOS2DRAMA
Four-handed lasted 8 hands before someone else hit the bricks. Karma swung back the other way when aetos2drama lost a 384M pot with A♣10♦ versus marjanko89's A♠6♦. marjanko89 flopped two pair and left aetos2drama with next to nothing. aetos2drama busted on the next hand when K♦5♠ were outflopped by Cashcid Linc's 4♥3♣. aetos2drama missed a Wheel gutshot draw and busted in fourth place. The Greek player earned nearly $100K for the deep run.
With three left in the hunt, Cashcid Linc held 55% of the remaining chips in play with a mountain fo a stack worth 736M.
DROPPING A DEUCE ON THE RIVER
Kabotajoe jammed all-in for 111M with A♠9♥ and marjanko89 tried to pick off the short stack with A♣2♣. Kabotajoe led most of the way and even turned a flush draw, but the 2♠ spiked on the river and marjanko89 won the pot with a pair of deuces. Kabotajoe whiffed on a flush draw and bounced in third place, which paid out $138,323.54.
HEADS-UP: Cashcid Linc (Germany) vs. marjanko89 (Ukraine)
Seat 1: Cashcid Linc (672,460,618)
Seat 9: marjanko89 (645,589,382)
Almost even when heads-up commenced with blinds at 7M/14M and a 1.75M ante.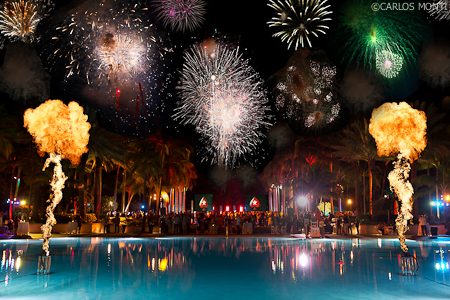 CASHCID LINC WINS SCOOP EVENT #58-L MAIN EVENT!
Less than ten minutes into heads-up, Cashcid Linc won the largest heads-up pot (up until that point) worth 633M. Cashcid Linc slowplayed a pair of Aces after hitting the flop with A♣10♦. Cashcid Linc check-called the flop, turn, and river. marjanko89 tripled barrel bluffed with 6♥5♦ but it didn't scare off Cashcid Linc. That pot pushed Cashcid Linc over 1B in chips and the German opened up a 3-1 margin.
Almost instantly, marjanko89 launched a counterattack and won 480M pot after turning a Jack-high straight with J♥8♥. But that's as high as marjank89 would get. Cashcid Linc quelled the rebellion and quickly finished off their adversary.
Cashcid Linc held a 250M-chip lead heading into the final hand. Hostilities quickly escalated during preflop and both players were all-in. marjanko89 four-bet shoved for over 500M with A♦J♥ and Cashcid Linc happily obliged with 7♠7♥. Classic race. Another flip for all the bananas. The board ran out 10♦7♦6♥7♣5♥. Cashcid Linc flopped a set of sevens and turned quads. marjanko89 was drawing dead and the Ukrainian headed to the virtual rail in second place. A runner-up finish was worth $192,380.46.
Germany's Cashcid Linc won the 1.01B pot to ship the Main Event. First place in Event #58-L paid out $267,583.62. Congrats.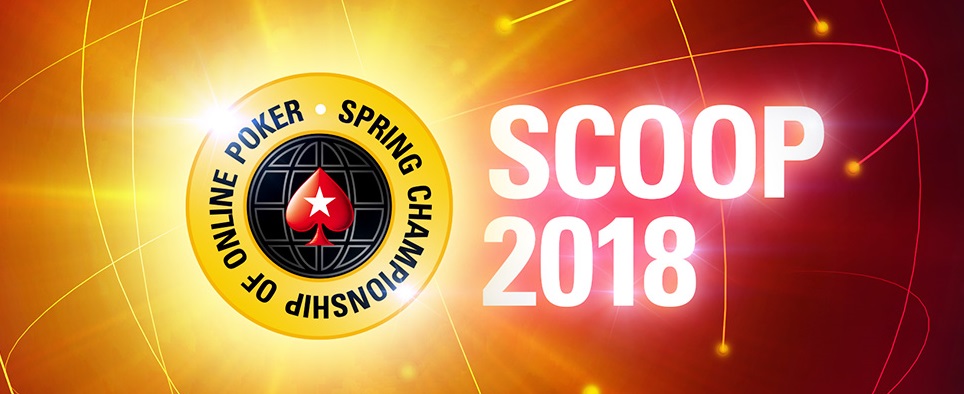 SCOOP-58-L ($1,050 NLHE [Main Event]) results
Total entries: 26,361 (18,511 entries; 7,850 re-entries)
Prize pool: $2,636,100
Places paid: 4,211
1. Cashcid Linc (Germany) $267,583.62
2. marjanko89 (Ukraine) $192,380.46
3. Kabotajoe (Germany) $138,323.54
4. aetos2drama (Greece) $99,456.09
5. allin0709 (Brazil) $71,510.01
6. AcckiySotona (Russia) $51,416.33
7. B1GF1SH89 (Germany) $36,969.19
8. 50km (Canada) $26,581.37
9. merla888 (Belgium) $19,112.51
Visit the SCOOP homepage for all your SCOOP needs, including the Leader Board.
---
Ready to take your shot at a SCOOP title? Sign up for PokerStars today!
---