It took us 15 hours of grueling play to get there, but we've got a winner in the main event at Run It Up Reno. Just for giggles, we're going to bury the lede here and get to the winner in a minute.
154 runners came back from Day 1, and in fact, a few determined and optimistic souls bought in yesterday morning, getting themselves ten and change big blinds for eight minutes, after which their starting stack would be eight blinds. I don't know if any of those people made a deep run, but if they did, good on them. Anyway, their buy-ins and all the ones from the prior two days added up to 687 entries, a $377k prize pool, and a $70,000 first prize up top.
Hours went by and ultimately we burst the bubble with 112 lucky and competent players locking up $990. [1] Among the survivors were a number of recognizable names, including Arlie "Hercules" Shaban, poker media O.G. Kristy Arnett-Moreno, vlogging sensation Andrew Neeme, online (and live) crusher Jon "Pearljammned" Turner, and Chris Moneymaker. Ultimately, all fell by the wayside. Some of those departures were caught on the Twitch camera – Chris when a dominated hand out-flopped him, and Arlie in a good old-fashioned cooler.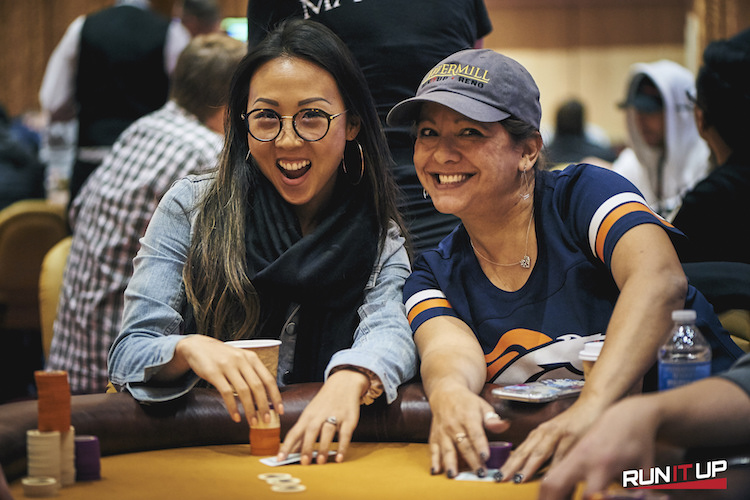 Both these women cashed. One of them would make the final table.
Finally we got down to the final table, 25% of which was women (take that WSOP). Specifically, RIU O.G. Deb Swift, and Ilana Creed, who giddily told us that she'd driven here from New Hampshire, hitting all the casinos on the way (Google says it's 2900 miles and 43 hours).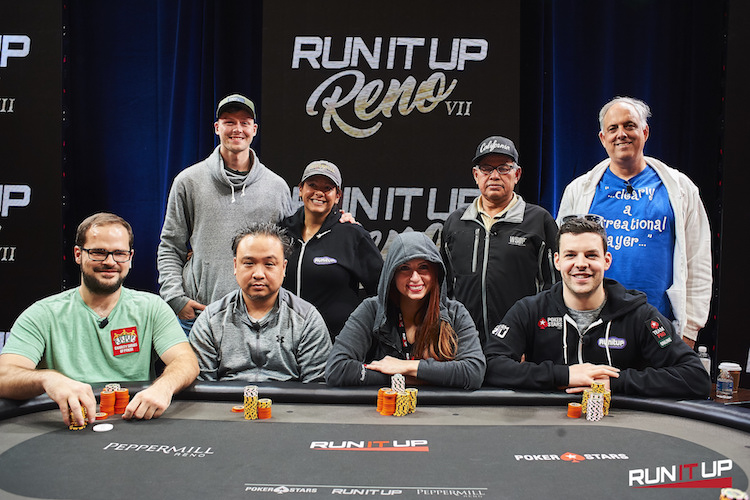 The smiles of people who each have about $6k locked up
The bust-outs continued until we were down to two grizzled veterans of different felts. Matt Stout, who has Hendon Mob results going back a dozen years and, like Jon Turner, was grinding the virtual felts of PokerStars back in the day. Up against him was unabashed crowd favorite, PokerStars Ambassador, Team Run It Up member, and all-round friendly Canadian Kevin "K-Mart" Martin. Kevin was in high school (if that) when Matt started collecting serious poker results, but he's made a name for himself as a popular streamer, and recently has put up some incredible live results.
As they'd both later say, neither would have picked the other as their heads-up opponent. But here you must, quite literally, play the cards you're dealt. It was an excellent match which may be best remembered for a fold, which ain't always what stands out. You watch this and tell us what you think.
Ultimately, Matt gained the upper hand and took a dominating Ad7d against Kevin's KdJd. Nothing astonishing happened and we had a winner. That's when the astonishing part (at least to Jason Somerville) happened…
We caught up with both of them after the event, Matt beaming because he'd just won $70,000, he's about to become a father, and his pants weren't on fire. Kevin beaming because he'd just won $48,000 and "beam" is what Kevin does.
A side note: as all this was happening, PokerStars Ambassador Jeff Gross, who had busted out in the main event to eventual final tabler Kyle Besaw, was closing out the win in the $550 PLO event across the room, his first RIU Reno trophy. The PokerStars diplomatic corps truly shone in all their activities yesterday.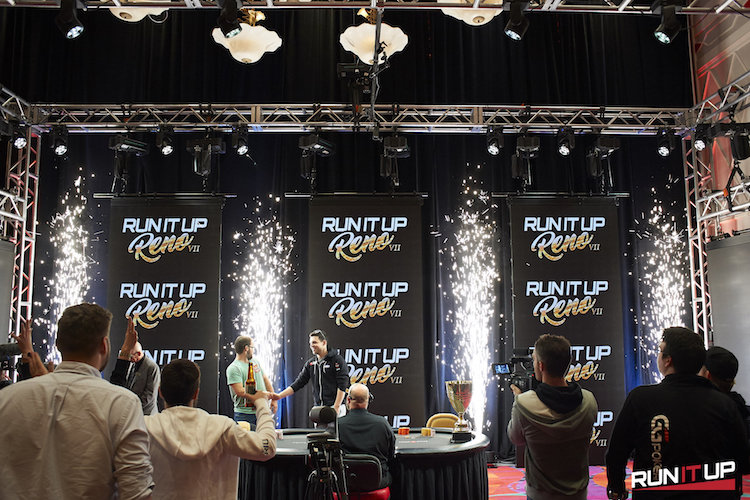 There's more information about the tournament at the Run It Up blog; check it out.
Finally, a big shout-out to RIU Media Star Antonio Abrego, who provided all the still images you see here.
---
[1] One of the dealers here pushes out of the box and says, "Thank you, players – continue to play well." I love this (as opposed to the more traditional "good luck").