The final table of the Turbo Series $1,050 Main Event was exactly as advertised: blazing fast with big prizes on offer.
The 1,500,000/3,000,000 blinds meant there was no room for error as nine players battled to see who would exit first with a mere $23K for their efforts and who would outlast the others to pocket 15 times that much cash. Just 37 minutes later they reached their answer: Robin "robinho" Ylitalo.
---
The table's two Swedes had the big stacks as play began. Unsurprisingly, jamaica_111 (45 big blinds) and robinho (38 big blinds) did all the heavy lifting on their own.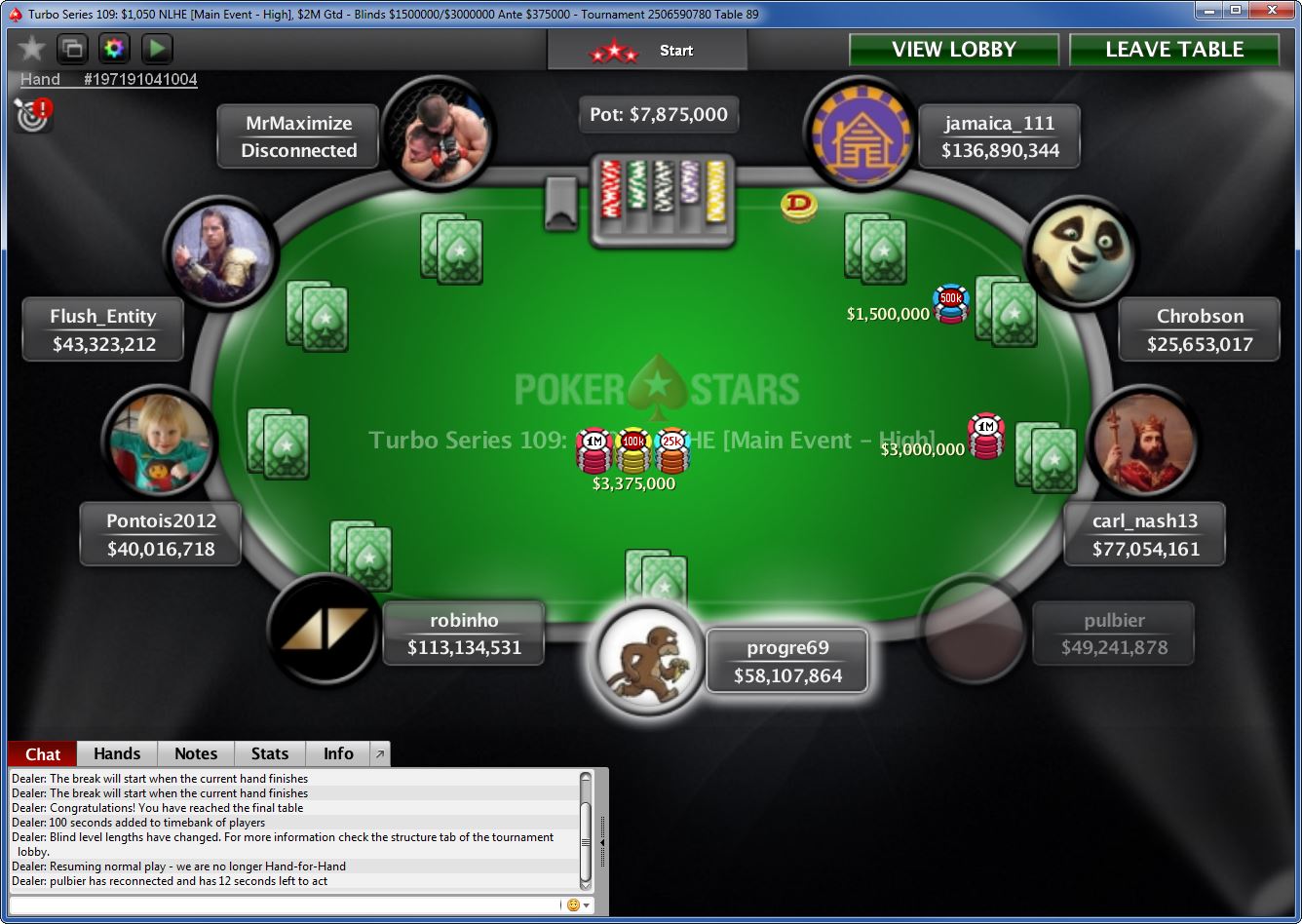 Seat 1: jamaica_111 (137,265,344 in chips)
Seat 2: Chrobson (27,528,017 in chips)
Seat 3: carl_nash13 (80,429,161 in chips)
Seat 4: pulbier (49,616,878 in chips)
Seat 5: Cristian "progre69" Sampaoli (58,482,864 in chips)
Seat 6: Robin "robinho" Ylitalo (113,509,531 in chips)
Seat 7: Pontois2012 (40,391,718 in chips)
Seat 8: Griffin "Flush_Entity" Benger (43,698,212 in chips)
Seat 9: MrMaximize (34,828,275 in chips)
jamaica_111 got things started by rivering the nut flush with A♣8♣ to drop publier's stack to just five big blinds. Another win with Q♥J♥ on the following hand to beat A♦7♦ sent publier to the rail.
Quickly the game developed a rhythm: every two hands a short-stacked player made a move, ran into a bigger hand, and failed to improve. First, robinho's 7♦7♣ held against Chrobson's A♦K♣. Then a confrontation in the blinds saw MrMaximize exit with K♣5♠ against jamaica_111's A♠2♦. Then Griffin "Flush_Entity" Benger jammed with A♣8♦ and ran into robinho's A♠T♠.
There was a brief lull five-handed before Cristian "progre69" Sampaoli open-shoved for 12 bigs with A♥Q♦. robinho was waiting behind with A♠K♣. Then there were four.
The rhythm was broken when both Pontois2012 and carl_nash13 found doubles — the latter with A♦A♠ — but the trend continued when carl_nash13 open-shoved for 13 bigs from the small blind with J♦9♠ and robinho woke up in the big with A♠[s].
pontois2012 put up a fight and actually surpassed jamaica_111 in the counts. Then the Belgian player opened on the button with 2♣2♥ a few minutes later. robinho jammed with 5♠5♦, Pontois2012 called, and when the board changed nothing the tournament was heads-up.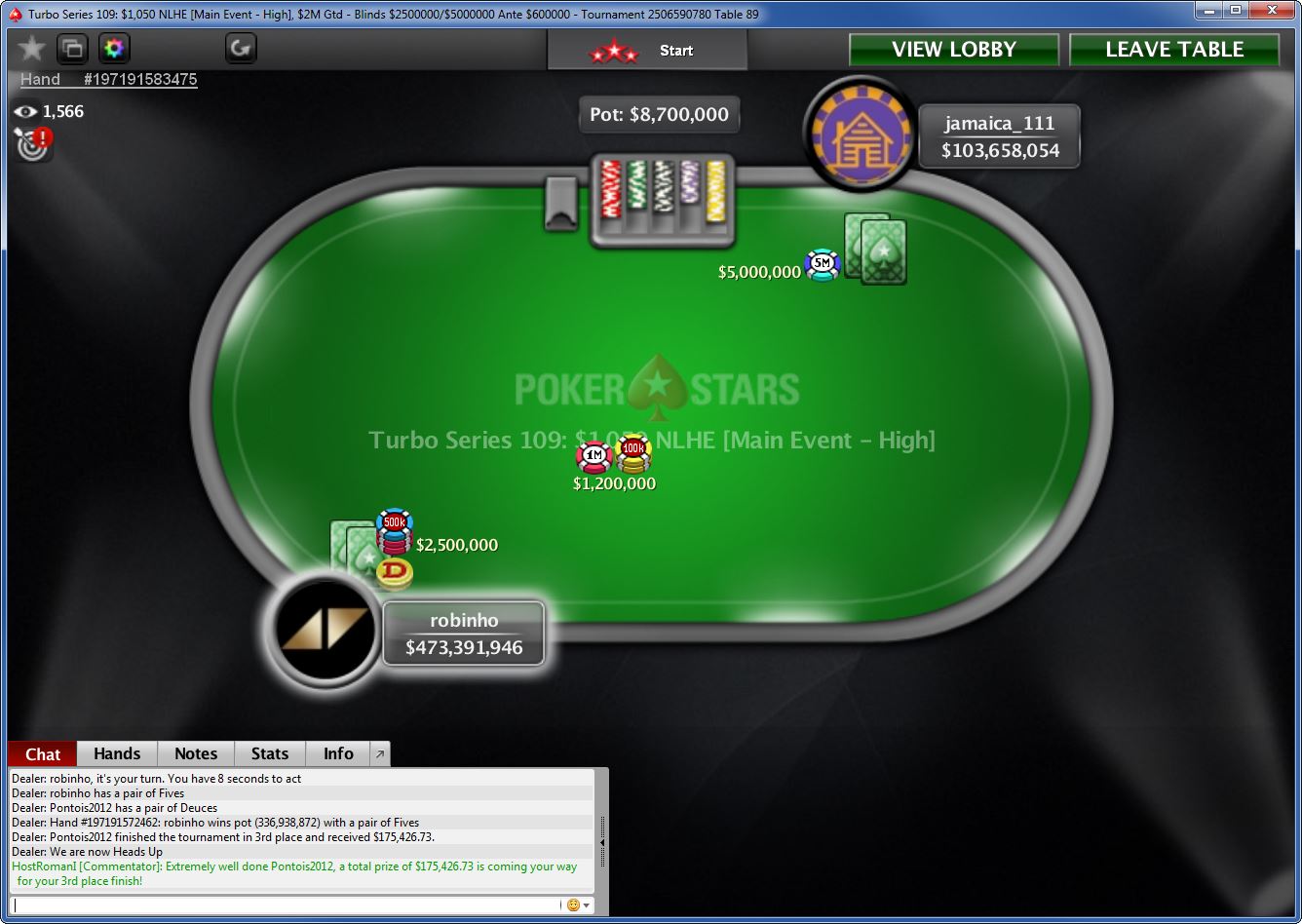 robinho had the edge with 95 big blinds to jamaica_111's 22. That advantage dropped minutes later when he limped on the button with K♣T♠ and called jamaica_111's jam with A♦3♠, after which the two players struck a deal.
With the title and $40K left on the table, robinho ran good one last time. He called jamaica_111's min-raise with A♦9♣, made trips and got in a check-raise on the 9♥3♥9♠ flop, and then made value bets on the 6♦ turn and 5♣ river. jamaica_111 called them both with Q♥Q♠ and ended the tournament as runner-up.
Robin "robinho" Ylitalo ran about as pure as possible at this final. His favorites held up, his underdogs came from behind, and he pocketed $322K after the deal – not bad for six and a half hours of work. This marks his second major PokerStars turbo title after winning a TCOOP Progressive Ultra KO for $85K back in 2016. Congratulations to him and also to jamaica_111 for sharing in the heads-up deal!
Turbo Series Event #109 ($1,050 NL Hold'em, Main Event – High)
Entrants: 2,343 (1,850 entries, 493 re-entries)
Total prize pool: $2,343,000
Places paid: 341
1. Robin "robinho" Ylitalo (Sweden) $322,429.20*
2. jamaica_111 (Sweden) $268,907.78*
3. Pontois2012 (Belgium) $175,426.73
4. carl_nash13 (Canada) $125,050.36
5. Cristian "progre69" Sampaoli (Argentina) $89,140.37
6. Griffin "Flush_Entity" Benger (Canada) $63,542.39
7. MrMaximize (Canada) $45,295.34
8. Chrobson (Poland) $32,288.18
9. publier (Netherlands) $23,016.99
* – results of a heads-up deal
---