Throughout June, the attention of the poker world was flicking back and forth between Las Vegas (where the World Series of Poker was taking place) and Russia (where the FIFA World Cup played down to a victory for France).
Come September 21st through to the 29th, the poker world's attention will turn back to Russia – Sochi, in particular – and this time it'll be poker being played.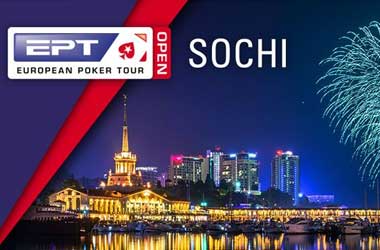 Following on from the successful EPT Sochi back in March, we're returning to beautiful Sochi for the first ever 'EPT Open'. It will basically have everything you'd expect at a regular EPT (great tournaments, fantastic structures, the best staff, and incredible sights to see) but the buy-ins are a little bit smaller, making it more affordable for everyone to come and play.
Here's a look at the key tournament dates:
• EPT Open Sochi Main Event: September, 25-29 – RUB 132,000 (approx. $2,125) – Guarantee RUB 60,000,000 (approx. $1,000,000)
• EPT Open Sochi High Roller: September, 28-29 – RUB 258,000 (approx. $4,150)
View full EPT Open Sochi schedule here.
There will also be five Platinum Passes worth $30,000 each up for grabs to players sat in the following events:
o #1 NL Hold'em – Deep Stack Flip-out: Sep 22nd
o #10 Main Event Flip-out: Sep 27th
o #14 NL'Holdem Flip-out: Sep 28th
o #17 NL Hold'em Flip-out: Sep 29th
o Main Event Winner: Sep 29th
If you want to come and play, satellites are running right now in the PokerStars Lobby (Events > Live > EPT Open Sochi). PokerStars offers a quick and easy dedicated Russian visa service, and as an extra treat, the F1 Russian Grand Prix will take place during the final weekend of the event.
Check out all EPT Open Sochi info here.
---
You can win your seat to one of countless PokerStars live events around the world. Click here to open an account and get started.
---