So, you've already blocked out that second week in January of next year so you can participate in the PokerStars Players No-Limit Hold'em Championship (hereinafter PSPC). Maybe you'll bink a Platinum Pass, maybe you'll just rock up and be part of the celebration of poker players, but you're going to be here at the Atlantis in a year.
Good, so print this piece out and stuff it in the folder of stuff you're saving in preparation – you'll need it.
At some point, you'll want to get away from the Atlantis and experience the Bahamas outside the confines of the resort – all you gotta do is walk over the bridge. That's right – walk out of the Coral Lobby and turn left down the sidewalk. Walk out of the Atlantis property (relax, you'll be fine…) past the shopping center on your left. Continue around the traffic circle and onto the eastern-most of the two bridges that span the bay between Nassau and Paradise Island.
Follow the sidewalk up to the crest of the bridge and stop to enjoy the view back to the Atlantis: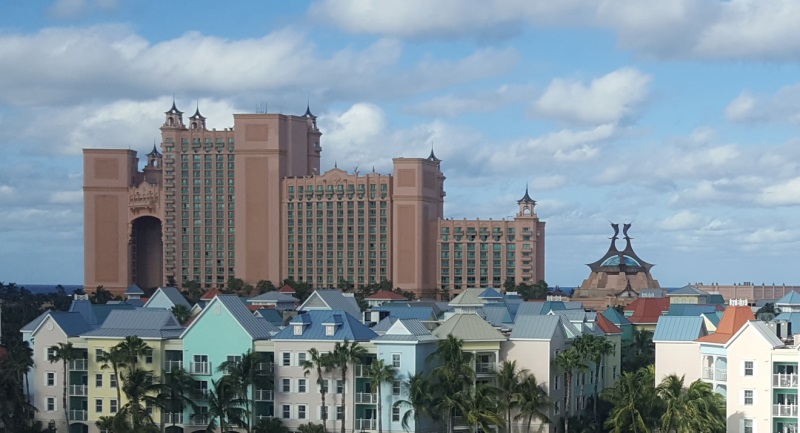 Atlantis from the bridge
Heck, that was almost worth it right there. But keep going. Down the far side, as you reach the main road, you'll see two rows of wooden stands, one on each side of the bridge. Welcome to Potter's Cay. It is actually a physically separate island in the bay, but you'd never know it. What you do notice is that all those stands are all serving fresh fish, conch, lobster, and other island delicacies, all of them a few hours (or minutes) out of the ocean. We picked the first one we came to: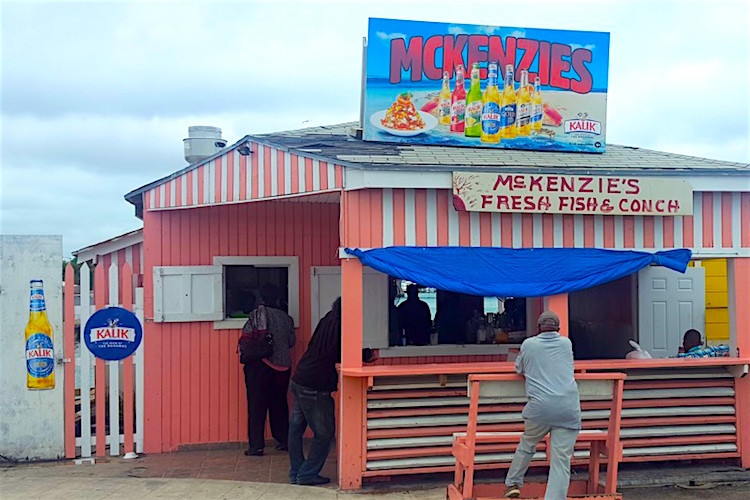 McKenzie's: Bring an appetite
Because, well, lots of people were sitting at it, somebody waved us over, they seemed to be having a good time, and there was table in the back opening out to the bay. We split a fish and conch dinner, which was enough food (and then some) for my wife and me: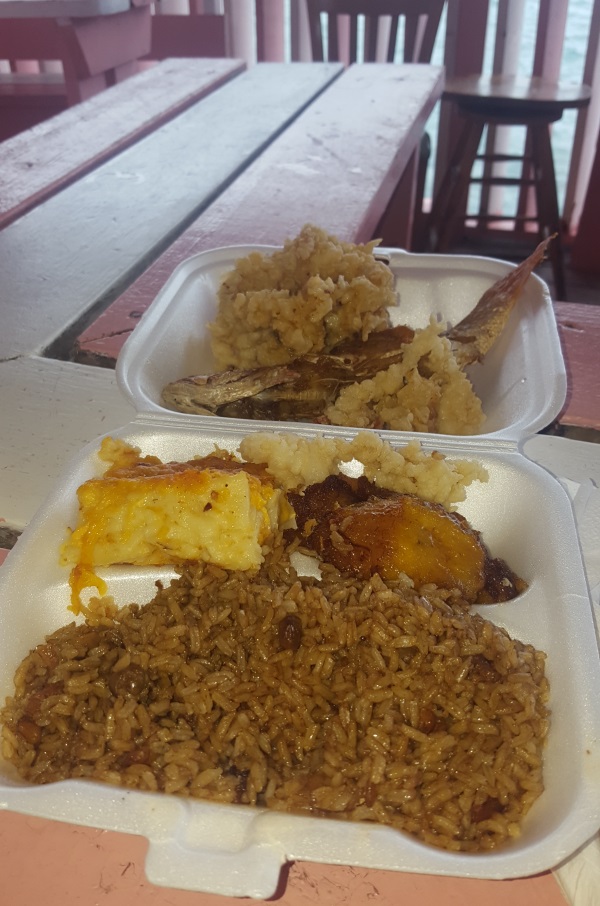 We're going to need a bigger boat…and stomach
That's rice and peas in front, along with a mac/cheese casserole of which your grandmother would approve, and fried plantains. But the highlight of the meal was the fish and conch: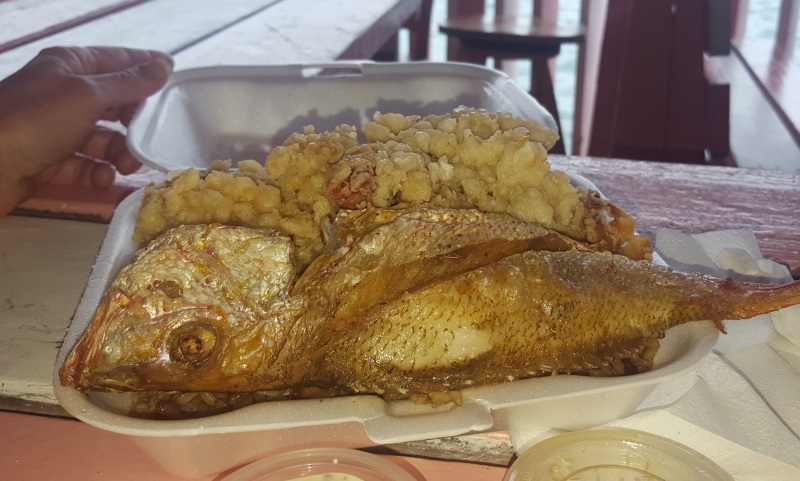 Fish: It's what's for lunch.
This is what the Bahamas is truly about ladies and gentlemen – absurdly fresh seafood simply served, with the ocean 20 feet away. We decimated most (but not all) of the pile of food and asked for the check. $22 including tax, and a giant smile from our waitress.
On our way out, we wandered down the block a little where saw people getting their conch prepared right in front of them…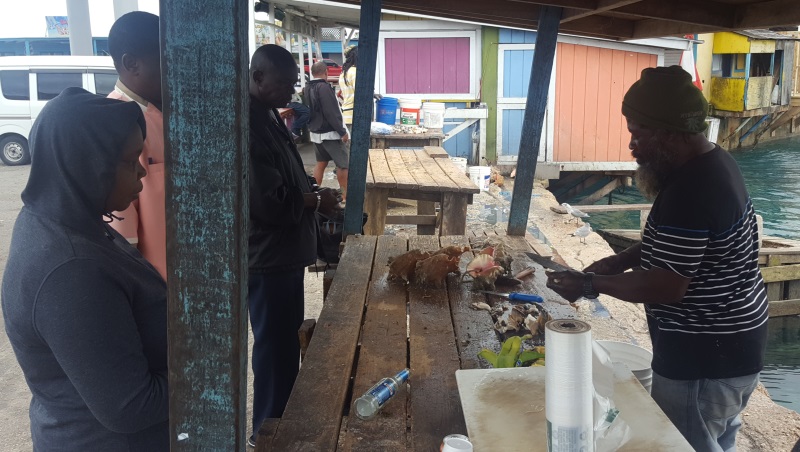 Preparing fresh conch
And the fruit and vegetable stand, which starts to look pretty appealing after a few days of chicken wraps near your poker table.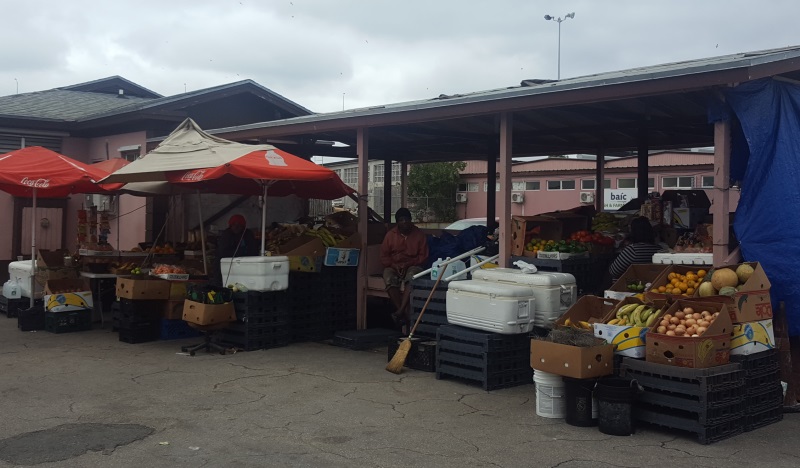 Need some fruit? Vegetables?
So yes, it's a 15-20 minute walk with a "slight incline" involved. And no, they don't take your Atlantis key for payment. But I promise you that, along with that time you're going to flop a set against Erik Seidel, this will be one of your better memories from the 2019 PSPC.
And there it is, right over the bridge.
---
Lee Jones is the Head of Poker Communications for PokerStars. He first joined the company in 2003 and has been part of the professional poker world for over 30 years. You can read his occasional Twitter-bites at @leehjones.