• START OF DAY 3 CHIP COUNTS
• DAY 3 SEAT DRAW
• PRIZE POOL AND PAYOUT INFORMATION
• PLAYERS: 67 (of 1,122)
• ALL MPC INFO | DOWNLOAD POKERSTARS
• Follow @PokerStarsBlog on Twitter
---
There is normal. And there is Macau style.
You see something strange out here – for example, a girl playing poker with a giant teddy bear as large as her and ask if this is normal, you'll get this reply…"Macau-style."
It is the universal reply to anything out of the ordinary, and there's plenty out of the ordinary here! Day 2 of the MPC28 Red Dragon summed up this Macau experience.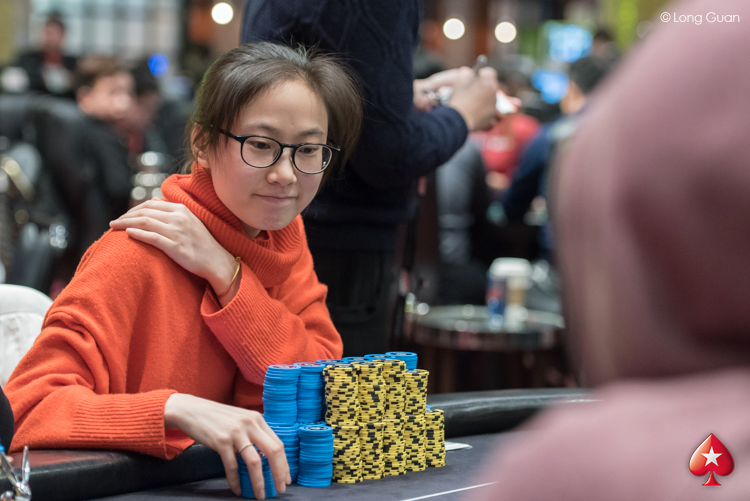 Tang was an irresistible force during Day2
PokerStars LIVE at The City of Dreams, Macau saw the 366 survivors of the opening three days return to test their luck and skill at the felt and fight for that guarantee-smashing HK$14,692,590 prize pool, HK$3,055,000 first prize, and coveted US$30,000 Platinum Pass.
It was a suitably dramatic day where hopes of victory were bolstered for some and dashed for others. At the close it was Chinese player Ying Tang who had brought variance to its knees, bagging up a massive 1,339,000 for the overnight chip lead.
We predicted a successful day for chip leader from the opening three days Ian Modder, talented Team PokerStars Pro Aditya Agarwal, the accomplished English pro Matthew Moss and American Scott Davies, whose poker exploits in Asia and beyond have netted him over $1.8 million in tournament winnings.
Davies was the only one of the experienced quartet who failed to make the cash, one of the many victims in what proved a brutal start to the day. The early levels were a whirlwind of activity, 100 players eliminated in quicksmart fashion as the field was whittled down by nearly a third during this maelstrom.
"Macau-style."
Every elimination brought us ever closer to the bubble, though it was far from the standard bubble experience. Nerves and tight play are the norm at this point, many players shutting up shop and waiting to drift gently into the money.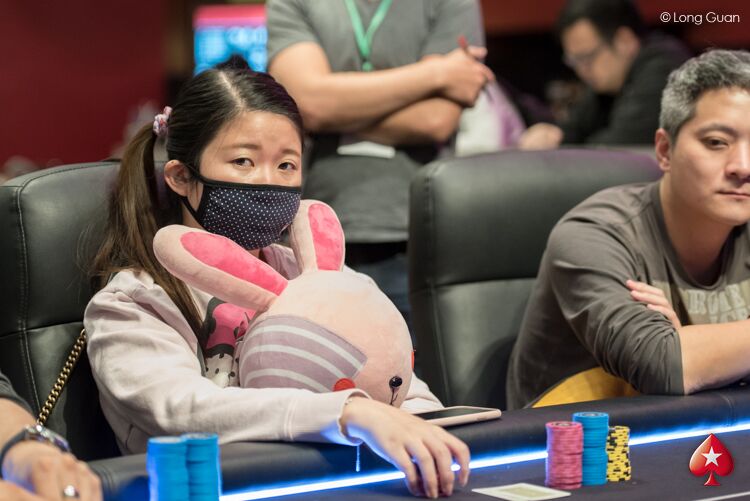 "Macau-style" mascot.
No one gave the Macau players this memo, however.
The script was torn up as the players, if anything, increased the aggression that had been shown prior to this vital inflection point. One man even appeared to be rooting against himself on the bubble! It made fascinating viewing and was over understandably, though regrettably, quickly as Hongshuai Wang was eliminated in 136th, leaving the rest of the room to let out a celebratory cheer – a minimum HK$29,200 payday locked up.
You can watch how a bubble plays out "Macau-style" below.
Team PokerStars Pro Aditya Agarwal managed to travel past the bubble with only a few difficulties, but ended up 116th for HK$32,100, just shy of making day 3. Overnight chip leader Ian Modder did better – negotiating his way through the madness to the close of play but he was put in the shade by Matt Moss, who truly prospered, working magic on the smallish stack he started the day with to finish up with a highly-impressive 674,000, giving him every chance of Dragon glory further down the line.
In total, 69 players made it through the day and they will return tomorrow to play down to the final. Expect no more predictions from us – Macau has a way of throwing us curveballs. We never know what's coming next, and that's part of the place's alluring charm.
We'll be back at 3pm to continue the Red Dragon. Glory, riches and a fun day of poker await. "Macau-style." Don't miss out. –RS
---
Day 2 Live Updates: Archived
10:50pm: End of Day 2, 72 Players Remain
Level 19: Blinds 5,000/10,000 (ante 1,000)
Play has officially concluded for Day 2 of the Red Dragon Main Event with 72 players still in the hunt.
We'll have a complete wrap for you shortly but — spoiler alert — Ying Tang is our chip leader with stacks upon stacks of chips.
Stay tuned for complete counts and seat draw for Day 3. –AC
10:45pm: Four more hands
Level 19: Blinds 5,000/10,000 (ante 1,000)
The tournament director just announced we'll have five more hands this before play ends for the evening. –AC
10:31pm: Ying Tang can't stop, won't stop
Level 19: Blinds 5,000/10,000 (ante 1,000)
Let's not mince words: Ying Tang is crushing.
The chip leader just took out another one and looks downright unstoppable as we head towards the end of play.
A short-stacked player moved all-in for about 80,000 in the cutoff and Tang immediately called from the big blind.
Tang tabled A♣K♠ and her opponent flipped over a paltry 8♠6♠. Tang was in the lead but her opponent was live. Until the flop that was.
The flop came K♥8♦4♣ to give Tang a massive advantage. The turn clinched things when it came A♠. The river was a meaningless 10♦.
"She is strong!" exclaimed a player at the table.
That's one way of putting it. Tang is up to over 1.31 million as we near the end of play. –AC
10:10pm: Tang goes bang, takes the chip lead
Level 19: Blinds 5,000/10,000 (ante 1,000)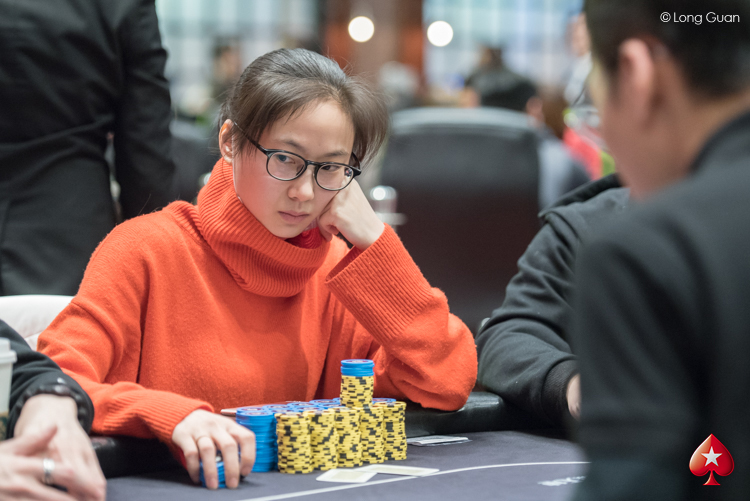 Ying Tang
A moment ago it appeared that Matt Moss' chip stack would be a virtual lock to top the end-of-night charts but Ying Tang had other plans.
Tang already had one of the biggest stacks in the room when an opponent three-bet shoved on her for just over 237,000 from the hijack.
Tang thought for a couple minutes but opted to make the call from the big blind. It was a huge call and the players revealed their hands. Tang showed 10♦10♥ to her opponent's A♦J♦. That's one heck of a big coin flip.
The board ran out K♥8♦4♣9♣6♠ to give Tang the checkmark and eliminate her opponent.
Tang looks to be our new chip lead with just over 1.16m chips. –AC
10:00pm: Players/Birthday party tonight!
Level 19: Blinds 5,000/10,000 (ante 1,000)
If you're in Macau, don't forget the players party is happening tonight, kicking off at 11pm in the SOHO area of the City Of Dreams, just outside the PokerStars LIVE Macau card room. Free food and drinks on offer, to go along with some great music – be sure to come!
Well, it's being labelled as the players party but in reality it's a belated birthday party for PokerStars' Lorie Lagrosas. Happy birthday from everyone at the PokerStars Blog!
–MC
9:44pm: It's break time
Level 18: Blinds 4,000/8,000 (ante 1,000)
It's officially time for players to go on their last 15-minute break of the evening. Players will return for one more level and that will be it for the evening, which is a welcome respite for the players who played Day 1C. Day 1C didn't wrap until nearly 4am. last night. –AC
9:32pm: Matt Moss busts another one, cracks 1m-chip mark
Level 18: Blinds 4,000/8,000 (ante 1,000)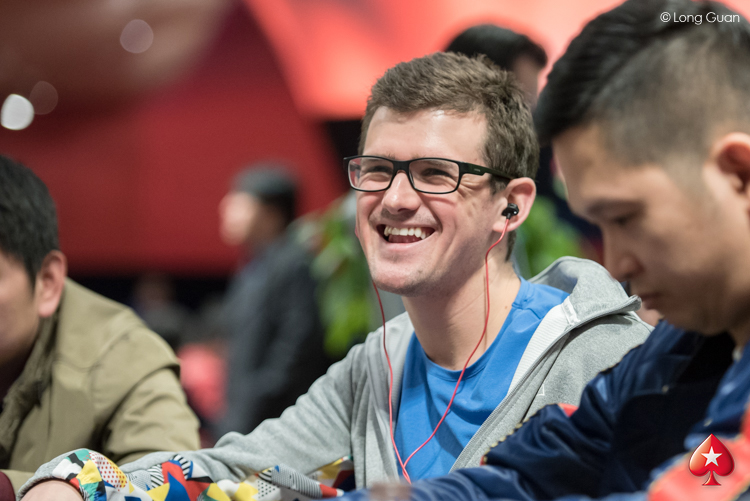 Matt Moss is all smiles on Day 2.
Matt Moss is turning into a runaway freight train here on Day 2 of the Red Dragon.
The English pro just took out yet another player and looks to be the first player to pass 1 million chips.
In the hand a short-stacked player moved all-in for 40,000ish from UTG and action folded to Moss on the big blind.
Moss thought for a couple seconds but eventually made a crying call with 5♦4♦. The other player flipped over K♣J♣.
The board ran out 10♣6♥3♠8♥7♠ and Moss scooped the pot thanks to rivering the straight.
The other player jokingly ribbed Moss about calling with 4-5 but Moss defended his play by saying, "I wanted to get one million chips."
Mission accomplished because Moss now sits with a towering 1.05 million stack of chips. –AC
9:25pm: Calm after the storm
Level 18: Blinds 4,000/8,000 (ante 1,000)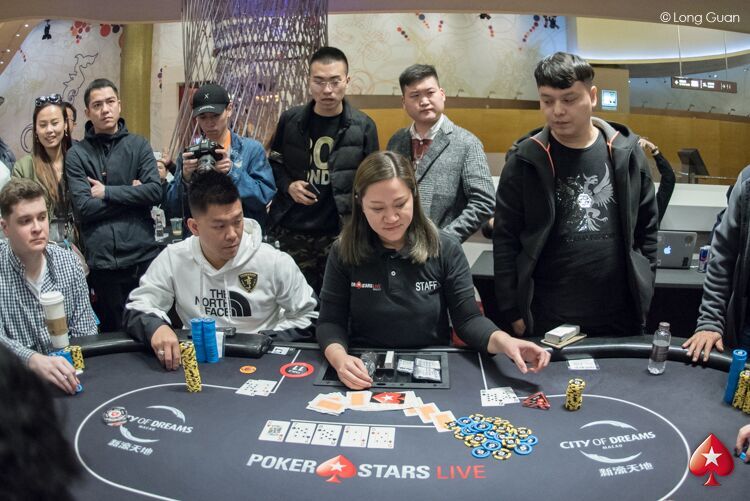 Bubble over, normal service resumed.
If the pre-bubble period was frenetic and wild, the post-bubble period has cooled off considerably. The players are going about their business quietly, though the rate of attrition hasn't slowed much. It's not as though the players are all nitting up – eliminations are still occurring with relative frequency, but the effusive responses to incidents at the table have been replaced by more muted reactions as players bust/ double and inflict beats.
We're down to 91 players – meaning everyone is guaranteed HK$35,000 but they are getting ever closer to considering winning that HK$3,055,000 first place prize, along with that US$30,000 Platinum Pass, a realistic prospect. –RS
8:55pm: Fresh chip counts, Matt Moss soaring
Level 18: Blinds 4,000/8,000 (ante 1,000)
We're definitely starting to see some monstrous chip stacks as a select group of players are distancing themselves from the rest of the field.
Here's a rough look at some of the biggest stacks midway through Level 18:
| Name | Chip count |
| --- | --- |
| Matt Moss | 785000 |
| Yugan Wang | 745000 |
| Qixin Wu | 710000 |
| Li Tao | 640000 |
| Ying Tang | 580000 |
| Gang Wang | 452000 |
| Cangheng Ni | 428000 |
| Ian Modder | 380000 |
9:02pm: Sweet river curtails swan song
Level 18: Blinds 4,000/8,000 (ante 1,000)
Liang Song looked likely to be one of the numerous casualties we have seen since the bubble burst. He had shoved for 150,000 over an open to 16,000 – only for his opponent to make a count, mull it over, then call with J♠J♣.
Song was crestfallen. His pocket fives were a huge dog and elimination beckoned.
10♦9♥10♣3♥…so far so good for his opponent.
Then….BOOM….the 5♠ binked in on the river. The table gasped and chattered excitedly at this rivered set. Song was upbeat. His opponent banged the table in frustration and shook his head. So unfair he was likely thinking.
Song couldn't care less, he was alive and up to 320,000… –RS
8:39pm: Aditya Agarwal show cancelled
Level 18: Blinds 4,000/8,000 (ante 1,000)
There's a good chance Team PokerStars Pro Aditya Agarwal has shoved more times in the last hour of play than anyone else in the tournament but he's finally found his way to the rail.
Agarwal was crippled in a hand where he shoved for his 62,000-chip stack with K♣Q♠ from mid position and got called by an even shorter stack player in the cutoff with A♠J♥.
The board didn't do anything for Agarwal as it came A♦6♥2♣8♥4♣ to double up the other player.
Agarwal was left with just 14,000 chips and shoved on his very next hand. Agarwal got looked up by Yuya Koga in the big blind.
The Indian pro was surprisingly in the lead with K♥J♠ to Koga's 8♠3♠.
Unfortunately for Agarwal the board came 10♠7♦3♥5♦10♥ and that spelled the end of his tournament.
On the bright side Agarwal did pick up a min-cash of HK$29,500 so his efforts weren't completely for not. That's it for Team PokerStars Pro in this tournament, though. –AC
8:30pm: Agarwal doubles up thanks to beautiful river
Level 17: Blinds 3,000/6,000 (ante 1,000)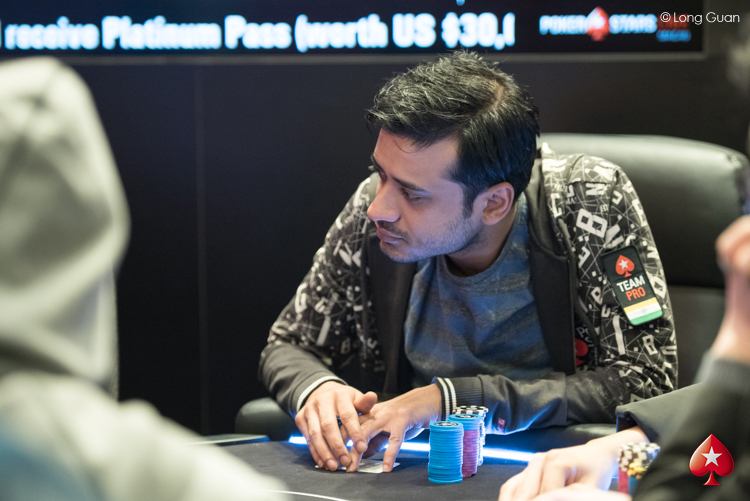 Aditya Agarwal
We told you Aditya Agarwal would have to act fast if he wanted to continue in this one and that's just what he did.
Agarwal open shoved for his last 29,000 from middle position and an opponent on the button raised to 80,000 presumably to isolate.
The blinds got out of the way and Agarwal showed A♥6♦ to his opponent's 7♦7♠
The flop came 10♠9♣8♦ and Agarwal was in some trouble but he did pick up some outs for the straight. The Indian contingent cheering on Agarwal, including tablemate Chiraag Patel, starting shouting for a seven.
The turn was the 3♦, which changed nothing. Agarwal's friends amped up their cheering for a seven.
The river came straight from the poker gods themselves, however, with the 7♥, which prompted some exuberant celebration from Agarwal's side.
The dealer didn't quite see the straight at first and started shipping the pot away from Agarwal.
"Hey, hey, hey," interrupted Agarwal.
"Set," said the dealer.
"Straight," explained Agarwal.
The dealer realized her mistake and shipped the pot to the PokerStars pro. Agarwal was good natured about the mistake and happily counted his new 74,000 chip stack. –AC
8:25pm: Players flood out into the Macau nighttime
Level 17: Blinds 3,000/6,000 (ante 1,000)
If you thought players were busting quickly pre-bubble, watch them go post-bubble. The colourful streets of Macau will be awash with players with money to spend.
8:15pm: Bubble bursts, everyone in the money
Level 17: Blinds 3,000/6,000 (ante 1,000)
As we expected the bubble didn't last long. In the end it took just three hands for a player to bust in that disastrous, and financially unrewarded 136th place.
Hongshuai Wang became that man when his pocket tens failed to get him a much-needed double up.
Team PokerStars Pro Aditya Agarwal actually lost a key hand on the bubble when his shove with K♦10♦ didn't get past countryman Chiraag Patel who had K♣Q♣.
"Will this show up in the Indian coverage?" joked Patel.
The board came A♣6♥2♠7♣5♠ to double up Patel. Agarwal will need a double ASAP if he wants to continue in this one because he's down to just 25,000 chips.
8:10pm: Bubble Mania
Level 16: Blinds 3,000/6,000 (ante 1,000)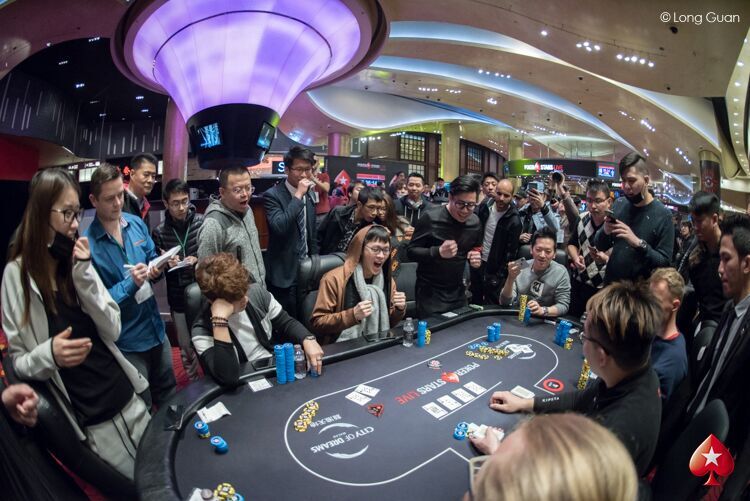 Wang roots against himself on the bubble!
The bubble in Macau is not like any bubble you might have seen before. Most tournaments see players clam up on the bubble, desperate to make the money.
Not so Macau. The rate of gambling has hardly slowed, possibly even increased. The denizens of the Red Dragon tournament love the action so much, the highly charged atmosphere just crackles with energy around inflection points like this.
It's crazy but highly endearing. On the pure bubble, we saw Jeho Lee raise from the cut-off to 13,000, Gang Wang re-pop to 38,000 from the small blind, shove from Lee – for around 181k- and a final quick call by Wang.
With hand for hand in progress they had to wait an agonising few minutes for showdown until the TD could arrive to announce the hand. On their backs and it was 10♥10♠ for Lee and K♣K♠ for Wang.
Wang was the man all-in. He looked relatively safe on the flop as it came K♥9♥3♠ to give him top set – the nuts. "Backdoor Flush!" shouted an excited tablemate and indeed the 8♥ turned to threaten this. Wang however looked even more excited that he now had a sweat to survive, roaring with passion at the dangerous turn card.
"Heart!" Wang yelled, though it wasn't clear whether he was calling for one or warding one off…
The river bricked though, Wang was safe. He almost looked disappointed! THe upshot was that he was up to 380,000, Lee was down to 40,000 and the bubble was still in effect! –RS
7:50pm: Hand-for-hand commences, money looms
Level 16: Blinds 2,500/5,000 (ante 500)
The field simply has no chill today and the eliminations have been flying since the very beginning and showing no signs of slowing down any time soon.
We're officially down 136 players, which means we're one off the money and officially on the bubble.
You know the drill: the next player to bust walks away with nothing while everyone else gets their buy-in back and then some. High pressure to say the least.
Knowing today's field we don't think the bubble will last long but let's not jinx ourselves. –AC
7:35pm: Break it up folks
Level 16: Blinds 2,500/5,000 (ante 500)
WIth the payout spots looming into view, the players can take a break from the stress of the tables with a 15 minute hiatus as level 16 is completed.
We'll be back at the felt for level 17, ready to see who cashes and who narrowly misses out –RS
7:12pm: Mike Takayama vs. Siyou Cao Part II
Level 16: Blinds 2,500/5,000 (ante 500)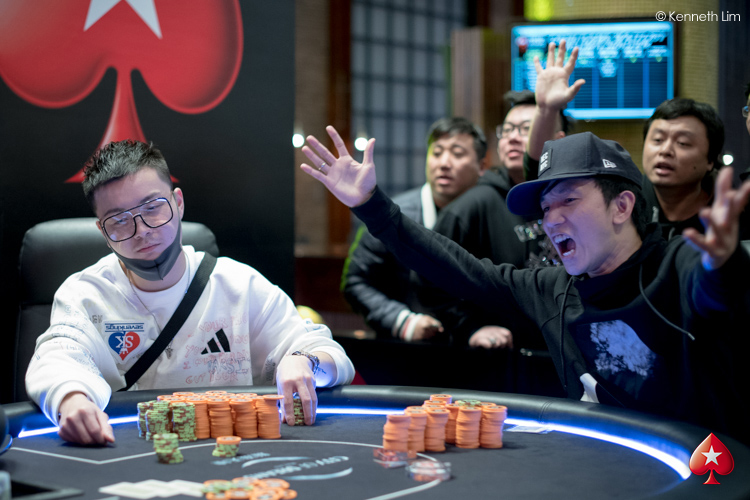 Siyou Cao and Mike Takayma heads-up earlier this week.
There's a fun table draw over at Table 17 with Baby Dragon final table warriors Mike Takayama and Siyou Cao getting reacquainted.
Earlier this week Cao defeated Takayama heads-up in the Baby Dragon to take down HK$1.2m and a $30,000 USD Platinum pass to the 2019 PokerStars Players Championship.
Takayama had to settle for a still respectable HK$743,00 but missing out on that Platinum Package must have stung at least a little. Today both players are fairly short with Takayama holding a slight advantage with 89,000 chips to Cao's 58,000.
There's a pretty good chance Takayama and Cao would be more than happy to battle it out heads-up in this one as well. –AC
7:05pm: Bubble Time!
Level 16: Blinds 2,500/5,000 (ante 500)
That tense period every tournament reaches has arrived. Shortstacks' nails are in danger of being bitten off and large stacks can attack with virtual impunity, given their near invulnerability to ICM considerations.
A nervous time lies ahead for a few of these guys but given what we've seen so far and the players' propensity to gamble, we doubt this will be one of the longer bubble periods we've encountered. –RS
7pm: The Big Lebowskis
Level 16: Blinds 2,500/5,000 (ante 500)
As we approach the end of level 16, here's some of the bigger stacks around the room.
Matt Moss has emulated his performance yesterday, accumulating chips with great efficiency to reach over half a million though Wu Qi Xin has him just eclipsed with his own monster stack.
We included Henrik Tollefsen's count for some of his fans out there. He's battling hard to join these chip crushers! –RS
| Name | Stack |
| --- | --- |
| Wu Qi Xin | 545,000 |
| Matt Moss | 530,000 |
| Xiao Xing Li | 380,000 |
| Yu Zhang | 300,000 |
| Ian Modder | 280,000 |
| Yi Fan Zheng | 265,000 |
| Henrik Tollefsen | 88,000 |
6:50pm: Kun Wang sings his last Song
Level 16: Blinds 2,500/5,000 (ante 500)
Kun Wang found a big pair, got his 70,000 chips in but couldn't hold versus Yu Song's big slick.
Song opened to 12,000 from middle position and made a quick call after Wang made his move from the small blind.
Wang: Q♥Q♦
Song: A♥K♦
The board ran A♥J♦7♥10♠8♠ to pair Song's ace. She moved up to 250,000. –MC
6:35pm: Wang soars past 400k after el classico flip
Level 16: Blinds 2,500/5,000 (ante 500)
Yugan Wang's stack has swelled to more than three times the average (410,000) after he won the most classic of flips to eliminate Jianlin Liang.
Liang was under the gun and open shipped for 65,000. Wang was in the next seat and successfully isolated Liang by moving in over the top.
Liang: A♥K♣
Wang: Q♠Q♦
The board ran 6♠J♥2♠10♣4♣ to safely see the queens home. –MC
6:12pm: Who needs a showdown? Ying Tang wins monster pot with huge river shove
Level 15: Blinds 2,000/4,000 (ante 500)
Don't mess with Ying Tang.
The Chinese player just raked in absolute monster of a pot without having to show a single card.
We joined the action on a J♦7♣3♦ flop with a heap of chips already in the middle. Jeffrey Lo, had fired a hefty 32,000 bet into the pot and Tang decided to make the call.
The dealer flipped over a 6♥ turn and both players checked. The river brought the 2♠.
Tang announced she was all-in. Her monstrous 220,000 stack dwarfed Lo's remaining 54,000, which meant that Lo's tournament life was on the line if he opted to make the call.
Lo seemed tortured by Tang's all-in play and went deep into the tank. Lo thought for several minutes and didn't seem any closer to a decision. Finally Tang asked the tournament staff for the clock.
A floorman starting counting down one minute. Lo fidgeted with his cards and flashed what appeared to be Q-J as he pondered his next move.
In the end Lo simply couldn't make the call and let the clock expire, which meant his hand was dead.
Yang threw her cards facedown into the muck and collected the massive pot. She's now up to 380,000 and one of the early chip leaders on the day. –AC
6:05pm: Risers and Fallers
Level 16: Blinds 2,500/5,000 (ante 500)
Tournament poker is a zero sum game. Every chip gained comes at the expense of a chip in someone else's stack. It's inevitable there will be winners and losers.
Falling into the latter camp currently is Takashi Miyamoto, who just had his queens cracked to drop to 30,000. A small bristle of annoyance at the bad beat was the full extent of his reaction to what was a painful beat for a six figure pot.
We applaud players taking these vagaries of ill-fortune in their stride. Generosity of spirit and good-natured reactions have been a hallmark of the tournament so far and it has really helped to foster an atmosphere of fun in the casino.
In the contrasting ascendant are Hanghang Huang, who is up to 220,000 and Yu Zhang who is building some mountainous towers of chips – around 280,000 and rising when we last checked. –RS
5:37pm: Aditya Agarwal picks up some ammunition
Level 15: Blinds 2,000/4,000 (ante 500)
Team PokerStars Pro Aditya Agarwal is trending the right way as we enter Level 15 here on Day 2 of the Red Dragon.
In a recent hand Yuya Konga made a standard pre-flop bet of 8,500 and Agarwal decided to made the call from the big blind.
The flop came A♦K♣6♦ and Agarwal checked but Konga made a continuation bet of 10,000.
Agarwal calmly tossed in two yellow 5,000 chips for the call and that brought the 5♦ turn. Both players checked the dealer put up a K♥ river.
The Indian pro moved all-in for 47,000 and Konga looked slightly pained by the play. He pondered his decision over the next couple minutes but eventually decided to muck his hand, flashing the A♠.
Agarwal just smiled and threw his cards into the muck as he raked in the sizable pot. Agarwal is up to over 70,00 and everyone at the table has to be at least slightly nervous at the prospect a big-stacked Team PokerStars Pro. –AC
5:25pm: Once more unto the breach
Level 15: Blinds 2,000/4,000 (ante 500)
The players are back in action after stretching their legs – fighting for poker supremacy once more.
A quick note as we neglected to mention this earlier but the levels have been extended for Day 2 to one hour, giving players that extra bit of breathing room to enact their chip-garnering strategies. –RS
5:02pm: Chip Counts at the break
Level 14: Blinds 1,500/3,000 (ante 400)
The first two levels of the day are complete and here's news of some of the bigger stacks from the 225-strong contingent still contesting the Red Dragon -overnight chip leader Ian Modder still well in contention but Yi Fan Zheng heading the field as the players leave for their 15 minute sabbatical. –RS
| Name | Stack |
| --- | --- |
| Yi Fan Zheng | 310,000 |
| Ian Modder | 290,000 |
| Sixiao Li | 280,000 |
| Unidentified! | 270,000 |
| Yai Fai Wu | 200,000 |
| Li Tao | 185,000 |
| Qi Luo | 180,000 |
| Xiaohua Fu | 175,000 |
4:50pm: Baby Dragon slayer now hunting bigger prey
Level 14: Blinds 1,500/3,000 (ante 400)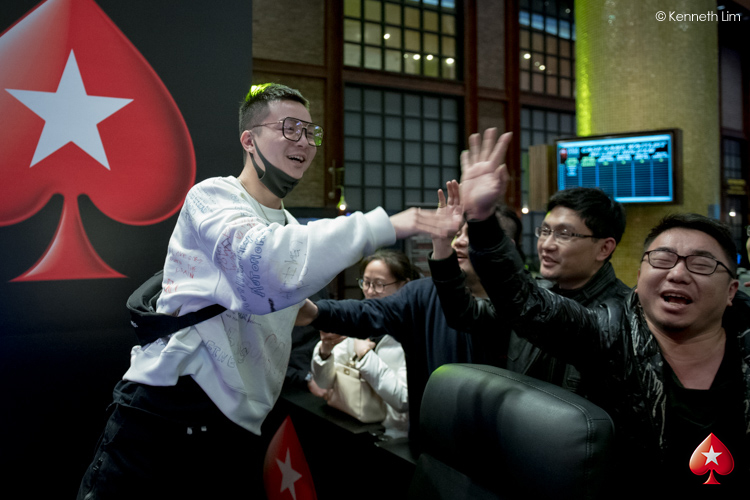 Dragon slayer Siyou Cao
So what happens if a player wins two $30,000 Platinum Packages to the 2019 PokerStars Players Championship?
OK, so that's not exactly likely to happen but Baby Dragon winner Siyou Cao is in the field today with a decent stack of 51,500.
Cao locked up a $30,000 Platinum Package earlier this week by winning the Baby Dragon for HK$1.2 million.
The Chinese player initially thought the package was worth HK$30,000 when in reality it's worth the equivalent of HK$234,000. Not a bad realization.
Of course each Platinum Package includes a $25,000 buy-in to the first-ever PokerStars Players Championship in the Bahamas in 2017, which is already assured to the biggest $25,000 buy-in in poker history.
Winning two seats seems inconceivable but we're sure that Cao is certainly doing his best to give it a shot.
It's an interesting quandary because that money is going into the prize pool and the packages are non-transferable. We'll do a little research and get back to you on that unlikely outcome. –AC
4:35pm: Scott Davies succumbs to the rail
Level 14: Blinds 1,500/3,000 (ante 400)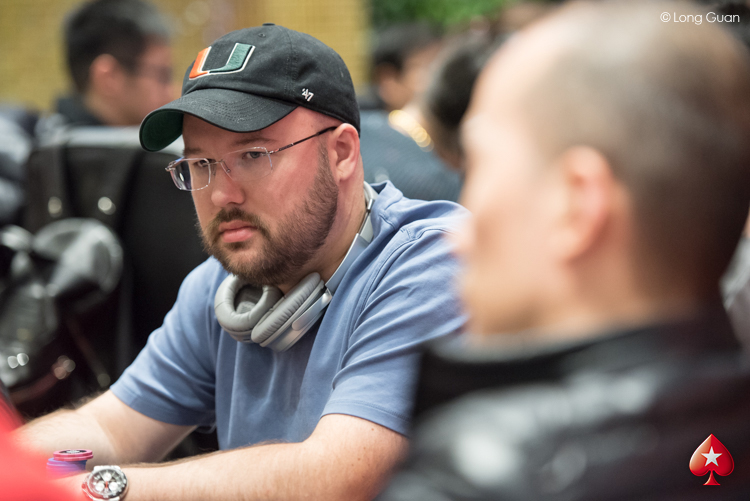 Scott Davies
2014 WSOP APAC Main Event winner Scott Davies has reached the end of his tournament.
Davies entered Day 2 with an average stack but couldn't get past the rising blinds after losing a small pot early.
The American shoved with K-Q only to get looked up with A-Q. The board didn't do Davies any favors and he's out of the tournament. It's been a frustrating start to the year for Davies who's managed to bag chips on six different occasions but has yet to make the money.
Hopefully he's just saving all the run-good to take down the next event he plays. –AC
4:35pm: In the eye of the storm
Level 14: Blinds 1,500/3,000 (ante 400)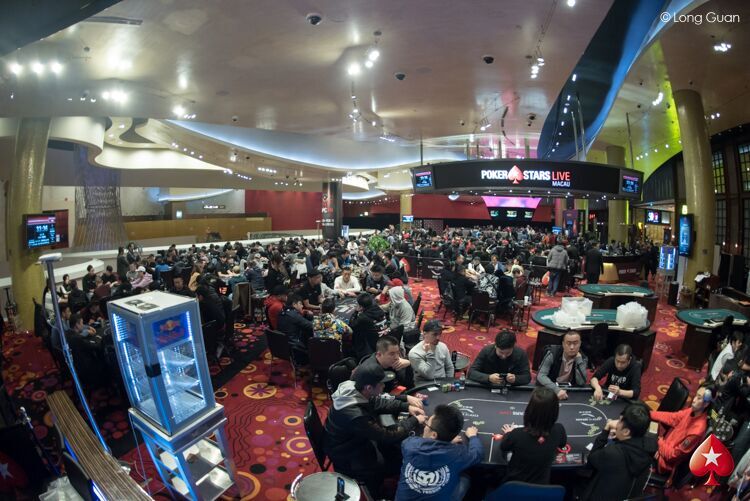 Dreams being crushed and born here in Macau.
We anticipated some early action, but we couldn't have expected the brutal attrition that has taken place so far – over 100 players flung from contention in just over an hour.
Of the 366 started and just 261 remain. Incredible action. –RS
4:20pm: Phang's for the memories
Level 14: Blinds 1,500/3,000 (ante 400)
Shaun Phang is one of the day's early fallers. We caught him leaving the table just as the dealer was clearing up the board. It looked like Phang's shortstacked shove with pocket kings had not worked out well – his opponent taking him on with A-Q and finding a post-flop ace to send Phang on his way. –RS
4:05pm: Slick Chen crafts huge double
Level 13: Blinds 1,000/2,000 (ante 300)
You can't win a poker tournament without pulling a move or two. It takes bravery to pull the trigger on a big bluff and Hibiki Taniguchi showed the heart to do just that moments ago.
The hand opened with a limp from Yeyu Chen before namesake Jing Chen popped it up to 6,000 from middle position. Hibiki Taniguchi now cold four bet from the blinds to 17,000.
Yeyu Chen vacillated for some time at this apparent show of strength – counting and re-counting his stack – before electing to call. Jing threw her hand away.
Heads-up now, the board fell K♣3♦2♠ – Chen checked and only a few seconds passed before Taniguchi moved all-in (for Chen's effective 60,000 stack). Quick call from Chen who tabled an unorthodoxly played A♣K♦ for top pair, top kicker whilst Taniguchi could only table J♠8♦ with just a few strands of backdoor equity to cling to.
Any lingering hope was extinguished on the brick turn and Taniguchi was left passing over 58,800 to his opponent – his own stack reduced to 85,000. Chen meanwhile wore the smile of the proverbial Cheshire cat as he stacked up his newly-won 130,000 chips. –RS
3:55pm: Terrence Wu walks
Level 14: Blinds 1,500/3,000 (ante 400)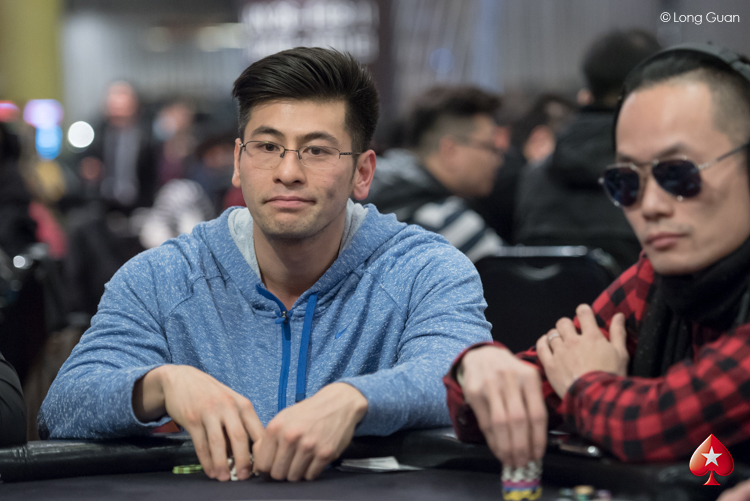 Terrence Wu
It appears that Hong Kong fitness model Terrence Wu won't be making a repeat trip to the Red Dragon final table.
Wu entered the day short and we just walked by his table and noticed his absence. There's a chance he moved to another table but that seems unlikely considering how short his stack was.
Don't feel too bad for Wu, however, as he did finish runner-up in Red Dragon 27 for a very hefty HK$2.4m. Not bad for a first cash ever! –AC
3:44pm: Ace on the river leads to dramatic Ying Tang triple
Level 13: Blinds 1,000/2,000 (ante 300)
The relative quiet of the poker room in the early stages of Day 2 of the Red Dragon was just shattered by a thunderous commotion over on table 23.
We ran over to ascertain the situation and were greeted with a massive collection of cards and chips spread across the table.
It turned out that China's Ying Tang had just hit a Hail Mary river card to triple up in dramatic fashion. Here's how it all shook down:
Tang: A♠5♠
Opponent 1: J♠J♣
Opponent 2: 7♣7♠
Board: K♣10♥3♥8♥A♦
It's not every day you hit a three-outer but that's exactly what Tang managed to do on the river to triple up to 87,500.
It's been five minutes and the table is still buzzing about the hand while Tang continues to stack her chips. –AC
3:44pm: City of Dreams crushers
Level 13: Blinds 1,000/2,000 (ante 300)
Much of the attention here in Macau is on the Red Dragon tournament but there were some other notable performances worthy of focus. The HK$100,000 High Roller played to a finish yesterday and it was Xin Fan who beat his high stakes rivals to claim the title and a hefty HK$1,613,000.
Our heartiest congratulations Xin.
The full results for the final are listed below.
| Place | First Name | Last Name | Country | Result |
| --- | --- | --- | --- | --- |
| 1 | Xin | Fan | (China) | HK$1,613,000 |
| 2 | Wayne | Weiyi | (China) | HK$1,165,000 |
| 3 | Juanda | Yu | (China) | HK$742,500 |
| 4 | Gerald | Karlic | (Austria) | HK$563,000 |
| 5 | Canlin | Chen | (China) | HK$435,000 |
| 6 | Chunjie | Liu | (China) | HK$333,000 |
| 7 | John | Man Ho So | (Hong Kong) | HK$269,000 |
Another champion crowned yesterday was Japan's Hiroyuki Noda, who defeated France's Julien Rouxel heads-up to take down the HK$5,000 NLH for HK$297,500.
What started out as a fun Macau trip for both has turned into a highly profitable one. –RS
3:10pm: Aditya Agarwal scores early double up
Level 13: Blinds 1,000/2,000 (ante 300)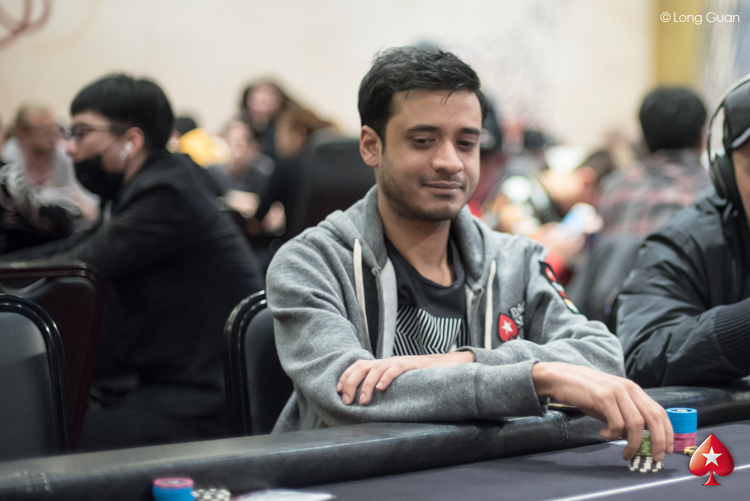 Aditya Agarwal
The tournament isn't over for Team PokerStars Pro.
The team's lone surviving player — Indian's Aditya Agarwal — just scored a pivotal double up in the early stages of Day 2
Agarwal was facing an all-in push from his opponent, who had around 40,000, and decided to call for his last 20,000ish. Agarwal showed A♥8♥ to his opponent's Q♦8♦.
The board quickly ran out 10♣7♣5♣2♥3♦ to give Agarwal the big double up. After the hand Agarwal was still short with about 52,000 but now has a little more to work with here on Day 2. –AC
3:23pm: Early Double for Wang
Level 13: Blinds 1,2000/2,000 (ante 400)
Yinzi Wang has had an auspicious start to the day – shoving for her 47,300 stack and picking up a call from Pei Yu Lai. Her pocket nines were up against A♠Q♣ and a board of 5♠4♦3♥7♠K♥ saw her swerve the overcards that would have snatched the 100,000 stack from her hands.
Instead, she marches onward re-invigorated and Lai drops to 55,000. — RS
The Red Dragon soars onward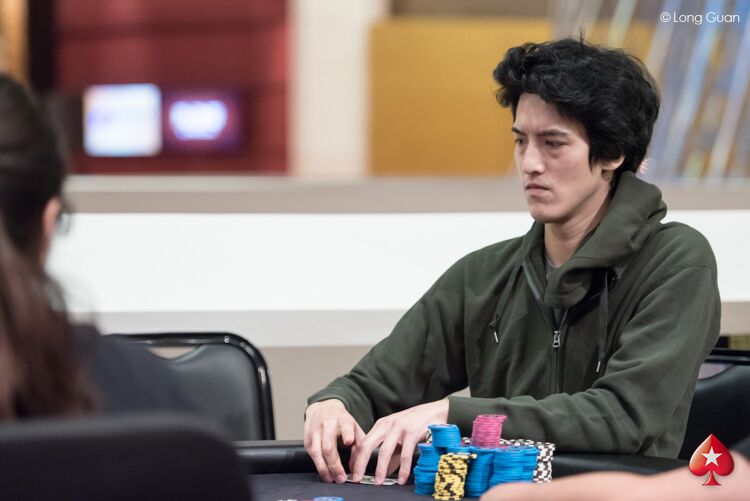 Ian Modder has his sights on Dragon glory.
Welcome back to PokerStars LIVE at the City of Dreams, Macau as we prepare for Day 2 of the MPC28 Red Dragon. It's been a hive of activity at the casino since the MPC28 started and the arrival of the Red Dragon tournament – the largest Asian freezeout poker tournament – has only added to the infectious buzz pervading the spacious card room.
Over the first three days we've seen 1,122 players buy in to the HK$13,500 + HK$1,500 tournament, a throng that saw the HK$10,000,000 guarantee comfortably surpassed as the prize pool rose inexorably to a splendid HK$14,692,590.
With first place receiving HK$3,055,000, incorporating a $100,000 ACOP Main Event seat, as well as that added Platinum Pass PokerStars are throwing on top of the pile of cash worth US$30,000, the players have every incentive to produce their A game and look to take down this mighty Dragon.
Leading the charge is Ian Modder, who worked his starting stack into a mammoth 250,300 by the close of play. He shouldn't rest on his laurels however – with 366 players left in contention there is some way to go, and he is unlikely to have it all his own way.
There's everything to play for and we're excited to see how the day unfolds. Let's get this Dragon started! –RS
PokerStars Blog reporting team at the MPC: Marc Convey, Arthur Crowson and Rod Stirzaker. Photography by Long Guan of Kenneth Lim Photography. Videos by Alex Pinkett and James Beer of 23 Digital