What a day! Two Main Event flights, over 650 entries and the biggest ever PokerStars Main Event in Marbella. When late-registration closed they'd been a total of 1,027 entries across the three starting flights.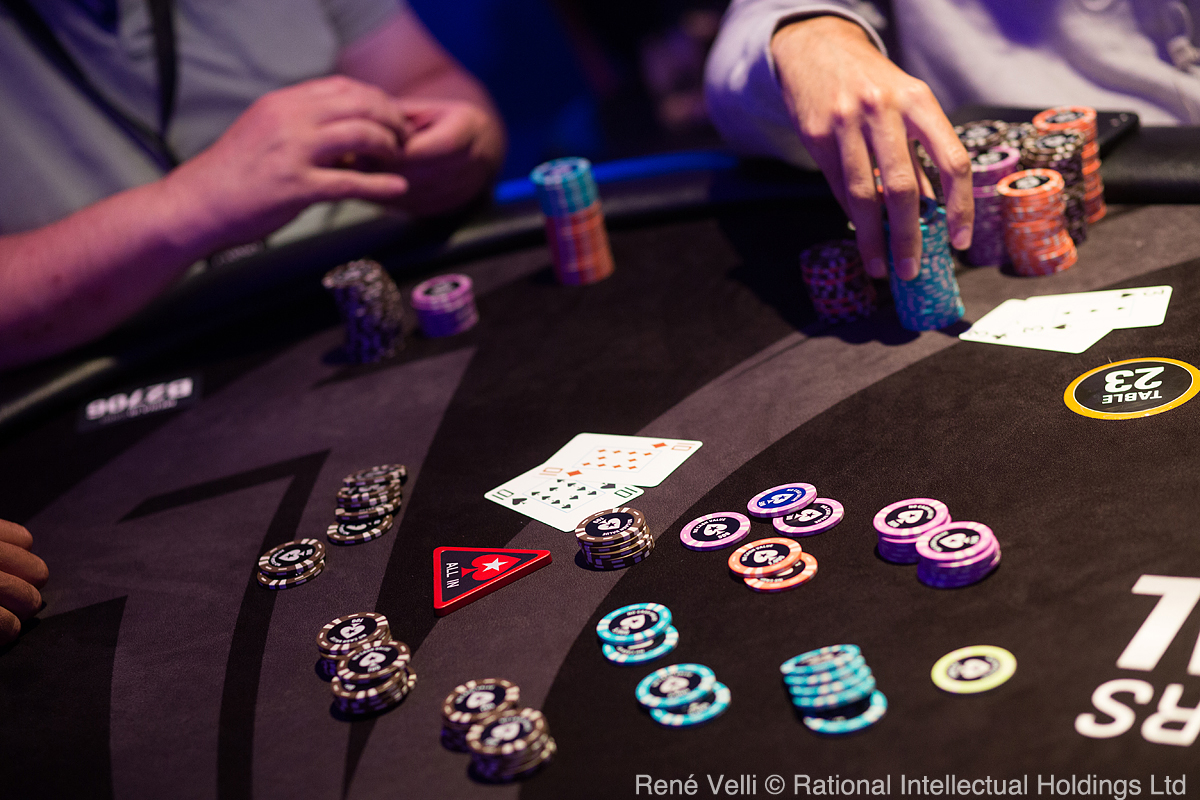 There was plenty of action on Day 1B
Each day one flight played down to 15% of the field and the 152 players who return tomorrow at noon have all locked up a min-cash of €1,730. However, Endrit Geci will have his eyes fixed skyward towards the upper echelons of the payouts (we'll publish the full payout structure before play begins tomorrow). The UK player topped Day 1B with 941,000 and leads all the players who've advanced to Day 2.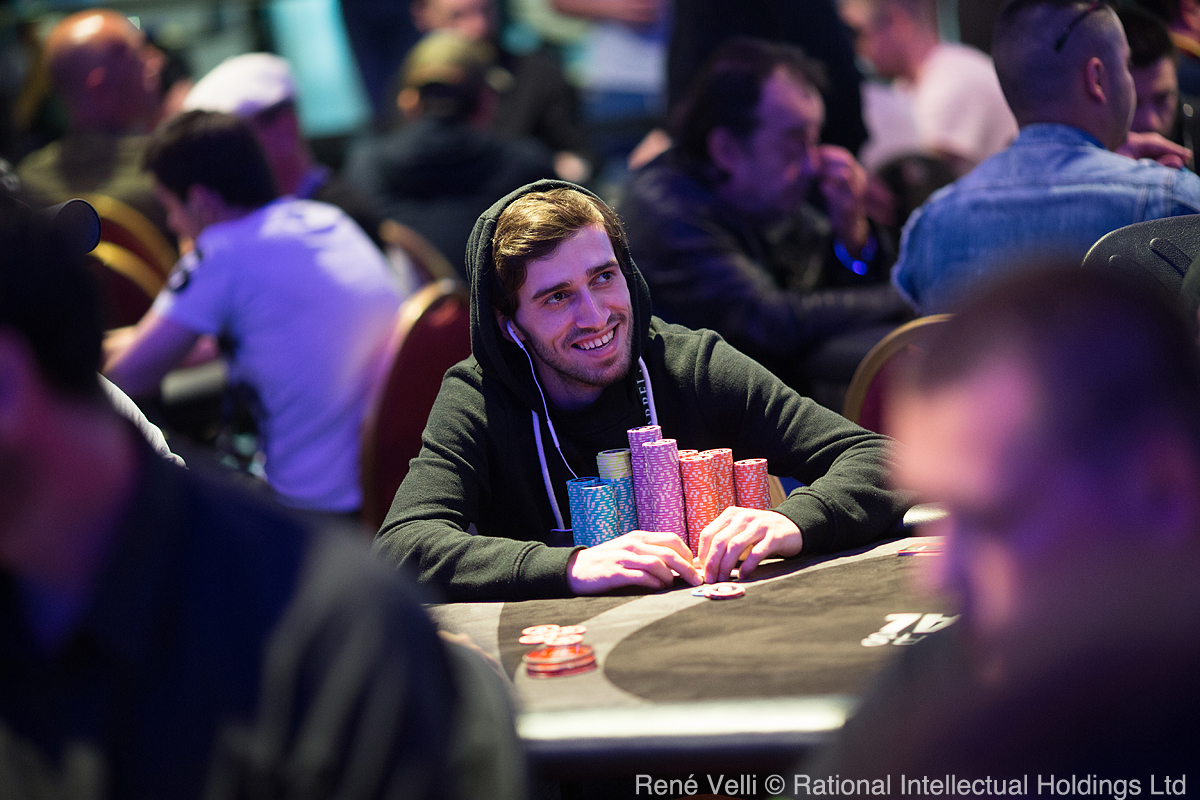 Endrit Geci
There were 76 survivors from the 507 Day 1B entrants and joining him in the mix tomorrow will be: Sander van Wesemael (322,500), Paul Berende (105,500), Jonathan Schuman (105,000), Piera Cools (455,000), Steinar Geil (427,500), Mindaugas Kriauciunas (468,500), Paul Van Oort (498,000), , Ivaylo Panev (569,000), Nicholas Galtos (77,000) and Isabel Boyle (189,500) to name just a few.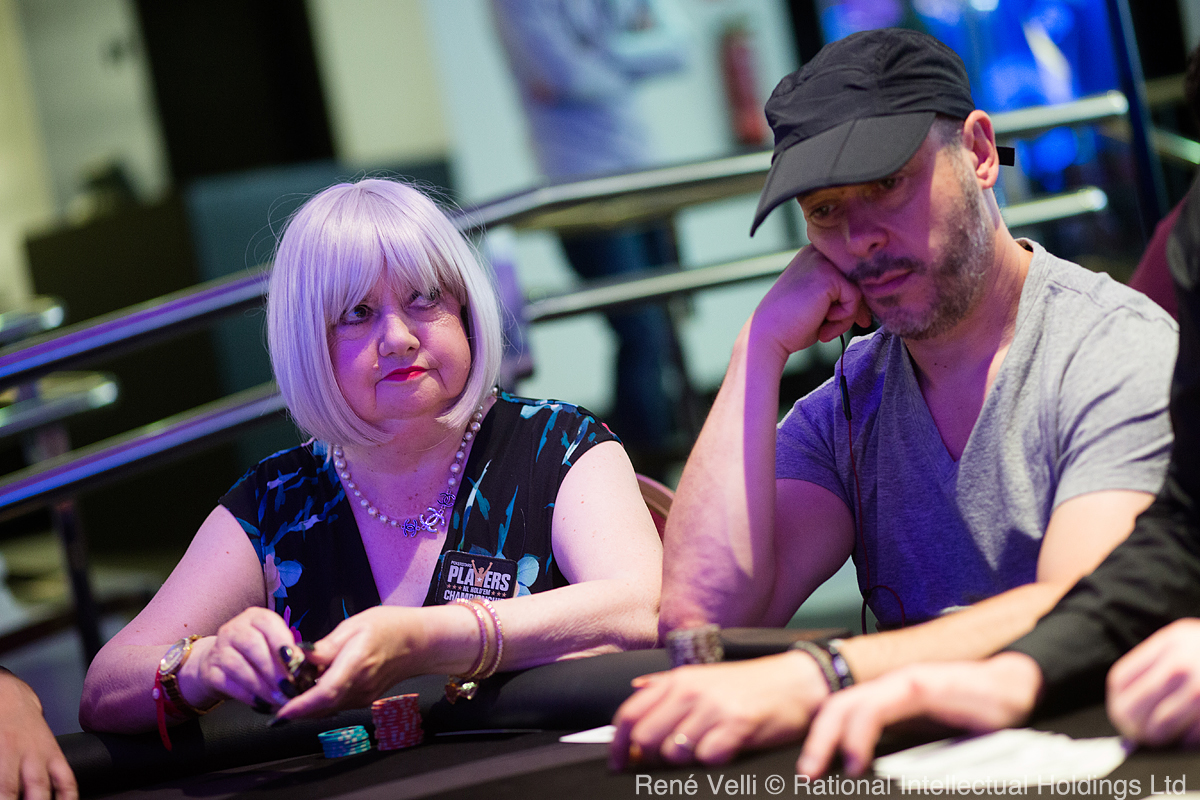 Isabel Boyle and Jonathan Schuman
Sadly for players to build a stack, others have to lose theirs. It was a bad day at the office for Fatima Moreira de Melo, Leo Margets, 'Big Race' winner Chris Hopgood, Orpen Kisacikoglu, Sam Grafton and Diogo Veiga. We may well see some of them in the High Roller, which begins at 4pm.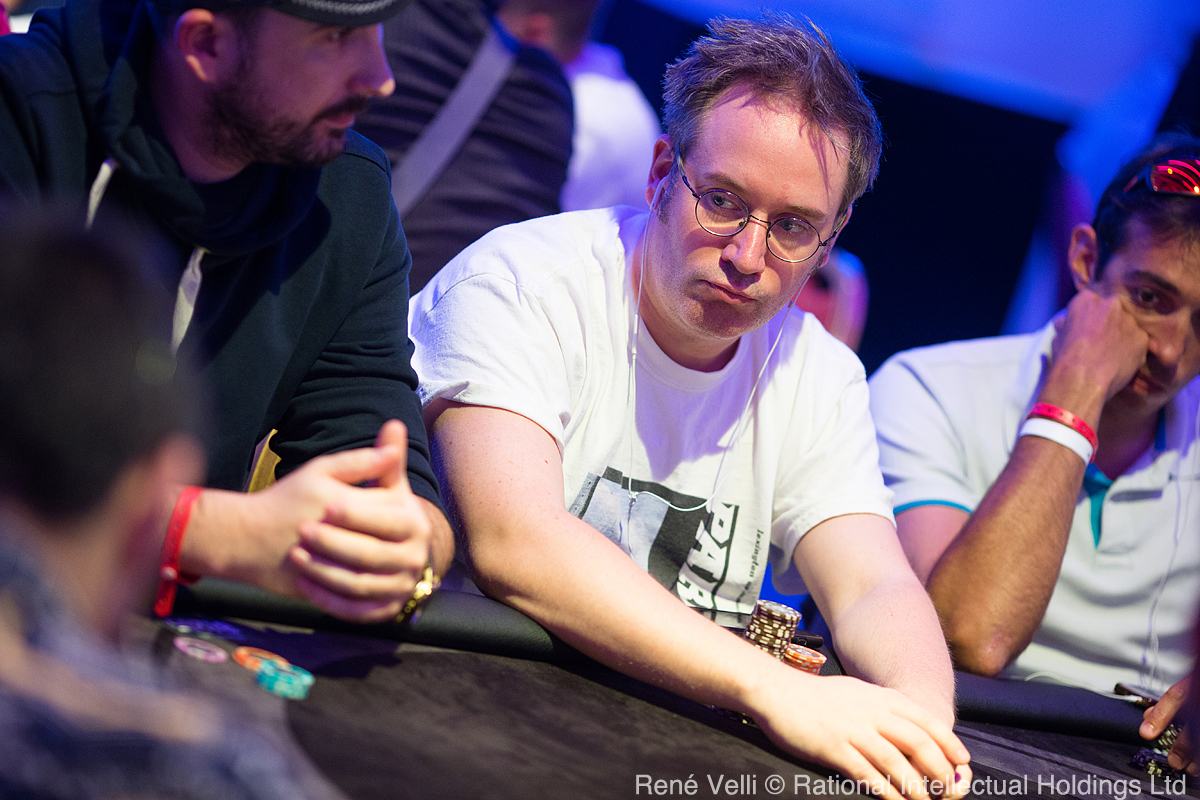 Grafton, back for the High Roller?
The Main Event restarts at noon, keep an eye on the PokerStars Blog here and on Twitter, for the Day 2 seat draw and chip counts. –NW
---
LIVE COVERAGE ARCHIVE
• DAY 1B PLAYERS: 76 of 507 (426 uniques + 81 re-entries)
• ALL POKERSTARS FESTIVAL MARBELLA INFO | TOURNAMENT SCHEDULE
• DAY 1A SURVIVORS
• DOWNLOAD POKERSTARS
• Follow @PokerStarsBlog on Twitter
---
2:06am: Simaitis Gintaras bubbles Day 1B of the PokerStars Festival Main Event
Level 18 – Blinds 4,000/8,000 (BB ante 8,000)
Bubbling a tournament is brutal enough, but when you get it in good it hurst even more. That's a pain that Simaitis Gintaras is experiencing right now as he got his final 42,000 in good with A-Q and was up against the A♠6♥ of Pasquale Braco. The 7♠2♣9♥6♠K♣ board favoured Braco though and Gintaras was the last to leave empty handed.
Play is now done for the day and a wrap of proceedings is on the way. –NW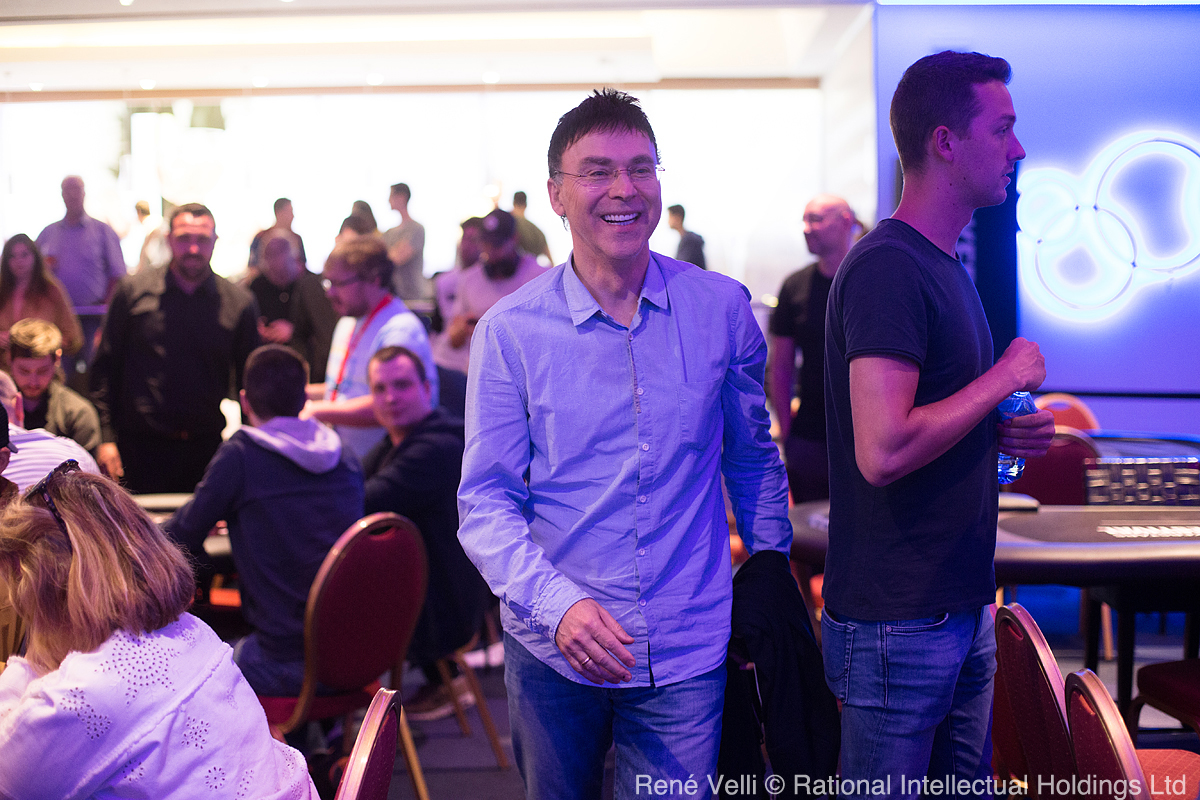 Simaitis Gintaras – all smiles, despite bubbling
1:56am: Stop! Bubble time
Level 18 – Blinds 4,000/8,000 (BB ante 8,000)
It's bubble time! Francois Robert has just hit the rail in 78th place. 77 players are left. –NW
1:55am: Down to 78
Level 18 – Blinds 4,000/8,000 (BB ante 8,000)
Andrey Vlasenko and Michal Wilczynski are the two latest eliminations, we're down to 78 players and 76 make the money. –NW
1:50am: Things get a bit more formulaic
Level 18 – Blinds 4,000/8,000 (BB ante 8,000)
There is now a 24 big blind average and with only a few to go, a couple of patterns have emerged, as is often the case at this crucial stage of a tournament.
First off, the shorter stacks slow down right down. And second, the big stacks apply pressure. Ivalo Panev was doing just that, as he is sat with approximately 530,000 and he has been seen wielding it very effectively of late. –LY
1:45am: Double bubble
Level 18 – Blinds 4,000/8,000 (BB ante 8,000)
Flight Day 1C is also near the bubble, 27 players are left in that one and 24 make the money. We're going to stick with Day 1B though as that's the flight we've been covering throughout. –NW
1:35am: The bubble looms
Level 17 – Blinds 3,000/6,000 (BB ante 6,000)
There are currently 80 players still at their seats. With just 4 more to go until the end of play tonight.
One player who has clung in there is Angel Penalver. He won a flip against Elias Chakkour, with 10♠10♥ versus Chakkour's A♣Q♠.
It was not looking good though when Chakkour connected with the 7♣3♥A♦ flop but after a bricky 9♠ turn, he was granted a lifeline on the 10♣ river. This puts Penalver up to 86,500. –LY
1:30am: Galtos doubles, Berende triples
Level 17 – Blinds 3,000/6,000 (BB ante 6,000)
After a raise to 13,000 from, Cesar Del Pino, Nick Galtos three-bet all-in for 38,500. It folded back to Del Pino and he made the call. Galtos turned over pocket kings and was ahed of Del Pino's pocket threes. That's the way it stayed on a 9♦J♣J♥4♠6♣ board.
Whilst Galtos was doubling Paul Berende was tripling up…
1:25am: Gone
Level 17 – Blinds 3,000/6,000 (BB ante 6,000)
Bad new for fans of Ander Belandia Martin, Alessio Felice Casiraghi, John Mooney, Jorge Colas Vaquero, Jacobo Madrugan Saura, Noyel Ersay, Gediminas Dirmantas and Kim Christophe Amanton. They've all fallen just short of the money. 83 players remain. –NW
1:20am: Turbo talk
Level 17 – Blinds 3,000/6,000 (BB ante 6,000)
Which Day 1 flight will finish first? They're 13 off the money in the Day 1C turbo event, the magic number for the players in that flight is 24. Play will stop when 24 players remain. –NW
1:05am: Unchartered territory
Level 17 – Blinds 3,000/6,000 (BB ante 6,000)
We have reached Level 17, which is the level beyond the one that play paused in Day 1A yesterday. There are currently 85 still in, so when 9 more have gone, the remaining players will make Day 2 and will all have guaranteed themselves at least a min cash. –LY
1am: Stacks
Level 16 – Blinds 2,500/5,000 (BB ante 5,000)
A few counts from around the room…
Sander van Wesemael – 200,000
Jonathan Schuman – 120,000
Paul Berende – 85,000
Endrit Geci – 345,000
Michael Sklenicka – 165,000
Isabel Boyle – 205,000
Bela Toth – 360,000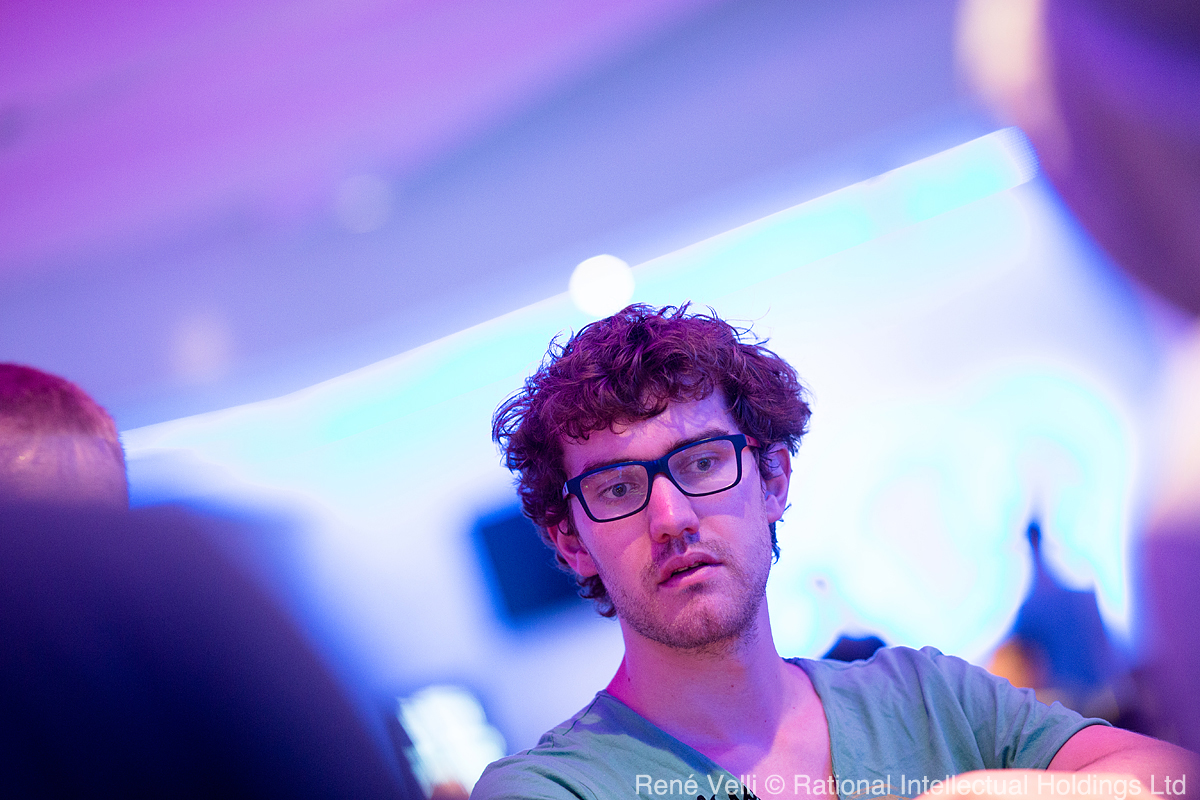 Sander van Wesemael
12:55m: Van Oort and Amanton clash
Level 16 – Blinds 2,500/5,000 (BB ante 5,000)
Bo Rumdstrom started things off with a 12,500 open and was flatted by Kim Amanton, Michael Winkels and Pall Van Oort, in that order.
10♠5♠7♠
There were spades all over the flop and after Rumdstrom checked, Amanton bet 25,000. This pushed off Winkels and Rumdstrom but not Van Oort, who called.
It was a fourth spade on the Q♠ turn and Amanton bet 30,000 this time. Once again Van Oort peeled in position and the dealer placed a 2♣ on the river.
For the last time, Amanton bet, again for 30,000. This left him with 60,500 more. Van Oort didn't look too pleased but called all the same and it was the correct decision.
Van Oort 5♥5♣
Amanton K♥K♦
Van Oort had been ahead since the flop and he adds to his already large stack, which is now up to 363,000. –LY
12:45am: Triangles please
Level 16 – Blinds 2,500/5,000 (BB ante 5,000)
I just witnessed a three-way all-in in which no one was eliminated, that seems like a regular enough occurrence that there should be a common name for it, yet there isn't.
Anyway, Ricardo Ibañez Rodriguez was the shortest stack, he was all-in for 12,000 with a pretty looking J♠10♥. Next in chips, and in hand strength, was Michael Soltani, he had A♣8♠ and 61,000 on the line. Michal Wilczynski covered both players, but his pair of sevens had a lot of overcards to dodge.
The A♥Q♣5♣ flop put Soltani in the lead, but the 9♦ turn gave Ibañez Rodriguez more outs. The K♠ river was one of the good cards for him and he tripled up. Whilst Soltani lost the main pot, he did profit from the hand and Wilczynski is now down to 155,000. –NW
12:30am: Day 1C update
Level 15 – Blinds 2,000/4,000 (BB ante 4,000)
We've just popped down to La Cassetta to check out the latest for Day 1C. We can tell you that there are 56/158 left. We did not see Team PokerStars Pro Fatima Moreira de Melo among those remaining and so presume she has hit the rail. –LY
12:25am: When will the bubble burst?
Level 16 – Blinds 2,500/5,000 (BB ante 5,000)
Play has resumed. There are still 100 players in and play will stop when 76 remain. On Day 1A the bubble burst at the very end of Level 16, it looks unlikely to burst this level, but this is poker, so you never know!–NW
12:05am: Break time
Level 15 – Blinds 2,000/4,000 (BB ante 4,000)
That's another two hours of play down and a twenty minute recess for the 100 players remaining. –LY
12am: Three-bet shove time
Level 15 – Blinds 2,000/4,000 (BB ante 4,000)
Yes it's that time of the night. Blinds are about to go up and a break is about to begin…that means it's three-bet jam time. We are seeing it all over the room and for the most part, the end result is that the three-betters are taking it down pre.
Breaking with convention, we did spot Gregor Martini winning a flip with pocket nines versus ace-ten. He will come back from the break with 130,000 chips. –LY
11:55am: Galtos grinding it up
Level 15 – Blinds 2,000/4,000 (BB ante 4,000)
Usually Fatima Moreira de Melo is the only Olympian in a poker event, but the gold medal winning hockey player isn't alone here in Marbella. The other Olympian in the field also played hockey, but he wore skates whilst doing so. Nicholas Galtos hails from Australia, but Europe has been his home for some time. He was a professional roller-hockey player and back in 1992 it was a demonstration sport at the Barcelona Olympics. He represented Australia in that tournament and like many a former sportsman, he has found solace in poker to sate those competitive juices.
He's had a few decent results since taking up poker, including a deep run in the EPT Prague Main Event in 2012 and 2016, a 4th place finish in the Macau Poker Cup in February 2012 and an outright win in the Seniors Event at EPT13 Malta.
He's gone largely unnoticed for much of the day but he's currently playing a stack of 155,000, which is right around the average. –NW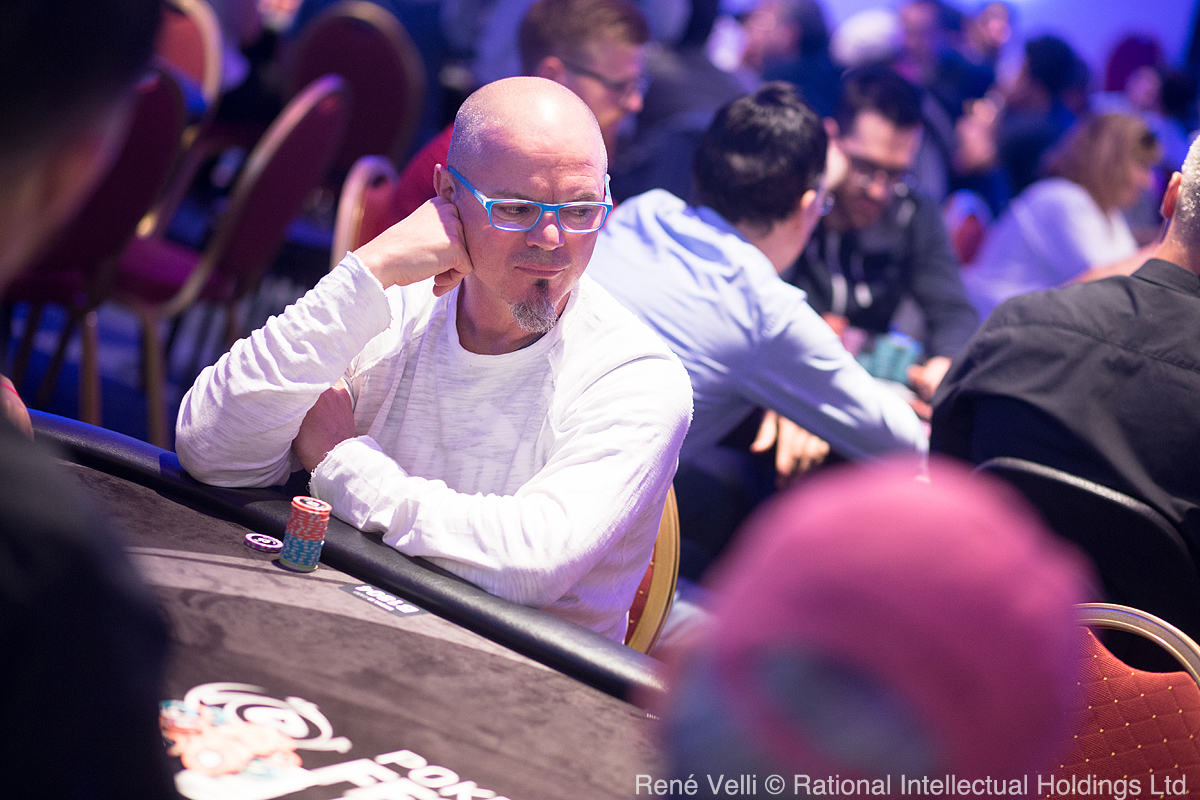 Nick Galtos
11:50pm: Bayley busts and Toth climbs to the top
Level 15 – Blinds 2,000/4,000 (BB ante 4,000)
It's the end of the road for Lawrence Bayley, who just busted in a hand against Bela Toth. Bayley shoved from middle position and it looked like he'd get it through, but Toth called from the big blind.
Bayley:Q♦10♦
Toth: A♠K♣
The 8♣A♣Q♣2♥3♣ board didn't save Bayley, with that coup Toth is up to 400,000 and is the tournament chip leader. –NW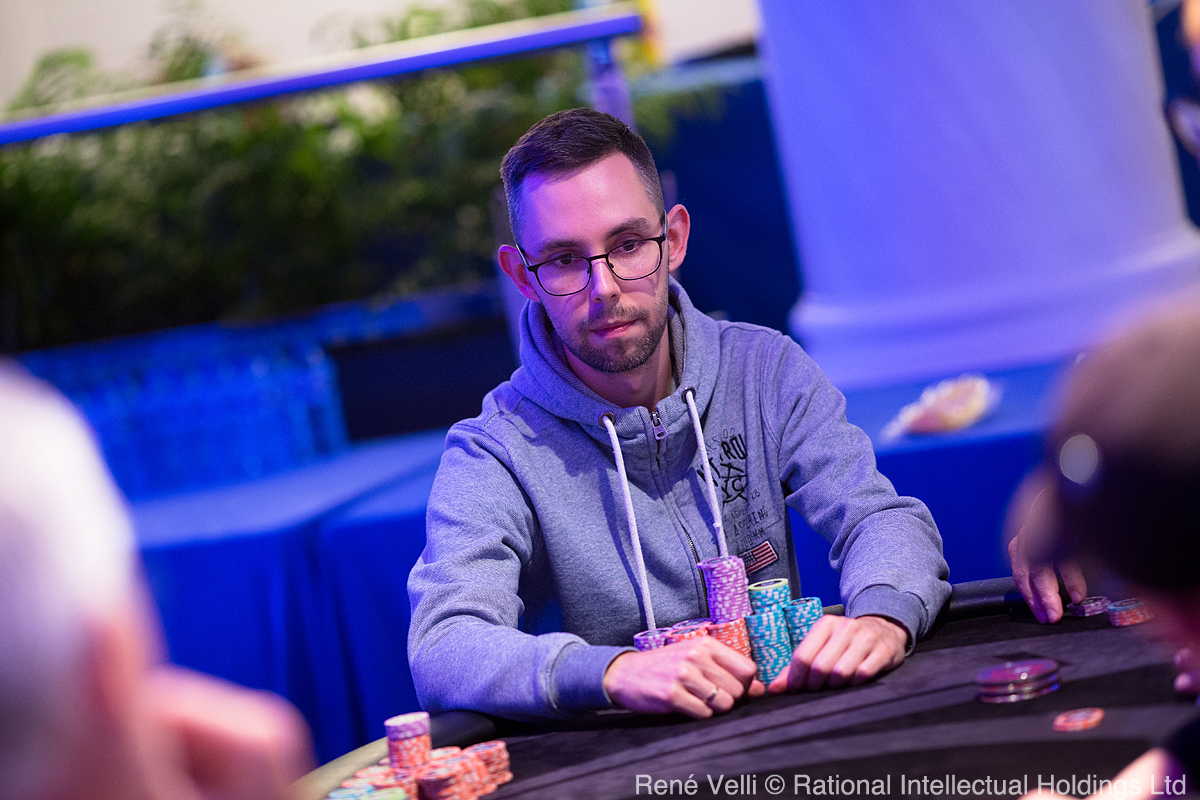 Bela Toth
11:35pm: Robert doubles through Juste
Level 15 – Blinds 2,000/4,000 (BB ante 4,000)
There have been numerous tables spotted with the 'all-in triangle' in play across the room. Many players have taken the pot down preflop but just now we watched as Jorge Juste oped to 8,000 and Francois Robert three-bet it all for a total of 71,500. There was a little deliberation before Juste made the call and they were off to the races.
Robert A♦K♦
Juste 8♣8♠
4♣Q♥9♠A♣3♠
The ace on the turn secured the pot for Robert and he'll take 153,000 forward, whilst Juste has been left with 64,000. –LY
11:30pm: The action downstairs
Level 15 – Blinds 2,000/4,000 (BB ante 4,000)
The Day 1C turbo flight is playing out in the La Caseta tournament room. They've completed 12 levels of play and just under half the field remain, 75 of 158 to be exact. –NW
11:20pm: Sklenicka doubles through Del Pino Hanouadi
Level 14 – Blinds 1,500/3,000 (BB ante 3,000)
Michael Sklenicka just found pocket rockets and got paid off versus Cesar Del Pino Hanouadi. The pot puts him up to 120,000, which is within touching distance of the average, just as blinds are about to go up. –LY
11:05pm: The field thins
Level 14 – Blinds 1,500/3,000 (BB ante 3,000)
It was about a similar time yesterday, that the number of entrants seemed to start dropping fast. Each orbit now costs 7,500, which is painful for anyone with less than 25 big blinds.
The result is that we are down to 126 left, meaning only 50 more need to go before the clock is paused and players will return for Day 2. –LY
10:45pm: Boyle brings some back
Level 13 – Blinds 1,500/2,500 (BB ante 2,500)
Despite her early lead following the quad kings hand earlier, the Main Event has somewhat stopped and started for Isabel Boyle since then.
Just now she was down to 35,500 and got it all in over a min raise with 6♦6♥. Sergei Popov, who was the inital opener , obliged with a call and turned over K♥10♥, giving the pair a good ol' fashioned coinflip.
A♠7♣4♣Q♠Q♥
With no pair for Popov, Boyle gets the double up and has about 75,000 to play with. It was a painful loss for Popov, who was left with just 11,000.
The very next hand Popov doubled to 23,000 but as the blinds go up to 1,500/3,000, he will be looking to get it in again very soon. –LY
10:30pm: You want numbers? We got numbers
Level 13 – Blinds 1,000/2,500 (BB ante 2,500)
Our indefatigable Media Co-ordinator Alex Hernando has crunched the numbers for us and we can reveal that the total number of entries in the Main Event is 1,027, which is higher than last year's 949. This is the breakdown of entries by flight:
Day 1A: 362 entries
Day 1B: 507 entries
Day 1C: 158 entries
Day 1B will play down to 76 players and Day 1C will end when there are 24 players left. –NW
10:15pm: The battle of the monsters
Level 13 – Blinds 1,500/2,500 (BB ante 2,500)
When there is more than one big pair dealt out on a table, it's not unusual to see all the chips fly into the middle and that is exactly what happened just now. The seats had barely warmed up after players returned from their dinner break, before three of them moved in preflop.
Michal Ozimek A♦A♥
Javier Mauleon K♣K♥
Ionut Voinea 10♥10♦
Ozimek was all-in versus both of his opponents and Voinea had both players covered as they went to the flop.
3♣K♠A♣
It was set over set on the flop and the aces were still way out in front. Although the Q♥ turn brought a gutshot for Voinea's pocket tens, the 4♣ river was a brick.
Ozimek won a triple up through the main pot, taking him up to 82,000, Mauleon won 58,000 through the side pot, which left Voinea with 44,000 in front. –LY
10:05pm: Chip leaders
Level 13 – Blinds 1,200/2,500 (BB ante 5,000)
During the dinner break we collated eyes on chip counts of the biggest stacks in the tournament.
Gediminas Dirmantas – 293,000
Silviu Costin Trandafir – 275,000
Manuel Ignacio Martin Ballesteros – 269,000
Antonio Damian Ibañez Muñoz – 240,000
Endrit Geci – 235,000
Aitor Roman Galvez – 215,000
Manuel Martos Exposito – 211,000
10pm: Play has restarted
Level 13 – Blinds 1,200/2,500 (BB ante 5,000)
Cards are in the air and play is back underway. –NW
8:55pm: Dinner time
Level 12 – Blinds 1,000/2,000 (BB ante 2,000)
The players are now on a 60-minute dinner break, approx 180 players remain and 76 will make the money. –NW
8:45pm: The end for Margets
Level 12 – Blinds 1,000/2,000 (BB ante 2,000)
Local star Leo Margets has reached the end of the road, at least for this flight. As we got to the table, she had moved all in for roughly 20,000 and got a call from Daniel Moran.
Margets K♦9♦
Moran A♥10♦
The dealer laid out A♣7♥J♦ and Moran's lead increased, leaving Margets with only running cards to stay in the tourney. The 2♥ locked it up for Moran and the 10♥ river was irrelevant. –LY
8:35pm: Meanwhile in the turbo…
Level 12 – Blinds 1,000/2,000 (BB ante 2,000)
The Day 1C turbo flight is into level six and there are 125 players who've entered. A quick look around the field revealed that Fatima Moreira de Melo, Marc Radgen and Diogo Veiga are all taking another shot at the Main Event. Veiga was flying high with a stack of 170,000+ earlier on Day 1B but he came out on the wrong side of a set over set situation in a huge pot. –NW
8:20pm: Big slick sweat for Grafton
Level 11 – Blinds 800/1,600 (BB ante 1,600)
Sam Grafton has just propelled to over 160,000 in chips. The former PokerStars Festival Bucharest winner did have something of a sweat though, for when all the chips went in the middle, his opponent was very much live. We're not sure how all the action went but ultimately Yacoub Belaidouni got 78,000 chips all-in preflop and Grafton had just a pinch more.
Grafton A♣K♣
Belaidouni J♥2♥
The board ran out 9♦7♣Q♠5♣8♣, giving Grafton the nuts. "I'd have preferred to see ace-five" he joked as he collected the pot. Well, all's well that ends well as they say and having 100 big blinds to play with meets the criteria for sure. –LY
Sam Grafton
8:10pm: All out
Level 11 – Blinds 800/1,600 (BB ante 1,600)
It's bad news for fans of Martin Ilavsky, Alexander Bochmann, Paul Lozano, Same Soltani, Claude Normand, Richard Pallin, Teunis Kooij, Steve Godfrey, Marc Radgen and Jeff Damit as they're all out. In sadder news, both of our selected qualifiers are out as Jennifer Steele and Christopher Hopgood are also out. –NW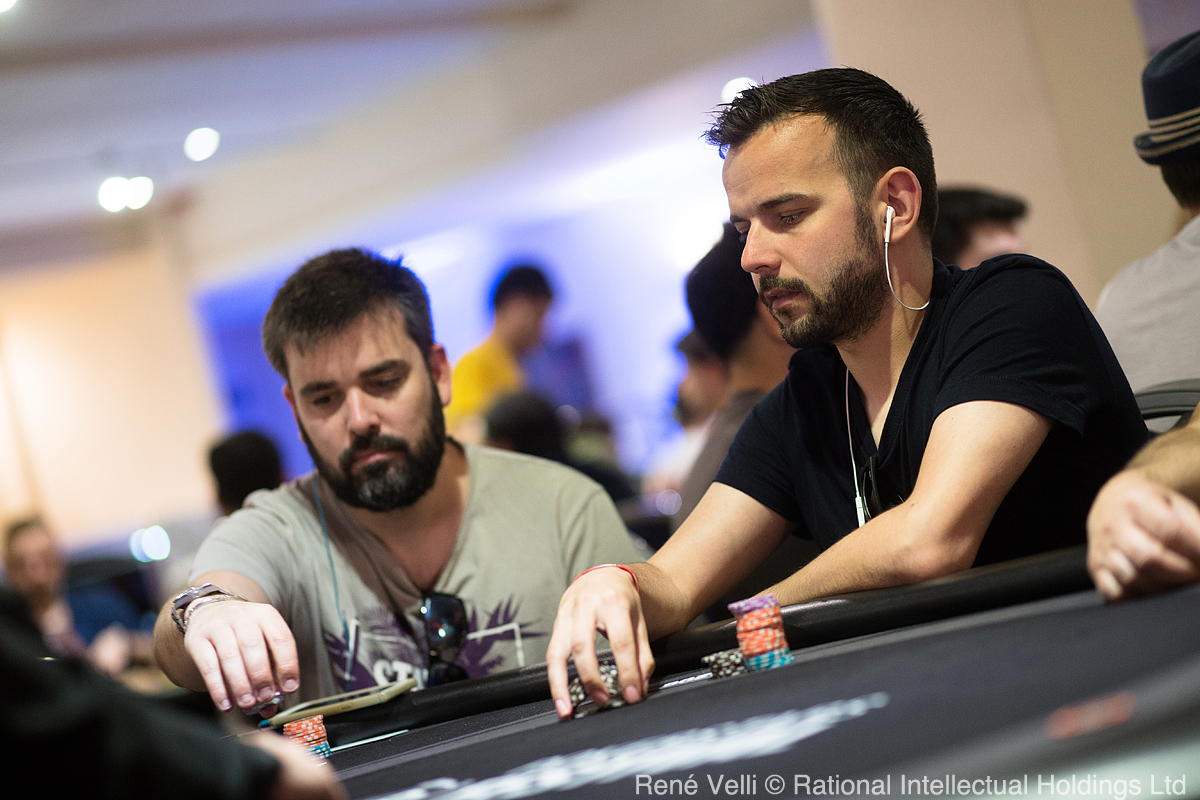 Chris Hopgood
7:50pm: Tamas survives
Level 11 – Blinds 800/1,600 (BB ante 1,600)
All of the money went in preflop versus Szunyoghy Tamas and Said Kambez Nadjem. The former was our all-in player and when the cards were spun on their backs, he was looking for some help to get there, having the worst of it.
Kambez Nadjem K♣K♠
Tamaz A♣5♠
The K♥J♦Q♠ flop made a set for Kambez Nadjem, with a gutshot draw for Tamas. The 10♦ turn was the gin card Tamas needed and now he was hoping to dodge any pair on the board to secure a much-needed double.
The 7♣ river was safe and Tamas scooped 45,000, whilst Kambez Nadjem will have to console himself with the fact that there was nothing else he could have done. –LY
7:40pm: Rodriguez takes it down against Grafton
Level 10 – Blinds 600/1,200 (BB ante 1,200)
Leonardo Rodriguez kicked things off with a raise to 3,000 in middle position. Two players called behind, as did the small blind, before Sam Grafton squeezed to 21,000. It was back on Rodriguez and he wasted no time moving all-in for what looked to be almost 70,000. The move secured snap folds all round and netted Rodriguez 30,000 chips, taking him up to 100,000.–LY
7:35pm: The Cody clinic
Level 10 – Blinds 600/1,200 (BB ante 1,200)
Chris Hopgood and Jenny Steele both satellited there way into this tournament for less than $20. Before play began Jake Cody gave the pair some tips on how to approach Day 1 of the Main Event. Cody's advice can be applied to any poker tournament, so watch below for some top tips from the Triple Crown winner.
7:30pm: Diogo's looking dangerous
Level 10 – Blinds 600/1,200 (BB ante 1,200)
Diogo Veiga stacking chips is usually bad news for his opponent's. The Portuguese player is a fearsome opponent both online and live and he's among the chip leaders on Day 1B. We estimate he has a stack of 170,000, which is nearly three-times the average.
Antonio Berruezo Martinez has a similar stack and is also handily placed. –NW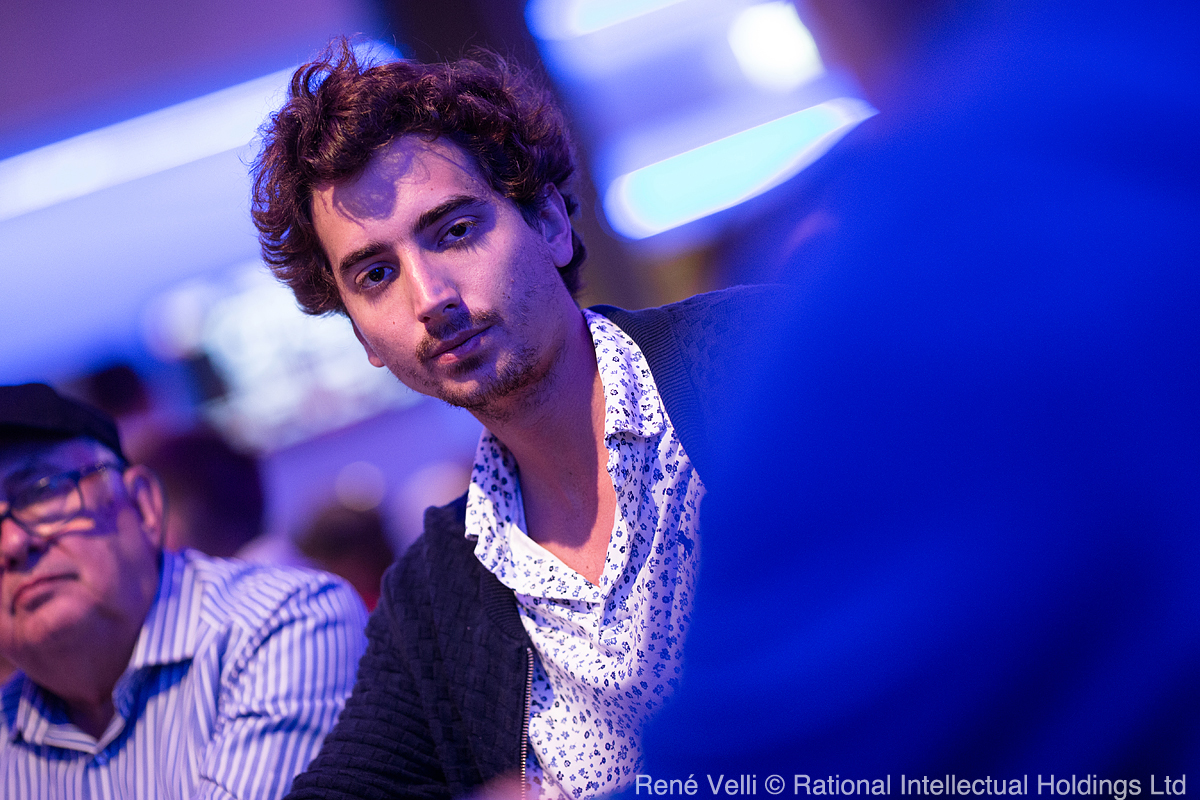 Diogo Veiga
7:20pm: Fontanella takes from Moran
Level 10 – Blinds 600/1,200 (BB ante 1,200)
Preflop, it was Britain's Daniel Moran who took the betting initiative, three-betting to 9,000 over Italy's Marco Fontanella's 3,000 open.
On the Q♣7♥A♦ flop, Moran decided to check it back, taking them to the 9♠ turn.
Fontanella chose to lead at this point, setting 15,000 across the line and Moran didn't need too long to think before matching the bet.
The J♠ river saw another barrel from Fontanella, to the tune of all-in this time. It was a 35,000 or so bet and Moran couldn't find a call, leaving the Italian to collect the pot. –LY
7:10pm: Scores on the doors
Level 10 – Blinds 600/1,200 (BB ante 1,200)
During the break the official runners and riders for Day 1B of the Main Event was confirmed. We had a huge turnout with 507 entries (426 uniques + 81 re-entries). That all means that the top 76 will make the money. As on Day 1A, we expect the bubble to burst around level 16.
If anyone should bust out now, then they can hop into the turbo Day 1C flight that has just started. That flight has the exact same structure as 1A and 1B, but with 20-minute levels. –NW
6:42pm: A short intermission
Level 9 – Blinds 500/1,000 (BB ante 1,000)
The players are now on a 20-minute break. –NW
6:40pm: Quads'll do nicely
Level 9 – Blinds 500/1,000 (BB ante 1,000)
Jorge Juste just got it all-in against Alf Sebastian Hjartberg in a classic flip. Juste was the one holding the pair with 3♥3♠ and Hjartberg had the overs with A♣Q♥ in the hole.
The A♥3♦J♣ flop looked pretty secure for Juste and by the 3♣ turn, there was nothing left for Hjartberg to do but get up out of his seat. The 8♥ river made no difference.
This is Juste's third re-entry and after not much luck previously, could this be the time that he runs deep? –LY
6:35pm: A pot for Piotr
Level 9 – Blinds 500/1,000 (BB ante 1,000)
From early position Chris Rubbini made it 2,200 to go, Daniel Balaiasa then shoved for 6,500 total and Piotr Wiecek then min-raised to 10,800. This increase in the action saw off Rubbini and it was time for the heads-up showdown.
Balaiasa: A♣10♣
Wiecek: A♥Q♦
The 7♥7♠A♦9♣2♣ board kept Wiecek in front and sent Balaiasa to the rail. –NW
6:30pm: Solid Steele
Level 9 – Blinds 500/1,000 (BB ante 1,000)
Jenny Steele is one of our featured qualifiers. She won her way here for just $16.50 and received some tuition from Jake Cody prior to playing Day 1. One of Cody's nuggets of wisdom was to be patient and disciplined and we'd day Steele has taken that on board. Despite being down to 18,000, she looks calm and composed and is enjoying the tournament. –NW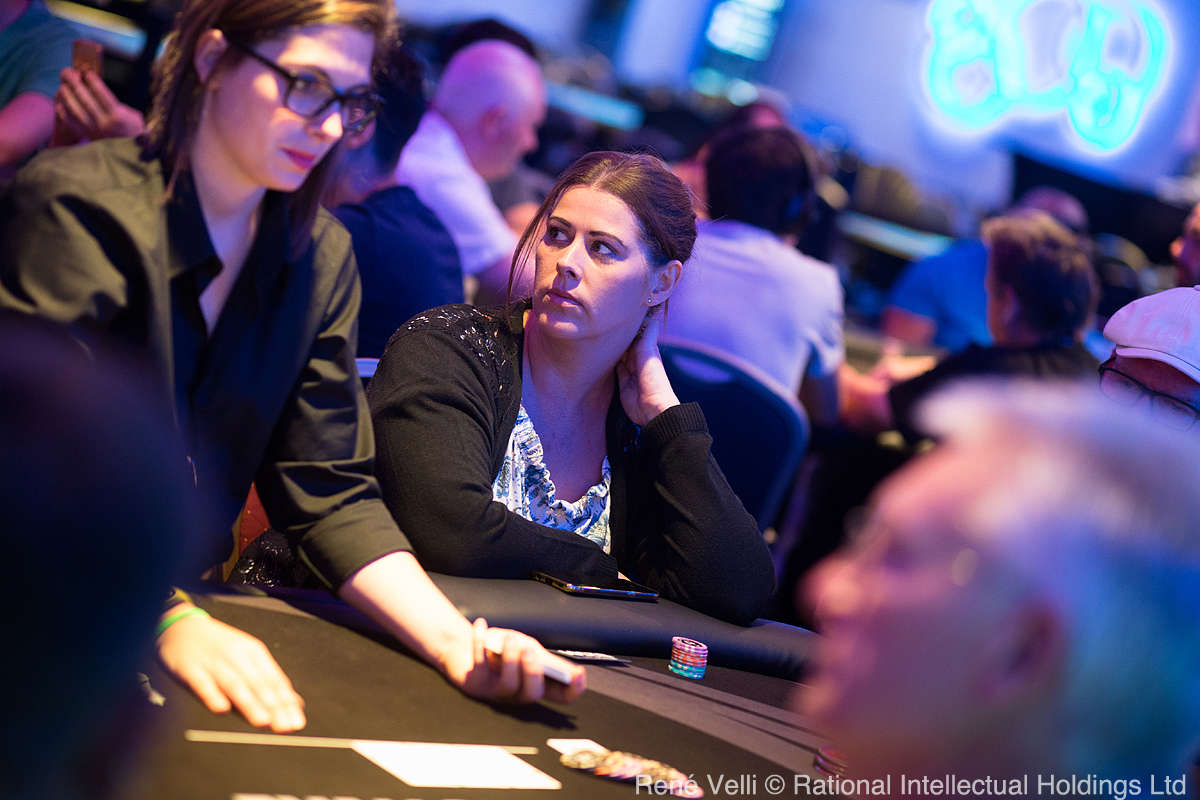 Jenny Steele
6:20pm: Two doubles on the bounce
Level 9 – Blinds 500/1,000 (BB ante 1,000)
Same table, different players.
The first involved Raymond Hilbert as the all-in player. He got it in with A♣A♠ versus Emmanouil Papagrigorakis' 10♠10♥ and the 8♠3♦2♥9♦J♥ runout saw the preflop favourite hold for a 55,000 pot. Papagrigorakis still has 57,000 after that set back, which is still above average.
The second pot featured Regis Claude Normand ship around ten big blinds with K♣K♥ and hold against Daniel Moran's Q♣J♣. Once again it was the favourite whose tournament life was on the line and once again, it held. –LY
6:15pm: Over 500 runners on Day 1B
Level 9 – Blinds 500/1,000 (BB ante 1,000)
Late-registration has now closed for Day 1B and there were apporximately 506 entries today. We'll get that confirmed soon, but if that's the case then we'll play until 76 players remain today. We'll get confirmation of that as soon as possible. –NW
6:05pm: Out
Level 9 – Blinds 500/1,000 (BB ante 1,000)
There's no easy way to say this but: Willem De Jong, Hugo Benitez, Paul Allen, Richard Cashman, Johannes De Jong, Patrice Brandt, David Pouraz and Pascal Muller are among those players who were eliminated during level eight. 313 of 504 entries remain. –NW
5:55pm: Moreira de Melo unable to hold on
Level 8 – Blinds 400/800 (BB ante 800)
The Team PokerStars Pro has been nursing a short stack for sometime now but ultimately was unable to spin it up. We can confirm that Fatima Moreira de Melo has now hit the rail, at least for this entry. We doubt we've seen the last of her though as she still has three minutes to re-enter in this flight. Failing that, she could take an hour to rest and come back at 7pm for Flight 1C. –LY
5:45pm: Franczak chipping up
Level 8 – Blinds 400/800 (BB ante 800)
Polish player Piotr Franczak is running up a stack here in Marbella. He has over $800,000 in liftime live tournament earnings and looks good to add to that sum at the moment as he's playing a stack of 102,000. –NW
5:30pm: Late registration drawing to a close
Level 8 – Blinds 400/800 (BB ante 800)
This is the last level that players can re-enter for Flight 1B. With this in mind, we expect some of the shorter stacks to be looking for an opportunity to double or re-enter.
Still, all is not lost for anyone who busts after that as there is still the turbo offering at 7pm – Flight 1C. –LY
5:20pm: Some counts
Level 8 – Blinds 400/800 (BB ante 800)
Below is how some of the names and notables in the field are progressing as we enter level eight.
Leo Margets – 15,600
Hugo Benitez – 19,000
Lawrence Bayley – 85,000
Joshua Hart – 29,000
Sam Grafton – 90,000
Fatima Moreira de Melo – 8,500
Sander van Wesemael – 42,000
Jonathan Schuman – 33,000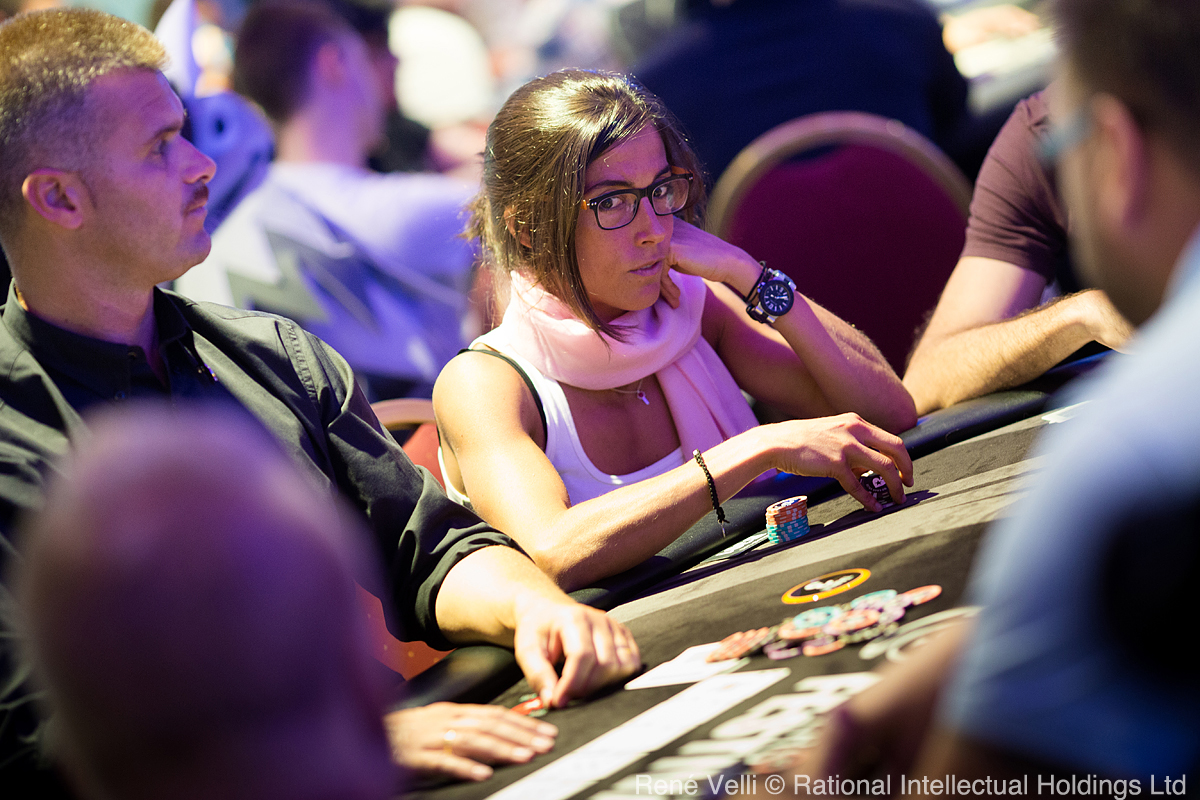 Leo Margets
5pm: Grafton chipping up
Level 7 – Blinds 300/600 (BB ante 600)
Sam Grafton has been plugging away over the course of the day. In the last two hands played at his table, he won both pots. The first was against Angel Linarejos and the second versus Krszysztof Dulowski. The result is that the Brit has now exceeded the 80,000 mark, giving him almost double the average in play. –LY
4:40pm: The tournament resumes
Level 7 – Blinds 300/600 (BB ante 600)
From the 476 starters that have entered the PokerStars Festival Marbella Main Event so far, the 361 who are still in with a shot are back in their seats, ready to begin Level 7. — LY
4:20pm: Time to head outside
Level 6 – Blinds 200/500 (BB ante 500)
That's six levels in the books and the players are now on a 20-minute break. –NW
4:20pm: Another big laydown
Level 6 – Blinds 200/500 (BB ante 500)
Following on from a couple of our most recent posts, the following hand features Isabel Boyle and another impressive laydown.
K♦K♣J♣9♣8♠
The board was already out in full and there were three players who still had cards infront of them.
Though we can't tell you what happened in the earlier streets, what we do know is that Boyle had moved all-in for 31,400 on the river and been called by Jose Luis Cordero. Now it was Patrick Sanfilippo's turn to decide what to do. There was a lot of talk going at this point and it was mostly Sanfilippo who was airing his thoughts. "I think she has kings" he said of Boyle as he folded his hand face up. It was a big laydown too, an ace high flush with A♣8♣.
Boyle K♠K♥
Cordero 3♣4♣
Sanfilippo's read was spot on and two-time online qualifier Boyle scooped 107,000 chips with quads. This means the Scot is closing in on three times the average stack. The table can take a little breather now following all that excitement, with the break coming up very shortly. — LY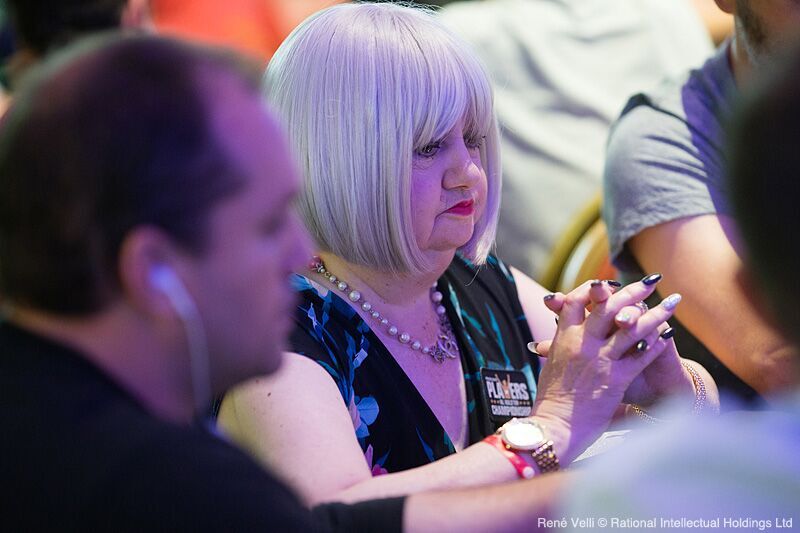 Isabel Boyle
4:15pm: Boyle up nicely
Level 6 – Blinds 200/500 (BB ante 500)
We had a request earlier today from a man called Gordon, who was looking for updates on Isabel Boyle. Keen readers of the PokerStars Blog might remember her from EPT Monte Carlo in 2016. She qualified via a €10 Spin and Go and the 74-year-old was nicknamed 'the poker gran' by media in her home country of Scotland (although she now lives in Yorkshire).
She made a big impression on the likes of Daniel Negreanu, Ronaldo. Well, she's here in Marbella today and I'm happy to report that she's up to 39,000. She's got 2016 Marbella Main Event champion Jonathan Schuman on her direct left to contend with though. –NW
4pm: A big laydown pre prevents a three-way all in
Level 6 – Blinds 200/500 (BB ante 500)
There was a lot going on by the time we wandered over to the table. Thomas De Rooij had a bet of 4,000 in front, which we presume was a three-bet. A couple of seats to his left, Martin Komprda had shipped 10,000. As if that wasn't enough, De Rooij now had a further raise to consider, a bet of 21,200 by Emmanouil Papagrigorakis. De Rooij didn't like his spot much and shifted around in his seat for a couple of minutes before flashing his cards to his neighbour and laying them down.
Papagrigorakis [k]K♣
Komprda 8♣8♠
It was pair versus overpair, with Papagrigorakis dominating and the dealer laid out 10♠J♦7♠ on the flop. It brought a gutshot for Komprda but neither the A♣ turn or 7♣ river could get there for him.
As Papagrigorakis stacked his newly aquired chips, he asked De Rooij if he had folded queens. De Rooij nodded and there was no disagreement from the neighbour who had seen his cards. — LY
3:45pm: Quads for Kisacikoglu
Level 6 – Blinds 200/500 (BB ante 500)
There are nine tables in action down in the La Caseta room, which is pressed into action when the main tournament room is full. Orpen Kisacikoglu is one of those plying his trade in that area and he just made a big hand. He three-bet to 2,500 from early position, after they'd be an open to 1,000. He was cold called by the big blind and the original raiser then folded.
The K♠K♣K♦J♠7♠ board was checked all the way to the river, at which point Kisacikoglu went for a near pot-sized bet of 6,200. His opponent did enter the tank zone, but only briefly as he folded. Kisacikoglu showed the K♥ as he took the pot. "It's hard to get value with quads," he said with a smile. –NW
3:30pm: Del Pino Hanoudi takes from Moreira de Melo
Level 5 – Blinds 200/400 (BB ante 400)
Team PokerStars Pro Fatima Moreira de Melo has had a somewhat bumpy start to the Main Event.
Most recently, she defended her big blind versus an open from Cesar Del Pino Hanouadi and with two other callers involved, she had a great price on the pot.
The flop was 7♣10♥6♦ and a 2,200 bet in position was called by Moreira de Melo and initial raiser Del Pino Hanouadi, giving way to a 7♦ turn.
This time Del Pino Hanoudi chose to reclaim the betting lead, making it 4,700 to go any futher. Moreira de Melo tanked for a couple of minutes before making the call and a A♦ completed the board. The final street was checked in quick succession and players turned over their cards.
Del Pino Hanouadi K♦K♥
Moreira de Melo 9♣10♣
Del Pino Hanouadi had the best of it and he scooped the pot. Though the loss puts Moreira de Melo down to less than 18,000 chips, at this stage that is still around 45 big blinds, so there is plenty of play left for the Team PokerStars Pro. — LY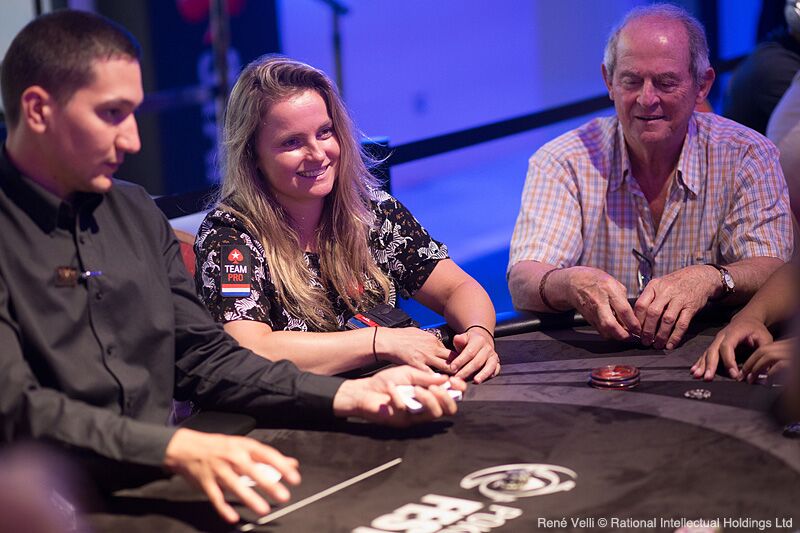 Fatima Moreira de Melo
3:20pm: Is his name on the cup?
Level 5 – Blinds 200/400 (BB ante 400)
A few years ago the €2,000 side event at EPT stops (now called the National High Roller) acquired a nickname within the press room. It became known as 'The John Eames Invitational' due to the regularity in which the UK player went deep or won the event.
Well, for Eames and that event, read Sander van Wesemael and the €330 Cup event at PokerStars Festivals. His incredible run in that particular event started right here in Marbella one year ago. He beat a field of 788 entries to win the Marbella Poker Cup and, after a heads-up deal, €36,450.
He wasn't done there, a month later he took his winnings to the PokerStars Festival Lille and won the €330 Cup event again! A field of 558 were slain on his way to picking up €28,704. He saved his most impressive feat for last though. At the PokerStars Championship Barcelona, in August 2017, there were a humongous 2,648 entries in the Cup event. The Dutchman beat them all to the trophy and the winners cheque €127,000! What a hat-trick!
He's back in Marbella again this year and is doing ok here on Day 1B, as he's run his stack of 30,000 up to 39,000. –NW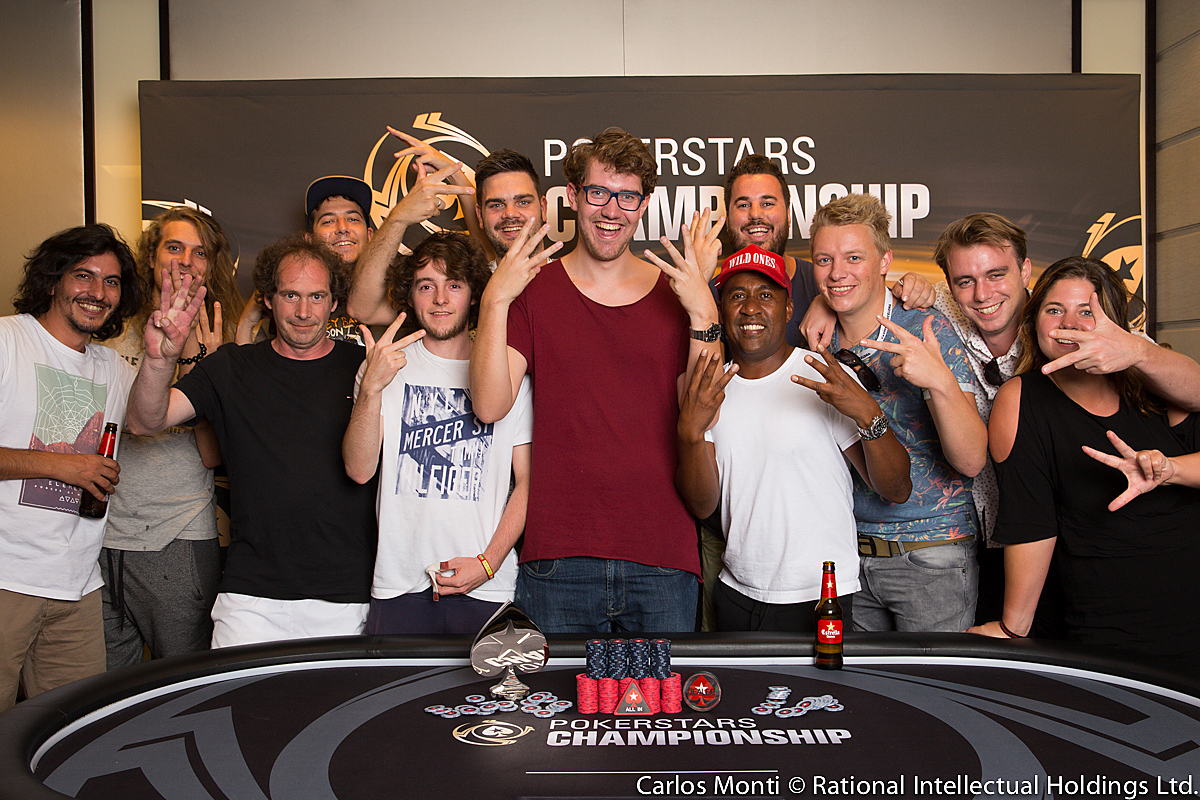 Sander van Wesemael after completing his hat-trick
3:10pm: When a plan doesn't come together
Level 4 – Blinds 100/300 (BB ante 300)
There were five players with chips in front of them by the time we got to the table. Though it is unclear what the full betting history was, Jose De Faldo Furtado had three-bet to 5,400 and got two calls from Yacoub Belaidouni and Khalil Chami. Everyone else moved aside and it was three-handed to the flop.
2♥2♣J♠
It was a dry board and De Faldo Furtado elected to check. Belaidouni took the opportunity to take a stab at the pot, putting 5,400 over the line. Chami decided he'd had enough and got out of the way but De Faldo Furtado wasn't done yet and made the call.
The 8♠ turn appeared to change nothing and once again De Faldo Furtado checked. Belaidouni bet 27,000, which was enough to push his opponent all-in. De Faldo Furtado made a very quick call and when the cards were turned over, it became clear why…
De Faldo Furtado A♥A♣
Belaidouni 10♣10♠
De Faldo Furtado was the 95% favourite with one card to go and two outs to dodge. The river 10♦ river was accompanied by a series of groans around the table and the cruel runout is the end of the line for De Faldo Furtado, unless he decides to re-enter.
The fortunate river secured Belaidouni a stack of over 60,000, an excellent start to the day for the Frenchman. — LY
2:50pm: The dream is over…or is it?
Level 4 – Blinds 100/300 (BB ante 300)
We noted during Day 1A coverage that the big blind ante format, coupled with unlimited re-entries, made for a faster pace of play than usual. Well, Day 1B hasn't bucked that trend, as 40 players have hit the rail in the first two and a half hours. Among those who've busted are: Pedro Luis Prada Rodriguez, Jose Maria De Zaldo Furtado, Rafal Nikiel, Danny Covyn, Antonio Alves Mendes, Tobias Peters and Jonathan Schuman. With re-entry still open, they may be back in this flight, or the turbo, which starts at 7pm. –NW
2:30pm: A few more notables
Level 4 – Blinds 100/300 (BB ante 300)
Sam Grafton, Jonathan Schuman, Lawrence Bailey and Joshua Hart are all in the house. All four fired into yesterday's event but to no avail and will undoubtably looking to improve today.
Winner of the first side event at this year's Marbella festival, Mindaugas Simkus, has also taken a seat. Can he make it two for two? — LY
2:20pm: Back from the break
Level 4 – Blinds 100/300 (BB ante 300)
We are back. The number of entrants has now reached 350. Like yesterday, registration will remain open until the start of Level 9, so there is still plenty of time to get here and immerse yourself in the action. — LY
2pm: Kisacikoglu crashes out
Level 3 – Blinds 100/200 (BB ante 200)
We didn't see the beginning of the hand, but we're 99% certain that Open Kisacikoglu opened the action from early position and that David Safa then three-bet from the button to 1,900. We know for sure that Kisacikoglu then four-bet to 4,000 and that Safa called, because we caught that action live.
So there was now a chunky 8,000+ in the middle as an intriguing K♠Q♠Q♦ flop hit the felt. Both players checked though and the 5♦ fell on the turn. Kisacikoglu checked again, Safa bet 3,000, Kisacikoglu check-raised all-in for 16,000 total and Safa called the shove. Kisacikoglu showed A♠A♣ but he'd been well and truly outflopped by Safa, who held K♦Q♣. The 10♠ river was a brick and Kisacikoglu was eliminated. He may well be back for more though as this tournament features unlimited re-entries. –NW
1:55pm: Golodyaev takes from Tomovic
Level 3 – Blinds 100/200 (BB ante 200)
There was already 12,000 in the pot on the river when we arrived at the table.
The board read 4♠8♦10♠J♦6♥ and following a check from Aleksandar Tomovic, Aleksey Golodyaev had bet another 6,000. It seemed something of a difficult decision for Tomovic, as he took a couple of minutes to make his decision, before making the call. He sent his cards into the muck when he saw Golodyaev's two pair 10♥8♥. It was good enough to win the 24,000 pot. — LY
1:45pm: B is for bigger
Level 3 – Blinds 100/200 (BB ante 200)
It's hardly breaking news, but it looks like Day 1B is going to attract more runners than Day 1A. We're already up to 350 today and, with late-registration open until the start of level nine, we're sure to ecilpse the 362 entries from Day 1A.
Due to the number of players there are currently five tables in use down in La Caseta, which is a seperate room just down from the main casino. –NW
1:35pm: Hopgood wins the race of his life
Level 3 – Blinds 100/200 (BB ante 200)
It costs €1,100 to enter this tournament, but Chris Hopgood is in for $2. He entered the BetStars 'Big Race' back in March, a $2 tournament promotion tied into the Cheltenham Horse Racing festival in the UK. The top 15 finishers in that tournament were all assigned a horse in the Cheltenham Gold Cup and Hopgood's horse – Native River – was first past the post.
That slice of luck earned him a spot in this tournament but he'll be hoping to rely on skill to go deep here in Marbella . To that end he was given some tips by Jake Cody before play started. Both Hopgood and Jenny Steele – who qualified for $16.50 -were given a masterclass by Cody and played out a few orbits of poker as Cody dispensed some of the wisdom he's picked up down the years.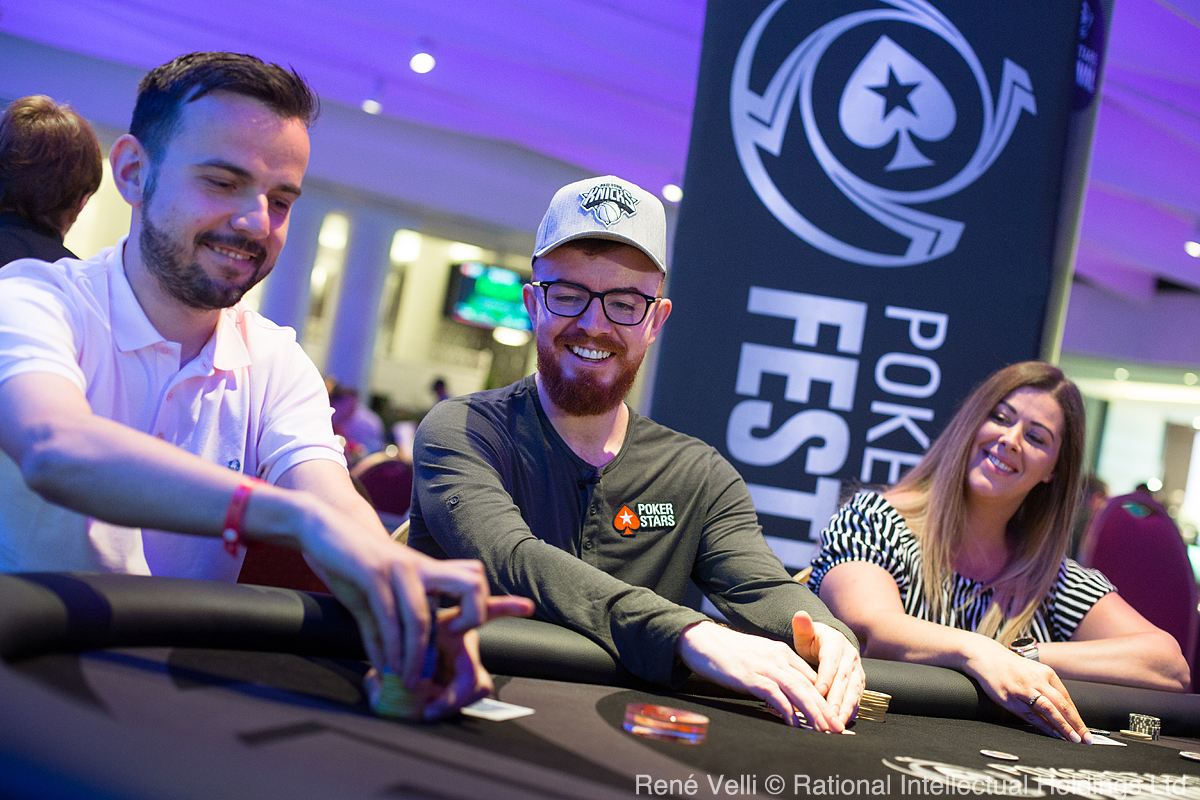 Welcome to the Cody clinic
We won't give away all of Cody's secrets but patience and discipline were two of his watch words. It's still early doors on Day 1B but both Hopgood and Steele appear to have taken his pointers on board, neither of their stacks has yet deviated from the start of day 30,000. –NW
1:20pm: Rojas Martinez del Marmol takes from Moreira de Melo
Level 2 – Blinds 100/100 (BB ante 100)
It must feel like a great start to the day as a recreational poker player, when you are able to win a significant pot against a professional. That's what we reckon it felt like for Pablo Rojas Martinez del Marmol, who secured himself a decent early pot in a hand against Team PokerStars Pro Fatima Moreira de Melo.
It began with an early open from Moreira de Melo to 300. She found four callers in total, two behind and two in the blinds.
The flop came 7♦4♦8♥ and after two checks, Moreira de Melo continued for 1,100. This pushed the late positions out of the way but not the blinds. There was a flat in the small, before Rojas Martinez del Marmol reraised to 3,600. Only Moreira de Melo called the three-bet, taking the two heads up to the turn.
It was a J♣ and once again Rojas Martinez del Marmol bet, making it 4,000 this time. Not to be put off yet, Moreira de Melo made the call and the final card came the Q♦. Rojas Martinez del Marmol put 6,500 over the line and it was enough to dissuade Moreira de Melo to let it go and the Spaniard took down the 17,900 pot. — LY
1pm: Hoping it's second time lucky
Level 2 – Blinds 100/100 (BB ante 100)
We have just seen Jose Luis Cordero in the room. For those of you who don't recognise that name, Cordero was one of the two players to bust at the final hurdle at close of play yesterday. No position is more dreaded in poker than the bubble. Still the good news for Cordero is that arguably whatever happens today, surely it can only be an improvement on yesterday. — LY
12:50pm: Warming up
Level 2 – Blinds 100/100 (BB ante 100)
We have progressed into level two and people keep streaming through the doors. Currently we have 250 registered and as a result, the cardroom is filling up nicely. Four players have made a very early exit but with unlimited re-entries they may well come back for another try. — LY
12:35pm: Sorry Silviu
Level 1 – Blinds 100/100
We owe Silviu Baltateanu an apology. We messed up. Last night we wrote that Jon Kyte had finished Day 1A of the Main Event as the chip leader. He didn't. Despite Kyte finishing with a mammoth 600,500, Baltateanu bagged more. 631,500 to be exact. Sorry Silviu. You can find a complete list of the 54 Day 1A survivors here. –NW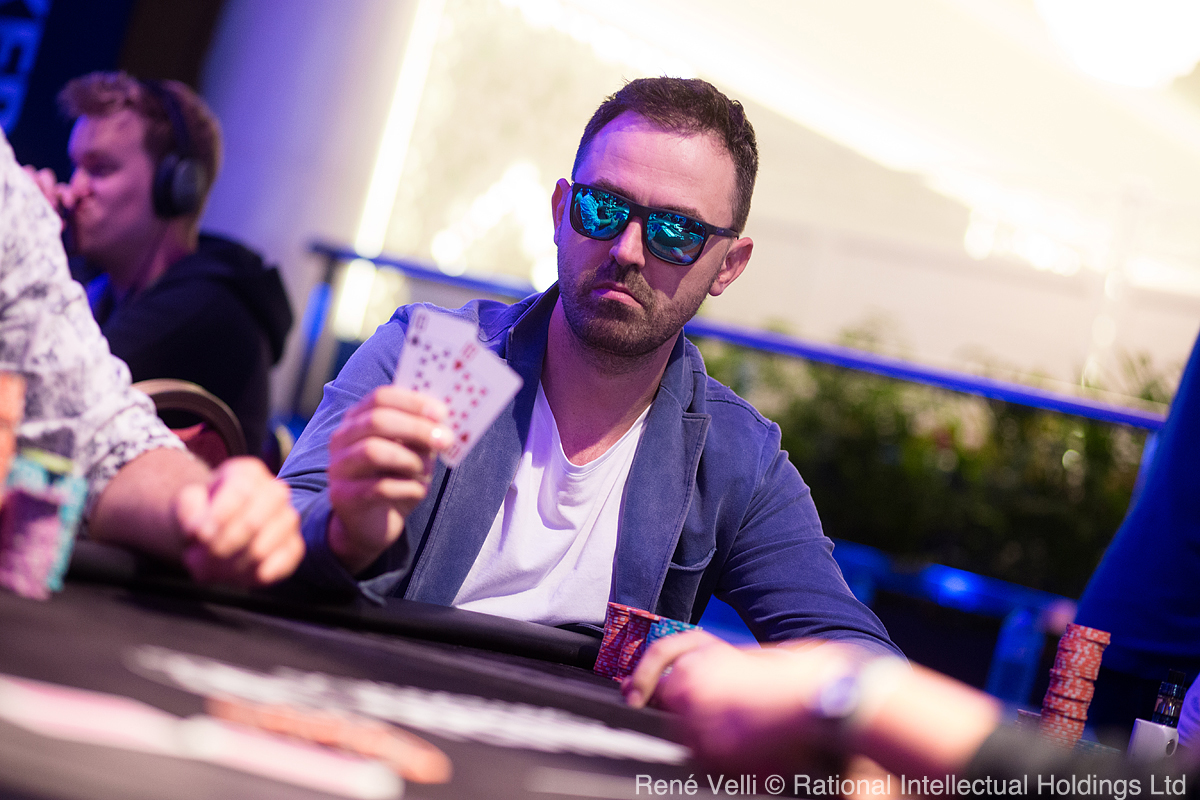 Silviu Baltateanu
12:25pm: All are welcome
Level 1 – Blinds 100/100
It has been brought to our attention that there is a penguin on the premises. This brings a whole new meaning to the expression the "early bird catches the worm."
For any other non-human poker players out there, don't be shy – you are all welcome here at the PokerStars Festival Marbella! — LY
12:15pm: Who is in the house?
Level 1 – Blinds 100/100
It is only early doors but already we have spotted a few notables taking their seats. High roller and super high roller regular Orpen Kisacikoglu, was ready to go as the tournament began. Not far behind him were Team PokerStars Pro Fatima Moreira de Melo and Spanish star Leo Margets. — LY
12pm: Cards are in the air!
Level 1 – Blinds 100/100
Play is now underway, we already have 150 entries so far but that number will definitely rise. The reason we can say that with certainty? There is a substantial queue in front of the registration desk! — LY
Welcome back to the second day of our live coverage, here at the Casino Marbella! Today we will bring you the latest updates on all the action taking place here at the PokerStars Festival Marbella Main Event.
Yesterday was a fantastic start to the tournament. There were 362 entries in total and play lasted for 16 levels, until we were down to the last 54. All of those players will return tomorrow for Day 2, safe in the knowledge that they have already bagged themselves a place in the money.
Today there will be the final two flights into the Main Event, with Day 1B & C to look forward to. The first of those will begin at 12pm. Day 1C will start at 7pm and will feature a turbo format. With unlimited re-entries, we expect some of yesterday's casualties to return for another stab at the title, the prize money and one of the coveted PSPC Platinum Passes.
Team PokerStars Pro Fatima Moreira de Melo will be joining the field for the first time today. We also expect teammate Jake Cody to come back for another try. Stay with us to find out how they get on and for news on all the action, when we kick off shortly. –LY
Key PokerStars Festival Marbella Main Event facts:
– 30,000 starting stack
– Blinds starting at 100/100 for 300 big blinds
– Levels are 40 minutes on Day 1. All Day 1 flights will play down to 15% of the field.
– From Day 2 onwards levels increase to 60 minutes.
– The big blind ante format will be used for this event.
– There's also a turbo Day 1C at 7pm tonight. There are unlimited re-entries on Day 1.
– The field will combine for the first time on Friday. On Saturday play will continue until the final table of eight is reached. Sunday is all about the final. Cue mad celebrations and swigging of sangria from the trophy (possibly).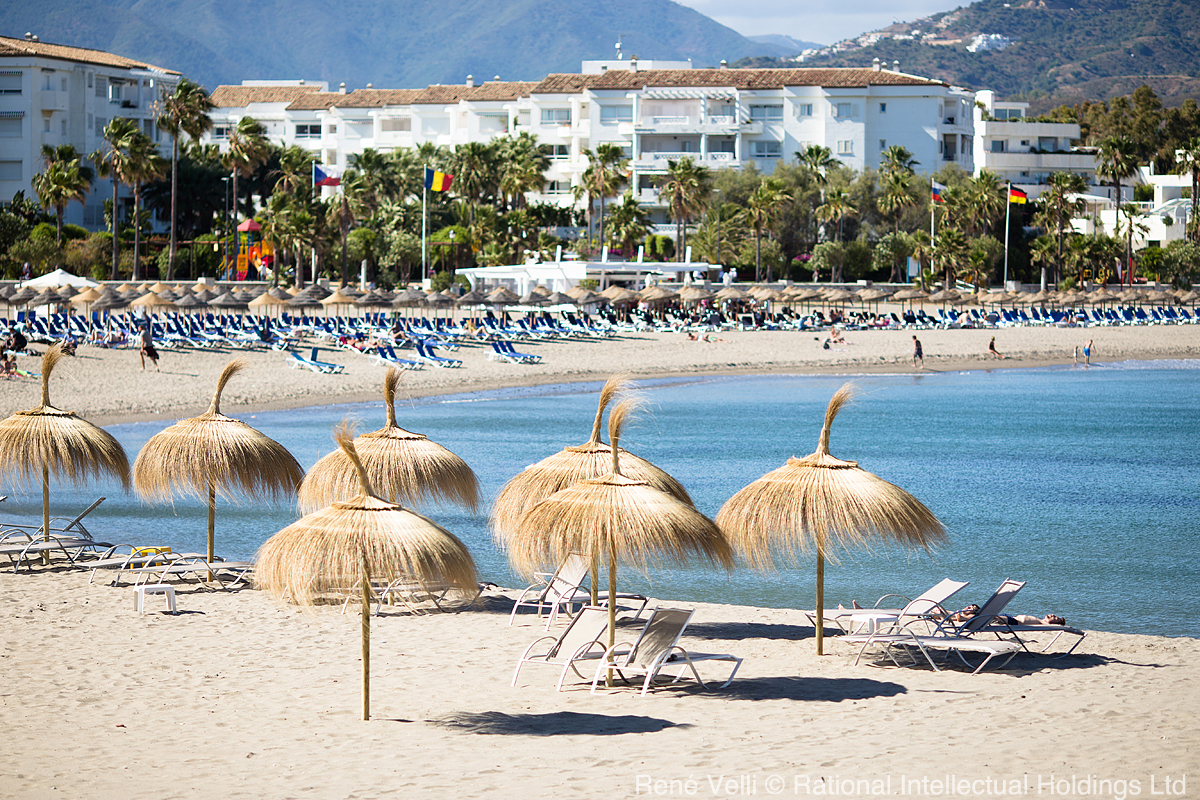 PokerStars Blog reporting team in Marbella: Nick Wright and Lisa Yiasemides. Photography by Rene Velli.
---
Opening a PokerStars account is easy. Click here to get an account in minutes.
---