Monday night saw the third week of the Poker in the Ears Freeroll League, but only the second game of the series (the disparity is due to a "technical issue" with last week's freeroll, which resulted in a Twitch stream now commonly referred to as #DisasterNight).
James Hartigan and Joe Stapleton both played as $150 bounties, as did special guest star Arlie Shaban, who completed his sixth challenge while on the stream: trolling James (the least patient man on the planet) at the behest of Joe and the viewers.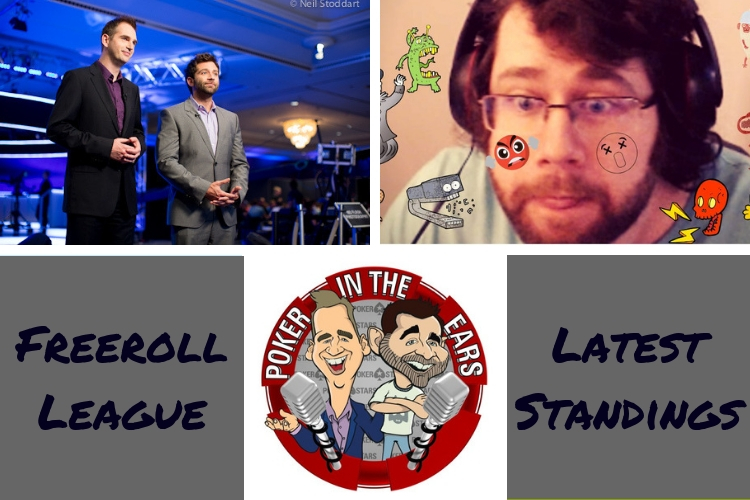 In addition to the PKO freeroll, there was plenty of action in the Poker in the Ears Home Game Club, with James and Joe both making the final table of the 'Ten-and-a-bit Dollar Turbo', finishing 5th and 2nd respectively.
Plus, Joe managed to donate multiple buy-ins at the 'Joe Zone' $0.05/$0.10 cash table.
With two freerolls in the books, and six still to play, here are the current leader board standings…
(Scroll down, or use Ctrl-F to find where you are on the leader board)
And to find out how to take part in the Freeroll league, click here.
| Rank | Stars ID | # of KOs | Total amount won in KOs (USD) | Prize |
| --- | --- | --- | --- | --- |
| 1 | rshrenk | 17 | 104.70 | 1x PSPC Platinum Pass |
| 2 | exile1971 | 15 | 192.84 | 1x $55 PCA 2019 satellite ticket |
| 3 | uri73796 | 15 | 176.75 | 1x $55 PCA 2019 satellite ticket |
| 4 | 161denis797 | 15 | 23.83 | 1x $55 PCA 2019 satellite ticket |
| 5 | stars220419 | 15 | 22.73 | 1x $55 PCA 2019 satellite ticket |
| 6 | Canadian G | 14 | 36.03 | 1x $55 PCA 2019 satellite ticket |
| 7 | biron108 | 14 | 13.94 | 1x $55 PCA 2019 satellite ticket |
| 8 | ramen!77 | 13 | 75.49 | 1x $55 PCA 2019 satellite ticket |
| 9 | Amzo2018 | 13 | 71.52 | 1x $55 PCA 2019 satellite ticket |
| 10 | ICanDoIt88 | 13 | 28.16 | 1x $55 PCA 2019 satellite ticket |
| 11 | AresVaettur | 13 | 10.71 | 1x $55 PCA 2019 satellite ticket |
| 12 | mennoo1996 | 12 | 9.05 | 1x $55 PCA 2019 satellite ticket |
| 13 | griphon1 | 11 | 20.22 | 1x $55 PCA 2019 satellite ticket |
| 14 | sm4sher777 | 11 | 10.34 | 1x $55 PCA 2019 satellite ticket |
| 15 | leote818 | 10 | 53.46 | 1x $55 PCA 2019 satellite ticket |
| 16 | jasonast | 10 | 12.10 | 1x $55 PCA 2019 satellite ticket |
| 17 | juzepe73 | 10 | 10.81 | 1x $55 PCA 2019 satellite ticket |
| 18 | amarz002 | 10 | 10.14 | 1x $55 PCA 2019 satellite ticket |
| 19 | staycalmpad | 10 | 7.36 | 1x $55 PCA 2019 satellite ticket |
| 20 | abo13 | 9 | 25.97 | 1x $55 PCA 2019 satellite ticket |
| 21 | toorr120 | 9 | 17.62 | 1x $55 PCA 2019 satellite ticket |
| 22 | szlverstar24 | 9 | 11.11 | 1x $55 PCA 2019 satellite ticket |
| 23 | Ghost_Hi_pro | 9 | 9.69 | 1x $55 PCA 2019 satellite ticket |
| 24 | jamessatch | 9 | 9.35 | 1x $55 PCA 2019 satellite ticket |
| 25 | BlindPincher | 9 | 8.55 | 1x $55 PCA 2019 satellite ticket |
| 26 | damon_kazalex | 9 | 7.96 | 1x $55 PCA 2019 satellite ticket |
| 27 | Maurits92 | 9 | 7.80 | 1x $55 PCA 2019 satellite ticket |
| 28 | bobsl66 | 9 | 7.34 | 1x $55 PCA 2019 satellite ticket |
| 29 | FCGS | 9 | 7.14 | 1x $55 PCA 2019 satellite ticket |
| 30 | BIGRICC93 | 9 | 6.86 | 1x $55 PCA 2019 satellite ticket |
| 31 | Sen.honora | 8 | 41.57 | 1x $55 PCA 2019 satellite ticket |
| 32 | Hytta Poker | 8 | 27.55 | 1x $55 PCA 2019 satellite ticket |
| 33 | karoldemarch | 8 | 16.75 | 1x $55 PCA 2019 satellite ticket |
| 34 | RymoeJoJo | 8 | 13.96 | 1x $55 PCA 2019 satellite ticket |
| 35 | Ruffe86 | 8 | 8.85 | 1x $55 PCA 2019 satellite ticket |
| 36 | polukopyrka | 8 | 7.95 | 1x $55 PCA 2019 satellite ticket |
| 37 | sanekhorror | 8 | 7.94 | 1x $55 PCA 2019 satellite ticket |
| 38 | memberry | 8 | 7.32 | 1x $55 PCA 2019 satellite ticket |
| 39 | BogoSan13 | 7 | 161.35 | 1x $55 PCA 2019 satellite ticket |
| 40 | stashk | 7 | 19.23 | 1x $55 PCA 2019 satellite ticket |
| 41 | jeko212 | 7 | 10.82 | – |
| 42 | figorolo88 | 7 | 9.93 | – |
| 43 | 5883661 | 7 | 8.54 | – |
| 44 | Schmitzer1 | 7 | 7.56 | – |
| 45 | format625 | 7 | 7.56 | – |
| 46 | Laska_vay | 7 | 7.54 | – |
| 47 | Kate4744 | 7 | 6.69 | – |
| 48 | bones550 | 7 | 6.37 | – |
| 49 | sikes_leone | 6 | 53.75 | – |
| 50 | JohnWillow | 6 | 29.01 | – |
| 51 | BaseDJaN | 6 | 15.06 | – |
| 52 | 197096 | 6 | 9.13 | – |
| 53 | rebelwrongus | 6 | 9.04 | – |
| 54 | Chip&Chap86 | 6 | 9.03 | – |
| 55 | Ben_ammar_13 | 6 | 8.93 | – |
| 56 | StamppotAA | 6 | 7.57 | – |
| 57 | SirJeroenNL | 6 | 7.47 | – |
| 58 | raxxx9 | 6 | 7.36 | – |
| 59 | tara p24 | 6 | 7.13 | – |
| 60 | Kamizu_Shan | 6 | 6.93 | – |
| 61 | AAcoskeAA | 6 | 6.36 | – |
| 62 | MattJM68 | 6 | 6.36 | – |
| 63 | failman199 | 6 | 6.35 | – |
| 64 | simAFCTU | 6 | 6.23 | – |
| 65 | WoLf_Totem36 | 6 | 5.59 | – |
| 66 | Al.Mat101 | 6 | 5.57 | – |
| 67 | Calvinharris070 | 6 | 5.57 | – |
| 68 | MrShampoo97 | 6 | 5.18 | – |
| 69 | serjik-russi | 6 | 5.14 | – |
| 70 | jwes63 | 6 | 4.79 | – |
| 71 | bpetrov78 | 6 | 4.53 | – |
| 72 | JackJoPoker | 6 | 4.44 | – |
| 73 | twoandabit | 6 | 3.63 | – |
| 74 | Barc116 | 5 | 26.38 | – |
| 75 | dennisMAAN | 5 | 18.09 | – |
| 76 | ccsandy | 5 | 18.05 | – |
| 77 | ManniTheBoy | 5 | 14.26 | – |
| 78 | sanek2699 | 5 | 7.93 | – |
| 79 | Nevermind224 | 5 | 7.92 | – |
| 80 | masterok10 | 5 | 6.55 | – |
| 81 | jkoegl04 | 5 | 5.17 | – |
| 82 | Spraggy | 5 | 4.83 | – |
| 83 | OptimusKlang | 5 | 4.77 | – |
| 84 | GRIDIM1927 | 5 | 4.76 | – |
| 85 | Pepeneros | 5 | 4.39 | – |
| 86 | ufc_57 | 5 | 4.38 | – |
| 87 | s_kuznet | 5 | 4.38 | – |
| 88 | devinun | 5 | 4.38 | – |
| 89 | Elchorro2008 | 5 | 4.37 | – |
| 90 | alexzender92 | 5 | 4.30 | – |
| 91 | didenkoartem | 5 | 4.00 | – |
| 92 | TR@MIK | 5 | 3.55 | – |
| 93 | Mishanya457 | 5 | 3.31 | – |
| 94 | fridolin001 | 5 | 3.27 | – |
| 95 | BestHandHaz | 5 | 3.04 | – |
| 96 | Markoski95 | 5 | 2.79 | – |
| 97 | BBQstars | 5 | 2.79 | – |
| 98 | CrazyJorzh | 4 | 31.06 | – |
| 99 | masany78 | 4 | 26.40 | – |
| 100 | IcePoker65 | 4 | 8.70 | – |
| 101 | sokola12 | 4 | 8.53 | – |
| 102 | Beakah | 4 | 8.02 | – |
| 103 | SuperFly573 | 4 | 7.14 | – |
| 104 | Hellomotomex | 4 | 6.65 | – |
| 105 | NABSTER(RUS) | 4 | 6.55 | – |
| 106 | xxxx791 | 4 | 4.95 | – |
| 107 | sandy147 | 4 | 4.76 | – |
| 108 | drobik24 | 4 | 4.38 | – |
| 109 | Bambini7777 | 4 | 4.38 | – |
| 110 | sig23gi | 4 | 4.37 | – |
| 111 | RICHDUDEWASH | 4 | 4.28 | – |
| 112 | MaesterVeyer | 4 | 4.15 | – |
| 113 | joeisi | 4 | 3.98 | – |
| 114 | amazonjb | 4 | 3.88 | – |
| 115 | Ldd2911 | 4 | 3.84 | – |
| 116 | Ladyloulou01 | 4 | 3.78 | – |
| 117 | nurabsal | 4 | 3.75 | – |
| 118 | merkstef | 4 | 3.61 | – |
| 119 | ST1.Torero | 4 | 3.59 | – |
| 120 | superiorcom | 4 | 3.58 | – |
| 121 | vaddalive | 4 | 3.48 | – |
| 122 | wayneo75 | 4 | 3.29 | – |
| 123 | sashwerter | 4 | 3.25 | – |
| 124 | Cäse27 | 4 | 3.20 | – |
| 125 | Molode4no | 4 | 3.19 | – |
| 126 | paramonazartni | 4 | 3.19 | – |
| 127 | scottan86 | 4 | 3.18 | – |
| 128 | mtt4B | 4 | 2.94 | – |
| 129 | realstig991 | 4 | 2.87 | – |
| 130 | 777strash | 4 | 2.79 | – |
| 131 | martis629 | 4 | 2.78 | – |
| 132 | starpoker890 | 4 | 2.78 | – |
| 133 | aseefo | 4 | 2.69 | – |
| 134 | CeeCee666 | 4 | 2.51 | – |
| 135 | hughdhat | 3 | 8.12 | – |
| 136 | DRAQULA37 | 3 | 6.53 | – |
| 137 | yakoff14 | 3 | 5.55 | – |
| 138 | 99jackjack99 | 3 | 4.75 | – |
| 139 | p190001 | 3 | 4.56 | – |
| 140 | k2esports | 3 | 3.77 | – |
| 141 | 171717aa | 3 | 3.18 | – |
| 142 | Ruslan T-34 | 3 | 3.18 | – |
| 143 | Alpoker777 | 3 | 2.98 | – |
| 144 | MrDaddyJokes | 3 | 2.98 | – |
| 145 | PeterLuto | 3 | 2.95 | – |
| 146 | He Man 1702 | 3 | 2.91 | – |
| 147 | New7898 | 3 | 2.91 | – |
| 148 | siebrone | 3 | 2.79 | – |
| 149 | OeTen101 | 3 | 2.79 | – |
| 150 | Luckytsss | 3 | 2.79 | – |
| 151 | 61972523 | 3 | 2.79 | – |
| 152 | Millar95 | 3 | 2.77 | – |
| 153 | 123demon999 | 3 | 2.45 | – |
| 154 | pobolero | 3 | 2.40 | – |
| 155 | zenik80 | 3 | 2.40 | – |
| 156 | TPOJIb363 | 3 | 2.40 | – |
| 157 | joaomcneto | 3 | 2.40 | – |
| 158 | carrzer | 3 | 2.40 | – |
| 159 | xXRFEzAKQJ10Xx | 3 | 2.40 | – |
| 160 | DevilLoko | 3 | 2.39 | – |
| 161 | aleksei1500 | 3 | 2.39 | – |
| 162 | el geeko88 | 3 | 2.39 | – |
| 163 | Caustic_Q | 3 | 2.39 | – |
| 164 | SVY10p | 3 | 2.38 | – |
| 165 | yliawolf | 3 | 2.38 | – |
| 166 | jay-jay-rok | 3 | 2.22 | – |
| 167 | Darmani904 | 3 | 2.16 | – |
| 168 | LUFCBas | 3 | 1.95 | – |
| 169 | Alikper | 3 | 1.95 | – |
| 170 | 65 FORTUNA | 3 | 1.94 | – |
| 171 | Robrockets21 | 3 | 1.92 | – |
| 172 | dod_scottish | 3 | 1.68 | – |
| 173 | TudorPithon | 3 | 1.68 | – |
| 174 | alak10 | 3 | 1.68 | – |
| 175 | alek.john | 3 | 1.67 | – |
| 176 | OSA_Rodeo | 2 | 150.80 | – |
| 177 | iHellcat | 2 | 5.24 | – |
| 178 | SuperDoczent | 2 | 5.03 | – |
| 179 | Pulya1999 | 2 | 4.61 | – |
| 180 | MrQ777847 | 2 | 4.20 | – |
| 181 | Alexs_Pelikh | 2 | 3.77 | – |
| 182 | Leviathan22O | 2 | 2.78 | – |
| 183 | IrinaValerev | 2 | 2.78 | – |
| 184 | Russkiy743 | 2 | 2.78 | – |
| 185 | aboska | 2 | 2.58 | – |
| 186 | degston | 2 | 2.49 | – |
| 187 | NcoreFerko | 2 | 2.39 | – |
| 188 | BlackOps2640 | 2 | 2.38 | – |
| 189 | ivan2408 | 2 | 2.37 | – |
| 190 | Arquerito | 2 | 2.19 | – |
| 191 | alfiyka | 2 | 2.19 | – |
| 192 | novnick70 | 2 | 2.18 | – |
| 193 | Rider$Fan100 | 2 | 2.15 | – |
| 194 | shakhru | 2 | 1.99 | – |
| 195 | rubena19 | 2 | 1.99 | – |
| 196 | quick91 | 2 | 1.98 | – |
| 197 | Mr_Wallker | 2 | 1.98 | – |
| 198 | iGotUFish21 | 2 | 1.98 | – |
| 199 | josemleonr | 2 | 1.98 | – |
| 200 | pokojug1 | 2 | 1.98 | – |
| 201 | stuartbocash | 2 | 1.81 | – |
| 202 | uongy | 2 | 1.66 | – |
| 203 | NOEL*NOFOLD* | 2 | 1.62 | – |
| 204 | JediRayray2 | 2 | 1.60 | – |
| 205 | Analyze_Me | 2 | 1.60 | – |
| 206 | kasha1111 | 2 | 1.60 | – |
| 207 | Nomad_PS | 2 | 1.60 | – |
| 208 | walera1000 | 2 | 1.60 | – |
| 209 | zrGrizz | 2 | 1.60 | – |
| 210 | shura1992132 | 2 | 1.60 | – |
| 211 | mrVentoStar | 2 | 1.60 | – |
| 212 | AlyaYlyu | 2 | 1.60 | – |
| 213 | briliant599 | 2 | 1.60 | – |
| 214 | Glafef | 2 | 1.60 | – |
| 215 | nik_runner | 2 | 1.60 | – |
| 216 | aleks 201668 | 2 | 1.60 | – |
| 217 | Yulya30 | 2 | 1.60 | – |
| 218 | Mr Kysuki | 2 | 1.60 | – |
| 219 | Runik_S | 2 | 1.60 | – |
| 220 | GabrielaF100 | 2 | 1.60 | – |
| 221 | NAPASN1S | 2 | 1.60 | – |
| 222 | artemromme | 2 | 1.60 | – |
| 223 | nIkA301225 | 2 | 1.60 | – |
| 224 | Copu meen | 2 | 1.60 | – |
| 225 | dulex | 2 | 1.59 | – |
| 226 | jonthebook | 2 | 1.59 | – |
| 227 | serdgino | 2 | 1.59 | – |
| 228 | JarJarek | 2 | 1.59 | – |
| 229 | olegbelykov | 2 | 1.59 | – |
| 230 | ludilove | 2 | 1.59 | – |
| 231 | jekan85 | 2 | 1.59 | – |
| 232 | Lev1845 | 2 | 1.59 | – |
| 233 | Tipo4ok13 | 2 | 1.59 | – |
| 234 | Onneznaika | 2 | 1.59 | – |
| 235 | Evgenij3174 | 2 | 1.59 | – |
| 236 | JokerJames95 | 2 | 1.59 | – |
| 237 | MaxGirl00 | 2 | 1.59 | – |
| 238 | Romzes1970 | 2 | 1.59 | – |
| 239 | EsyaTara | 2 | 1.59 | – |
| 240 | Sevorsez | 2 | 1.59 | – |
| 241 | furious1997 | 2 | 1.59 | – |
| 242 | LFitzerald | 2 | 1.59 | – |
| 243 | codwithchips | 2 | 1.59 | – |
| 244 | dbhone | 2 | 1.58 | – |
| 245 | smaragdos | 2 | 1.58 | – |
| 246 | de Brasil | 2 | 1.53 | – |
| 247 | rudders | 2 | 1.39 | – |
| 248 | Wannesvh | 2 | 1.39 | – |
| 249 | TaxationIsTheft | 2 | 1.39 | – |
| 250 | SirTom1248 | 2 | 1.39 | – |
| 251 | MUcalls | 2 | 1.39 | – |
| 252 | Stadtmusikant | 2 | 1.39 | – |
| 253 | RStahl93 | 2 | 1.39 | – |
| 254 | Palsh | 2 | 1.36 | – |
| 255 | Victor851985 | 2 | 1.36 | – |
| 256 | SaIcaron | 2 | 1.36 | – |
| 257 | Korath_111 | 2 | 1.36 | – |
| 258 | Zusel2000 | 2 | 1.35 | – |
| 259 | GeniusMax69 | 2 | 1.35 | – |
| 260 | xWins983 | 2 | 1.20 | – |
| 261 | Malle0123 | 2 | 1.12 | – |
| 262 | Tiduszwei | 2 | 1.12 | – |
| 263 | granef | 2 | 1.12 | – |
| 264 | DayPink | 2 | 1.12 | – |
| 265 | pucha 123 | 2 | 1.12 | – |
| 266 | flowerx92x | 2 | 1.12 | – |
| 267 | varvar2701 | 2 | 1.12 | – |
| 268 | DEATH2619 | 2 | 1.12 | – |
| 269 | Terror17990 | 2 | 1.12 | – |
| 270 | SickSwans88 | 2 | 1.12 | – |
| 271 | kit055 | 2 | 1.12 | – |
| 272 | tenenson | 2 | 1.12 | – |
| 273 | Qbomb420 | 2 | 1.12 | – |
| 274 | SeagullsLad | 2 | 1.12 | – |
| 275 | Nefr00x | 2 | 1.12 | – |
| 276 | P1N-TAC | 2 | 1.11 | – |
| 277 | ryanfack | 2 | 1.11 | – |
| 278 | derverliebte | 1 | 4.74 | – |
| 279 | mati_allboys | 1 | 2.28 | – |
| 280 | sygrob07 | 1 | 1.98 | – |
| 281 | DanCarrero | 1 | 1.59 | – |
| 282 | DARKIANAC | 1 | 1.39 | – |
| 283 | zez7777 | 1 | 1.39 | – |
| 284 | ManOjax | 1 | 1.25 | – |
| 285 | imstalker | 1 | 1.19 | – |
| 286 | geten210 | 1 | 1.19 | – |
| 287 | p1nk1e | 1 | 1.19 | – |
| 288 | dgugashvili | 1 | 1.19 | – |
| 289 | virtuoz2702 | 1 | 1.19 | – |
| 290 | Brettigio | 1 | 1.19 | – |
| 291 | Onderdijk | 1 | 1.19 | – |
| 292 | Abcd1982 | 1 | 1.19 | – |
| 293 | Arli15 | 1 | 1.19 | – |
| 294 | $ev177 | 1 | 1.19 | – |
| 295 | KOJO1916 | 1 | 1.19 | – |
| 296 | mecs0996 | 1 | 1.19 | – |
| 297 | JYCP841 | 1 | 1.19 | – |
| 298 | stodolya1 | 1 | 1.19 | – |
| 299 | ShalhtarFan | 1 | 0.97 | – |
| 300 | egawen | 1 | 0.83 | – |
| 301 | Rinat_ronik | 1 | 0.83 | – |
| 302 | jonkirch1848 | 1 | 0.83 | – |
| 303 | jdm536 | 1 | 0.83 | – |
| 304 | Kordel | 1 | 0.80 | – |
| 305 | JoeP1111 | 1 | 0.80 | – |
| 306 | now54 | 1 | 0.80 | – |
| 307 | DocNomis | 1 | 0.80 | – |
| 308 | Waltrad | 1 | 0.80 | – |
| 309 | pittibaerli | 1 | 0.80 | – |
| 310 | Vinctorix | 1 | 0.80 | – |
| 311 | Suum suique | 1 | 0.80 | – |
| 312 | chernomorsk | 1 | 0.80 | – |
| 313 | REBEKC | 1 | 0.80 | – |
| 314 | basalai | 1 | 0.80 | – |
| 315 | marto241297 | 1 | 0.80 | – |
| 316 | alopez351 | 1 | 0.80 | – |
| 317 | clubnick | 1 | 0.80 | – |
| 318 | cubw123 | 1 | 0.80 | – |
| 319 | kalacatubeta | 1 | 0.80 | – |
| 320 | bukovsky87 | 1 | 0.80 | – |
| 321 | Sh@rlatan87 | 1 | 0.80 | – |
| 322 | rjybr | 1 | 0.80 | – |
| 323 | M_Ziqui | 1 | 0.80 | – |
| 324 | mitriy_77 | 1 | 0.80 | – |
| 325 | SPRUT68 | 1 | 0.80 | – |
| 326 | ThePre-Nuts | 1 | 0.80 | – |
| 327 | gizmo0177 | 1 | 0.80 | – |
| 328 | PYITE17 | 1 | 0.80 | – |
| 329 | k17w | 1 | 0.80 | – |
| 330 | kostik0733 | 1 | 0.80 | – |
| 331 | bigmarianbv | 1 | 0.80 | – |
| 332 | SDF_1_99 | 1 | 0.80 | – |
| 333 | Natali201115 | 1 | 0.80 | – |
| 334 | August_Ru511 | 1 | 0.80 | – |
| 335 | totti348 | 1 | 0.80 | – |
| 336 | baidarko | 1 | 0.80 | – |
| 337 | pokerrule19 | 1 | 0.80 | – |
| 338 | kazanchik92 | 1 | 0.80 | – |
| 339 | Kerorin | 1 | 0.80 | – |
| 340 | leka_1985310 | 1 | 0.80 | – |
| 341 | andreistav | 1 | 0.80 | – |
| 342 | lucasjhf | 1 | 0.80 | – |
| 343 | leshka777777 | 1 | 0.80 | – |
| 344 | cheekygirl19 | 1 | 0.80 | – |
| 345 | yaromi | 1 | 0.80 | – |
| 346 | nuts12344 | 1 | 0.80 | – |
| 347 | mamutan | 1 | 0.80 | – |
| 348 | Denmark786 | 1 | 0.80 | – |
| 349 | ailita36 | 1 | 0.80 | – |
| 350 | Underworldo0 | 1 | 0.80 | – |
| 351 | WildWeasley | 1 | 0.80 | – |
| 352 | dimassauk86 | 1 | 0.80 | – |
| 353 | arkadi30 | 1 | 0.80 | – |
| 354 | vcompy | 1 | 0.80 | – |
| 355 | minigore1 | 1 | 0.80 | – |
| 356 | microcebus | 1 | 0.80 | – |
| 357 | vergilin | 1 | 0.80 | – |
| 358 | chrisnbc95 | 1 | 0.80 | – |
| 359 | HenriqueB50 | 1 | 0.80 | – |
| 360 | Killer3537 | 1 | 0.80 | – |
| 361 | awsomeday | 1 | 0.80 | – |
| 362 | WillIron33 | 1 | 0.80 | – |
| 363 | DeLima naval | 1 | 0.80 | – |
| 364 | Pokerzonka | 1 | 0.80 | – |
| 365 | Pssique | 1 | 0.80 | – |
| 366 | 98DILAGO89 | 1 | 0.80 | – |
| 367 | Risk2K122 | 1 | 0.80 | – |
| 368 | inkvizitor1979 | 1 | 0.80 | – |
| 369 | Darkdanger12345 | 1 | 0.80 | – |
| 370 | Artemchilike | 1 | 0.80 | – |
| 371 | nick_c44 | 1 | 0.80 | – |
| 372 | PEKYH444 | 1 | 0.80 | – |
| 373 | SaymonFake | 1 | 0.80 | – |
| 374 | Vodnik2017 | 1 | 0.80 | – |
| 375 | Pycu4-23 | 1 | 0.80 | – |
| 376 | Moretz.exe | 1 | 0.80 | – |
| 377 | Sergant777111 | 1 | 0.80 | – |
| 378 | Sakyrenok | 1 | 0.80 | – |
| 379 | Huttqu | 1 | 0.80 | – |
| 380 | ROman.ps77 | 1 | 0.80 | – |
| 381 | PS-GLADIATOR-PS | 1 | 0.80 | – |
| 382 | Zidanevd | 1 | 0.80 | – |
| 383 | s0per | 1 | 0.80 | – |
| 384 | Ariana_Boys | 1 | 0.80 | – |
| 385 | CorbanBoanerges | 1 | 0.80 | – |
| 386 | imflat00 | 1 | 0.80 | – |
| 387 | SC4RF4CE | 1 | 0.79 | – |
| 388 | dmb_London | 1 | 0.79 | – |
| 389 | RoboSquirrel | 1 | 0.79 | – |
| 390 | Einer200 | 1 | 0.79 | – |
| 391 | 73REX73 | 1 | 0.79 | – |
| 392 | dudupmp | 1 | 0.79 | – |
| 393 | hmagnani | 1 | 0.79 | – |
| 394 | tomspillane | 1 | 0.79 | – |
| 395 | joy7108 | 1 | 0.79 | – |
| 396 | init2winit28 | 1 | 0.79 | – |
| 397 | culaces | 1 | 0.79 | – |
| 398 | Xaerooo | 1 | 0.79 | – |
| 399 | motoconcho70 | 1 | 0.79 | – |
| 400 | TovSuhov59 | 1 | 0.79 | – |
| 401 | sascha13ld | 1 | 0.79 | – |
| 402 | Stepan Batov | 1 | 0.79 | – |
| 403 | honeycrush | 1 | 0.79 | – |
| 404 | Tox1309 | 1 | 0.79 | – |
| 405 | saladir1337 | 1 | 0.79 | – |
| 406 | Teun_v_Dijk | 1 | 0.79 | – |
| 407 | UZB_AssAssiN | 1 | 0.79 | – |
| 408 | K187N | 1 | 0.79 | – |
| 409 | KaladinVale | 1 | 0.79 | – |
| 410 | mixamixa1989 | 1 | 0.79 | – |
| 411 | YORUGUA1526 | 1 | 0.79 | – |
| 412 | sting77755 | 1 | 0.79 | – |
| 413 | S1THL0RD | 1 | 0.56 | – |
| 414 | LP Sti | 1 | 0.56 | – |
| 415 | speed900 | 1 | 0.56 | – |
| 416 | PJCunning1 | 1 | 0.56 | – |
| 417 | PumaPerez | 1 | 0.56 | – |
| 418 | Ornox | 1 | 0.56 | – |
| 419 | mindgames13 | 1 | 0.56 | – |
| 420 | gardius78 | 1 | 0.56 | – |
| 421 | Idracab2000 | 1 | 0.56 | – |
| 422 | SIvanych | 1 | 0.56 | – |
| 423 | pothead2012 | 1 | 0.56 | – |
| 424 | red13rum | 1 | 0.56 | – |
| 425 | jonny-server | 1 | 0.56 | – |
| 426 | GRR!NDKEk$ | 1 | 0.56 | – |
| 427 | Opcius | 1 | 0.56 | – |
| 428 | NonStooop | 1 | 0.56 | – |
| 429 | Rio yeh? | 1 | 0.56 | – |
| 430 | Phily21212 | 1 | 0.56 | – |
| 431 | PS1812 | 1 | 0.56 | – |
| 432 | nino_ie | 1 | 0.56 | – |
| 433 | yacubbest | 1 | 0.56 | – |
| 434 | Brooska | 1 | 0.56 | – |
| 435 | nir7777 | 1 | 0.56 | – |
| 436 | menervous | 1 | 0.56 | – |
| 437 | cosaDoboj | 1 | 0.56 | – |
| 438 | dog325713 | 1 | 0.56 | – |
| 439 | blackcatyc | 1 | 0.56 | – |
| 440 | CEP}I{bIK | 1 | 0.56 | – |
| 441 | StCerevisiae | 1 | 0.56 | – |
| 442 | DrumMule | 1 | 0.56 | – |
| 443 | SharKygin | 1 | 0.56 | – |
| 444 | Evil Dvil | 1 | 0.56 | – |
| 445 | JackRubio26 | 1 | 0.56 | – |
| 446 | JIaMaI0 | 1 | 0.56 | – |
| 447 | ghZTrikz | 1 | 0.56 | – |
| 448 | paciência1 | 1 | 0.56 | – |
| 449 | TheNantucketMan | 1 | 0.56 | – |
| 450 | The3rdSlipper | 1 | 0.56 | – |
| 451 | Zoss.Karl | 1 | 0.55 | – |
| 452 | dof_poker | 1 | 0.55 | – |
| 453 | Sprutto | 1 | 0.55 | – |
| 454 | NiK133 | 1 | 0.55 | – |
| 455 | korallevich | 1 | 0.55 | – |
| 456 | VAZUZA72 | 1 | 0.55 | – |
| 457 | Phili3boy | 1 | 0.55 | – |
| 458 | sergun71 | 1 | 0.55 | – |
| 459 | Vladimir7027 | 1 | 0.55 | – |
| 460 | DEVIL'z JOKE | 1 | 0.55 | – |
| 461 | MetalMan977 | 1 | 0.55 | – |
| 462 | divabrae | 1 | 0.42 | – |
| 463 | Djon Kartvik | 1 | 0.42 | – |
| 464 | latana90 | 1 | 0.40 | – |
| 465 | Irina 201666 | 1 | 0.40 | – |
| 466 | rawi2342 | 1 | 0.40 | – |