Pedro Padilha was a favorite in this weekend's Top do Brasil poker tournament, a contest that's bringing in the best of Brazilian poker players, pitting them against each other, and giving the winner a Platinum Pass and all its benefits…including a free seat in the $25,000 PokerStars Players No-Limit Hold'em Championship and a paid trip to the Bahamas.
Perdro Padilha was all set to go win that event. As one of Brazil's top players, he has the cash to play in the PSPC and planned to go anyway. But, hey, why not try to win that all-star tournament and get in for free, right?
"I was planning to try all the ways to get the Platinum Pass," Padilha said.
So, for tomorrow's event, Padilha was the favorite in the betting odds, and the bettors were piling on. That's going to be a problem now. Why? Because Padilha jumped the gun a little bit. Last night, he played the Brasil Series of Poker Diamond Freeroll and won it. Guess what first prize in that got?
Yep.
So, now there is not reason for him to win the Top do Brasil tomorrow!
"I think I let down the guys who bet on me," said a smiling Padilha. "I do not know if a lot of people bet on me, but I'm sorry!"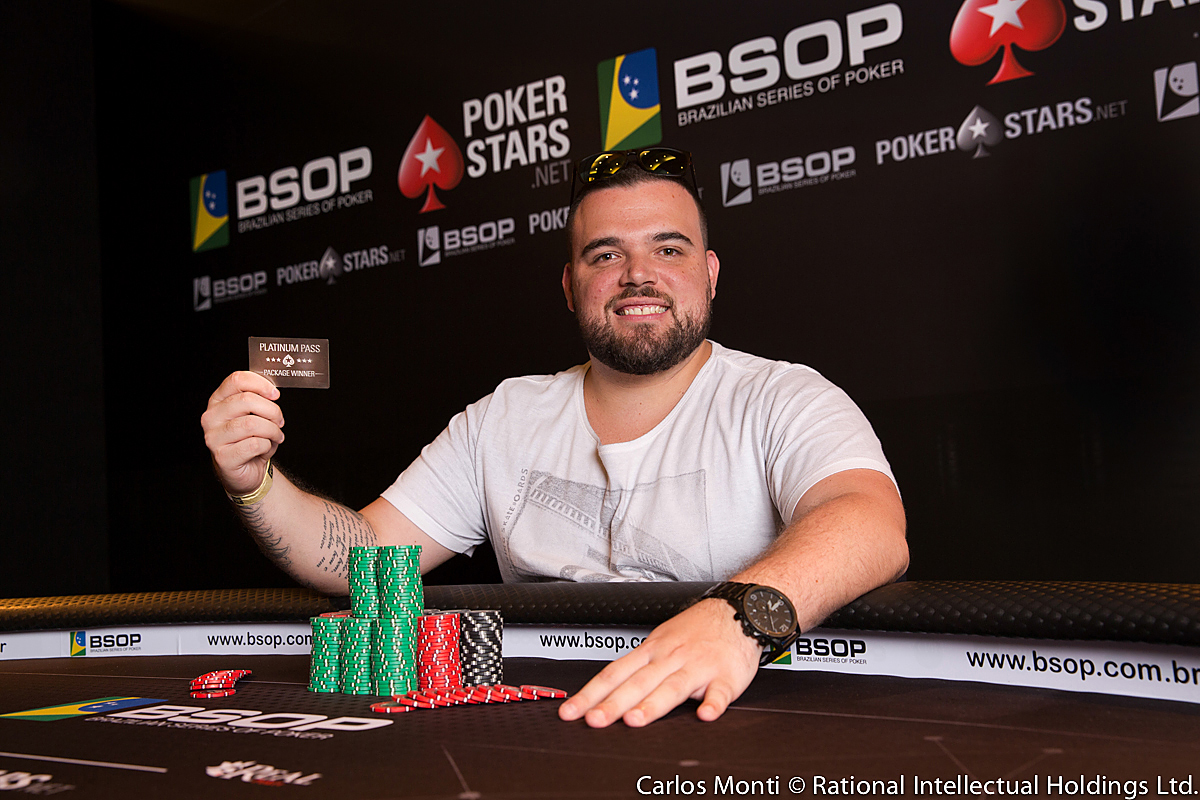 Pedro Padilha (he doesn't look that sorry…)
Padilha is one of the biggest names in Brazilian poker, with titles in SCOOP, WCOOP Second Chance and numerous regular tournaments on PokerStars. In the first stop of 2018 Season of the Brazilian Series of Poker back in January, Padiha won two titles: Event # 02 (NLH One Day High Roller) and Event # 19 (NLH $ 1,150 Turbo Knockout). And he started BSOP Brasília with a bang, winning the Diamond Freeroll and receiving the third Platinum Pass that has gone to a Brazilian players. Kelvin Kerber and Tiago Magalhães were the first two Brazilians to win their PSPC seat.
To win his pass, Padilha had to face some of the toughest competition he's seen. The achievement came in an invitational freeroll tournament here in Brasilia with 73 BSOP Diamond (BSOP loyalty program) players.
"It was a difficult field with a lot of regular players, including most of the Top do Brasil players, but it worked out okay," Padilha said.
After planning a year-long campaign to try to win his pass, Padilha is amused to find his year is a little moe freed-up.
"I got it almost at the first opportunity," said Padilha. "I can spend the year more relaxed. It was not a burden or a concern, but now I'm relieved without having to think about satellites and other methods of qualification."
So…Padilha is sorry. (But probably not that sorry…)
---
Pedro Padilha is one of more than 300 Platinum Pass winners who will be going to the PokerStars Players No-Limit Hold'em Championship. Want to see more? Meet them all on in our PSPC Platinum Pass Winners index.