Through 14 previous years of the PokerStars Caribbean Adventure (PCA), champions have come from all walks of life and all levels of the game. There have been elite pros, young guns and amateurs, stepping into the brightest spotlight and celebrating victory in one of the most prestigious tournaments in the game.
There's only one thing common to them all–something pretty common, in fact, across the world of poker. All of them have been men.
That is one of the reasons why tonight poker toasts its newest PCA champion: Maria Lampropulos, a 36-year-old pro from Buenos Aires, Argentina, who has just closed out an exceptional victory in the 2018 renewal of this storied event. She wins a prize of nearly $1.1 million, plus a Platinum Pass to the PokerStars Players Championship to be held back at the Atlantis Resort, Paradise Island, in the Bahamas this time next year.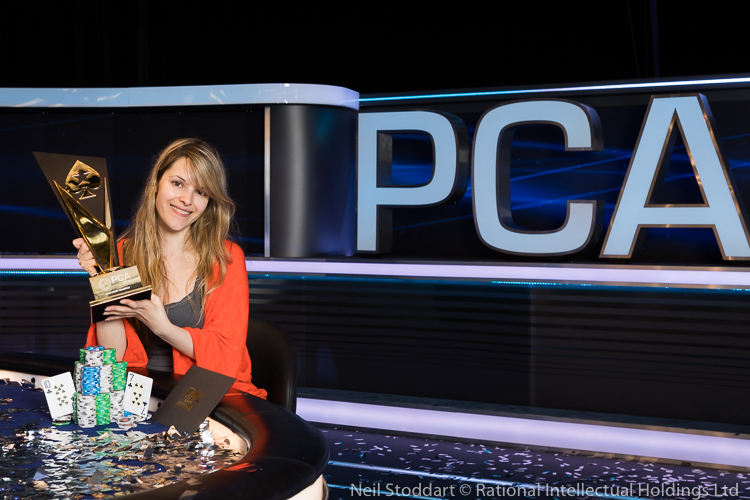 Maria Lampropulos: PCA winner
Based on this performance, Lampropulos can be installed among the early favourites. She was utterly unflappable at the eye of a storm created by one of the best final tables ever assembled in an open event. Lampropulos overcame numerous set-backs en route to a famous victory, beating the decorated online pro Shawn Buchanan heads up.
"I am very proud," Lampropulos said. "Every woman here–dealers, floors–every woman is very happy for me, and I'm grateful for that."
And let no one tell you this was a fluke. This is Lampropulos's second $1 million-plus victory in the past eight months. Her temperament and skill set are a perfect match for this game, and she becomes the first person to take the title back to South America, where she will no doubt be the star attraction when the Latin America Poker Tour reconvenes this year.
"I am very, very happy," she added. "I'm so excited. This is incredible. I know that this is hard to believe for everybody. It's my second huge main event, and I'm very thankful."
Lampropulos knocked out Team PokerStars Pro Liv Boeree to end the fourth day of this tournament, and leave her as the last woman standing. And by 10:30pm on the sixth day, she had the lot. Quite a good week to be called Maria.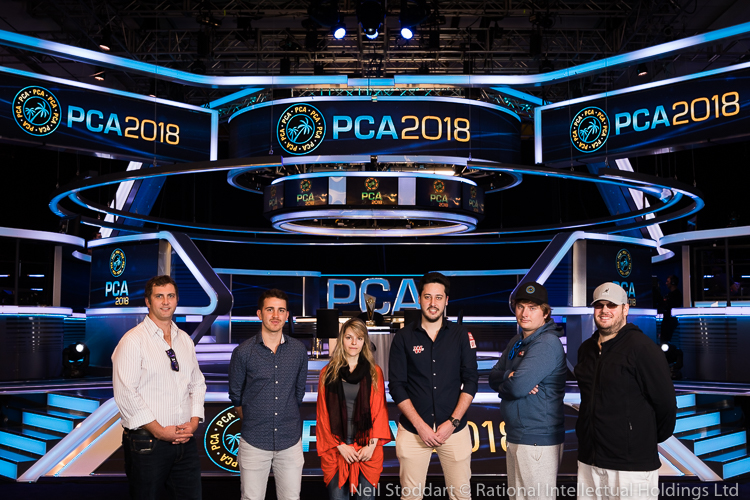 PCA Final Table (l-r): Daniel Coupal, Koray Aldemir, Maria Lampropulos, Adrian Mateos, Christian Rudolph, Shawn Buchanan
This was a final table of the very highest quality, featuring elite players matching each other for fearlessness, cunning and style. Any one of them could have walked away with the title, and the viewers on the PokerStars.tv live stream, on the PCA's magnificent new set, were treated to tricks, bluffs, aggression and solidity, particularly over the tournament's closing two days.
Yesterday no one escaped a buffeting, and today was much the same. Adrian Mateos had the lead at the start, but quickly Lampropulos made the early running. Buchanan then seemed to be sprinting away with it, then Germany's Koray Aldemir had his say.
But if yesterday's drawn-out turbulence taught us anything, it was that a chip lead is no guarantee of victory, nor a short stack reason for despair.
But for all that, today's final table began as most commentators would have predicted, with the elimination of the two overnight shorties.
Christian Rudolph's final day lasted only about 20 minutes before he lost a race to Lampropulos's pocket sixes. In such elite company, Rudolph carried the tag of underdog among the last six, but he is a former Sunday Million and Sunday Warm-Up champion on PokerStars and his $293,560 sixth-place prize here will add further pep to his step.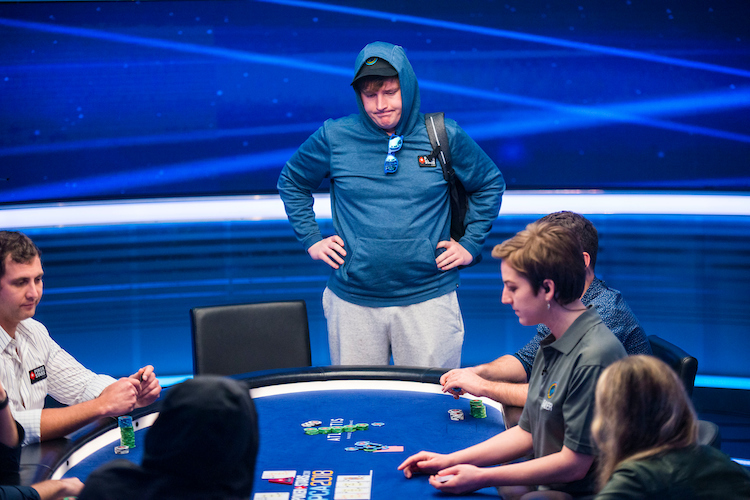 Christian Rudolph accepts the bad news
As for Daniel Coupal, whose fine run ended in fifth, he was a perfect example of the kind of player PokerStars live events have been turning into heroes since their inception. A 36-year-old wheat and lentil farmer from Regina, Saskatchewan, Coupal is a recreational player who won his seat in a $530 PokerStars online satellite, an "ultra sat" in which 100 packages were guaranteed.
During yesterday's tortuous late exchanges, Coupal was therefore content to sit and wait it out, knowing that he had already secured an extraordinary ROI. He laddered up another spot this afternoon thanks to Rudolph's departure, and even when his bold check-raise with 8♦4♦ lost to Buchanan's K♠J♠ (which had flopped two pair), he knew he had officially turned his $500 into $293,560. That's a decent harvest.
"Good pay-day, I can't complain," Coupal said. "I am ecstatic. It's great. It's fantastic."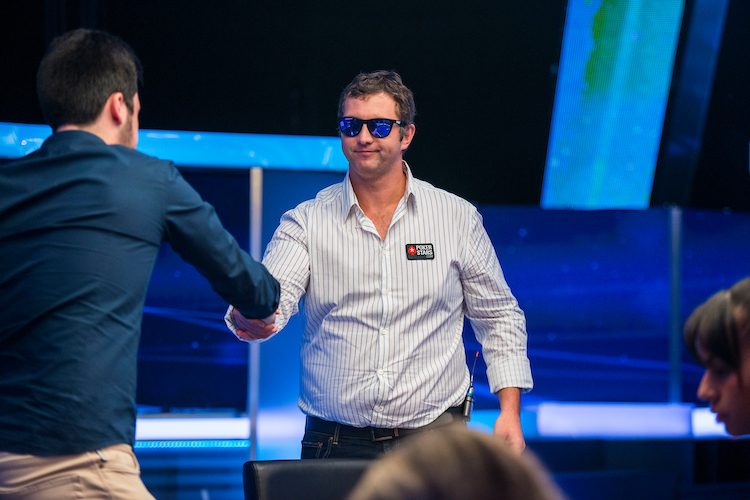 Daniel Coupal takes his leave
At the point of Coupal's elimination, Buchanan had already assumed the chip lead thanks to a pivotal hand against Lampropulos, who had made most of the early running. This particular hand took ten minutes to play out, cost Lampropulos the chip lead and sent Buchanan on a surge.
Buchanan flopped middle pair with his A♦7♠ and then turned trips. He made a full house on the river when the board paired. Money went in on every single street, with Lampropulos taking her time before deciding to go all the way. It represented perhaps her first mis-steps of the tournament, and Buchanan made her pay.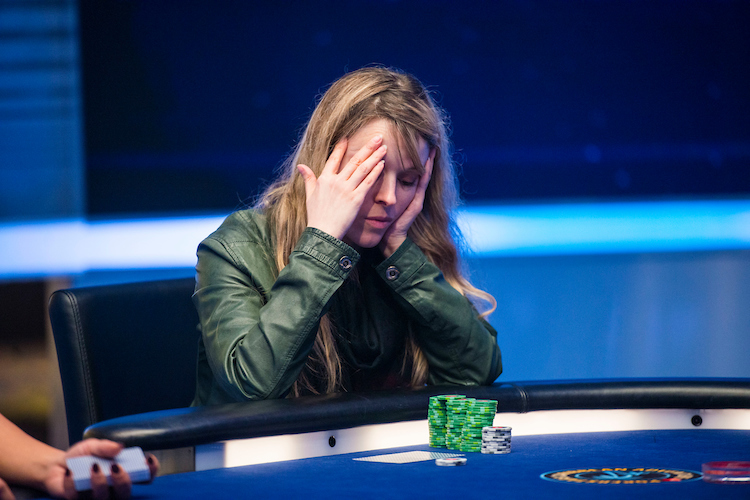 An agonising decision for Maria Lampropulos
Buchanan also had to deal with Mateos. It's difficult to remember that Mateos is still only 23 years old, such is the extent of his accomplishments and the maturity he displays at the tables. He was disciplined with the short stack yesterday and ruthless once he acquired the ammunition properly to do battle.
But sometimes unstoppable force meets immovable object and Buchanan won today's duels between the two. The last came about when Mateos flopped top pair with A♣K♥ and got it all-in. Buchanan called with a flush draw and hit it on the turn.
"I think I played great," Mateos said, though clearly disappointed. "I only played one hour, but it's fine…For sure I'll be here [next year] and I'll try to win."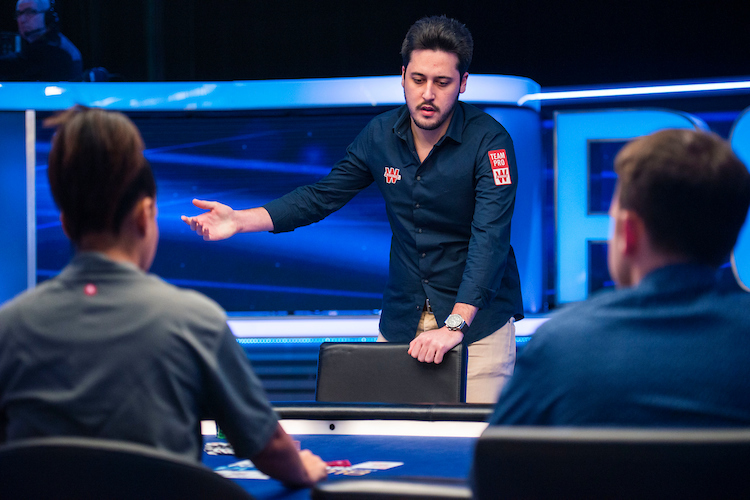 Adrian Mateos sees his fate
After his performance this week, Mateos extended his lead at the top of the Spanish all-time money list by another $372,600.
Buchanan was in a dominant position at the start of the three-handed session, with more than 60 percent of the chips in play. But when the 35-year-old had said in his pre-match interview that he felt like "an old man in this game now" and was "putting in a lot of work to keep up with the young guys", he was referring to players like Aldemir and his cohort of German crushers.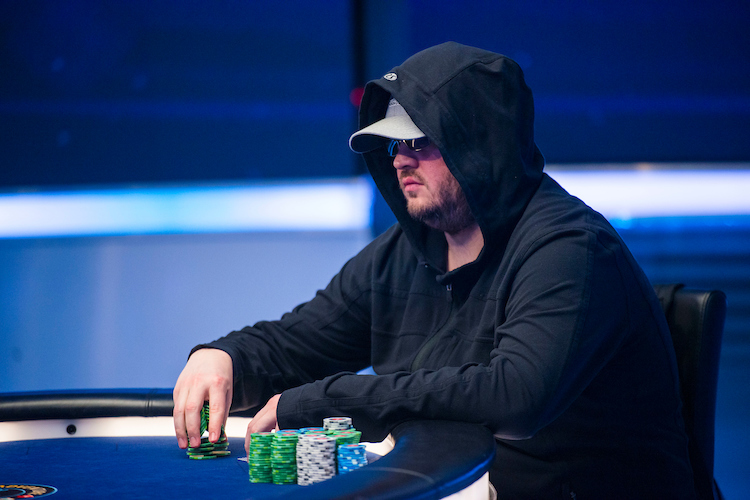 "Old man" Shawn Buchanan
They were all looking over the rail and Aldemir quickly gave them reason to celebrate. He scored a big double with A♦Q♦ against Buchanan's black nines, and then edged up on to Buchanan's shoulder.
He then pulled off an audacious bluff with 3♣3♠, shoving the river on a A♣K♥8♠J♣7♥ board and getting Buchanan to fold his A♠7♦. With the German wunderkind back at the races again, it put the pressure back on Lampropulos.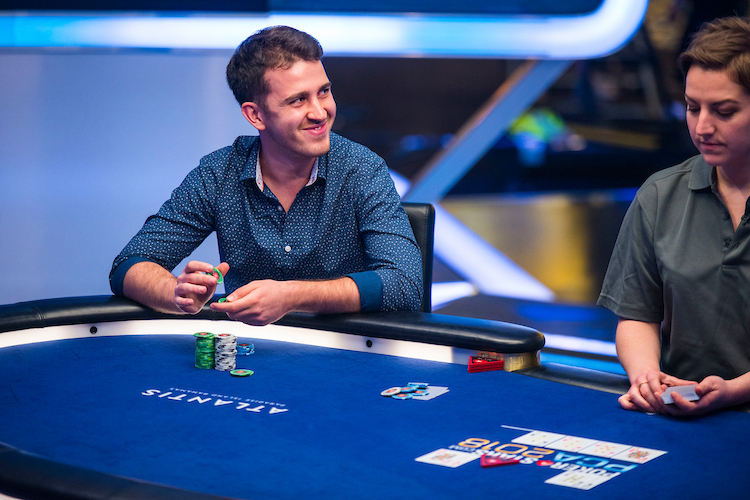 All-in ends well for Aldemir
But Lampropulos has already proved her mettle among the strongest company, not least in her high profile £1 million win last April. Despite battling a cough, and being short-stacked for long periods here, she clung on and picked spots perfectly.
She sat out as Buchanan put paid to Aldemir: losing with K♥7♥ and top pair to Buchanan's A♣8♣, which turned trips.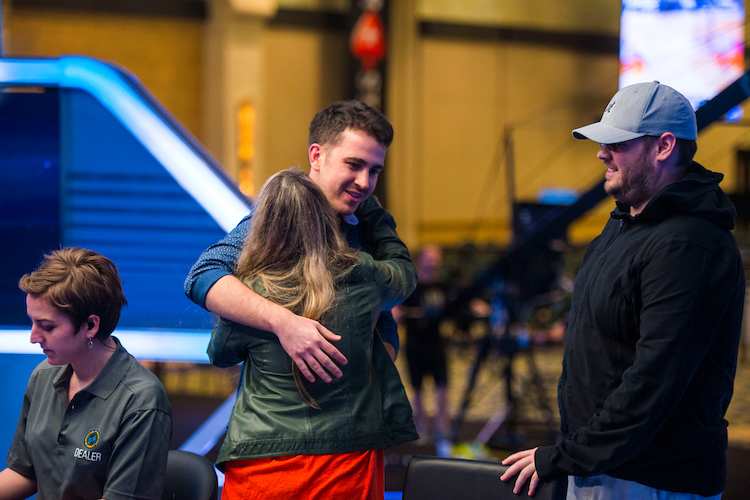 Koray Aldemir departs with a hug
That gave Buchanan a massive heads-up chip lead, but again Lampropulos would simply not be shifted. She doubled up once, with A♥8♠ to Buchanan's 4♠4♥. She doubled up twice, with A♥10♣ against Buchanan's 9♥9♣.
And the third time they got it all-in, it was Buchanan who was under threat. Lampropulos won this one as well, flopping a pair of tens and holding against Buchanan's pair of fives.
Buchanan, who as "buck21" has won everything there is to win in the online game, including six COOP titles on PokerStars, is wise enough to know when the game is up. He offered a broad smile of congratulations from beneath his characteristic sunglasses, baseball cap and hoodie.
Even he couldn't solve the problem like Maria.
Lampropulos will now cross swords with more of the best in the $25,000 shindig here next year. She leaves tonight clutching her Platinum Pass.
"I have never played so high," she said. "I will try to do my best. I will have to improve a lot. I know that but I really love playing poker, and I will continue playing."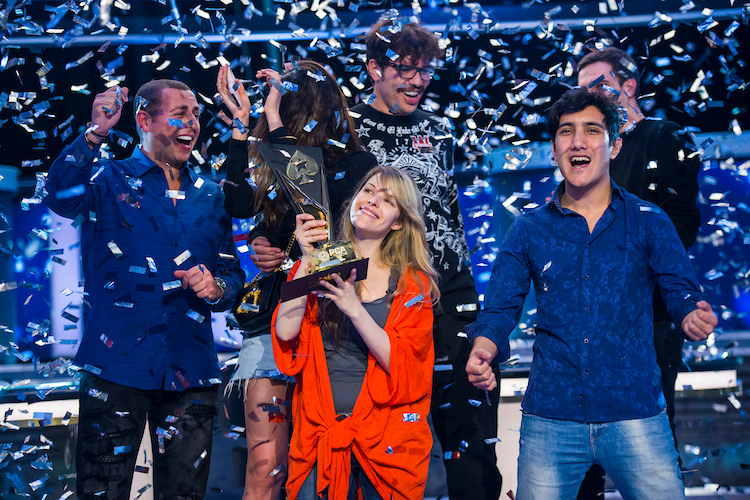 Maria Lampropulos: Champion!
Click through to read how the whole day played out.
2018 PCA Main Event
Dates: January 8-14, 2018
Entries: 582
Buy-in: $10,000
Prize pool: $5,645,400
| POS | NAME | COUNTRY | PRIZE |
| --- | --- | --- | --- |
| 1 | Maria Lampropulos | Argentina | $1,081,100 |
| 2 | Shawn Buchanan | USA | $672,960 |
| 3 | Koray Aldemir | Germany | $481,560 |
| 4 | Adrian Mateos | Spain | $372,600 |
| 5 | Daniel Coupal | Canada | $293,560 |
| 6 | Christian Rudolph | Germany | $229,760 |
THE BEST OF THE 2018 PCA
Photography by Neil Stoddart and Joe Giron/PokerPhotoArchive.com