Right now, Jean Ateba, thinks it could be him. He has the chip lead. He has momentum. He still has a path to the trophy and riches. That's the heady recipe of adrenaline and hope that a chip leader gets to take to bed tonight. So, congrats, Jean, on your Day 1B chip lead…and (checking notes…yep) the overall chip lead going into Day 2.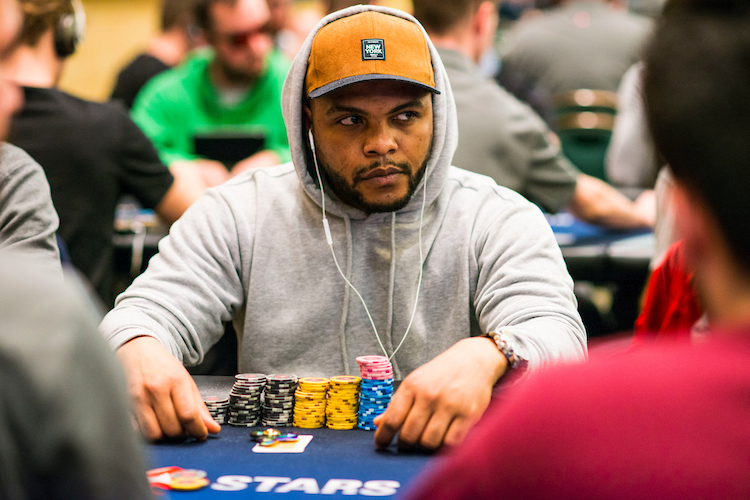 Jean Ateba, Day 1B chip leader
It could be last year's Bahamas third place finisher Michael Vela, the brash and funny man who sits second in chips. He's proven he can do it once, and he might just make that run again. And frankly, the longer he stays in, the more fun the tournament will be.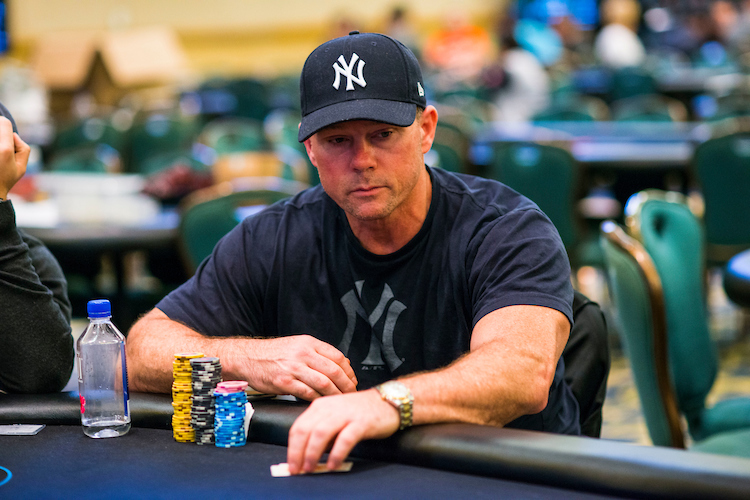 Mike Vela
So far, we've had more than 550 people plunk down $10,000 or the satellite ticket equivalent to play for marquee title here at the PokerStars Caribbean Adventure. We still have five days of play before we know who that will be.
It could be anyone who survived Day 1A last night. It could be any of the people bagging chips right now. It might be a top pro, it might be one of our Spin & Go qualifiers (who you can read about in our coverage below) who battled today. It might event be NFL veteran Richard Seymour who was on the razor's edge of elimination and finished tonight with a playable stack.
All we can do now is report who will start Day 2 with the biggest advantage. Those people include Ateba, Vela, and the rest of these notable stacks.
Jean Ateba: 155,500
Michael Vela: 153,600
Marcus Schottes: 148,200
Timur Toktabayev: 141,500
Gianluca Speranza: 141,200
Richard Kirsch: 140,000
Lucas Blanco: 133,200
Daniel McAleer: 131,700
Thai Ha: 130,300
Victor Ramdin: 119,700
Jake Cody: 106,000
Andre Akkari 63,400
Richard Seymour, 47,200
But–and I can't stress this enough–the winner could be none of those people. It could be someone we've never met.
It could be anyone else in the field:
Here is where everyone will be sitting: Day 2 Seat Draw
And how many chips the have: Day 2 chip counts
What I mean is…a day at the PCA can surprise you.
To wit: last night, we had a team meeting in which we looked ahead to today and tried to predict how this Tuesday would end. An amateur in this business might have predicted the winner of the $50,000 would stand out as the most interesting. It terms of expertise, that might have been true, but for those of us who have watched those guys play as much as we've watched Seinfeld re-runs (note: a lot), we weren't counting on our adrenaline pumping at the $50K's conclusion.
At lot of people would have said the Main Event Day 1B we recapped above. That's certainly exciting, too, but hey…it's Day 1B. Nobody wins the tournament today. In fact, chances are today's chip leader won't be around at the final table (sorry, Jean…it's just true).
But as we sat last night eating our salads and drinking our Arnold Palmers, we had an inkling this day could get turned on its head by a woman named Maria Konnikova. We re-grouped, re-assigned our resources, and then re-assigned them again as our inkling turned a giant screaming ink scrawl that read: THIS IS THE STORY OF THE DAY.
If you haven't heard of Konnikova, her unique place in the poker world, and her ridiculously interesting background by now, please run–don't walk–to this profile of her accomplishment and how she came to be here today. After that, read about her path to the trophy.

We'll be back tomorrow with a giant crew reporting solely on the Main Event's Day 2. We're going to hit it from every angle. While it's hard to be Konnikova's story, who knows? By the end of the day tomorrow, we could have another day at the PCA that has surprised the pants off us.*
Until then, goodnight from Paradise Island.
*Editor's note: All pants were worn until such time that it was appropriate to remove them. We promise.
• OTHER COVERAGE: $50K HIGH ROLLER | NATIONAL CHAMPIONSHIP
• ALL PCA INFO | TOURNAMENT SCHEDULE | DOWNLOAD POKERSTARS
• POKERSTARS BLOG'S PCA VIDEOS
• SIDE EVENT RESULTS
• Follow @PokerStarsBlog on Twitter

DAY 1B COVERAGE ARCHIVE
---
8:50pm: Last three hands
Level 8 – Blinds 400/800 (ante 100)
They're now playing the last three hands of the night.
8:45pm: Moneymaker toast
Level 8 – Blinds 400/800 (ante 100)
Chris Moneymaker's PCA is over as the former World Champion and Team PokerStars Pro lost a three-way all-in. He was up against John Krpan and Robby Westrom with Moneymaker's 8♣8♠ not good enough against Westrom's J♥J♣ after a board of 3♣10♣J♦3♠5♦. Krpan is also on fumes now as his A♠K♥ also lost out. — HS
8:25pm: Against the clock
Level 8 – Blinds 400/800 (ante 100)
Into the last level of the day, time was quickly running out on opening day.
"We haven't played a pot in a while," said Richard Kirsch, looking over at Oliver Weis in the one seat, and adding that they needed to make the most of what time was left on the day.
So when Weis opened, Kirsch called form the big blind to see a K♥3♥9♦ flop.
Kirsch checked before Weis, face partially covered by his collar, bet 2,000. Then Kirsch called for the 7♦ turn card. He checked again. Weis bet again, 8,000 this time.
"I don't feel it this time," said Kirsch. Then he folded A♥J♥ face up. "Nice hand."
Still a good day for Kirsch, who sits with 130,000 with half an hour left on the clock. Weis is up to 80,000. – SB
8:16pm: Can't overtake Troyanovskiy
Level 8 – Blinds 400/800 (ante 100)
Vladimir Troyanovskiy always looks like he means business. Apparently he also means business when he raises from under the gun.
Troyanovskiy recently raised to 1,800 from under the gun and Pablo Melogno three-bet to 4,600 from early position. Action folded all the way back around to Troyanovskiy. Troyanovskiy didn't really move, he stared there, as stoic as ever. Then he grabbed a pile of chips big enough to put Melogno all-in and dumped them in the middle.
Melogno folded and was left with about 15,000 while Troyanovskiy is up to about 45,000. –AV
8:15pm: No bluff, just straight talk
Level 8 – Blinds 400/800 (ante 100)
"Show me the bluff," Jeff Gross told Victor Ramdin after he folded to Ramdin's river net. "Come on. Just once."
Ramdin did show, but it wasn't a bluff. The board read 6♣3♥8♦9♠6♠ and Ramdin finally showed him the 7♠5♣ for a straight.
"Good fold," Ramdin said. Gross had flashed A♠8♠ for a pair of eights before he folded.
It all started with a limp though. Nicola Gonzalez limped from early position at the beginning of the hand and Ramdin went along from the middle position. Gross called from the cutoff and Povilas Astasauskas checked his option. Ramdin then bet 2,300 on the flop, Gonzalez and Astasaukas folded and Gross called. They both checked the turn and then Ramdin bet 6,500 on the river. Gross went into the tank. He only had about 12,000 left and he spent a few minutes riffling his chips and thinking.
"Show me the bluff," Gross said as he folded. Gross was left with 12,000 after the hand while Ramdin is up to 125,000. –AV
8:05pm: Good tower for Timur
Level 8 – Blinds 400/800 (ante 100)
Troy Nisbet is out in level eight. He moved in with pocket jacks, was called by Timur Toktabayev with ace-six off, and endured a board that delivered an ace on the flop.
He flipped his now redundant ID badge at the dealer, a little harder that intended, and disappeared into the crowd. Toktabayev now has more than 125,000. – SB
8pm: Seymour recovers
Level 7 – Blinds 300/600 (100)
Richard Seymour, down to his last 6,300 just managed an impressive feat. On a board reading 7♥7♣A♠, he had two opponents in the hand, one with A♣K♦ and one with A♦Q♠, both of whom were happy to get in against Seymour's K♠7♠. He held and tripled up.
"It's like a fumble," said one man at the end of the table. "You recovered!"–BW
7:55pm: Capturing the moment
Level 7 – Blinds 300/600 (ante 100)
Luciana Manolea is among the latest to depart. She reached the rail moments before Philipp Kaempf of Germany, who was all in with 9♦7♦ which, without knowing the board, was no good against the 4♥3♥ of Martin Raus.
Kaempf took the defeat well. He watched as the cards we dealt, and his chips were gathered and pushed to Raus. The dealer turned over his hand, as is customary to denote the winner, but Kaempf, camera ready, asked the dealer if he could turn the cards over again. For posterity.
The dealer obliged, Kaempf took his picture, and made his way out of the tournament room. Armed with a story, and a picture to go with it. — SB
7:45pm: Arhirli up to 50,000
Level 7 – Blinds 300/600 (ante 100)
Anna Arhirli of Moldova just increased her stack a little more in a hand against Xixang Luo.
Arhirli, who started the day getting her picture taken with Daniel Negrenau, opened for 1,500 and got a call from Luo for a flop of 7♦10♥8♣.
Then the checking began. First on the flop, then the Q♦ turn and the K♥ river. Arhirli showed J♥J♠ to take the pot and move up to around 51,000. – SB
7:40pm: Metsur pushes Akkari off one
Level 7 – Blinds 300/600 (ante 100)
There was about 4,000 in the pot and a 9♠3♦6♣ flop on the board. Three players were vying to win it. The contenders were Gil Morgensztern, Villu Metsur and Team PokerStars Pro Andre Akkari.
Metsur was the first to take a stab at it and he bet 2,000. That was too much for Morgensztern, but Akkari wasn't giving up just yet. Akkari called and a 6♥ came on the turn. Metsur upped the bet to 4,000 and Akkari check-called again, bringing a 3♥ on the river. There was another check from Akkari and Metsur made it 11,000. Akkari thought for a bit, but it was too much for him and he let his hand go instead.
Before Metsur raked in the pot, he turned over J♠J♣ and Akkari nodded. Despite losing the pot, Akkari is still above average with 48,000 and Metsur chipped up to 36,000. –AV
7:25pm: Seymour housed
Level 7 – Blinds 300/600 (100)
"You're not running the best today," Chris Moneymaker said through a surgical mask, presumably worn to disguise his identity as one of the most recognizable poker players in the world.
Richard Seymour (NFL veteran, not wearing a mask), was the subject of Moneymaker's lament. Seymour agreed. He didn't have any choice. It was true. All too true.
At issue was Gavin O'Rourke's 8,000 bet, a board that read 3♠J♦7♣A♥3♥, and presumably a very good starting pair in Seymour's meaty hands.
"You caught up with me," he said.
And maybe O'Rourke had, but Seymour couldn't convince himself to fold. So, he got to see how right he was. O'Rourke had J♠J♣ for the flopped set and rivered boat.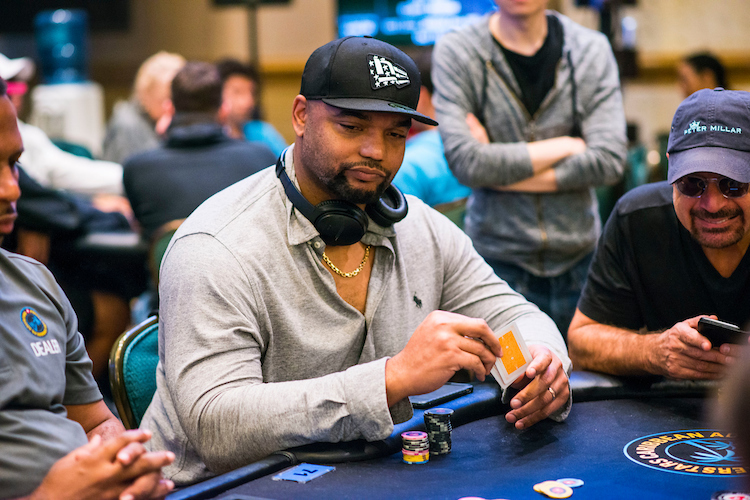 Richard Seymour
Seymour is now down to less than 10,000 in chips and looks like he could use a doctor.
Paging Dr. Moneymaker.–BW
7:15pm: big three-way pot
Level 7 – Blinds 300/600 (ante 100)
The flop was already dealt 3♥5♣6♣. Andy Philachak had made it 5,000 to play and Daniel Dvoress, mid massage, then raised to 12,800. That wasn't the end of it though. Alexander Haber liked his hand too, and moved all-in for about 30,000. Philachak called with his last 20,000, leaving Dvoress with a decision.
It was a big one, and he sat up to think things over. Like Philachak, he'd be calling all in, but he couldn't do it. He passed, and left the others to it.
Philachak showed Q♦Q♠ which got an ironic chuckle from Haber, who turned over his J♠J♦.
The turn came K♥ and the river Q♥. A double up for Philachak, who is up to around 80,000. Haver meanwhile was left with only a handful. – SB
7:05pm: Kadylo's tournament at its end
Level 7 – Blinds 300/600 (ante 100)
It's clear that the glass is usually half full in Morris Kadylo's world and he was looking on the bright side after his elimination in the first orbit of Level 7.
"I can go for dinner," he said.
He packed his things and shook several hands around the table.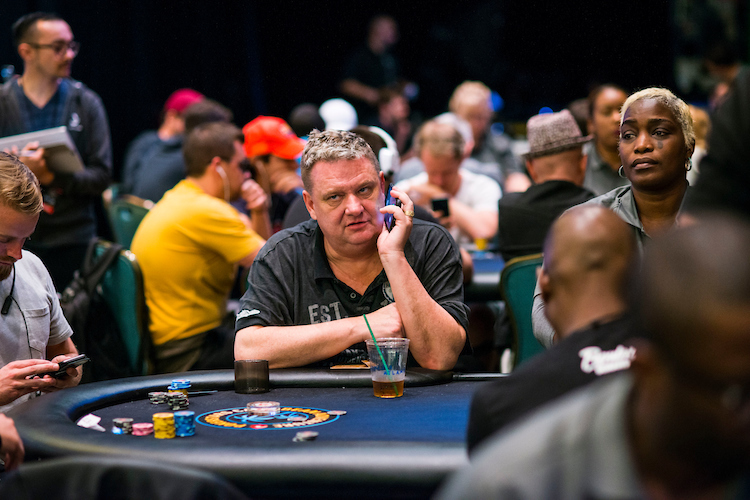 Morris Kadylo
Keith Nassetta took the last of Kadylo's chips. The pair were at a flop of 9♥K♦2♦ and Nassetta bet 6,000. Kadylo jammed for 26,800 and Nassetta called.
Kadylo had K♠Q♠ but was behind Nassetta's A♥K♣. Kadylo's calls for a "Queen baby!" went unanswered as the 9♦ turn and 4♥ river completed the board.
Kadlyo departed to a chorus of "Nice playing with you"s. — HS
6:41pm: Break time
It's time to race off the 25 value chips and take a break. –BW
6:40pm: Marinelli doubles, Adeniya takes a hit, Nicole makes a shrewd fold
Level 6 – Blinds 250/500 (ante 75)
It was going pretty well for Martins Adeniya, well enough that he could get involved in a pre-flop all-in confrontation with Dario Marinelli, lose 22,350, and still have 24,500 in his stack.
That said, Adeniya is also sharing a table with Morris Kadylo whose evident enjoyment at playing the PCA, getting a massage and sampling some of the local refreshment at the same time is making him the loudest man in the room.
The hand in question featured all three of these–all four, actually, if we also count the massage therapist Nicole. I missed the start of the hand, but it seemed pretty clear that Adeniya had opened from under the gun, Kadylo had called and then Marinelli had shoved from the small blind.
Adeniya called, which put the decision back on Kadylo. He announced that he was going to get out of the way, loudly declaring the hand was "too weird", attaching a colourful adverb in there that is not fit for a family blog.
The live hands went on their backs and Marinelli's 9♣9♦ stayed good against Adeniya's A♦K♠ through a board of 9♠5♣6♦J♠5♥.
"What'd we have, Nicole?" Kadylo asked. "We had seven-five! We'd have had you!"
Nicole knew the truth. "No you had deuce six," she said.
"That's where I got all my chips from, listening to my masseuse," Kadylo said. — HS
6:35pm: Lasagna? Mmm.
Level 6 – Blinds 250/500 (ante 75)
Things are a little quiet on Jason Koon's table. He wondered if they needed something to talk about.
"Sports?" he asked, but there aren't any on the big screen today. Someone mentioned the weather, which is thunderous today, but Koon had a better idea.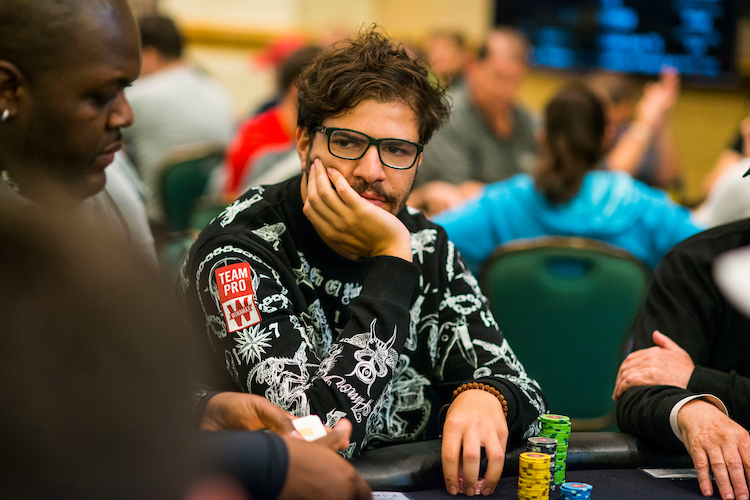 Mustapha "Lasagnammmm" Kanit
"Hey Musta," he said, looking over at Mustapha Kanit. "How do you make a good lasagna?"
For those who might not know, Kanit's username is "lasagnammmm", so Koon knew Kanit had answers.
"Time, love, good ingredients," said Kanit, who added he learned to make it in Bologna, but had trouble eating too many of them.
It beats talking sports. But now we're hungry. – SB
6:23pm: Greenwood et al
Level 6 – Blinds 250/500 (ante 75)
Sam Greenwood also now sits in an ever growing field. On a recent pass, I also noticed Ankush Mandavia, Eddie Sabat, Julian Stuer and Ramin Hajiyev in the 386 registered for the day. (About 310 are still left.)
Greenwood has 24,000 of his 30,000 starting stack left, but just shipped a few to table-mate Antoine Edouard. Greenwood opened the pot to 1,100 from early position and Edouard three-bet to 3,300 on the button.
Greenwood's call bought him the right to check the 4♦9♣J♠ flop. Edouard bet 4,200 and Greenwood tank-called.
The turn brought the K♥ and two checks. Then the K♣ was the last card out. Greenwood checked again and Edouard flicked 15,000 into the middle. He may not have bet all that (he might have announced something smaller) but Greenwood wasn't having it either way.
Greenwood folded. — HS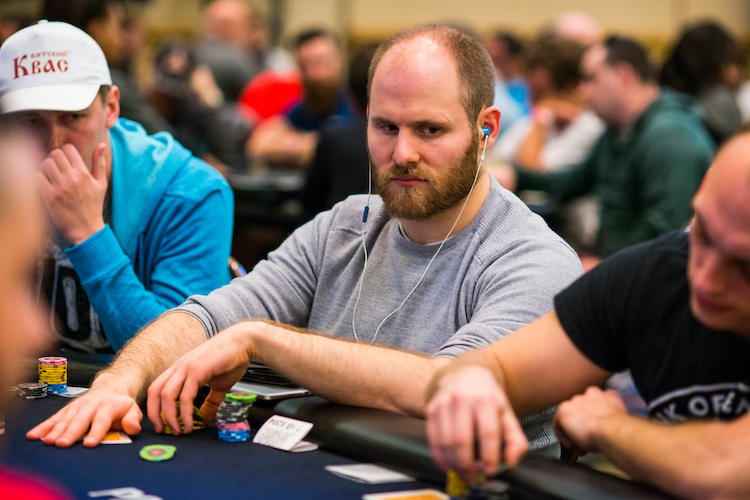 Sam Greenwood
6:02pm: Ateba flying high
Level 6 – Blinds 250/500 (ante 75)
Yesterday's leader Affif Prado bagged up 137,500 at the end of Day 1A's eight levels. But with Level 6 only just begun on Day 1B, Jean Ateba already has more than 130,000. That is good for the chip lead–and the overall summit if he continues in this direction. Phillip Corion is running Ateba close at the moment too, with 135,000 of his own.
It's unconfirmed, but a Google search seems to suggest Ateba may be a former soccer professional. We'll look into it.
Note: Phillip Corion is running Ateba close at the moment too, with 135,000 of his own.– HS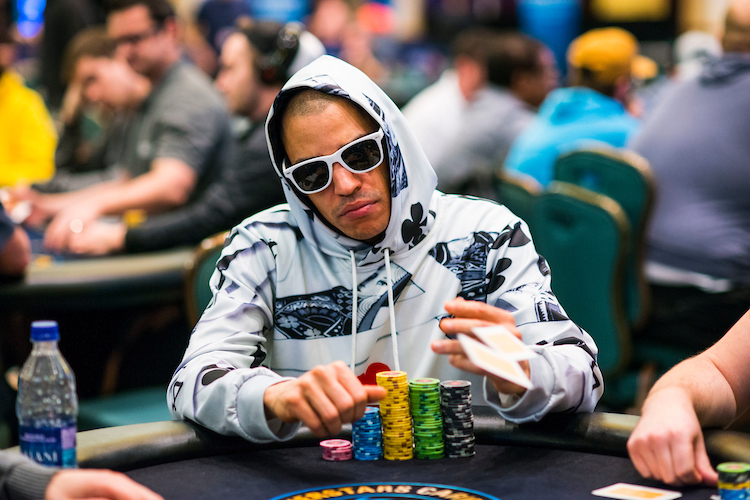 Phillip Corion
Jean Ateba
6:01pm: Elimination… it's not the end of the world
Level 5 – Blinds 200/400 (ante 50)
Getting knocked out of an event of this size is usually a miserable experience, or at the very least it's an unhappy one. For Daniel Ades though, well, he seemed to take it very well.
He was all in with J♥K♥ for about 30,000 on a flop of 8♥9♥J♠, which is still a lot, and found a caller in Timur Toktabayev, who had A♦A♠.
Ades didn't seem too concerned when the cards were turned over, and he waited impassively for the turn and river, which came Q♠9♣. the aces were good.
Ades took a moment and then walked over to some friends on the rail who were smiling. It was only minutes later than he wandered back to collect his bag from his chair.
Toktabayev meanwhile wasn't smiling, even though he was stacking up 95,000 chips. – SB
5:47pm: Seymour sticking around
Level 5 – Blinds 200/400 (ante 100)
Richard Seymour was all-in for 8,500 on the river and the board showed Q♦8♠Q♠2♥5♣. I don't know how the hand played out, but saw Alessandro De Fenza call him and then muck after Seymour tabled 8♦8♥ for a flopped set.
"You're back," said a neighbour. Seymour rewarded him with a fist bump and a shoulder massage from a three-time Super Bowl winner. Seymour is sticking around into Level 6, which has now just begun. — HS
5:41pm: Standing means only one thing
Level 5 – Blinds 200/400 (ante 50)
Sergei Petrushevskii was standing up. Often that means something. Usually that they're all in.
That applied to Petrushevskii who was in pre-flop with two callers. Of them it would be Sebastian Franzock though who would see to his elimination after the flop of 6♣5♠2♣, a simple race between his 10♦10♣ and Petrushevskii's A♦K♦.
The turn 7♠ and river 3♦ did nothing to save the Russian. — SB
5:33pm: Flag down
Level 5 – Blinds 200/400 (ante 100)
Gavin O'Rourke just took on Richard Seymour and won. They weren't arm wrestling or anything, but this is further evidence of poker as the great leveller: A medium-sized Irishman just won a scrap with a 6ft 6in, 320lb former NFL defensive end.
Catching up with action on the turn, the dealer had already offered up the 3♠6♦7♥K♣ for them to share and O'Rourke checked it over to Seymour. Seymour bet 4,800 and O'Rourke called.
The 10♥ completed the board and O'Rourke checked it to Seymour again. The Georgia alum, who came to the Bahamas last week but then flew to see his old team play the Playoff National Championship in Atlanta yesterday before coming back, clearly thought about piling some more chips in.
However, he checked behind and was happy he did. O'Rourke showed his 6♣6♥ and the set was good.
"The third set you have in two hours?" Alessandro De Fenza, also at the table, said to O'Rourke.
"Second," O'Rourke corrected him. But O'Rourke is still table captain with 52,000. Seymour, meanwhile has 18,000.– HS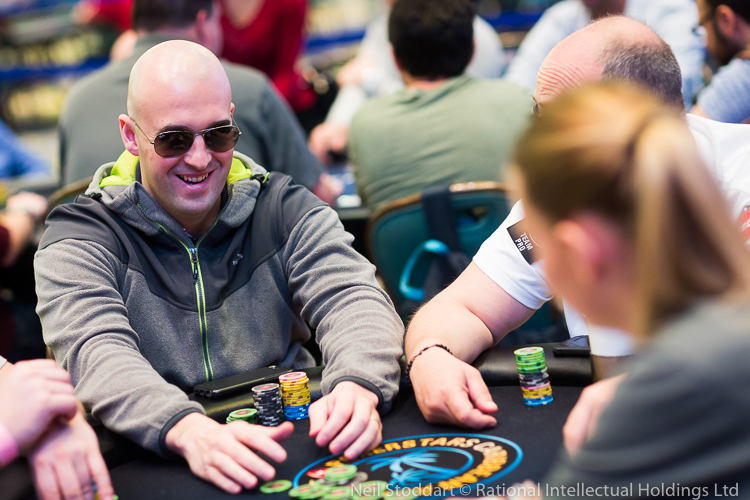 Gavin O'Rourke
5:22pm: 2018's first Platinum Pass winners
As you know, this time next year, we'll be covering the first $25,000 PokerStars No-Limit Hold'em Players Championship. PokerStars is giving away 300 packages to that tournament, and the first of 2018's Platinum Passes have found their owners. Read about it here.
5:17pm: The business of Moneymaker
Level 5 – Blinds 200/400 (ante 50)
Chris Moneymaker, playing with a surgical mask on his face, has been trying to get something going this level. Finally he opened a pot and got things to stick.
He made it 1,025 in early position, which was called by Florentino Pulido in the cut off and Dick Postel in the big blind.
The flop came A♠10♦7♠. That was checked three ways for a 8♦ turn card. This was checked through to Pulido who made it 1,125, which both Postel and Moneymaker called for the J♠ river card.
This time, when Postel checked, Moneymaker led the betting, making it 3,000. Pulido folded, as did Postel, leaving the chip to Moneymaker. He's not up to 35,000. – SB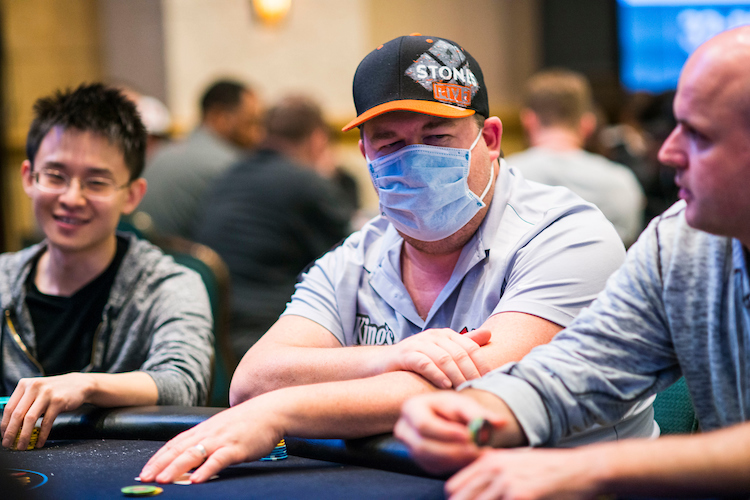 Who is that masked man?
5:10pm: …And You Will Know Us by the Trail of Dead
Level 5 – Blinds 200/400 (ante 100)
I'm afraid that's a very poor headline to a post that is basically just a list of people who have been knocked out in the day's first four and a bit levels. Here you go:
Brando Naspetti, Goran Mandic, Dimitar Danchev (former PCA champion), David Stamm, Tyler Hancock, Bernando Rocha, Ari Engel, Jason Wheeler (recent Prague runner-up, Albert Balayn, Daniel Negreanu (Team PokerStars Pro), Maksim Pisarenko, Lawrence Greenberg, Pim Kuipers, Kelly Becker, Stefan Schillhabel, Isaac Haxton, Marty Mathis, Chino Rheem (former November Niner), Rory Brennan, Christian Suma, Thomas Winstone, Luciano Lutkus, Roger Tondeur, Vlad Cojocariu, James Stewart, and Sergei Shchiptsov (can't be a real name). — HS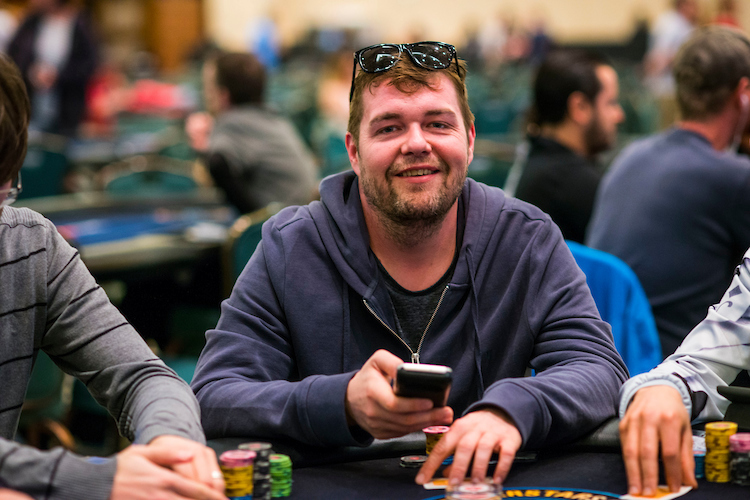 Jason Wheeler
5:02pm: Hunichen heading upward
Level 5 – Blinds 200/400 (ante 100)
Chris Hunichen was deep in conversation with table-mate Vladimir Troyanovskiy, which was interesting for two reasons. Firstly, Hunichen was playing a hand against Lukasz Sadlon at the time. Secondly, Troyanovskiy likes to bluff that he can't speak English whenever anyone asks him for an interview (but we've long known the truth).
Anyway, to the pot in question. Sadlon (cutoff) and Hunichen (small blind) had built a pot of around 9,000 pre-flop, which suggests at least a raise, a three bet and a call, and maybe that someone else was involved too. But it was only the two of them left with a decision on the 2♥7♥10♥ flop.
Hunichen bet 3,600 and Sadlon called.
The turn brought the 10♠ and this time it led to a check from Hunichen, a bet of 6,500 from Sadlon, and a call.
The 2♥ river was not to either of of their liking as both players now checked.
Hunichen showed his Q♥Q♦, which was now a flush, albeit vulnerable to the potential king or ace in Sadlon's hand. But Sadlon clearly had neither. He mucked.
Hunichen has 43,000 now and is free to continue talking to the polyglot Troyanovskiy. — HS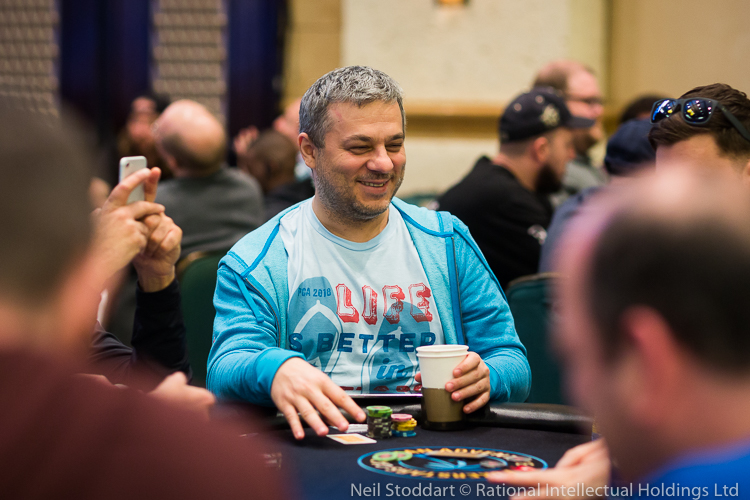 Vladimir Troyanovskiy
4:55pm: Darner done
Level 5 – Blinds 200/400 (ante 100)
Sure enough, Mark Darner is now out. He lost a good deal of his chips in the hand described at 4:15pm, and the last of them (what looked like about 3,500) just went the way of Steffen Sondtheimer.
The bare bones of Darner's last hand is that he had J♦9♦ and Sondtheimer had A♣8♦ and what started best finished that way too. — HS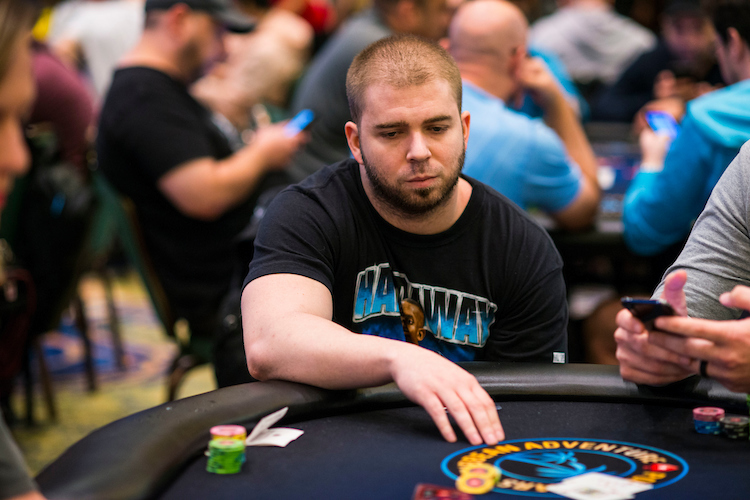 Mark Darner
4:50pm: Battles within the battle
Level 5 – Blinds 200/400 (ante 100)
As Level 5 gets under way, this tournament has swelled in both quality and quantity. According to the tournament information board, 370 players have so far sat down today, while there has been a recent influx of particularly well-known faces.
Orpen Kisacikoglu has migrated over from the $50K High Roller tournament, while Koray Aldemir and Daniel Dvoress have joined the table already featuring Stephen Chidwick and Dylan Linde; Jason Koon is on the same table as Mustapha Kanit, while Rainer Kempe is battling Mikita Badziakouski, among others.
The reigning Asia Player of the Year, and ACOP Main Event champion Alan Lau is also now seated in this Main Event. Meanwhile, former NFL star Richard Seymour is now seated with Chris Moneymaker. — HS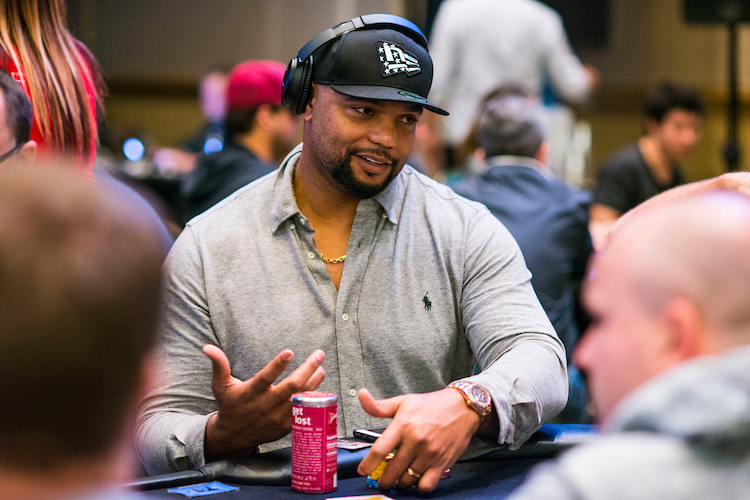 Richard Seymour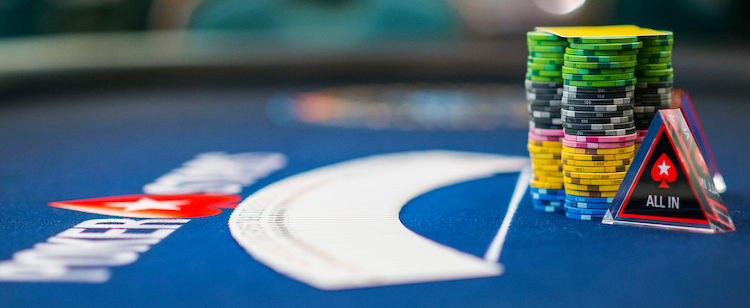 4:20pm Break time
Back in 20.
4:19pm: All in at the break
Level 4 – Blinds 150/300 (ante 50)
Another player departs, this time Aaron Olshan.
There was betting, there were blue chips, and also a flop of Q♠J♣5♣ when Olshan got his last 11,000 in the middle. Mei Siu was in the pot with him and called, turning over A♥Q♦ to Olshan's K♦Q♣. After a J♦ turn and A♦ river Siu yelled "yes!"
Olshan said nice hand, but didn't seem to be heard. Siu was busy grabbing handfuls of chips, his stack now around 50,000 at the break. – SB
4:18pm: Akkari on the double; Negreanu on the road home
Level 4 – Blinds 150/300 (ante 50)
Level 4 has just come to a close, but Daniel Negreanu's tournament didn't even get beyond Level 3. He was one of the early departures from this one today.
His Team PokerStars Pro colleague Andre Akkari is doing far better. He has around 70,000 heading to the break. — HS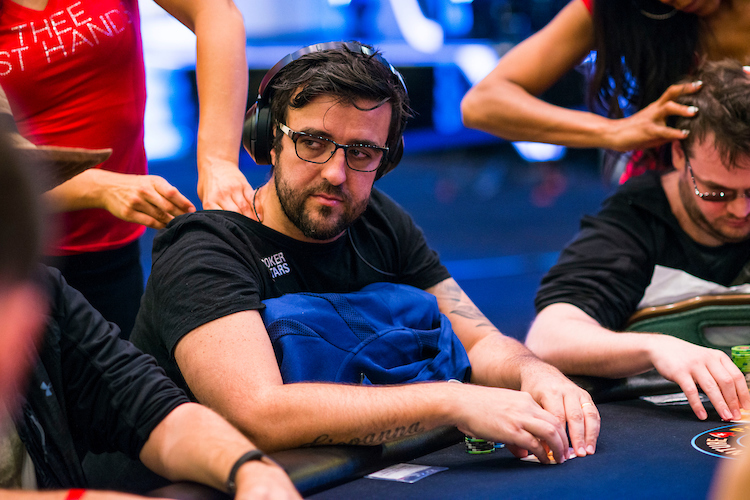 Andre Akkari
4:15pm: Darn
Level 4 – Blinds 150/300 (ante 50)
Mark Darner has a superb poker resume, both in the live game and online, where he plays as RenRad. Though he hasn't travelled the globe recently so much as he used to, he's back here at the PCA, which was the location of his first ever live poker score in 2011.
Darner has a lot of hard work to do to prevail from this Main Event, however, as he just turned a small hand into a bluff but was not believed by Spain's Miguel Riera.
It all began with a raise to 800 from Riera under the gun. Ben Tollerene called in the small blind and Darner called too in the big blind. All three players then checked the A♦10♦10♣ flop.
The 4♣ fell on the turn and Tollerene's check led to a bet of 1,600 from Darner. Only Riera stuck around.
The 9♠ completed the board and Darner went at it again, betting 8,000. Riera didn't take all that long to make the call, forcing Darner to show his 5♦4♦. The small two pair couldn't beat Riera's A♣K♠ and it leaves Darner with only about 7,000. — HS
4:11pm: Nine players to the flop*
Level 4 – Blinds 150/300 (ante 50)
Okay it wasn't nine players, it just felt like it.
Dick Postal opened for 675, which was called by Wellington Lopes Macedo, Gavin O'Rourke, as well as Florentino Coalla Pulido and Alessandro De Fenza in the blinds.
The flop came 7♦5♥J♠ which was checked to Macedo who bet 1,400. That got calls from Pulido and Postal, and a turn card K♣. It was checked to Macedo who bet 2,200. Postel called then raised to 4,500, which seemed to stop Macedo in his tracks. He folded. Postel up to 45,000. – SB
3:32pm: And the honeymoon is on PokerStars
Level 3 – Blinds 150/300 (50)
Sean Jazayeri leaned over.
"You want a good story?" he asked.
"Always," I said.
"This guy…" he said looking at George Hadweh.
We already knew the name and face. He was the guy who tortured Nick Maimone with the set over set. But the story got better than that.
Jazayeri continued, "On November 4, he got married. On November 5, he won a Spin (& Go). So, this is his honeymoon!"
"And he killed Nick," I said.
"Let me tell you about Nick," Jazayeri said.
But that's a story for another post.
But sure enough, Hadweh is a newlywed who managed to commit himself to a woman for life one day and then 24 hours later was winning a package to the PCA. Not a bad wedding gift, but Hadweh (who has started Day 1B well) could make it a lot better with a big cash here.–BW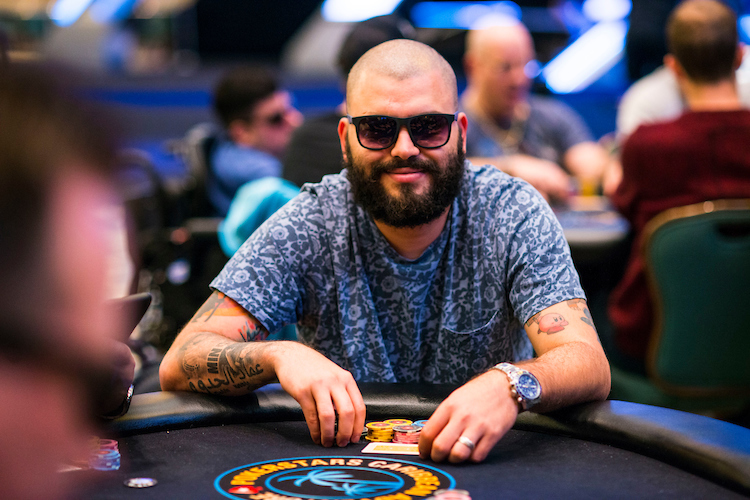 George Hadweh
3:25pm: Ari Engel out
Level 4 – Blinds 150/300 (ante 50)
Ari Engel is out, and had left the tournament room within about four seconds of the river card confirming it.
He was all in with a pair of nines but had run into pocket aces. There was nothing on the board to help Engel, out of the Main Event prematurely. – SB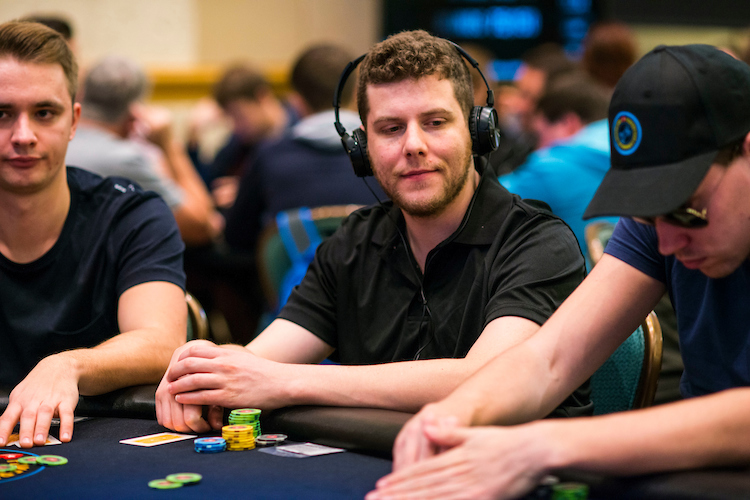 Ari Engel
3:20pm: No ker-ching for Charania
Level 4 – Blinds 150/300 (ante 50)
On a flop of 2♦5♥5♦ Roberto Carvallo Benavente bet 1,000, which Mohsin Charania called (another player folded at this point).
The J♥ turn card was checked, bringing along a 10♥ river card. Benavente bet again, 2,000 this time, and Charania called. But whatever he had wasn't good enough to beat Benavente's 10♠7♠, which took him up to 37,000 and dropped Charania to 23,000. – SB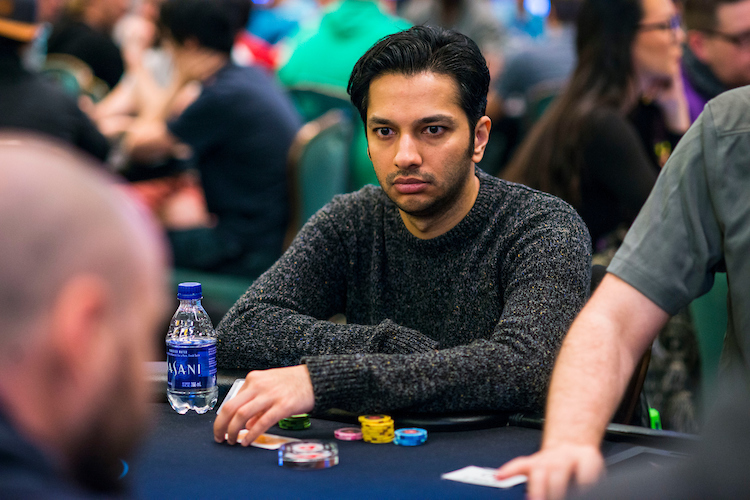 Mohsin Charania
3:16pm: Here's to you, Mr. Robinson
Level 3 – Blinds 100/200 (ante 25)
Stefan Schillhabel is a guy who has done and seen a lot. He knows kings aren't always going to rule, especially when guys like Jerry Robinson are around. He's the guy who just overthrew Schillhabel's royalty with a couple of aces. Bullets if you will. Regicide in the Bahamas.
Yeah, it was a cooler. A♣A♥ vs K♠K♦. The board was no shield, and Schillhabel was gone. –BW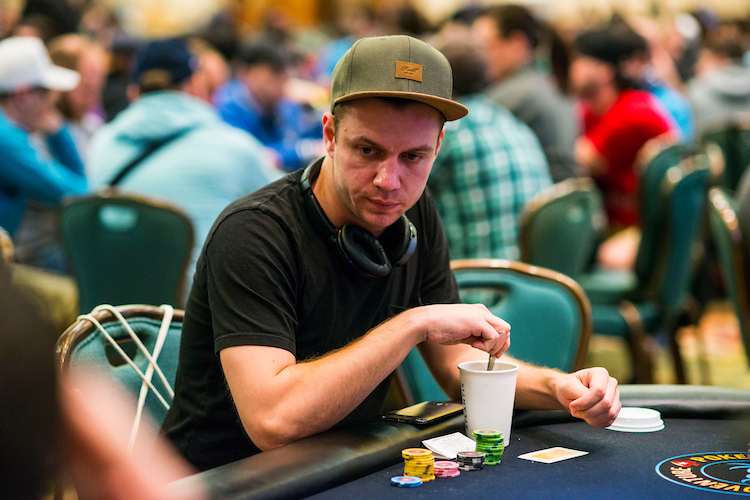 Stefan Schillhabel: I'm staying. Finishing my coffee. Enjoying my coffee. (Spoiler: He's not actually staying)
3:05pm: Prusov proves it
Level 3 – Blinds 100/200 (ante 25)
Three players saw the 3♠9♥9♠ flop. Dmitriy Prusov bet 1,000 which was called by Sam Greenwood and Matthew Kirkby. The turn came 3♥ and was checked three ways for the 6♠ river card. This time Prusov bet 4,000 which Greenwood called, but forced a fold from Kirkby.
8♣9♣ for Prusov to win the pot and take his stack back up to 36,000. Greenwood drops to 22,000. – SB
2:50pm: Four to the flop, turn and river
Level 3 – Blinds 100/200 (ante 25)
What can you say? Sometimes hands don't come to anything. Even with four players in them. Even with Daniel Negreanu in them.
So when four players saw the flop of 5♠A♠2♦ there were high hopes for some action. Instead Fabio Freitas checked, Graham Decoste checked, Daniel Negreanu checked and Walter Blatter checked.
The turn card 3♠. Surely now someone would kick off something. Fabio Freitas checked, Graham Decoste checked, Daniel Negreanu checked and Walter Blatter checked.
The river then? A 4♠ on the river. Anything?
Fabio Freitas checked, Graham Decoste checked, Daniel Negreanu checked and Walter Blatter checked.
As you can guess there was no immediate hurry to turn over cards. Freitas did though, showing two black eights. There was some nodding, some hurrumphing, and a laugh from somewhere. Time to move on. – SB
2:25pm: Play resumes
We're back in action.
2:05pm: Break time
That's the end of Level 2 and players are taking their first break of the day.
2pm: Maimone tries, fails to fold
Level 2 – Blinds 75/150
Nick Maimone (one-time PCA $25,000 High Roller champ) is a guy who can work out a hand pretty well. He is no dummy. Sometimes, though, he just can't listen to his own brain.
A few minutes ago, I walked up to his table as he was already in mid-monologue and staring at a K♣9♦J♦3♣A♥ board. Around 13,000 sat in the pot, and Maimone was facing a 9,000 bet that accounted for most of his remaining stack.
"I have jacks!" he said, claiming a set. "Oh my, what do I do? You have kings, aces, or ace-king."
He saw me in his peripheral vision. "Hey, Brad. My friend from Honduras here has put me in a difficult situation."
He was talking about George Hadweh, a tattooed Honduran who hails from the country Maimone called home for a while.
"I know you're not bluffing," Maimone said. "Sorry guys. I need a second."
No one complained, but three players did dive into their phones.
"I have jack of spades and jack of clubs. You tried to raise me on the flop. You probably have kings," Maimone struggled. "I'm trying to fold. I'm trying."
Less than 30 seconds later, Maimone put out the call and flipped over the hand he claimed, J♠J♣ for the flopped set.
Hadweh proved Maimone right and proved him wrong. Maimone's call of Hadweh's hand was right (K♠K♦), and that meant the call was proven wrong. Maimone was left with about 2,000 in chips and at least the knowledge he can still read a hand pretty damned well. –BW
1:55pm: Stand-out players
Level 2 – Blinds 75/150
One of the stand-out players right now is on table 14.
At first glance Andrey Lobzhanidze looks like he doesn't have a shirt on, revealing an elaborate, and total body covering of biblical tattoos. The type, slightly smudged, that you imagine are only available to those serving a lengthy spell in a maximum security prison. Then, as you shudder, you notice it's actually a shirt. Still, it's striking.
He just reached a turn, on a board of 7♥J♦5♠4♦ against David McAleer, who undeterred by the tats, took on Lobzhanidze, and did so well, forcing the Russian to fold. – SB
1:45pm: Hello, Chino. Goodbye, Chino.
Level 2 – Blinds 75/150
Chino Rheem was a late arrival during Level 2.
Chino Rheem was an early elimination during Level 2.
Both of those things are true. He was here for about the time it takes to drink a cup of coffee. We're not 100 percent sure what happened, but it was apparently not to Rheem's liking. Gianluca Speranza, however, seems okay. He's more than doubled his stack…which, you know, were Rheem's. What do they say about poker? Oh, yeah.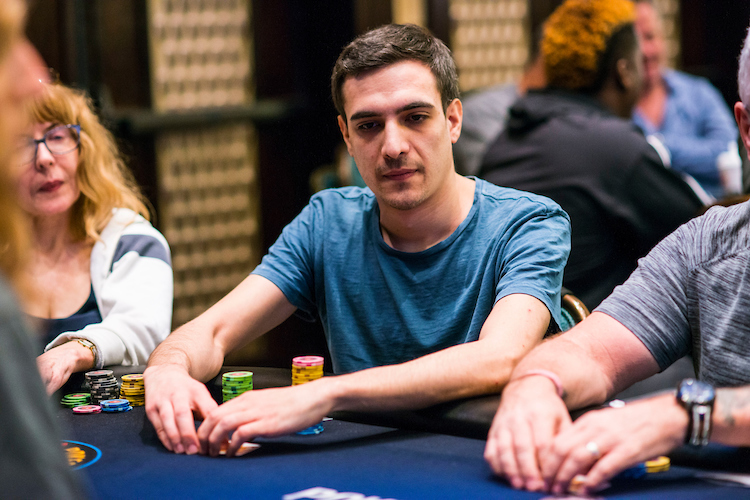 Gianluca Speranza: Doing just fine
That's poker. –BW
1:30pm: Flopped full house
Level 2 – Blinds 75/150
David Pratt opened for 400. Two seats along though Stephen Chidwick was ready with a raise, making it 1,300 to play from the cut off. Andrei Gurev in the blinds had looked down at 5♥5♦ and called, before Pratt folded.
The flop came 9♣9♥5♠. Gurev had flopped a full house, but decided to keep cool. He checked, then called Chidwick's bet of 1,000. On the A♥ turn the pattern continued, Gurev check calling Chidwick's bet of 2,800 this time. On the 10♥ river things changed. Gurev bet 3,500 then dug in to wait for a response from Chidwick, who is very rarely moved.
Chidwick sensed something was up though, and folded. Gurev flipped up his two red fives.
"Nice hand," said Chidwick. – SB
1:25pm: The Maurice Hawkins Show in its 14th season
Level 2 – Blinds 75/150
We first met Maurice Hawkins here in 2005 when he was nearing the money bubble and refusing to even look at his hands before folding, saying at the time he was not going to miss out on a payday because he picked up aces and got the cracked.
Since then, Hawkins has gone on to be a formidable player with as much success as a touring pro could hope for. That kind of success–and Hawkins' innate gregariousness–makes for a fun table. Or, at least fun for him.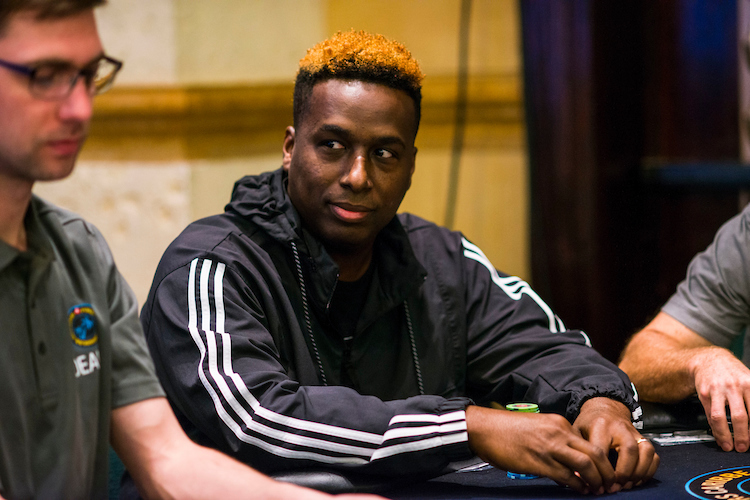 Maurice Hawkins: Back to the PCA
While reporting on an adjacent table, here was a selection of his banter. It's out of context, but you can probably fill in the blanks.
Hawkins: "I'm sorry. I really am. I knew you were a good player. A good player can't call there. (Long pause) But you didn't have an ace." –BW
1:15pm: First elimination?
Level 2 – Blinds 75/150
An early departure (if not the first) for Roger Tondeur. The Frenchman moved all-in on a board of K♥5♦A♠10♣9♣ with K♦10♥. His two pair was undone however when Anna Arhirli called with J♣Q♣ for a straight. Tondeur takes a walk. – SB
1:05pm: Check calling
Level 1 – Blinds 50/100
Nick Petrangelo checked the flop of J♠9♥7♥ from the big blind, then called when Charles Modesto, the original pre-flop raiser, bet 400. That brought the 2♣ on the turn. Another check from Petrangelo, who called Modesto's next bet worth 800 this time.
Petrangelo checked the 5♠ river, but this time couldn't call when Modesto bet another 1,025. – SB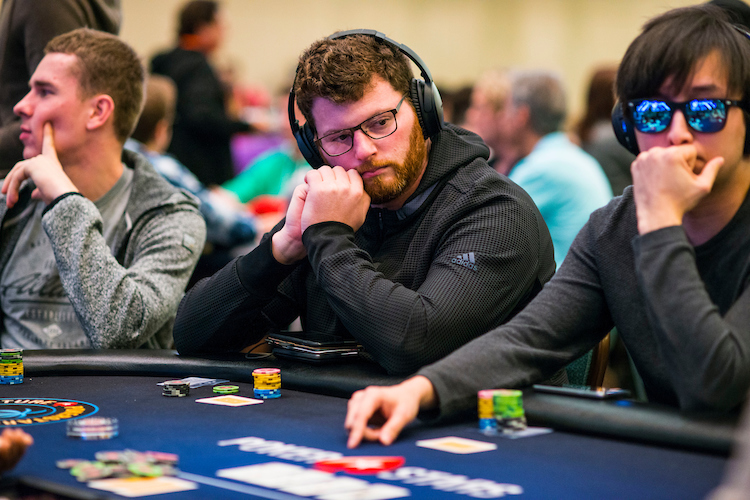 Nick Petrangelo: Couldn't call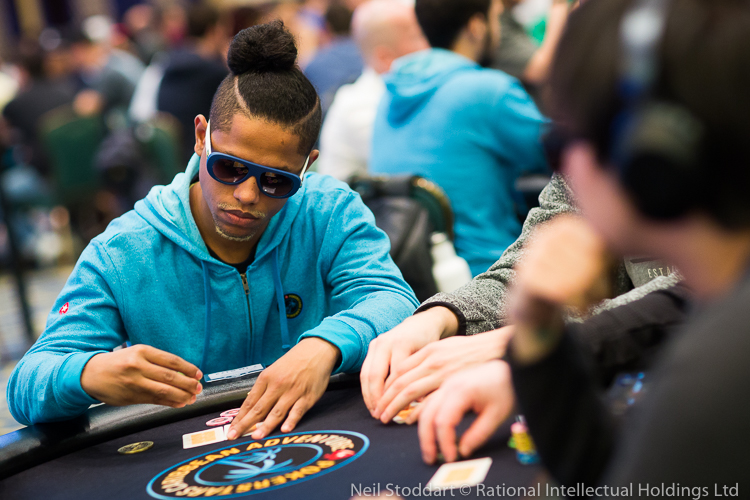 Charles Modesto
1pm: Thanks, Coach!
Level 1 – Blinds 50/100
Across the room, we are covering the PCA National final table with Maria Konnikova. She does pretty darned well on her own, but it doesn't hurt to have a coach…especially when that coach is Erik Seidel. –BW
12:55pm: And then he folded…
Level 1 – Blinds 50/100
Another from the files of hands that finish early enough to leave you dissatisfied. This one featured Stephen Chidwick and Dylan Linde.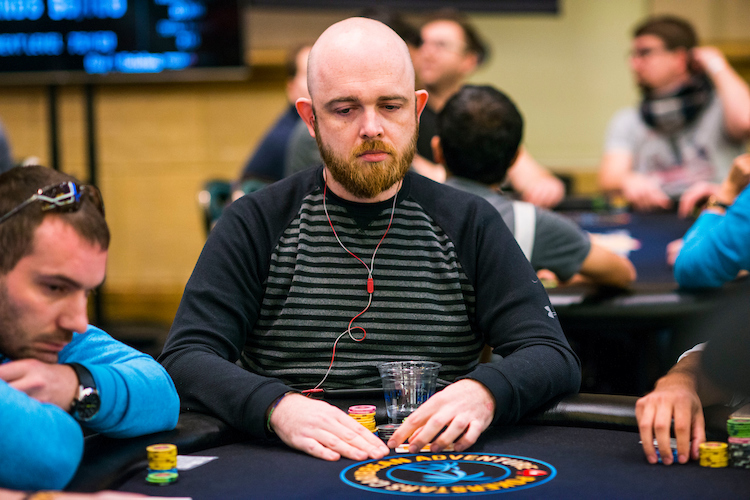 Dylan Linde: Early battles
Chidwick opened for 225, which Linde raised to 700 from the button. Chidwick called, then checked the Q♦K♠A♦ flop. Linde bet another 600, which Chidwick called, taking things to the 5♦ turn. Another check from Chidwick, quickly followed by a fold when Linde bet again. – SB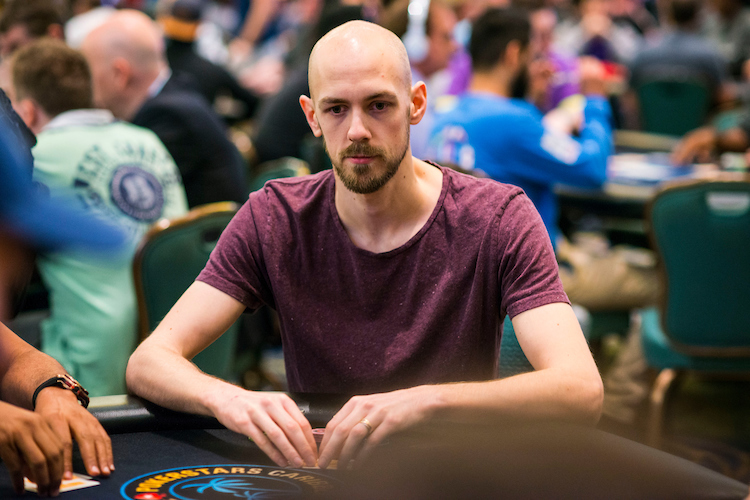 Stephen Chidwick: Nothing to see here (yet)
12:45pm: Poker? Who plays poker? It's all ball bearings Bitcoin nowadays!
Level 1 – Blinds 50/100
Marty Mathis was sitting at the table, but his mind was somewhere else. He had Andre Akkari sitting to his left, which can be distracting enough even if the topic hat hand had nothing to do with poker.
"I think you bought one from me this summer," Mathis said to Akkari.
"Oh yeah?" Akkari said, seemingly trying to remember the transaction.
"It's a bull market now," Mathis said through a rapid-fire description of his Bitcoin focus. "The only reason I'm not checking my phone right now is that it's on the charger."
I'm trying to envision the Bitcoin Caribbean Adventure. What would something like that look like?–BW
12:35pm: An uneventful start
Level 1 – Blinds 50/100
We say this a lot, but the opening level of an event like this is not always that eventful. The blinds are small, players are just getting comfortable, and they have plenty of chips.
So an opening raise is often enough to win what little is in the middle. Plus a little experience, as Ari Engel demonstrated.
He opened for 300 and got three callers. They saw the 4♠9♠2♦ flop and the action was folded around to Antonio Santichio on the button who bet 1,000. The blinds folded, bringing the action back to Engel, who raised to 3,800. Santichio's momentum suddenly ground to a halt with a fold. – SB
12:30pm: On-time arrivals
Level 1 – Blinds 50/100
While our mom from Poland was the first arrival of the day, the field has filled in with a couple hundred other on-time players. Among the familiar faces we've seen so far: Daniel Negreanu, Andre Akkari, Vladimir Troyanovskiy, Maurice Hawkins, Stephen Chidwick, Adrian Mateos, Victor Ramdin, Nick Petrangelo, and Sam Greenwood. –BW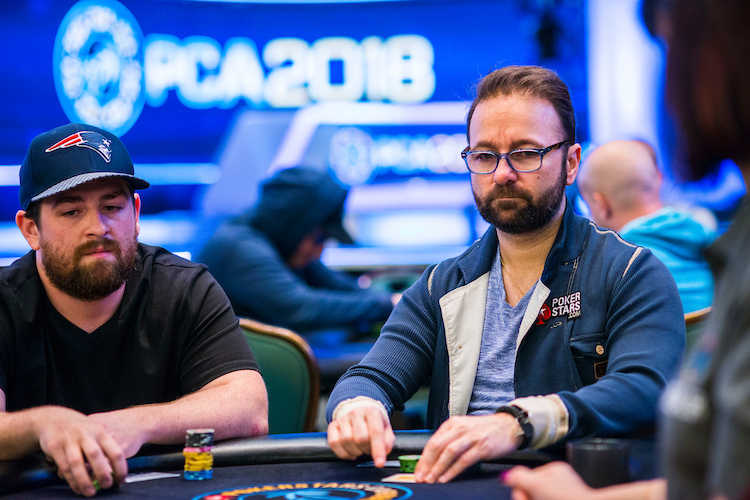 Daniel Negreanu: The most familiar face of them all
12:20pm: Mom ready to spin it up…and we mean really up
Level 1 – Blinds 50/100
Malgorzata Nowak arrived early. For those who have recorded these tournaments for a long time, the early arrivals are endearing reminders that not everyone in these fields is grizzled and tired. Some people are excited. Some people are nervous. Some are in their seats half an hour early.
Nowak was one of those people today, sitting alone in her seat as the tired-eyed young boys from around the world shuffled down the Atlantis hallways, unimpressed by anything.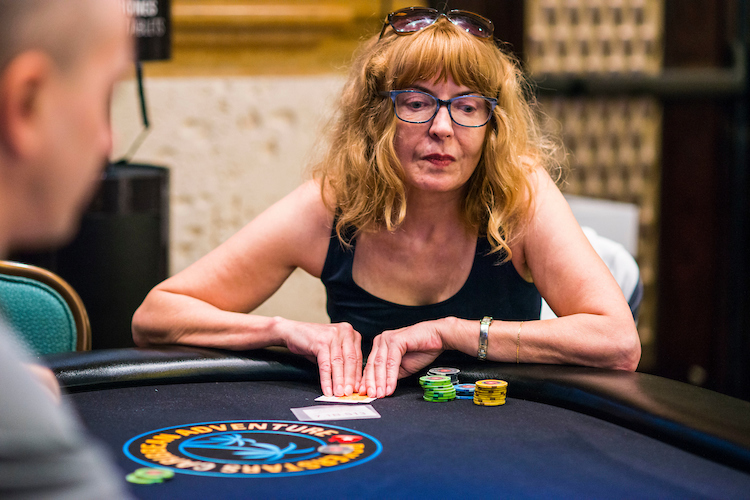 Malgorzata Nowak: The 25c dream
"My English is not good," Nowak said, rebuffing my initial request for a chat. I persisted, because there was clearly a story there.
We worked our way through the formalities and finally got to the point: how much did it cost you to qualify?
She looked sheepish. "Twenty-five," she said.
"Twenty-five dollars?! That's great," I said.
She considered her words for a moment, making sure she had them right.
"Twenty-five cents," she said. "A Spin & Go."
She comes from Poland, and she's brought her son, Dominik.
"She's not a pro," he said, looking nervously across the room at his mom. "I hope she will make it to the second day. If she doesn't, it's okay."
Dominik considers the 25-cent spin-up "a freeroll" and a good vacation. For now, though, his mom has as many chips as anyone else as Day 1B of the Main Event begins. Here's to her being here at the end of the day. –BW
---
Fancy joining us at the PCA? Sign up for PokerStars and begin your journey. Click here to get an account.
---
12:15pm: Good news from the floor
Level 1 – Blinds 50/100
A busy start for the floor staff. A first call of "floor!" came within two minutes of play starting, an unusual situation involved a hand between the blinds, an accidental raise, which was supposed to be a call, but which was subsequently deemed a raise. Better to make those mistakes now than later.
All of which prompted a story from the floor supervisort about a player who turned up in a hurry this morning.
The player involved raced up to the floor staff, out of breath, and asked where his seat was. He was asked if he had his ticket (people are always looking for their seat), but he said no. Then he was asked if he was playing the Main Event, to which he said yes. It was only then that it became clear that the player had assumed today to be Day 2, and not the second flight of Day 1.
Realising that his meant he had a day off he cheered up almost immediately. He was last seen on his phone, presumably arranging to swim with dolphins, spend the day at the beach, or asking his doctor to ship more of his hypertension pills.
Regardless, we're going to call this the first winning moment of the day. – SB
12pm: Day 1B under way
Level 1 – Blinds 50/100
Just like that, Day 1B is under way. Stick with us for the eight levels.
11:45pm: B is for…
What does the B stand for in Day 1B?
Boisterous? Maybe. Bigger? Most definitely. Bonkers? Let's hope so. We're back for another starting flight in the $10,000 PCA 2018 Main Event, after yesterday's session saw 176 entries and 101 survivors. That means another eight 60-minute levels of the usual: big pots, bust-outs, bonus coverage, bananas, buses, Brigit Bardot.
Stick around for all the action.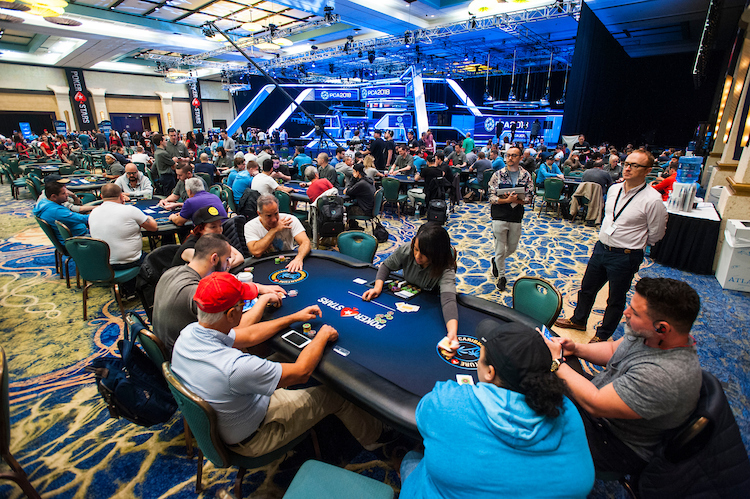 B is for…Bartley?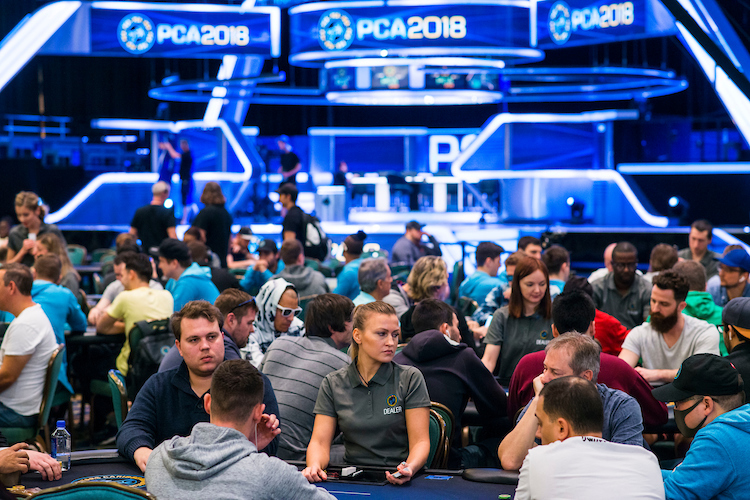 PokerStars Blog reporting team on the $10,000 Main Event: Stephen Bartley, Marc Convey, Jack Stanton, Howard Swains, Alex Villegas, and Brad Willis. Photography by Joe Giron/PokerPhotoArchive.com.