The European Poker Tour (EPT) Prague Main Event has found its champion, and truth be told Paul Michaelis's name has been pencilled on the trophy for a few days now.
Tonight, they called in the engravers to make it official: Michaelis closed out victory over a 1,174-entry field, winning €840,000 and a Platinum Pass to the PokerStars Players Championship in the Bahamas next month. Michaelis did this with barely a bump along the way, continuing a cruise that started for him early on Day 4.
Michaelis is a Vienna-based, 27-year-old German, originally from Berlin, who has been a fixture on the circuit for a good few years. He won his first World Series bracelet in Las Vegas in 2015, but this score here in Prague more than doubles his combined career earnings to date.
Click for full payouts list | Click for blow-by-blow report
His charge to the title actually started when he won a handful of significant pots against Ukraine's Artem Kobylinskiy on Sunday afternoon, and it's a measure of Kobylinskiy's talents that he was Michaelis's final opponent here this evening. Those two men joined Russia's Alexandr Merzhvinskii in a three-way deal that divided the biggest chunks of the prize money and left €70,000 and the Platinum Pass to play for.
"It went really well," Michaelis said. "I had a big stack most of the day, and ran very pure. I was very happy with how it went."
---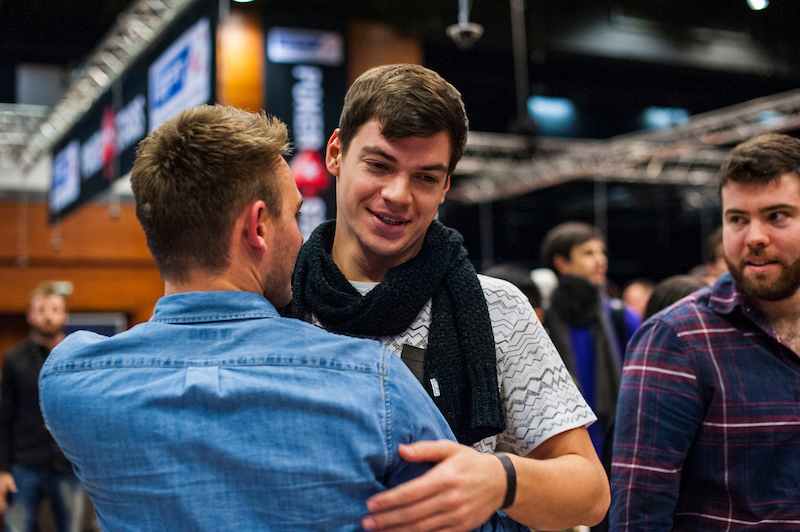 Paul Michaelis: Three days a leader, now a winner
---
Michaelis had the most chips when they negotiated. He earned himself the most money. And when the final bell rang at about 6.30pm, he picked up the extras as well. The final hand was jacks vs. tens, with the best hand holding. It's probably fair to say we saw the best playing holding the trophy as well.
"The last hand basically described how I ran," Michaelis said. "It was not meant to be for him, I guess."
The final table began at noon at the Hilton Prague with Michaelis in front of Merzhvinskii and Kobylinskiy, with the lower three of the final six all sitting with 40 big blinds or fewer.
---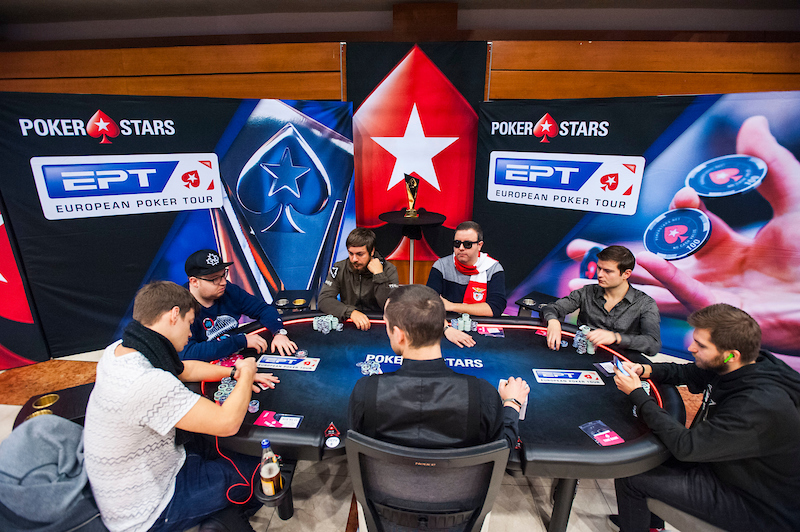 Prague final table (clockwise from dealer): Paul Michaelis, Parker Talbot, Alexandr Merzhvinskii, Carlos Branco, Laurynas Levinskas, Artem Kobylinskiy
---
Returning with the short stack, Portugal's Carlos Branco knew he had nothing to lose when action resumed at noon. He duly did everything that a short-stacked player is supposed to: shove, shove, shove. In the absence of anybody willing to tangle, Branco stole his way out of immediate danger.
Branco's elevation left Parker Talbot under most pressure and though the man from Canada had bags of tournament experience to draw on–and an army of fans from his Twitch stream–there was nothing else he could do when finding K♠Q♥ on the button, a little more than 2 million in his stack, and with no bets ahead of him. He moved in.
Unfortunately for Talbot, Lithuania's Laurynas Levinskas made a good call with A♠9♣ and hit two aces that he didn't really need. The man known as tonkaaaa still picked up the biggest live cash of his career to date, and €179,360 for sixth will represent a decent week's work.
---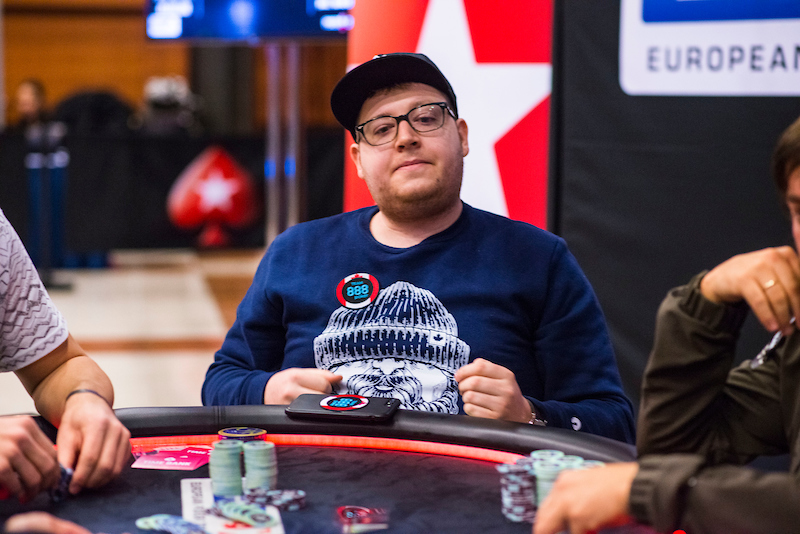 Parker Talbot: Sixth for €179,360
---
Having dodged the relative ignominy of being first out on the final day (still better than 887 others, of course) Branco maybe harboured high hopes of squeezing into the top three. He certainly showed he had the spirit, and moved into contention for the chip lead through the first of the day's level.
But eventually his opponents found something to battle him with and a decisive pot went in the direction of Paul Michaelis–a shove on the river of an uncoordinated board forcing a fold from Branco. Michaelis resisted the entreaties to "show the bluff", whether or not that's what it was, but there was certainly nothing deceptive about a pot a few minutes later when Branco got the rest of his stack in with pocket sevens. Artem Kobylinskiy had red aces, and the dealer didn't deliver any funny business.
Branco thus hit the rail in fifth, winning €242,560, and ending the run of the table's most talkative talent.
---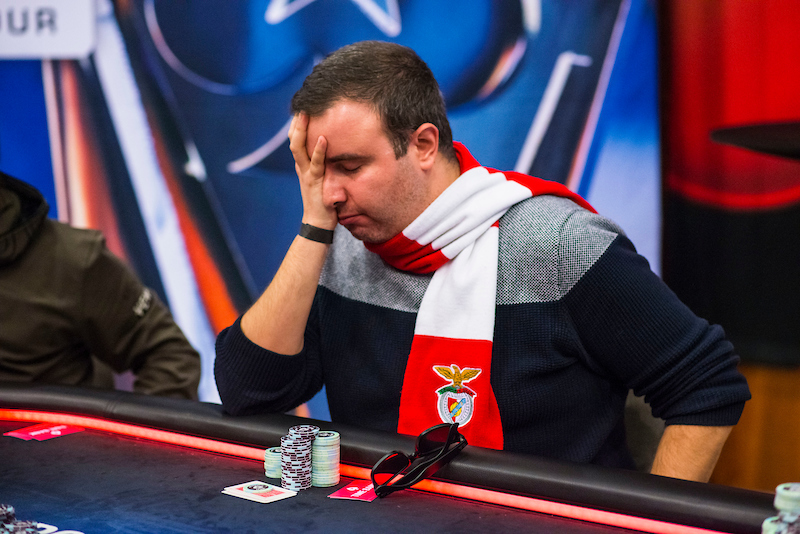 Carlos Branco: Fifth for €242,560
---
With four left, the players decided to take a look at the numbers and try to figure out a deal. It's not unheard of for agreements to be reached with this many players involved, but it's always a long shot. On this occasion, Michaelis didn't want to give up anything more than what ICM calculations told him was his due, and therefore the others weren't happy either. They opted to play on, with the following stacks at the time:
Kobylinskiy: 15.25m (76 BBs)
Michaelis: 12.175m (61 BBs)
Merzhvinskii: 5.125m (26 BBs)
Levinskas: 2.675m (13 BBs)
---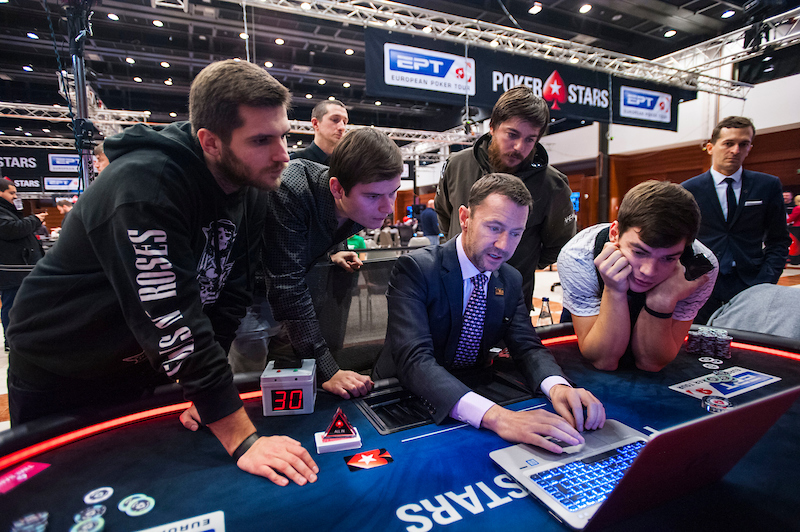 Deal discussions break down
---
Those 13 big blinds always looked a little fragile for Levinskas, and fates conspired to send him to the rail next. He managed to flop top pair with his K♠9♠ and opted to get tricky in a pot against Michaelis, checking it over. But when he got his chips in on the 8♥ turn, Michaelis's pocket pair had now become a set.
The extra bonus of a Platinum Pass didn't hold an enormous allure for Levinskas as he already had a package to the PSPC locked up thanks to a live satellite victory in Barcelona. However, he was forced to head to the payouts table clutching a ticket worth "only" €316,600, knowing the winner was still looking for more than a million.
---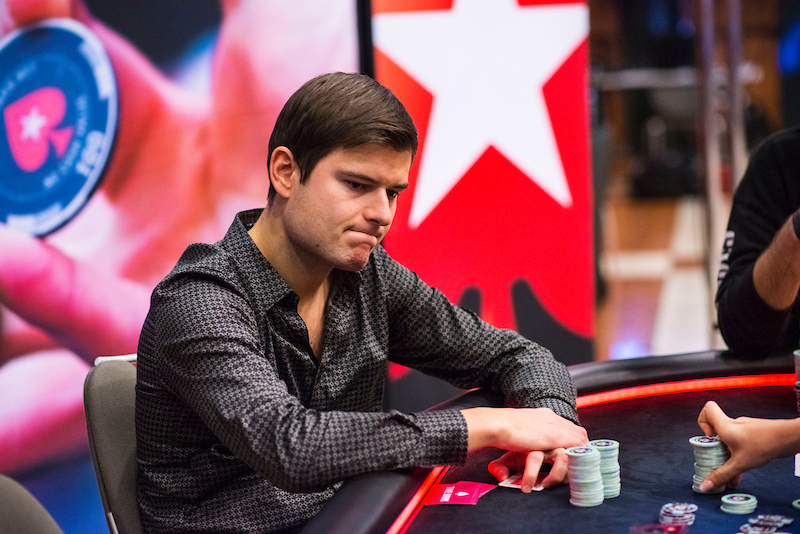 Laurynas Levinskas: Fourth for €316,600
---
As three-handed play began, Kobylinskiy had nudged into the chip lead. But Michaelis soon straightened that out. Indeed, he flopped the nut straight in what turned out to be the biggest non-elimination pot of the day and got value on every street.
---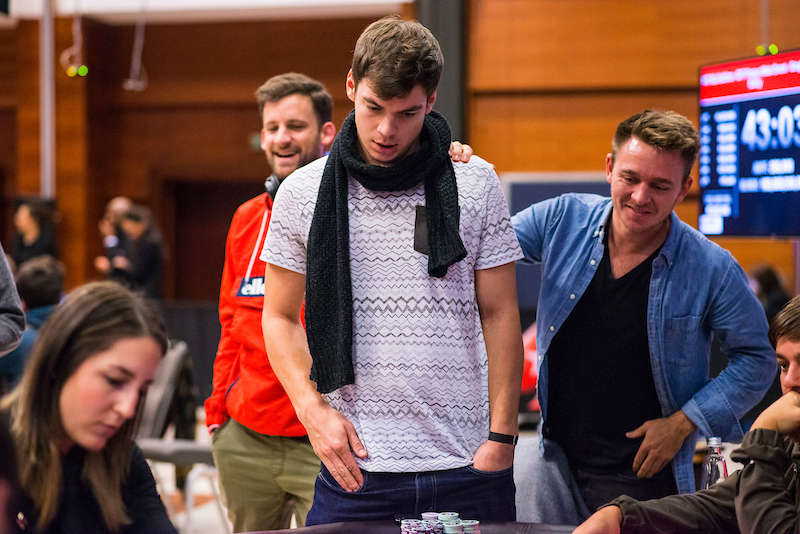 Paul Michaelis surges ahead
---
Michaelis was in the lead still when they tried for a second time to reach a deal, and this time they were more successful. With around double the amount of chips than Merzhvinskii in second, Michaelis secured himself a minimum €770,000. Merzhvinskii was in line for €631,500 and Kobylinskiy €571,910, with €70,000 and a Platinum Pass still to play for. The agreement came before we had even reached 4.30pm.
---
Deal reached in Prague
---
Right about that time, the length of the levels was cut to 45 minutes too, which raised the prospect of a smash-bang climax. But as can often be the case, action slowed rather than hastened after the deal arrangement was reached.
Nevertheless, the increasing blinds barely affect Michaelis, who was still able to pick his spots. Merzhvinskii, meanwhile, began to slide and went to the next break with only 3.7 million. Within a couple of hands of coming back, he didn't even have that.
Merzhvinskii's final hand was an ace vs. bigger ace encounter, the kind that tends to play itself short-handed when one player has a short stack. Merzhvinskii was one of a rare breed–a player who also occupied the chip lead for a short while over the past couple of days. But he was only fleetingly at the summit, and had to make do with €631,500 for his third place.
---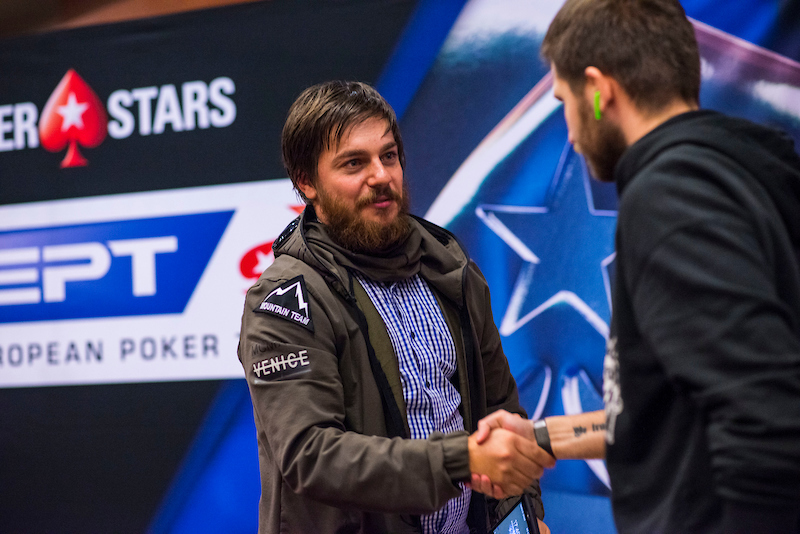 Alexandr Merzhvinskii: Third for €631,500
---
Michaelis had a two-to-one lead when they went heads up, but perhaps more significantly, he had had the better of his last opponent, Kobylinskiy, when they had met before. Back on Day 4, Kobylinskiy was repeatedly in the big blind when Michaelis was on the button, and a number of pots went from the Ukrainian to the German.
---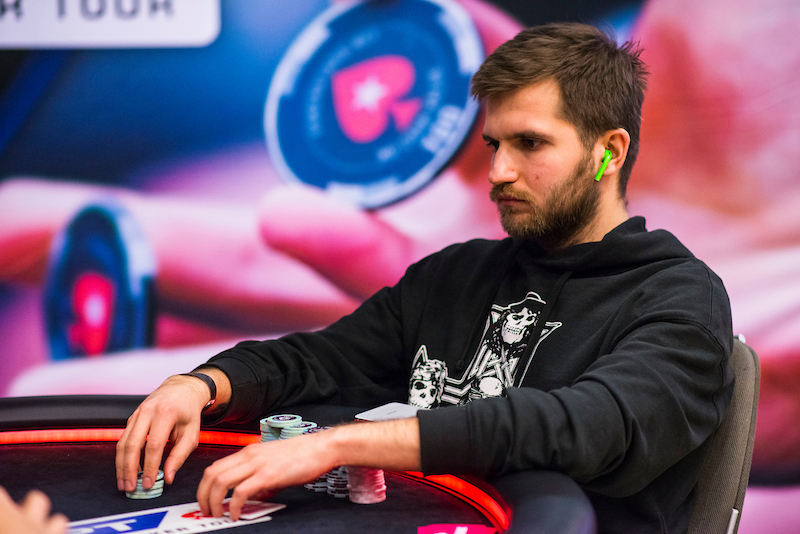 Artem Kobylinskiy: Defeated heads up
---
For all that, Michaelis said he was taking nothing for granted heads up. "It was not a matter of time," he said. "It was only two-to-one, and it could have changed in one hand. I just tried to stay focused, and it worked out very good for me."
But as is sometimes the case, the final hand would have been played the same way by anybody. Michaelis had J♦J♠ and Kobylinskiy 10♠10♦. They got it all in pre-flop and there was no outdraw.
With that, the champion is crowned and all eyes shift to the Bahamas, when we will next convene. "It's a very nice freeroll to go to," Michaelis said. "It's a very nice opportunity."
In the meantime, scroll through our updates from the day, which tell the full story, and check out the late stages of the High Roller, which is playing to a champion too.
---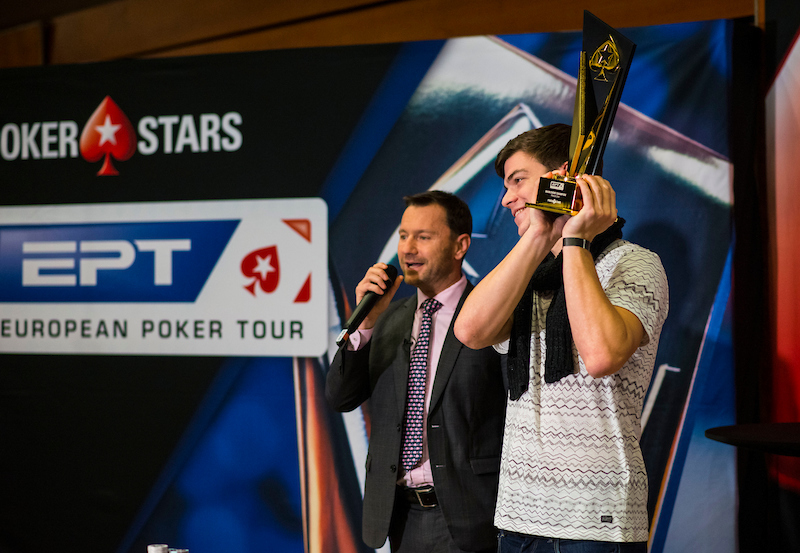 Paul Michaelis: Champion!
---
EPT Prague Main Event
Dates: December 12-18, 2018
Buy-in: €5,000 + €300
Entries: 1,174 (inc. 281 re-entries)
Prize pool: €5,693,900 (after deductions)
| POS | NAME | COUNTRY | PRIZE |
| --- | --- | --- | --- |
| 1 | Paul Michaelis | Germany | €840,000* |
| 2 | Artem Kobylinskiy | Ukraine | €571,910* |
| 3 | Alexandr Merzhvinskii | Russia | €631,500* |
| 4 | Laurynas Levinskas | Lithuania | €316,600 |
| 5 | Carlos Branco | Portugal | €242,560 |
| 6 | Parker Talbot | Canada | €179,360 |
| 7 | Liviu Ignat | Romania | €136,720 |
| 8 | Diego Zeiter | Argentina | €97,420 |
Photography by Joe Giron/PokerPhotoArchive and Neil Stoddart.