You have to imagine the mental debate Guillaume Merlinge was having last Saturday morning as he laid in bed, exhausted from the night before, and thinking about the value of his time.
He was in Nice, France. Just the day before, he'd be in Sanremo, Italy–two hours away–playing in a Megastack event. The first prize wasn't small inconsequential, and it carried with it a $30,000 Platinum Pass to the PokerStars Players No-Limit Hold'em Championship.
Merlinge knew all this, but he also knew he only had five big blinds. Were five big blinds worth the two hour drive?
"I almost didn't come back for Day 2, because the trip is two hours from Nice. I had only five big blinds and I didn't sleep much on Friday night, but here I am!"
Here was back in Sanremo, the city where the man who had been playing poker for 20 years turned to a turtling strategy that got him to four-handed play where he then spun his five big blinds back up to all the big blinds. He won the darned thing. The cash and the chance to pay for millions at the PSPC. It was such a moment that the man who had slogged the two hours back to Sanremo wasn't rightly sure where he was.
"I feel euphoric, like I'm somewhere else," he said afterward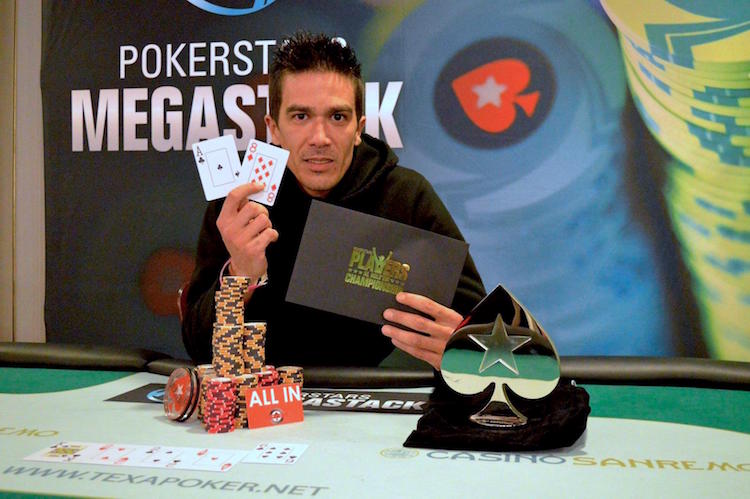 Guillaume Merlinge
Merlinge is one of those guys you see and think, "Man, I wish I was doing that." He's a surfer, skier, mountain sports enthusiast, and a biker. Still giddy after his win, he immediately started spending the money in his mind.
"Tomorrow I'll get a new bike…a super €6000 bike!" he decided. "Life is beautiful!"
He also likes to swim and was already planning some time in the churning waves of the Bahamas.
"The Bahamas will be the perfect place to practice!"
After a few moments to calm down, he considered the task ahead of him. He was going to be going from a local Megastack event to one of the biggest tournaments in the world. Mulling over whether he would need to get a coach, he couldn't convince himself he needed one.
"Even if the amount of money will be very different from what I'm used to play, cards are still cards," he said. "When you have two cards and your opponent has two cards…poker is all about that. I would have never put $25,000 on myself, but since you're offering it to me…here I come!"
Nope, the man doesn't lack for confidence. Within minutes of deciding to buy a super-duper expensive bike with his Megastack winnings, he started considering what would happen if he pulled off a similar win in the Bahamas.
"I would buy a house for sure. I live in Nice, and houses are very expensive. I'm from Brittany and it's quite cheap there, so that would be a very big house in Brittany," he said.
Given another chance to think about, Merlinge had a different idea about where to put down new roots. Indeed, the man from Brittany who lives in Nice, who went to Sanremo, who went back home to Nice and thought about not going back to Sanremo but went to Sanremo anyway, who then thought he could buy a house in Nice or a super big house in Brittany had one more thought…
"Or…I'd even stay in the Bahamas."
***
To read about all the the other PSPC players, check out our full index of Platinum Pass winners.